Star light, star bright, nothing spells more than bedtime than these sparkly gems! Ease your little bub to sleep easily by incorporating these star elements efficiently. Here are four features to create the perfect starry starry night themed nursery!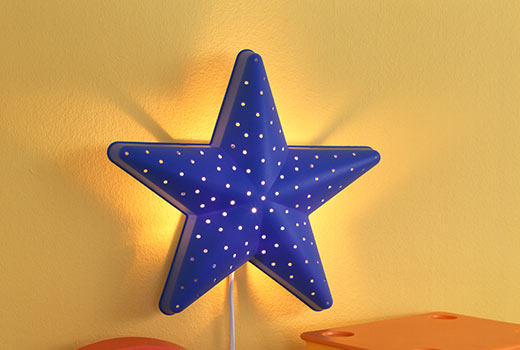 Lights
Good lighting is fundamental to perfecting the ambience. Having a hand-carved ceramic dome light by the side table adds to the cosy and chic atmosphere in the room. Alternatively, install star-shaped lampshade by the wall as a guiding light at night.
Wall Decals
Dress up the empty wall by your baby cot effortlessly with the help of some wall decal stickers. You can stick them casually all across the wall or have them aligned for a more structured look. Read more on our step-by-step wall decal décor hack here!
Cot Essentials
Resistance is futile when it comes to these cutest Baby Bites sleeping bag for newborns! Aptly shaped, it keeps your little bub warm in bed and it is definitely the perfect photo-taking accessory. Brighten up the nursery with a star-themed cot mobile with a soothing lullaby playing in the background.
 SoftiesDeck out the corners of your nursery with these mid-sized softies, perfect as bedtime stories huggies.
SHOP THE STORY

[products ids="3121, 3115, 3113, 271, 269, 228, 226″]