The Mummyfique team is always on the look out for interesting places in Singapore to take our kids so when we heard about Hideaways — Creating with Nature, a new exhibit by Playeum, we knew we had to check it out. And this time, we brought along the harshest critic we knew — six-year old David.
The brain child of The Children's Centre for Creativity, Playeum is a hands-on exhibition space that encourages educational play and creative expression in children. Each exhibition runs for around six months before the theme is changed. With Hideaways, local artists were invited to curate installations within the exhibit around the theme of hideaways in nature.
Targeted at children aged one to 12, the exhibition endeavours to have activities to engage children across this wide age range. For toddlers from one to two years of age, there is a toddler play area with a play mat and a sensory cave stocked with various toddler friendly nature themed toys.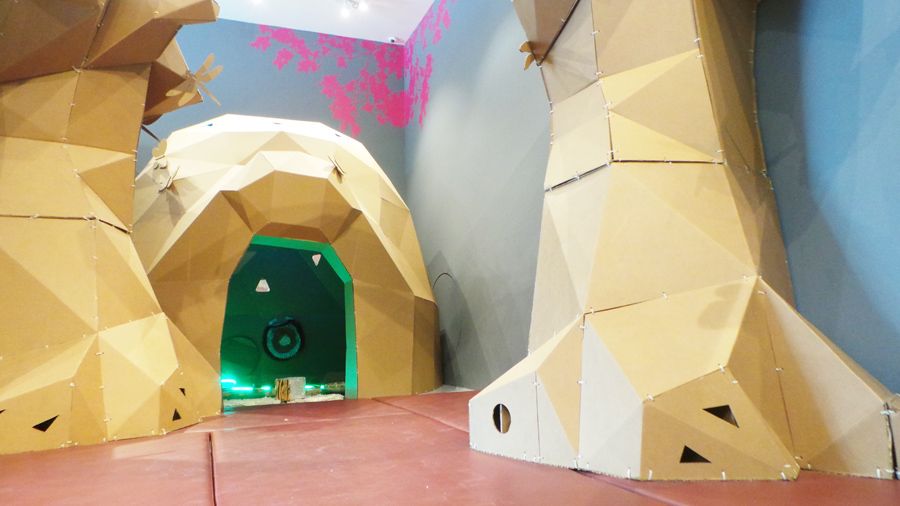 For children who are older, the exhibit genuinely has a depth of engaging sensory activities and creative outlets.
Close to the entrance for instance, is the Dark Zone exhibit. In this area, the zone features glow in the dark buildable spider webs. Children are invited to string up their own webs in the room lit as different nature sounds fill the room.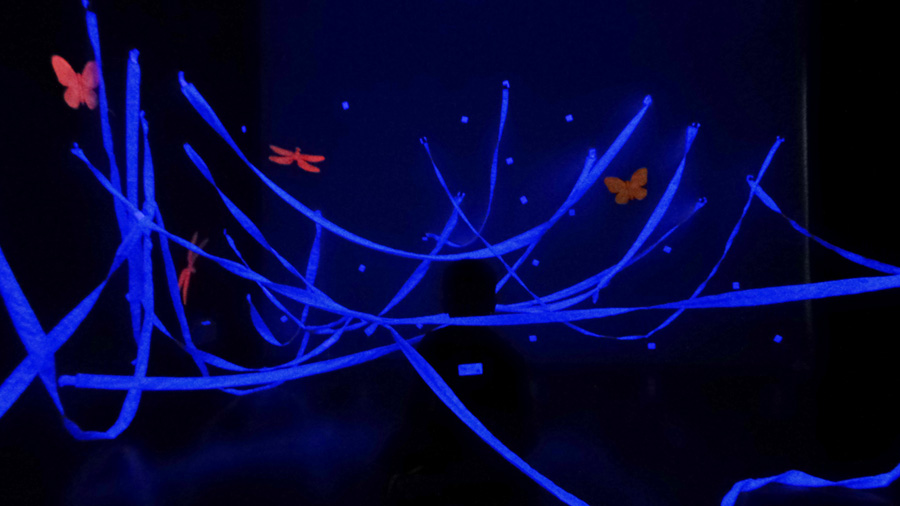 The next installation is centered around the insects that can be found in the Gillman Barracks vicinity (where Playeum is located). There were specimens on display as well as stationery supplies for the children to sketch their favourite insects. What we found really interesting was how the artists set up cameras capturing images of insect habitats around Gillman turning it into a live feed.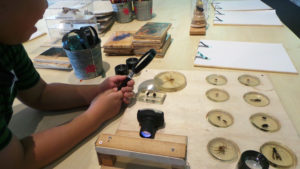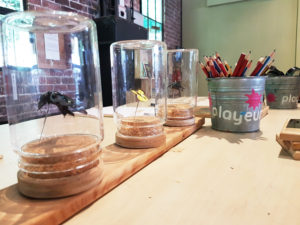 The artist also created a bug hotel as an experiment to see if insects would move in to create their own habitats.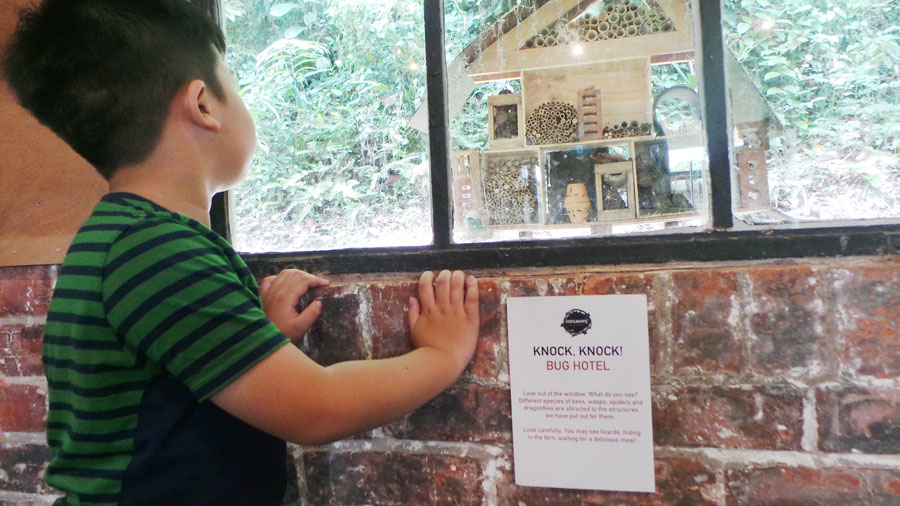 Continuing with the theme of animal habitats, children are also invited to create their own ideal shelter for small insects and their creations are then added to larger structures to create a mega habitat. When we were there, Playeum had ample staff on hand to guide David in his creation process and to encourage him to give form to his ideas.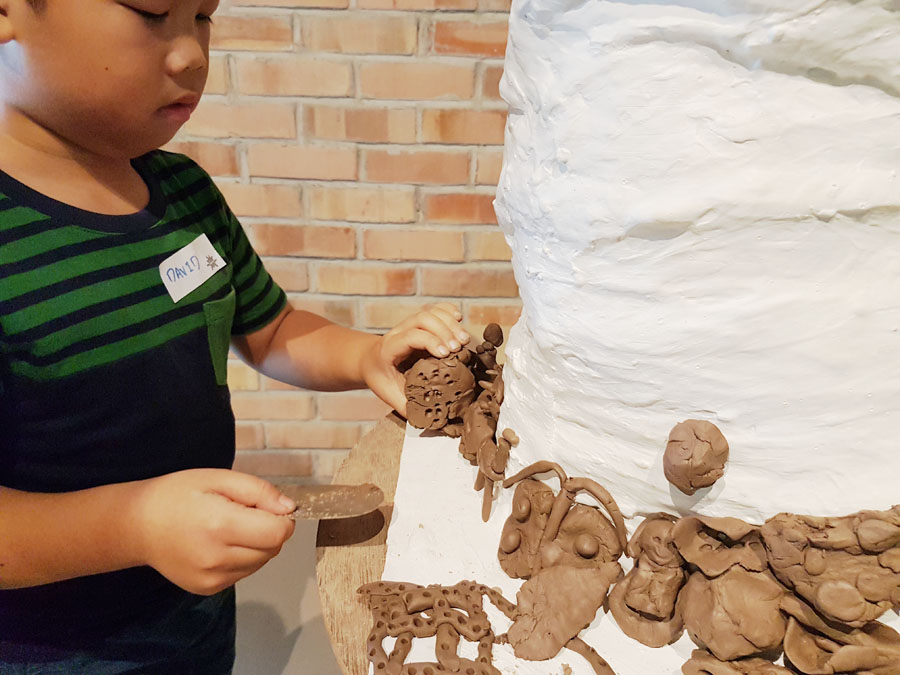 There was also a huge creative area where the children could choose from a wide selection of natural materials like leaves, twigs, bamboo tubes and the like to create their own music instruments and moth nests. There was no limit to what the children could make and that was a really empowering experience for David. He made three instruments in quick succession, two percussions and one string and had a ball of a time while he was at it.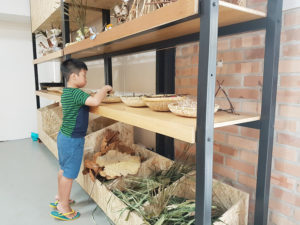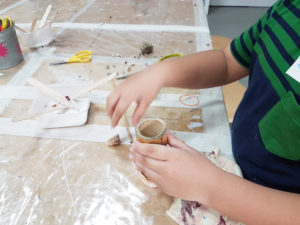 Children have the option to bring their creations home or hang it in the sound tunnel just outside Playeum.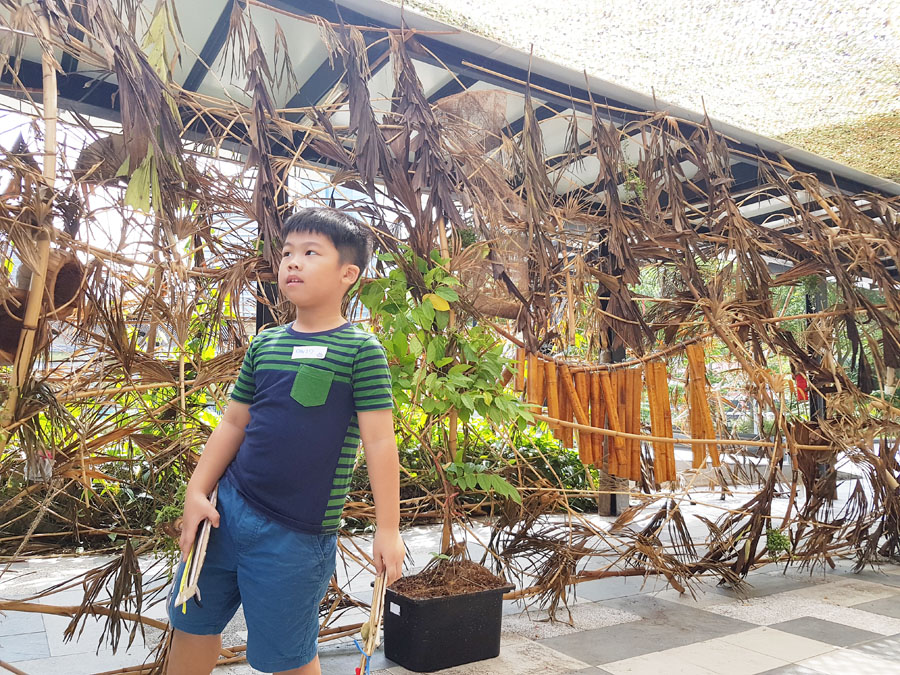 There were so many areas within Playeum that were highly engaging for children. We enjoyed that there was a good depth of sensory play and educational creative stations. There is a $20 entry fee per child, a fee that we felt was well worth the money as it allows children to experience play in a fresh, new way.
Mummyfique rating: 4.5 Fiques
+ Love the educational elements and free play that keeps the children very much gainfully occupied.
+ A huge plus for allowing us to bring children to an area for sensory play and not having to clean up after.
+ With the exhibition scheduled to be changed every six months, we are already looking forward to the next exhibit.
+ The $20 entrance fee is good value for money given the kind of activities they provide.
– We loved that the space was really conducive to the activities but the trade off is that Gillman though central is still a tad off the beaten track.
Playeum – Children's Centre for Creativity
Blk 47, Malan Road
Gillman Barracks
#01-23
Singapore 109444
T: +65 6262 0750
www.playeum.com