Here are Mummyfique, we believe that Mother's Day is special. Hey, with a name like ours, there's no hiding our love for all the mamas out there. Which is why we've scoured the island to put together this list of places where you can celebrate Mother's Day in style. After all, for the woman who gave you life (those nine months of pregnancy ain't easy you know), only the best will do, don't you think?
Mummyfique's #Myfiquemum Weekend at Gallery & Co
To celebrate Mother's Day, the team here at Mummyfique have put together our #myfiquemum social media campaign where everyone gets to nominate a mum that inspires them so that she can receive a special care pack lovingly curated by our team. The top 10 mums whose stories have been nominated will have their story featured on our site and receive an amazing set of prizes (worth more than $1000). But that's not all. Together with Gallery & Co (where the redemption point for the care packs are), we have a weekend of activities planned for the family. There will be a floral station curated by Fleurapy, a kids colouring corner, a photo booth, a wishing wall and complimentary popcorn! We'll also be having a pop up so you can can check us out and support a mum by buying one of our handmade 'by mothers for mothers' products and pick up a gift for mother's day while you're at it. Remember to join in the contest so that your mum-spiration gets her exclusive care pack! More details here.
Antioxidant Haven at The Knolls, Capella Singapore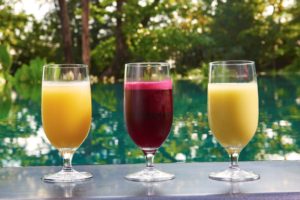 Mother's Day brunch at The Knolls takes on a healthy twist this year. The Mediterranean-inspired brunch will feature ingredients that will help to nourish the body and soul. Expect fresh salad and dishes made out of antioxidant-rich ingredients such as blueberries, avocados, walnuts and dark chocolates on top of air-flown seafood, sashimi and exciting barbeque stations. Hand-drawn canvases to capture memories of the day will also be provided.
S$168, 198++ & S$258++ (free-flow soft drinks and juices, Taittinger Champange & vintage Taittinger Champagne respectively), S$78++ (ages four to six) and S$118++ (ages seven to 12). For more information, please click here.
Sustainable Mother's Day Brunch at Mezza9, Grand Hyatt Singapore
We love how Mezza9 tries to do its part for the environment featuring produce that are sourced sustainably so you can rest assured that you're also doing your bit for the environment if you take mum to Mother's Day brunch here. Highlights include Maine lobsters,wood-fired free range pork rump, sustainable sashimi, sushi and seafood and crispy Peking duck. An in-house photography studio in partnership with KODAKIT will also be available on 8 May where you can have a complimentary family portrait taken and take home an everlasting memory.
S$168++, S$178++ & S$318++ (free-flow Perrier-Jouët Champagne, Perrier-Jouët Blason Rose Champagne & Perrier-Jouët Belle Epoque Champagne respectively), S$78++ per child (ages three to 12), S$138++ (ages 13 to 17). To book, please click here. 
Celebrating Our Mothers at The Halia
The Mother's Day menu at The Halia is an expression of love. Paying tribute to the woman who gave them life, the desserts and drinks on that weekend's menu have been inspired by the mothers of the chefs and mixologists behind the creations. A dessert called Athenasia for instanc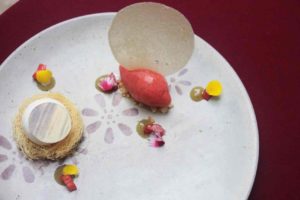 e is the name of both the mother and newborn daughter of its pastry chef Bill Dionysopoulos and consists of his mother's favourites — lavender bavarois served on crispy kataifi nest, green rhubarb coulis, poached rhubarb and tuille & homemade strawberry sorbet. Hey if it's good enough for his mum, I'm sure we'll all enjoy it.
For reservations, call +65 8444 1148 or email [email protected].
Breakfast in Bed at Mandarin Oriental, Singapore
Here's a staycation option with a difference. Available only over Mother's Day Weekend (7 to 8 May 2016), this package goes beyond accommodation (in one of the hotel's City Suites) for the family because children get to pamper their mothers as during the stay. They will be taught how to create their own heart-shaped pancakes at the live gourmet station of Melt Cafe with chefs' assist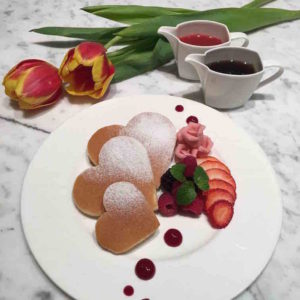 ance as they help to put together the breakfast trolley that will be delivered in-suite so mama can sit back, relax and enjoy breakfast in bed. When there, why not treat mum to a Japanese-inspired afternoon tea at the hotel's Axis Bar & Lounge as well so she can enjoy delights the likes of cherry blossom scones, poached chawanmushi and ume plum Swiss roll while basking in the city skyline.
Breakfast in Bed for Mum package is priced at S$1,500 per night and includes one night's stay in City Suite with complimentary late check-out, a floral bouquet for mum and up to four sets of breakfasts (including those pancakes!) served in the room.To book, please visit www.mandarinoriental.com, e-mail [email protected] or call +65 6885 3030 for room reservations or enquiries. Afternoon tea is available throughout the month of May from 3pm to 5pm and is priced at S$42 per guest or S$80 for two.
Cantonese Cuisine & Cocktails at Mitzo Restaurant & Bar
Mitzo's executive head chef Nicky Ng has put together a special eight-course dinner menu featuring signature items such as wok-fried lobster in 20-year hua diao wine, herbal pork rib with black fungus and enoki mushroom and of course, Mitzo's amazing barbecued pork. Each set menu comes with a glass of First Lady, a cocktail inspired by mums and their endless love. For the dim sum loving mum, the restaurant's Y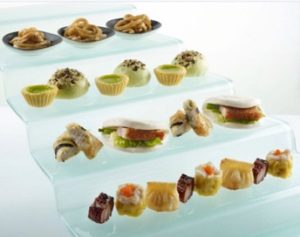 um Cha Brunch is just the thing with unlimited servings of over 40 types of dim sum and Cantonese favourites and onetime serving of luxe dishes like braised bird's nest soup and oven-baked lobster with Champagne sauce. Best of all, mums dine free with a minimum of three paying adults — sweet!
Dinner set menu (6 to 8 May 2016) : S$118++ per person, Yum Cha Brunch (7 to 8 May 2016) : S$98++ per person. For reservations, please call 6603 8855 or email: [email protected]
A Mother's Day Treat at Regent Singapore, a Four Seasons Hotel
Known for its great Italian buffet spread, this Mother's Day Basilico will up its game with a spread showcasing all-time Italian favourites. Highlights include ravioli with prawns and green asparagus, Prosecco risotto with Alaskan king crab, baked Maine lobster, a seafood bar (with poached lobster and king scallops) and sweet treats to round the meal. Our favourite though, isn't the food. Not only will mums receive a surprise gift to take home but thee restaurant is also setting up a Kiddies Playland, complete with a bouncy castle, arts & craft, balloon sculpting and other fun activities to entertain the kids so mums can kick back and enjoy their meal. Now there's a treat every mum would appreciate.
$137 (buffet only), $188 (free-flow of Prosecco), $208 (free-flow of Champagne) $69 (5 to 12 years old), For reservations, please call +65 6725 3232 or email [email protected]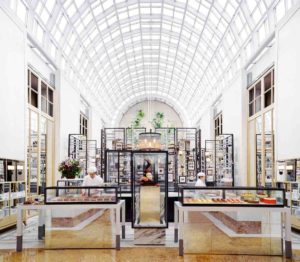 Vintage Champagne Brunch Buffet at Colony, Ritz-Carlton Millenia, Singapore
While mum enjoys lots of bubbly while feasting on goodies such as fresh seafood, grilled 'live' lobsters, Iberico suckling pig and Mayura Station roast wagyu beef tomahawk, the little ones get to do something for mama by decorating a cupcake for her. All mums will also receive a stalk of carnation and a family photo to remember the special day by.
S$198 (free flow Moët & Chandon Grand Vintage Blanc 2006, Moët & Chandon Grand Vintage Rosé 2004), S$99 (ages six to 12), S$49.50 (ages three to five). For reservations, please call (65) 6434-5288 or email [email protected] 
Youthful Delights at Shang Palace, Shangri-La Singapore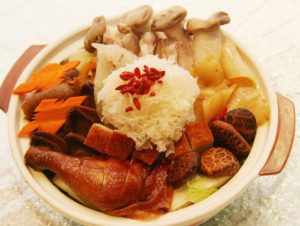 Master chef Steven Ng has created a complexion-enhancing à la carte menu from 25 April to 31 May 2016 that includes dishes such as the Beauty Complexion Claypot and Double Boiled Lingcod Bone Soup with Fish maw and Sea Cucumber that use Chinese supplements and collagen-rich ingredients (think pearl powder, bird's nest and hashima) to boost skin's elasticity and aid in anti-aging. A Mother's Day set menu is also available and includes equally skin-enhancing dishes like Double Boiled Bird's Nest with Almond Cream served in Whole Coconut and Braised Shredded Fish Maw Bisque with Crab Row.
The Mother's Day seven-course menu is priced at S$127 per person and is only available on 7 May and 8 May. For reservations, please contact Dining Reservations on 6213 4398 or e-mail [email protected]. For online reservations, please visit www.slsrewards.com.sg.

So Chic Mothers at Sofitel So Singapore
Chef Trevor Paulo, head culinary designer at the hotel's Xperience Restaurant has put together a three-course Mother's Day Menu with highlights the likes of tuna belly tataki with citrus wasabi, seaweed aioli and garden herbs and beef cheek with fork-mashed potatoes, spring onion tempura and buttered garden vegetables. Not forgetting to inclu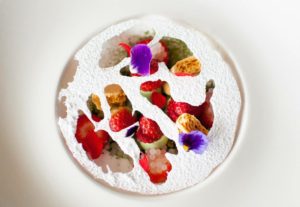 de the little ones in the fun, children are invited to proceed on to Xperience's private dining room after their meal to unleash their creativity and decorate a mini chocolate cake as a personalised gift for their mums. The icing on the cake: One (mama of course) gets to dine free with every three paying guests.
S$48++, only available on 8 May 2016. Children's menu (ages five to 11) available at S$20++. For reservations, please contact (65) 6701 6800 or email [email protected]

The St. Regis Mother's Day Champagne Brunch
Treat mum to the indulgent opulence that is St. Regis Hotel where an ambience of old school European glamour and live music awaits at Brasserie Les Saveurs. Guests get to enjoy a gastronomic spread of hors d'oeurves, cold cuts, fresh seafood and cheese alongside carving stations and main courses prepared a la minute by chef de cuisine Thomas Cruise. Desserts featuring cakes, tarts, macarons and sweets close the afternoon.
S$148++ (free-flow coffee & teas), S$180++ (free-flow wines, beers and juices) & S$195++ (free-flow "R" de Ruinart Brut). S$75 (ages four to 12). For reservations please call 6506 6860 or email [email protected].

A Bubbly Spring Treat for Mum at Terra
Everyone's in for a treat at Terra this Mother's Day with orders of chef Seita's delectable Italian-Japanese Omakase menu. Simply quote "Mother's Day Promo" to enjoy a complimentary glass of champagne per guest because a glass of bubbly never goes amiss. Chef Seita will be offering dishes inspired by the unique flavours of the Japanese spring. Known for his expert use of seasonal produce, we're sure mum will enjoy her meal here.
The Omakase menu is priced at S$128++, S$168++ and S$208++. Reservations are required and pre-order of the Omakase is required with the quote to be eligible for the champagne. Do note that only children above the age of 12 are allowed. For reservations, please click here.
Mother's Day Lazy Lunch at Seasonal Tastes, The Westin Singapore
Say thank you to mum with an afternoon of seafood, hearty roasts and delightful desserts at Seasonal Tastes. Expect fresh sashimi, a Ricotta Cheese Trolley and butler-passed fresh lobster and mango rolls to tantalise those tastebuds. A special for the weekend — The Butcher Shoppe — will see chefs grill rib-eye and striploin steaks to the doneness you desire, whole seabass or red snapper, satays, Garlic and Rosemary Rack of Lamb, Lemongrass and Lime Chicken Thigh, Calamari with Black Olives, Sundried Tomatoes and Basil, Citrus garlic Duck Breast and Fresh Coriander and Tiger Prawns Skewers, grilled to perfection. As a bonus, all mums will also receive a special gift.
S$88++ per adult, S$44++ per child. For reservations, please call 6922.6968 or email [email protected].