By AFP RelaxNews
Paris has a reputation for being one of the more creative of 'the big four' fashion weeks when it comes to showstopping catwalk beauty, and the Spring/Summer 2018 edition was no exception to that rule.
However, a few broad trends emerged from the myriad of diverse and visionary looks seen on the catwalks this fall.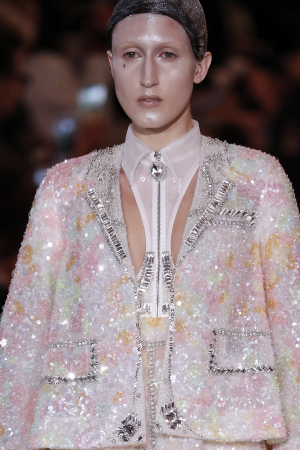 Glitter Babies
Glitter, bling and all things shimmery have been a major beauty trend across all four fashion weeks this season. In Paris, Dries van Noten took on the concept by fixing rows of crystals to the models' faces, embellishing lips or eyes. Thom Browne opted for all-over pink shimmer and a teardrop-shaped gem under one eye, and Maison Margiela added a golden-hued glitter to the ends of the hair. Valentino nodded to the trend with a bold pink shimmering eyeshadow that was painted out towards the models' temples.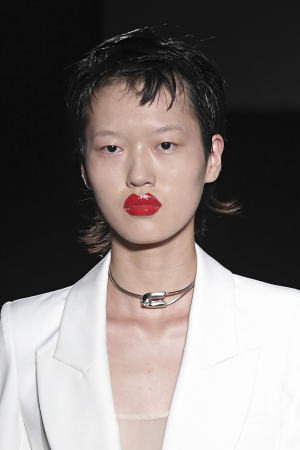 Chop Chop
The Spring/Summer 2018 shows, in general, have seen a rise in popularity of sleek, long, perfectly blow-dried hair. In Paris, the counter-revolution came in the form of choppy, layered, textured styles that championed individuality and nonchalance, from the short, spiky bangs seen at Masha Ma, to the tousled fringes at John Galliano and the shaggy cuts at Louis Vuitton.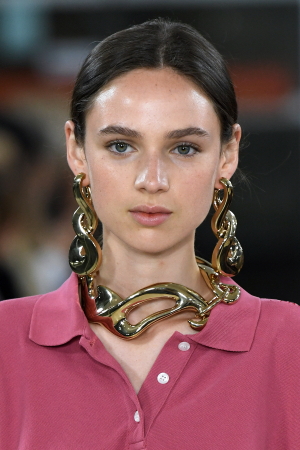 Shiny Skin
Another widespread beauty trend was also highly visible in Paris, with Elie Saab, Y/Project, and Celine just some of the houses to endorse glossy skin as a look. From the subtly glowing complexions at Celine to skin so dewy it looked almost wet at Y/Project, hydration and highlighter was the killer combination chosen by several designers.
I don't know about a choppy haircut or glitter all over but shiny healthy skin? Yes, please. Which beauty trend would you try out? Give us a shout @mummyfique.