Start the new school year right with these preschool essentials, as well as some tips on dealing with separation anxiety for pre-nursery kids.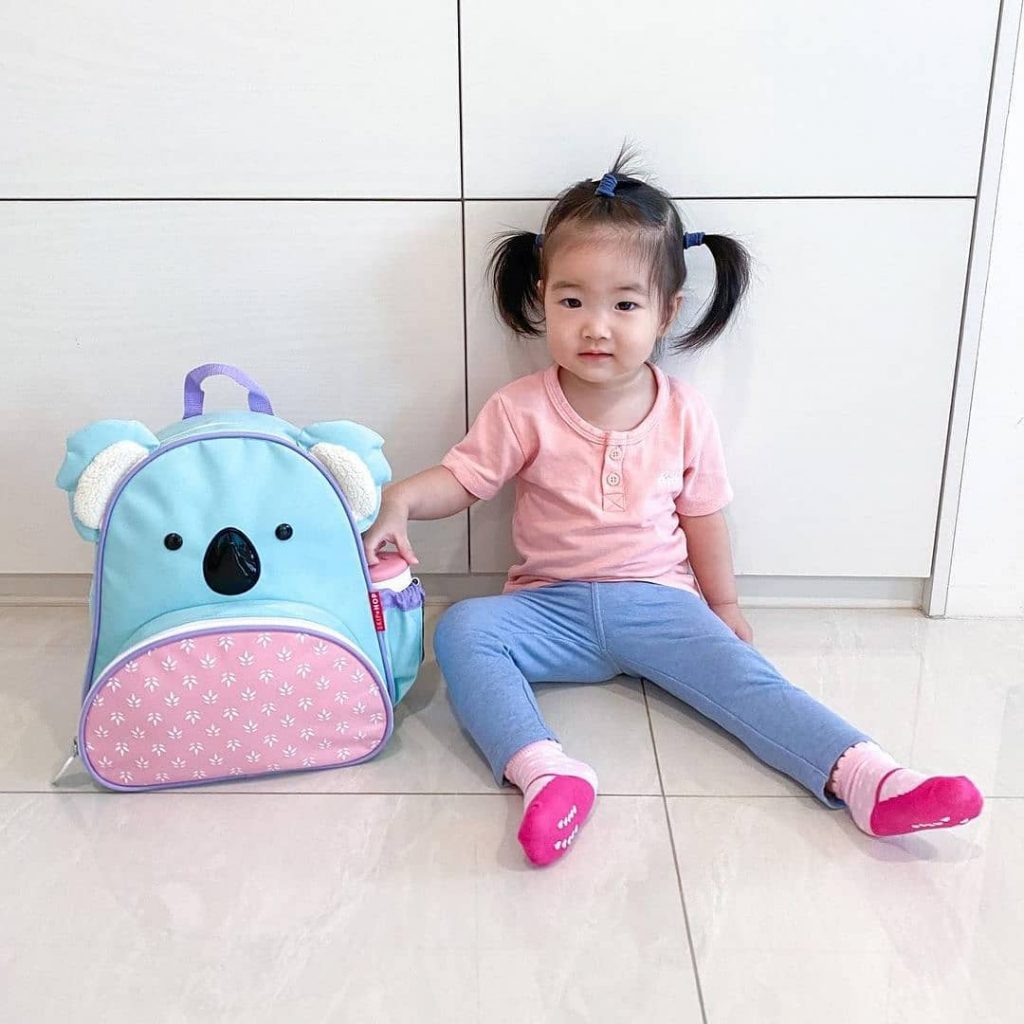 Starting off, you'll need a bag for them to store all their preschool essentials. Look for backpacks with padded, adjustable straps, and lots of compartments to organise their stuff and evenly distribute the weight for their spine health. For example, Skip Hop's Little Kid Backpacks ($37.90) have spacious main compartments, and front zip and mesh bottle pockets. These phthalate-free bags are made of polyester, easy to spot clean. Choose from the Zoo or the Spark Style collections. Letting your child pick out their bags, shoes and pack their bags gives them a sense of ownership and prepares them mentally for school. 

Optional: Learning Mat or Truck crayons ($5.90 to $9.90)
For children in pre-nursery who have yet to be toilet trained, pack around two to five diapers per day at school. Pull-ups ($16.70 to $67.90) may be preferred as the children do not have to lay down on the floor. Be sure to write your child's name and class on the diapers. If you've already toilet trained your child, pack in another change of underwear just in case.
Motherswork Recommends: Be sure to include a packet of wet wipes ($5.80 to $17.90) in your toddler's bag for preschool. Teachers can use these to clean your child's poop or any other messes.
Blanket, Pillow and Small Comfort Items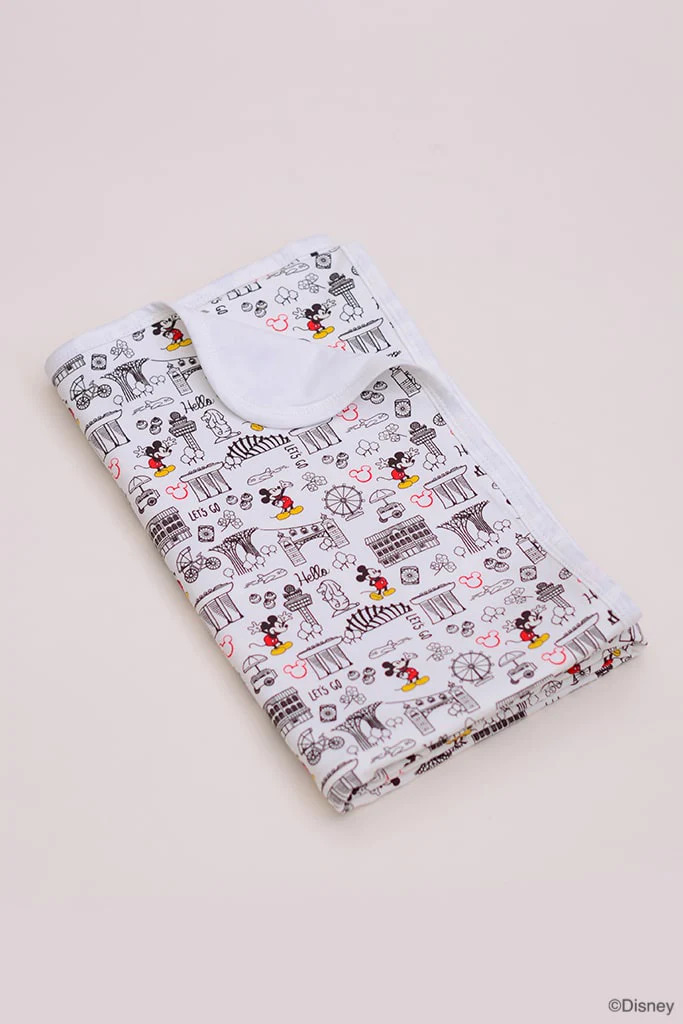 To help your child fall asleep at naptime, you may also want to bring their favourite blanket or pillow. As above, let them pick which one to bring to give them greater autonomy, as long as the pillow or blanket is fairly small and lightweight. If your child has a small comfort item, they can also bring it with them to help them with their separation anxiety. This could be a small Jellycat, or a picture of your family.
Pack two extra sets of clothes in case your child dirties their uniform. Put in a uniform and a set of regular clothes. If your childcare is air-conditioned, you might want to include a set of long-sleeved pyjamas or clothes they can wear during naptime. Other preschool essentials may include a bath towel, a plastic bag or wet bag ($36.50) for soiled or wet clothes. For Singapore's temperamental weather, pack in or bring along a raincoat to keep your little one dry on rainy days. Try one of these raincoats ($28.90 to $53.90) from Minitotz, which blocks wind and rain and has an extended visor for added protection. It's also mesh-lined and has a carry pouch to easily tuck it away.
Motherswork Recommends: Shoes for preschoolers
Make sure to label all your child's belongings, as they may not be able to identify their own water bottles and bags and such yet. Hence, teachers will be able to differentiate the belongings so other children don't accidentally drink from your child's bottle. Get your personalised labels from TinyMe or StickerKid. Some key things to label include your child's bags, water bottles, diapers, uniforms and shoes.
Next, pack extra hair accessories so your child's teachers can help retie their hair when it gets messy. Try these Simply Classic Clippers from Bubs 'n' Buttons, or the hair ties ($6.90 to $9.90). 
Raincoats 
For Singapore's temperamental weather, pack in or bring along a raincoat to keep your little one dry on rainy days. Try this raincoat from Minitotz, which blocks wind and rain and has an extended visor for added protection. It's also mesh-lined and has a carry pouch to easily tuck it away.
Mealtime Preschool Essentials
Keep your child hydrated with these water bottles ($14.90 to $47.90). Keep their water warm throughout the day with these insulated, stainless steel bottles. Consider also getting a water bottle with straps for days when your child has excursions so they can easily bring them around.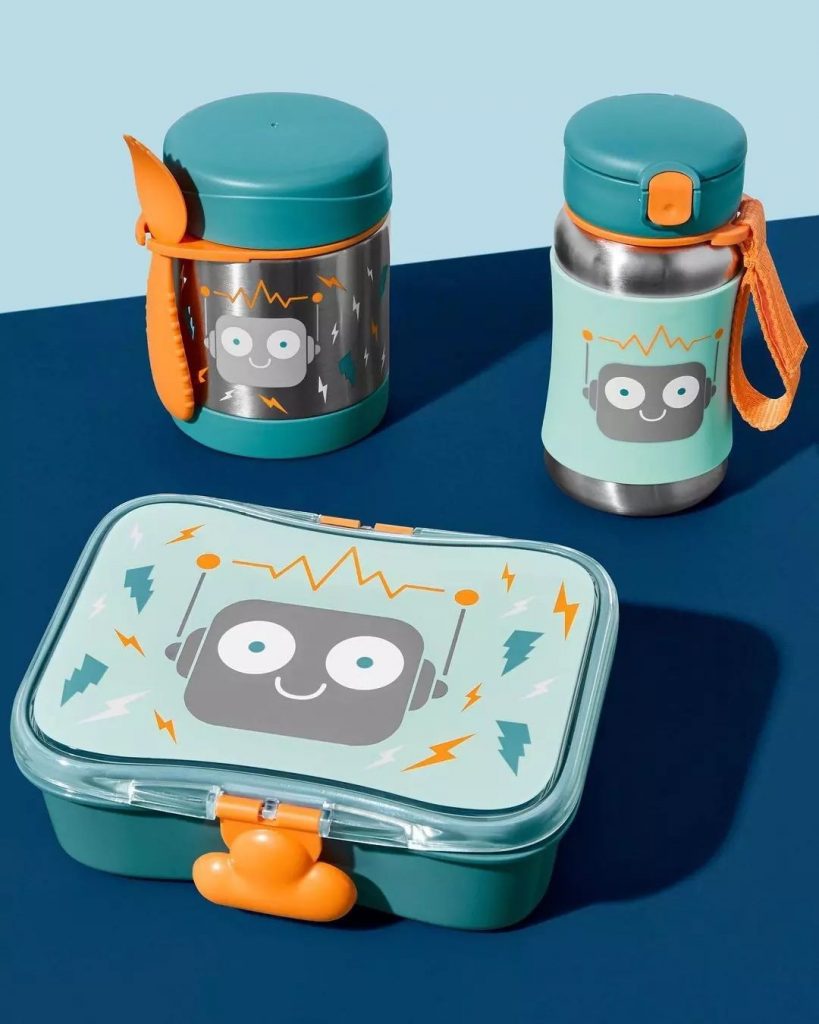 Although your preschool will likely provide snacks and meals, you might like to pack extra for your children. For example, your child might be selective about what they eat or the school might have a designated fruit day. Pack their lunch boxes ($19.90 to $79.90) with healthy snacks from Kiddylicious, KiwiGarden, Rosy Organic, Ivenet Bebe, Greenday Kids and Little Blossom ($2.20 to $12). On a related note, try to keep your child healthy by giving them supplements with vitamin C and zinc from Sambucol. These can help build their immunity against viruses.
Depending on your child, you may need to pack in some milk. Check with your preschool if you can store expressed breast milk, formula or a packet of milk. Of course, you'll want to add in an empty bottle if your child still uses one. Bottles with interchangeable lids like Hegen can help make bottle weaning easier by switching the milk teats for a spout ($17). Another option is the Hegen PCTO™ 240ml/8oz All-Rounder Cup PPSU ($33). This no-spill training cup is great for babies' sensitive gums, and regulates the water flow for easy sipping. Your child will likely be weaned off the regular milk bottle by nursery.
Mental and Emotional Preparation
Start preparing your child for entering preschool by introducing her to books and songs, especially those that the preschool uses. Before attending the school, show them around the school and talk to them about what they'll be doing in school. As above, let them choose their school bags and water bottles, and let them act out packing their diapers and clothes, and carrying water bottles. When out on family trips, let them carry their own bags and water bottles as much as possible. If you have the school's timetable, try to follow it as early as a month or two before your child starts school so they are familiar with the schedule. 
Start the day early and take your time getting your child ready. Arrive early so that you and your child won't be stressed or anxious about being late. Be cheerful and confident when you hug them and say goodbye and remind them you'll be coming back for them. Try not to disappear suddenly or return if you hear your child crying. During pickup, ask their teachers if they cried, and acknowledge your child's efforts whether big or small. Every child is different, and some may take a little longer to adjust than others.
Prepare Your Child for Nursery: I'm Going to Nursery
Recommended Reads: Preschooler Essentials, Tips for First Day of School for Preschoolers;