By Jasminder Kaur
According to the Olympic Association, at least 10,000 athletes are set to compete in this year's Rio Olympic Games. And of that, reports Refinery 29, approximately 45 percent of these will be women — making it the highest ratio of female to male competitors to date.
This year's Olympics has been packed with female power. But there is a specific type of female power we're covering in this article – mummy power. Here's a look at our favourite Olympian mums who have managed to balance a super-star athletic career with their family life.
Jessica Ennis-Hill
Jessica Ennis-Hill is a British track and field athlete from England specialising in combined events. A heptathlon competitor, Ennis scored a total of 6,995 points at the 2012 Summer Olympics in London, winning her a gold medal and setting a new national record as it was the highest winning total at the Olympics for 20 years.
She represented Great Britain in the Rio Summer Olympics. The mum of one to two-year old son Reggie was set to be the third woman in history to have given birth and retain her Olympic title within the same Olympic cycle but she just missed out on that, claiming a silver medal instead. Nafissatou Thiam of Belgium took home the gold.
2. Nino Salukvadeze
At her 8th Games, Georgian sports shooter Nino Salukvadze will make Olympic history by competing alongside her son! https://t.co/M1NkSng6iH

— Rio 2016 (@Rio2016_en) July 23, 2016
Nino Salukvadze's first competed at the Olympic Games when she represented the Soviet Union at the age of 19 back in 1998 and won gold in the 25m pistol event and bronze in the 10m air pistol.
Rio 2016 is her eighth Olympic Games and this time, she is joined by her 18-year old son and fellow shooter  Tsotne Machavariani, making them the first mother and son duo to compete in the same Olympic Games. The inspirational mum finished sixth in the 25m pistol event in Rio.
3. Dana Vollmer
Third time Olympian and gold medalist swimmer Dana Vollmer is in Rio seeking her first Olympic medal since becoming a mother last year.
Four years ago, Dana bagged three gold medals and set a world record in the 100m butterfly event at the London Olympic Games.
After giving birth to Arlen 15 months ago, Dana worked hard to regain her fitness as a world-class swimmer. For her impressive efforts, she has claimed three medals for the USA: a gold in the women's 4x100m medley relay, a silver in the women's 4×100 freestyle relay and a bronze in the women's 100m butterfly. 
4. Jo Pavey
More of my post race workout with @JessAndrews__ ? pic.twitter.com/TH66fRhHNL

— Jo Pavey (@jopavey) August 13, 2016
Jo Pavey is a British long-distance runner. The mother-of-two to son Jacob and daughter Emily made waves after she won the gold medal at the 10,000m event at the 2014 European Championships in Zürich just 10 months after giving birth to Emily in 2013. At 40 years and 325 days when she won, she currently holds the record for being the oldest female European champion.
Pavey has represented Great Britain five times at the Olympics (from 2000 to 2012) — the first British female track athlete to do so. At Rio 2016, Pavey finished 15th in the 10,000m run.
5. Oksana Chusovitina
Oksana Chusovitina is an Olympic champion gymnast who has competed for the Soviet Union, Germany and Uzbekistan. Rio Olympics 2016 is her seventh Olympics.
Chusovitina first represented the Unified Team made up of former Soviet Republics in the 1992 Barcelona Olympics and played a part in helping the team win a gold medal. From 1993 to 2006, she was the strongest gymnast on the Uzbekistan national team, earning more than 70 medals in international competitions and qualifying for the Olympics three times.
She is the oldest female gymnast in history that has ever competed at the Olympics games. Aged 41, she made it to the vault finals in Rio where she attempted the highly-dangerous Produnova, putting her in seventh place overall. The event was eventually won by American gymnastics sensation Simone Biles who at 19 is just two years older than Chusovitina's son.
6. Ni Xialian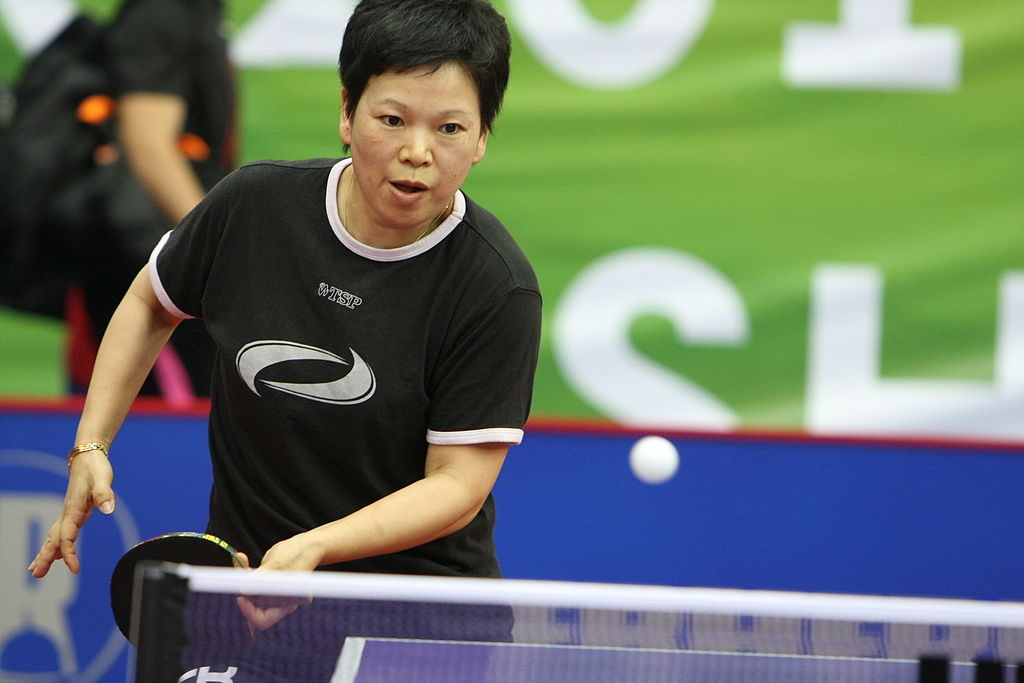 Table tennis player Ni Xialian represents Luxembourg and is a four-time Olympian having competed at Sydney 2000, Beijing in 2008, London in 2014 and Rio 2016. The 53-year old mother of two reached the third round in the women's singles event at this year's Rio Olympics, eventually losing to Singapore's Feng Tianwei but only after she gave the younger player a run for her money by winning the first two sets.