Love, Bonito turns 11 this month and the brand's journey towards success is not all as smooth-sailing as it's thought out to be. Behind this multi-million dollar empire is Rachel Lim, its co-founder, whose strength and determination propelled the business forward with no lack of sheer hard work, almost 24-hour work days, and more often than not, seven days a week. After her family was hit hard by the Asian financial crisis, Rachel dropped out of her final year of university to venture into the retail industry, paying off her bond to the government with her mum's life savings. Today, Love, Bonito's brick and mortar stores span across four countries with a Hong Kong pop-up on its way. Not to mention the brand has a stellar e-commerce presence in Australia, UAE as well as the United States.
Rachel welcomed her little boy Oliver last December and has chronicled her motherhood journey on her Instagram page. So how exactly does a fashion mogul mum with businesses across Asia still appear poise and have it all together? 
Tell us a little bit more about your family. Who was your role model when you were growing up and shaped you into the woman you are today?
My mum was my role model. Growing up, I've seen my mum through the various difficulties and challenges she faced personally and professionally. In one season, she had to hold three jobs to support the family. Yet through all her challenges, she never lost her joy. When she was down and out, she would cry herself to sleep, but she never lost her deep sense of joy and her source of hope. That really inspires me till this day.
The Asian Financial Crisis was a difficult time for your family. How did you feel at that time and what inspired you to take the reins and dive into the fashion industry?
The situation at home was definitely not the most ideal so my friends and I started selling our pre-loved clothes online for some extra pocket money. I guess you can say that our venture into fashion was an incidental one since these apparels were sitting right in our closet and people were starting to explore online shopping so we thought, why not? I remember we were self-packing parcels and did not know much about the retail business. Yet, childlike naivety and an unbridled passion to empower women through fashion propelled us further and deeper.
How does it feel to have Love, Bonito be a fashion icon to be reckoned with both in Singapore and internationally?
Excited and really humbled! We celebrate Love, Bonito's 11th Anniversary this August and would not have been able to do so without our customers' letters, support, feedback, and guidance all these years. We have evolved tremendously since the early days, expanding our categories and product lines, catering to women in various seasons of their lives, and more importantly, being more convinced than ever of our mission and purpose. Today, we are in 10 key markets within Southeast Asia, East Asia, Australia and the United States of America and have also recently launched our Hong Kong and Japan websites to better cater to local customers.
When was the most challenging time during the brand's journey? How did you overcome it? What or who spurred you on?
Some early years into building Love, Bonito, I hit one of the lowest points of my journey. It was not easy working on the business 24/7 – my energy was low and passion was running dry. I questioned Love, Bonito's purpose in this world as I knew that for us to stand the test of time and challenges, we had to dig deep to know why we existed.
Unexpectedly, what inspired me then was an email from a customer. A lady had written to me late at night after going through a major skull reconstruction. In her letter, she shared that our clothes had brought smiles to her days and gave her the confidence to face life and its many challenges.
There was no looking back since. And up till today, the purpose and mission of Love, Bonito keeps me going through the toughest of times. It is true when they say when we know our "why", it will help us get through any "how".
Were you apprehensive about setting up the first brick and mortar store in 2017 after all the while only having an online presence?
Not exactly as we have taken smaller risks and tested the market by opening a couple of pop-ups prior to setting up our very first physical store at [email protected] The process has helped us better understand the space required, layout and assortment that would best cater to our customers. As a brand that started out online, we recognised over the years the importance of having a physical space where we get to connect and get in touch with customers.
Love, Bonito is "For the woman you are, and the woman you want to be." How did this mantra come about and how has the brand developed to ensure that its purpose is fulfilled?
At Love, Bonito, we exist to empower the everyday Asian woman at every stage of her life, through thoughtful designs and experiences backed by data science and a strong community strategy. We believe that good designs can and should be accessible for all. Feeling and looking great should not be limited to just a privileged few, and we're here to equalize that. Above all, we see fashion is a vehicle for us to reach out to women. Ultimately, we are in the business of women and not the business of fashion.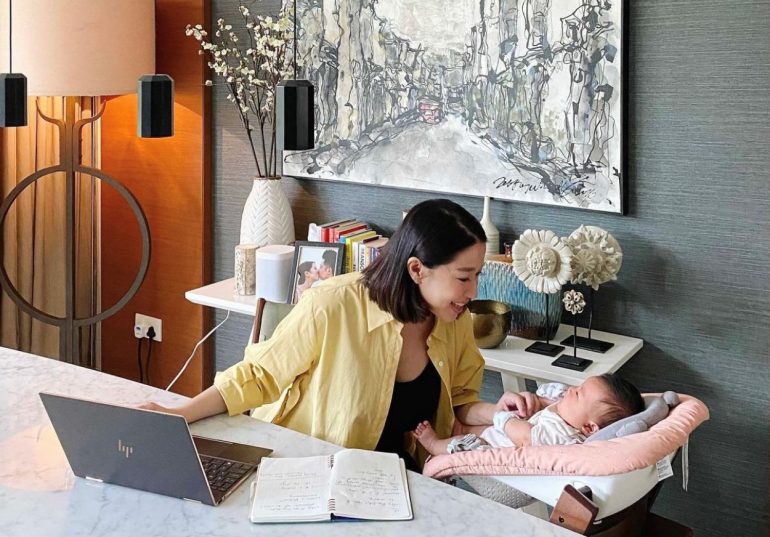 How do your clothing designs communicate the idea of "body positivity" in women?
Body positivity is a state of mind. We create designs that celebrate different body types and shapes, with varying sizes. Being a new mum myself, I am also constantly reframing my thoughts and looking for outfits that help me feel my best. When we look good, we feel good. We stand a little taller, speak a little louder and shine a little brighter!
Now that you're a mum, how do you balance motherhood and being the owner of one of the largest direct-to-consumer female fashion brands in Southeast Asia? What's the secret to your work-life-balance?
I'm constantly learning and will not proclaim that I'm the best at maintaining this balance for now. The hardest part was taking the one month of maternity leave post childbirth to recuperate as well as to bond with my son, yet I often find my mind wandering back to the work tasks at hand. I recently came across a quote by John Maxwell, a leadership expert, where he mentioned that we will have to determine which are the glass and rubber balls of our lives – which aspect of life we can afford to drop, and it will still bounce back up and which of them will break when we let go. This analogy has helped me reframe my thoughts by learning how to prioritise!
What are the things you love about being a mum?
I am a huge believer in the power of nurturing and upbringing that impacts a person's life. It's such a huge responsibility and calling that is scary yet so sacred. It excites me (and scares me at the same time!) to know that how Ollie is brought up will make such an impact in his life trajectory. Challenge accepted!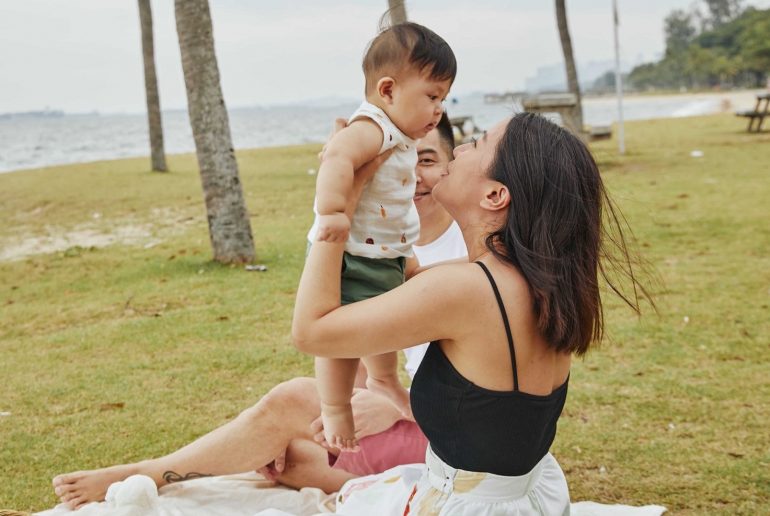 Has being a mum changed your business perspective in any way? How so?
Yes – I have learnt to be ruthlessly productive. With limited time in a day and an eight-month-old baby Ollie that takes up a significant portion of that, I have no choice but to learn to be as productive and prioritise as much as possible.
What's the most important lesson you want to impart to Oliver about being an entrepreneur?
I hope that Oliver will treasure and appreciate life and its different seasons, through the ebbs and flows. I hope he learns the importance of extreme self-awareness, reflection and to never stop learning and expanding our minds. These have been so valuable in my journey.
What is one piece of advice you have for mums who are struggling with starting a business and looking after their kids at the same time?
The importance of self-care. If you don't put on the oxygen mask for yourself first, you will not be able to save others. And never be ashamed to ask for help! That has been life-changing for me.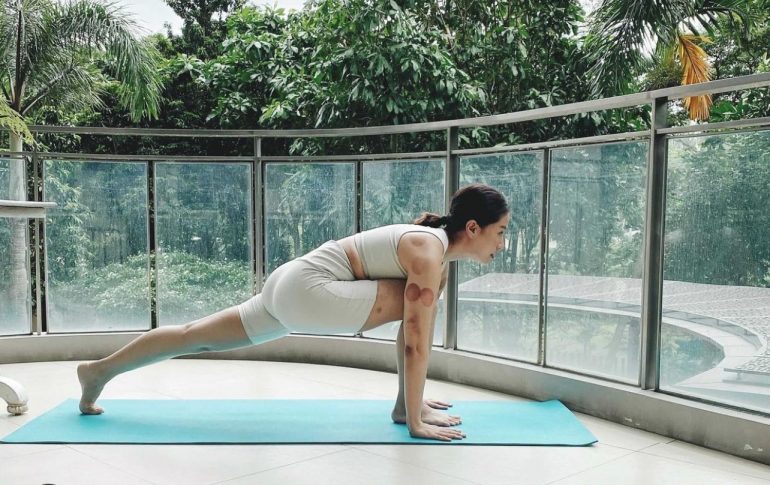 You must have a regular beauty and fitness regime in order to stay sharp and focused both as a mum and boss. What are they?
Exercising helps me stay fit physically and mentally! So I try to ensure I incorporate that into my days as much as possible. Plus, I have been taking time out weekly to journal and reflect, to be honest with myself about how I am feeling, what happened throughout the week and my thoughts about them.
What's your favourite feature of the Skin Inc Tri-Light™ Body Sculpt Fit and how do you incorporate it into your regular self-care programme? How has it helped you?
I really love that it heats up and is a perfect device for my neck and upper back massages! Especially in this WFH period where we are always seated in front of our laptops.
What does #yourbodyyourrules mean to you?
Live life on our own terms and do not let anyone or social media dictate that for you. Stop comparing ourselves to others because we are all created uniquely and differently – and success looks different for each and every one of us.
My Body Story is brought to you by Skin Inc. Skin Inc is here to celebrate your every curve and embrace body positivity through wellness and selfcare with our new innovations – the Tri-Light™ Body Sculpt & Body Sculpt Fit Serum. Feeling good is the new looking good, and it looks different on everyone – no two bodies are the same. Feel healthy and happy, in all sizes and shapes – because your body, your rules!