At 41, Michelle Hon has conquered the world, well, pretty much. With multiple businesses under her belt, not to mention a proactive mum to three lively kids aged nine, seven and five, Michelle is still on the get-go and not slowing down an inch. She's quietly competitive and a serial multitasker who is determined not to wait around for things to happen. Michelle's go-getter attitude stems from her mum's "tiger mum" parenting. Losing her mum when she was just 13 years old and being the oldest of her siblings meant that Michelle had to take up the reigns of adulthood overnight
Since then, she has taken on many hats and learnt that while sheer determination and hard work bring about success, it is okay to delegate tasks, relax and unwind every now and then. After all, you can't be a super boss-mum 24/7, or can you?
You are known as a successful entrepreneur with multiple businesses, a mum with three young children, a speaker, podcaster, and you've even published a book. When did you find out that you were a serial multitasker?
I knew it since I was a kid that I was a serial multi-tasker. In school, I have always been involved in multiple co-curricular activities at any one time. I get restless easily and my mind is always racing with what I can do concurrently.
 What attributed to your go-getting personality while growing up?
My mum was a "tiger mum" and I remember sitting next to her as she played mahjong with her sisters. She was always telling them how well I did academically, so I must have internalised it and been quietly competitive all the while to make her proud. She passed away when she was 35 and I was 13. I was the eldest amongst my siblings, so I had to grow up overnight. Her death also made me realise that life is too short to just sit around waiting for things to happen. I'm 100% responsible for my life and if I want anything, I have to go out and get it for myself. 
With so much on your plate, how do you organise things, allocate your time, and stay focused?
I'm much better at this as I age. I used to take on and do everything by myself. As long as I can do it by myself, why pay someone else? It stemmed from growing up with not much; my dad was a struggling entrepreneur. I even used to do my own plumbing! Today, I'm good at saying no, setting boundaries and delegating. I've learned that just because I can do something, doesn't mean that I have to do it. Delegate it to someone else and focus on doing things I enjoy and only I can accomplish.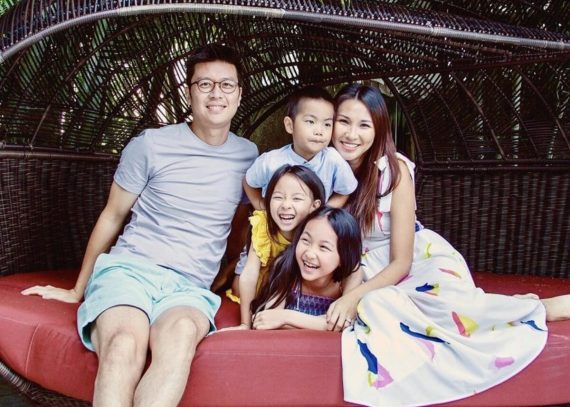 No one can remain in tip-top shape perpetually, whether it's physical, mental, or emotional. Can you share a particularly challenging period in your life when you feel like you are in a funk?  Have you ever experienced "mummy burnout"?
I don't think I'm ever tip-top! I'm clear about my priorities so I'm okay when a certain part of my life isn't a 10/10. I'm not hard on myself. The only time I experienced a "mummy burnout" was probably when Lauren (my first born) was six months old. I told my husband I could not take it anymore and needed a break. I went on a four-days Taipei trip with my sister, leaving him with baby Lauren. Ironically, I was a full-time mom then, with no career-prospects. The trip made me realised how much I miss my family while I was away and I've never been away from them for leisure since. I have more responsibilities now and still get mini "funks" now and then, but I usually snap out of them quickly. So I think it comes down to how satisfied we are with our lives, despite the circumstances.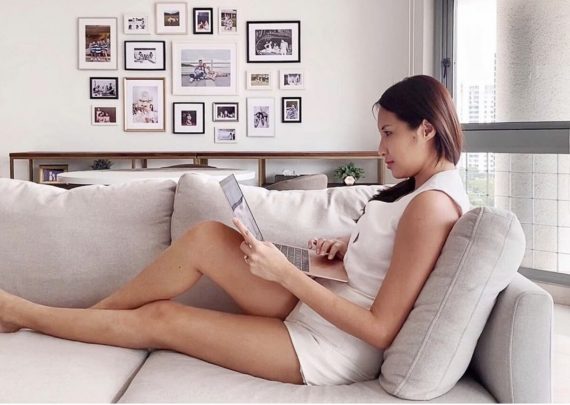 How did you deal with that challenging period? 
I allow myself to take a break whenever I start to feel overwhelmed. To me, overwhelmed usually comes in the form of having many deadlines and having to do things I don't like to do and I would get easily annoyed. Sometimes I would shout at the kids and feel really bad afterwards. That's when I know that I need to pause, do a brain-dump onto a piece of paper on what is it I need to accomplish. And once it's written on a piece of paper, I can clearly see things I need to tackle first and what can wait.
Taking a break can be as simple as walking away from the desk and getting myself a cup of water. If I'm even more stressed, I get myself a bar of chocolate or crank up the music and sing at the top of my lungs. It helps! 
Can you share some tips with the mummy community on managing stress and the debilitating feeling of helplessness when overwhelmed with our multiple roles and daily tasks?
Know that not everything is urgent. You don't need a perfectly neat house, serving your kids home-cooked organic food, supervising homework, going to yoga and managing a department at work to be a "good, successful" mum. Give yourself grace. Do right by you.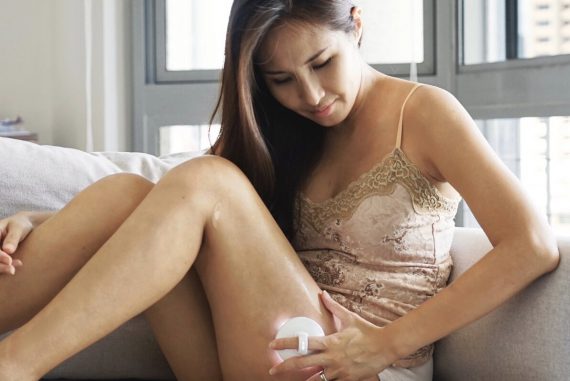 Despite how busy you are, you have never looked better and more contented. We'd love to find out what's your regular wellness and beauty regime.
I don't have a wellness regime, but I try to eat well and as often as I can. But I don't diet anymore. After many years of yo-yo dieting (I was a model between the age of 16 and 24 and was constantly being told that I was the "meatier" one), I learned that not one diet really helps in keeping the weight off.  When I finally quit modelling and could happily eat whatever I wanted, that's when I lost the most weight.
I believe in listening to our body and giving it what it craves. And yes, that includes chocolates or whatever you feel like because once you have satisfied that craving and given your body whatever nutrition it lacks, you won't feel like eating anything else unnecessarily. Having said that, I don't drink coffee, alcohol, and sugary drinks. I rather eat my calories than drink it.
As for my beauty routine, I like to switch it up. I have many types of serums and creams. Depending on my mood, I may layer my skincare and go through the whole 11-step routine, but on most days, it's just wash, treat and moisturise with Skin Inc multi-functional products.
Can you tell us your favourite feature of the Skin Inc Tri-Light™ Body Sculpt Fit, and how do you incorporate it into your regular self-care programme? How has it helped you?
I use the "Lift and Smooth" mode the most on my tummy and thigh area. I don't have a programme per se, but I have the Tri-Light Body Sculpt Fit right by my desk, so I do use it quite regularly. I like the lingering warm sensation that persists after each use. I'm at my desk a lot and don't work out, so the Tri-Light Body Sculpt Fit helps me with improving my lymphatic circulation and hopefully, toning up my skin too!
And finally, what does #yourbodyourrules mean to you?
To me, it means I know my body best. It's my right to live by my rules and choose how to treat my body right.
My Body Story is brought to you by Skin Inc. Skin Inc is here to celebrate your every curve and embrace body positivity through wellness and self-care with our new innovations – the Tri-Light™ Body Sculpt & Body Sculpt Fit Serum. Feeling good is the new looking good, and it looks different on everyone – no two bodies are the same. Feel healthy and happy, in all sizes and shapes – cause your body, your rules!