Jasmine Chong, 32, is certainly no stranger to yoga enthusiasts across the island with four successful barre and yoga studios. A wellness advocate who gave up her pencil-pushing corporate life, Jasmine's yoga journey began way back when she was a student and hitting the gym pretty much every day, all with the goal of shedding some pounds. Advised that yoga would elevate her exercise regime up a notch and is great for stretching out sore muscles, Jasmine signed up for her first yoga class, and well, the rest was history. One thing led to another and through sheer determination and tenacity, Yoga Lab was born.
As we all know it, building a business from scratch ain't easy, managing a business while pregnant is way tough, and sustaining a business plus juggling motherhood, it's out of this world. To be pregnant amidst a pandemic, well, you have to be a woman of steel, which is exactly what Jasmine is. She went through it all and emerged victorious.
When was Yoga Lab launched and what made you decide to leave a stable corporate career to be an entrepreneur?
It was more a push than a pull factor. Years of being in the corporate world made me feel I was not living out my calling. I was never happy but had to put on a front because the show had to go on. I needed to find myself again so I left to take a break and taught yoga which eventually led to me opening Yoga Lab!
What are some of the obstacles you faced as a new business owner and what lifelong lessons did you learn from them?
I have a type A personality. I am a go-getter and sometimes that means I can forget to rest. I went at 110km/hr for the first two years of the business. We expanded tremendously, but I got burnt out soon after and needed to take a long break that required the team to transition quickly. There is an African proverb which says, "If you want to go fast, go alone. If you want to go far, go together". That was the lesson I learnt during that transition. With a team, I am way stronger. 
You became a mummy for the first time amid a pandemic and under lockdown conditions. Did that adversely affect your pregnancy journey? What was the most challenging part of being pregnant during Covid?
The uncertainty was the toughest. When I first found out I was pregnant, my husband was still based overseas for work. We did not know when borders were going to be open again, where I would delivering Joshua and subsequently raise our family. The initial plan was to do roundabout trips to and from Hong Kong so the family unit stays together. One good thing though was because borders were closed, my husband was here with me throughout my pregnancy. 
How did you feel about your body's changes and did you adjust your fitness regime to accommodate the pregnancy?
I did not like my pregnant body and struggled to accept it. It was a struggle to see my body changing. The gentle birthing app helped a lot. I began meditating and my hypnobirthing training reminded me to trust my body and its ability to birth my baby. I knew and accepted that my body changes were designed to nurture the development of my body. I kept my fitness regime throughout my pregnancy. I went for spin classes until I was at 27 weeks and Pilates, yoga plus barre all the way till the day that Joshua was born. I modified the intensity but kept active throughout my pregnancy. I also walked a lot (2 hours daily) when I learnt that it can help accelerate labour.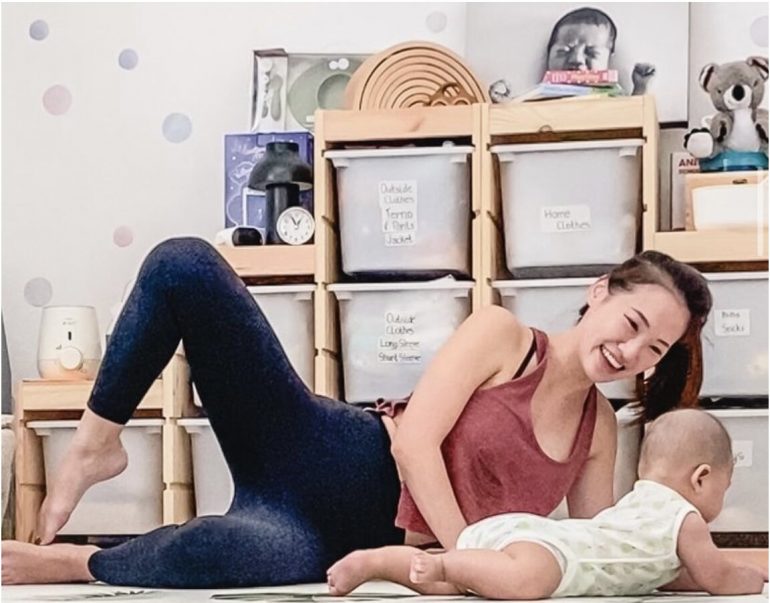 Could you share some insights and tips for mums-to-be who would like to continue practising yoga during their pregnancy?
I have a series of IGTV on my page on how a mummy-to-be can easily modify her yoga practice during pregnancy. I am a believer of empowering mummies. We are just pregnant, we are not handicap. There was so many things that we can still do! Having the knowledge of what can be done and what needs to be avoided can empower mummies to continue to stay active throughout pregnancy.
How has being a mummy changed you as a woman and an entrepreneur?
I think a lot more about how I live my life and what kind of role model I am for Joshua. I want him to learn how to stand up for what is right. I want him to have dreams and have the courage to chase after them. 
I am realising how I have to be more intentional about my time, my thoughts and actions. I am fully present with the baby in the afternoon and once he goes to sleep, I am back, fully present and catching up on emails. Motherhood has also softened me. I can better empathise with others now. I think it has definitely brought out the nurturing side of me. 
Being a mother has helped me connect with so many more of our members at Lab Studios. We celebrate wins, for example, being able to make it to class while the baby naps. I understand their struggles and can now dream up of ways to help support mothers in their journey with Lab Studios.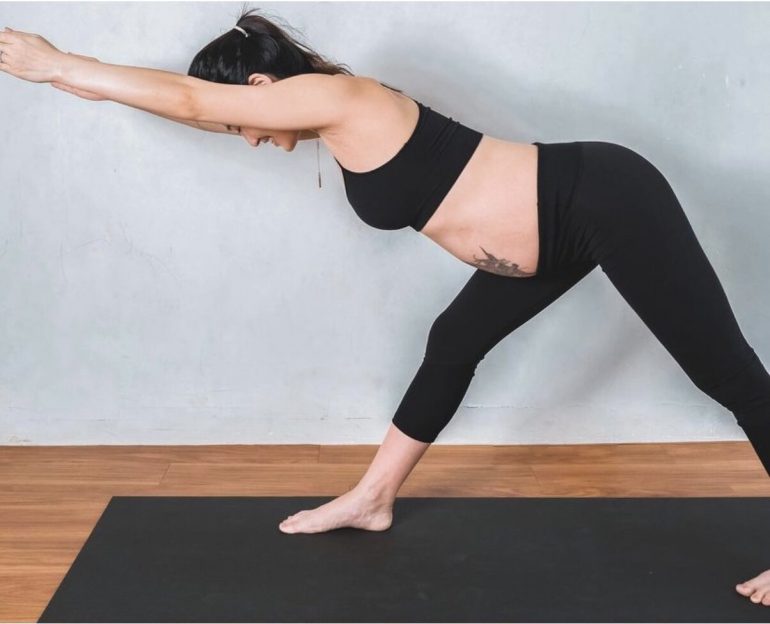 You have been an inspiration to many with your courage and passion. What is the one piece of advice you would give to someone who is thinking about giving up a stable income to become an entrepreneur?
The dream is free, the hustle is sold separately. Run like hell at it.
With your multi-tasking lifestyle, how do you take care of yourself and your well-being? Could you share some beauty and wellness hacks for busy mothers like you?
I either do 10 things at one go or nothing at all. I carve out at least a portion of the day for myself. I use that time to do something for me. Initially I couldn't achieve this because I felt like I was being selfish. However, I realise the importance of giving myself full permission to be selfish in taking care of myself so that I can then take better care of my husband and baby.  
I spend this portion of the day attending a class! I don't want to self-promote but our Lab on Demand sessions are pretty awesome as there are so many videos of yoga and barre classes taught by solid teachers. There are also a variety of class types; some express classes work best for when my baby takes that extra short nap. On days when I have the luxury of time, I'll enjoy a full class. Some days that time slot is for a facial, massage or a manicure. Joshua's on a schedule and sleeps by 7:30pm. After he sleeps, I get my me-time back!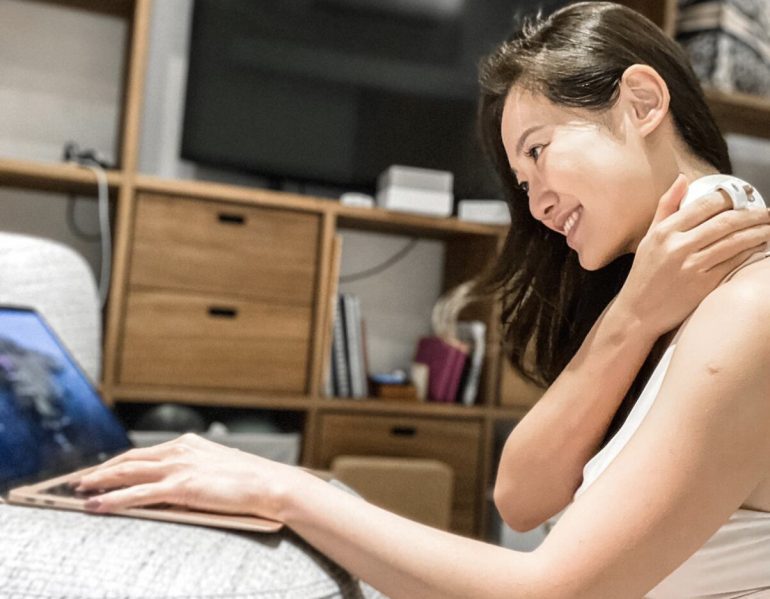 What's your favourite feature of the Skin Inc Tri-Light™ Body Sculpt Fit and how do you incorporate it into your regular self-care programme? How has it helped you?
I love the warm function of the Skin Inc Tri-Light™ Body Sculpt Fit. The device is lightweight so I will use it while I pump. All that forward hunching while pumping can really affect my shoulders. The Skin Inc Tri-Light™ Body Sculpt Fit eases the tension and soothes the muscles. 
And finally, what does #yourbodyourrules mean to you?
Doing what feels good for my body. It means to respect my body and allow myself time and space to connect with it. It also means accepting it completely as my oldest friend and committing to this relationship with my body through the good and the bad. 
My Body Story is brought to you by Skin Inc.
Skin Inc is here to celebrate your every curve and embrace body positivity through wellness and selfcare with our new innovations – the Tri-Light™ Body Sculpt & Body Sculpt Fit Serum. Feeling good is the new looking good, and it looks different on everyone – no two bodies are the same. Feel healthy and happy, in all sizes and shapes – because your body, your rules!