Dolores is a game-changer in every position she has assumed, not only in Singapore but across Asia. She began her career holding key positions in fashion companies such as Song & Kelly and Club 21 before starting her own marketing and communications agency in Singapore. A self-professed travel junkie and bon vivant who loves to immerse herself in different cultures and gastronomical adventures, Dolores continues to build and develop food and beverage (F&B) concepts, her most recent venture being a famous ramen chain in the US. She is also deeply passionate about the subject of motherhood and issues of mental health in children, which led her to establish Mummyfique and SG Mummies United, as well as the #lifebeyondgrades initiative to change societal mindset and alleviate the rising pressures of school on children. Dolores had her fair share of challenges over her 20 years of experience in management, public relations, branding, marketing, publishing, and not forgetting, motherhood. Her bold, fearless attitude that dared her to cross boundaries, is what makes her the successful mum-boss-entrepreneur she is today. Here is her story.
1. Tell us a little more about yourself. What was life like growing up in Singapore and what led you towards careers in marketing, communications, and even F&B?
I come from a family of three girls, with twin younger sisters.  I've always been the troublemaker at home; perpetually restless, always pushing the boundaries with my parents and getting into scrapes in school.  I had a fun childhood with many good memories, mostly of my adventures. But even though I tried to live large, under the strict eyes of my disciplinarian parents, my academic results never suffered.  I attended one of the best SAP (Special Assistant Plan) schools in Singapore for 11 years, attended junior college before graduating with a double major in Political Science and English Literature from NUS. As audacious and plucky as I was back then, I've always had my head screwed on right so I never got myself into irreparable situations.  This mix of gutsy bravado and practical savviness would eventually lead me to my entrepreneurial journey.


After graduating, I started my career in fashion working my way up from the sales floor to overseeing retail and marketing for Song & Kelly. Those two and half years were the best working experience of my entire career as an employee, with the best bosses – ever. I learnt everything about public relations, marketing and communications and branding from scratch, with guidance from my bosses then.  I was really good at it, and it was a natural progression for me to pursue this field within the fashion and lifestyle industry. Serendipitously, I met my then-business partner in the next fashion marketing role I assumed, and we both decided to start a marketing and communications company together. Even though we are no longer partners, we have done amazingly for ourselves and remain as lifelong pals.
After moving on to start my own agency with headquarters in Kazakhstan and China, I exited the business successfully and took a sabbatical in between. I couldn't start another agency then due to contractual non-compete clauses. So I went back to what was second nature to me – heading up the marketing department of a regional fashion and lifestyle company. Before long, an opportunity to be part of the pioneer team in a newly-created section in a local newspaper beckoned. The adventurous, curious and ambitious me needed a new challenge and that's how I entered into publishing with the largest media organisation in Singapore.  It was never meant to be a long-term position, and once I was done setting up the working protocols and closed several profitable collaborations with advertisers within the two years I was there, I moved onto my next adventure – F&B. I never looked back since. 
2. Six children? Amazing! Was it always your dream to have a large family?
 Yes. Five of my own and one step-daughter. Somehow, I've always known that I would have a big family.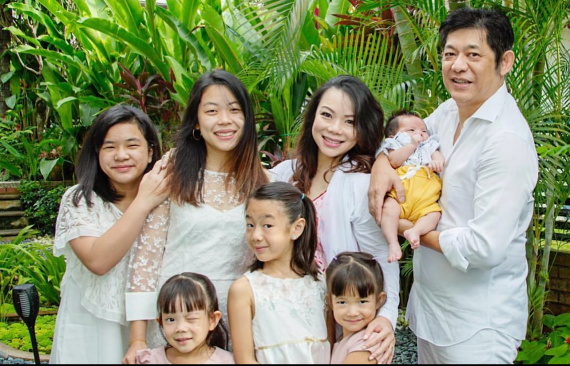 3. How has your motherhood journey changed over the years with each of your children?
My journey with every child is different. I had them at different times in my life over my 20s, 30s and 40s. So my expectations and realities were different at every juncture. In my 20s, I was the struggling single mum who hardly saw my firstborn as I was travelling every other month.  Failure was not an option, and I worked non-stop and was plagued with the worst mum-guilt ever.  It took me a long while to get over it but eventually, I had to snap out of it as it was affecting my physical and mental health. In my 30s, I had grown with confidence and learnt that everyone does motherhood differently. I no longer let mum-guilt be the debilitating handicap that pervaded my 20s. I learnt to embrace the beauty of affordable childcare and the assistance of a loving support system – the grandparents. Now in my 40s, I am doing it all over again with three little ones below the age of seven. 
4. With a whole slew of businesses under your belt plus a family to look after, how do you manage to keep a healthy work-family balance?
A healthy work-family balance always starts from a healthy mind, so I always make it a point to wake up grateful. No matter how challenging life is for us, counting our blessings helps keeps things in perspective and reminds us that we have so much to be grateful for.  Starting the day with gratitude and a prayer helps me get through the most difficult moments. Only then can other decision-making and prioritisation devices like the Eisenhower Matrix, work to keep our daily tasks and chores in check.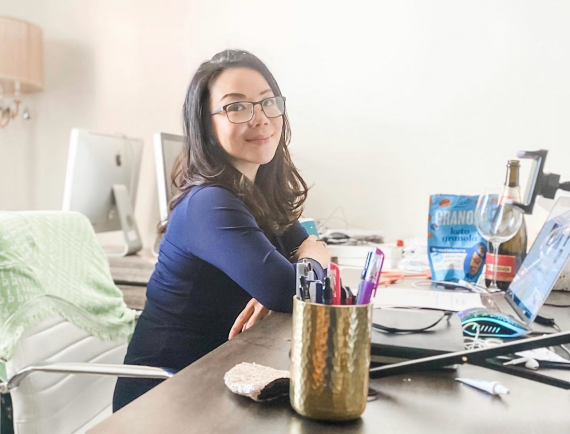 5. Share with us one of the most difficult times you faced during your motherhood/parenting journey. How did you overcome it?
It would have to be the early days of my entrepreneurial journey. I was a newly-minted single mum when I launched my first company back in 2001. I ploughed in all my miserable savings into the company, was living on my own in a rented flat while my two-year-old firstborn was being looked after by her grandparents. I had to live near the office for work due to the hours I was keeping then and only went back home during the weekend to spend time with the family. I was living day to day with enough money just to buy coffee for client during meetings. I was often wrecked with mum-guilt, and even though she was growing up happy, healthy and well-adjusted, I just could not get over myself.  There was very little support system for mums like me then. Not many of my peers had kids as young as I did so they could not help much.  I learnt what little I know about motherhood and parenting from magazines.  Google was not prevalent at that point; heck, broadband was still a luxury!
I had good friends who checked in on me regularly, and was always there when I needed them. But I think ultimately, it was my determined, never-say-die personality that helped me crawl out of a potential mental breakdown.  I have always been strong like this and this in-built survival button has seen me through many tough situations in my life.
6. What is your typical day like juggling both work and mum duties especially when you have a little toddler in tow?
My day starts at 6 am now that the two older girls have started school. I wake up to prepare their breakfast, make and pack their snack and lunch for school. At 7:40 am, their father drops them off in school while I feed the baby if he's awake at that time. Some days, I am exhausted from a late night working so I head back to snooze for an hour or two while the baby is asleep. Or I start the day by cleaning up the bedrooms and doing laundry. With kids in the house, the chores never end. Then, between housework, work calls and Zoom meetings, I would plan what to cook for lunch and dinner. Some days, I have external meetings so the husband will stay home with the baby. Kids have tea when they are back from school around 2:50 pm. Then I start prepping for dinner. Dinner time in LA is when my WhatsApp chat from Singapore starts beeping off the hook as workday has begun for most. I can't do much then until I've cleaned up the dishes, kitchen, and kids and baby are fed, bathed, and in bed – which means, earliest 11 pm.  I will usually schedule chats or meetings between 11 pm to 1 am PST. Then it's rinse and repeat again.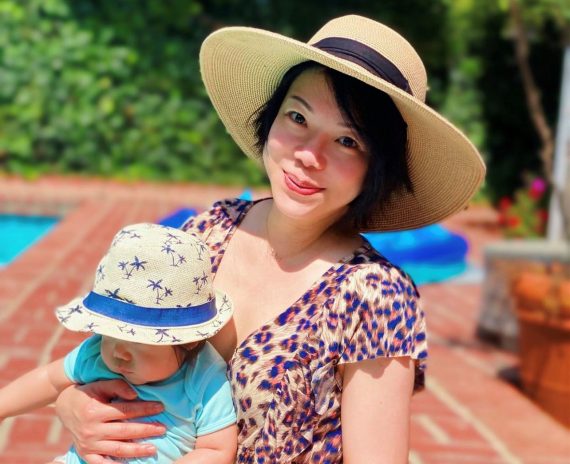 7. Walk us through the early days of Mummyfique. What was the reason for starting the business and what were some of the issues you struggled with at the beginning?
My primary reason for starting Mummyfique was simple – plug a need for fact-based, factual-information for busy mums and build a support community for Singapore mums. 
After giving birth to baby number three in February 2015, I found out I was pregnant again in May the same year. I freaked out as I had not recovered from my third c-section and baby four would have been my fourth caesarean – and in a space of 13 months, no less. I tried googling to find out more about other women in Singapore who have gone through multiple c-sects locally, wanting to find some comfort and support in the similar experience, but I could not find anything informative and helpful within the local context. I knew I had to do something about that. I did not think about plans for world domination or how to build this business to exit. The original impetus was for social good and that is what continues to drive me today to continue this mission: to help new mothers, and mothers-in-need of a support community and its resources. The difference is that, today I am building it to scale and grow beyond Singapore. These six years have been extremely rewarding but of course, not without its challenges.
8. What made you decide to relocate to the US and especially during this Covid period? What were the difficulties you faced, if any?
Business opportunities beckoned and we were meant to head west a year earlier, but Covid hit and we were stuck in Singapore for 2020. But it was a good year for me, nevertheless as baby number five was born in October that year.
9. Now that you are based in the US, do you find it difficult managing the day-to-day with your businesses back in Singapore? Time difference is one thing. Any other challenges you face?
It has been tough not because of the time difference, but because I have to manage the housework and cooking on top of caring for three young kids, including a ten-month-old baby who is stuck at my hips, on top of the US and Singapore workload with no permanent or live-in help. So, I am perpetually sleep-deprived. 
It is not easy entrusting young kids to strangers, and I have not found a nanny or caregiver that I am totally comfortable with. Besides, I am extra careful as the kids are not vaccinated, so that leaves me and my husband to take on full domestic and work duties. Singaporean mothers have no idea how lucky they are that they have access to affordable domestic help which gives them the choice to pursue a career while their children are being looked after. Here, in the US, many mothers have to give up their career or full-time job once the baby arrives if getting external help is too costly an option.
10. Do you have a personal mantra when it comes to staying healthy, self-care, and body positivity? What is it and how was it derived?
I am a big believer of balance when it comes to self-care.  Taking care of ourselves means balancing a healthy mental state and a healthy body.  A healthy mind helps us stay confident and promotes positive self-esteem, no matter what shape we are in. But to achieve our goals and dreams, and be the best version of ourselves, we also need a healthy body. Both need to be constantly worked on.
11. We love to find out more about your wellness and beauty regime! What's your secret to staying fresh, poised, and ready to tackle the world, all the time?
My regime is simple: consistency and sunscreen. I use very basic products: cleanser, toner, occasional scrubs, moisturizer, sunscreen and mask.  But my secret is really the Skin Inc Tri-light Optimizer.  I use it morning and night after applying moisturizer to supercharge the creams and lotions, and believe it or not, it has really made a difference to the texture and glow of my skin. I also never step out without sunscreen on my face.
12. Can you tell us your favourite feature of the Skin Inc Tri-Light™ Body Sculpt Fit, and how do you incorporate it into your regular self-care programme? How has it helped you?
Well, my days are long and my nights are even longer. Working two time zones daily, and managing three kids with housework and cooking can really take a toll on the body. I'm perpetually tired and achy all over. But since I've been using the Body Sculpt Fit almost daily, my shoulder aches have eased and my calves (from long hours of standing in the kitchen) don't feel as tight anymore. My little girls like to use the device on my back, so it's also great bonding time with them when they get involve with my nightly routine.
I have been using it wherever I feel like and making good use of all the functions, but my favourite is definitely the red mode: lift. The red light helps with saggy skin and cellulite.  I've been using it on my double chin as well as my post-pregnancy c-section tummy, and I am already seeing some positive difference.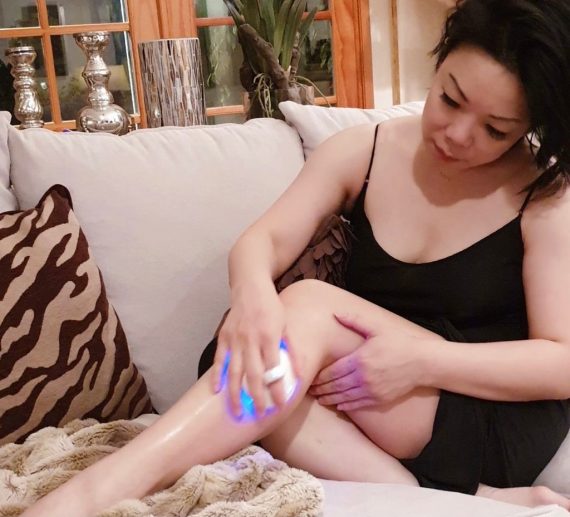 13. And finally, what does #yourbodyourrules mean to you?
Be true to yourself and in every circumstance, be sincere and authentic. Everyone is created differently so embrace that!