This Mother's Day our #MUMWELOVE column features a stunning mother, daughter team that not only run a business together but also — amazingly — share the same birthday across three generations. The family runs Hotel Re! @ Pearl's Hill, a modern retro themed boutique hotel along Chin Swee Road. Mrs Chong, her eldest daughter Jolene and Jolene's daughter Olivia have birthdays on 14 January. We sit down with Jolene for this this special Mother's Day feature.
Mummyfique: How are birthday celebrations like? Is it always a big party or there's something special for each birthday girl?
Jolene: When I was little, birthday celebrations are always done together with the family with separate ones being done with friends.  Mum is always rather subtle about birthday celebrations herself.  The first big party I had personally was during my 21st birthday.  Thereafter, it was back to regular family and friends affair, till the delivery of Olivia (Xiao O).
During her delivery, we had a mini celebration with the hospital crew with cupcakes prepared specially by the team.  Since then, we've had another two celebrations for the three of us together (as Xiao O just turned two this year).
For the first year, we had a 'Hawaiian'-themed party at a Sentosa Villa with close family and friends and we served dinner by the poolside.  We called it the Tri-Generation Birthday Celebration.  It was followed by a staycation for our own family.  Later we celebrated with our staff at the Hotel which ended with an intimate family dinner.  For the second year, we did a family dinner followed by a larger scale party done at our own hotel Hotel Re! @ Pearl's Hill (for more convenience as I was pregnant with our second child) with a 'Glitters & Shimmers' theme involving our extended family, more friends and business associates.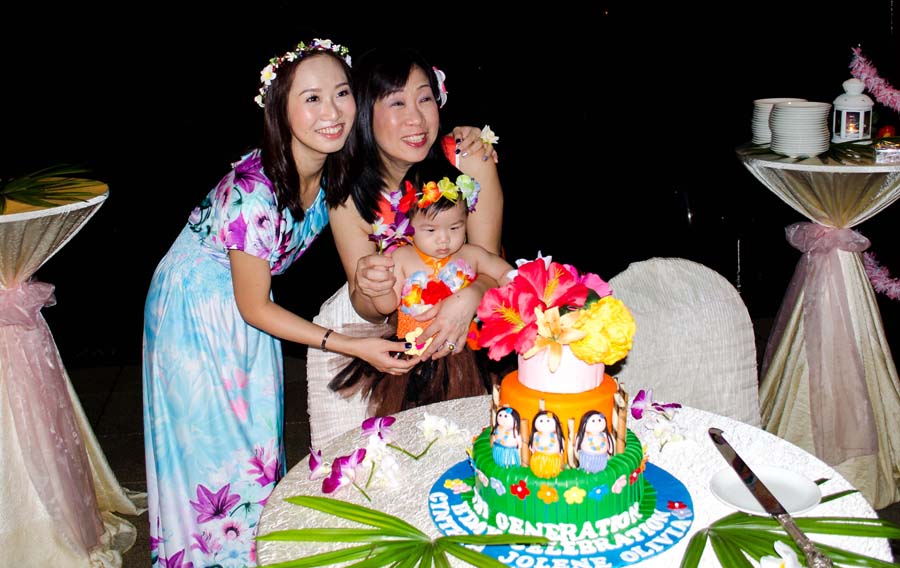 Any difference in characters even though the three of you share the same birthday?
For myself, I resemble more of my dad in terms of character but in terms of looks, I follow my mum. For Xiao O, she seems to be getting more of her father's looks and my character, as far as we can tell. But she is certainly as cheerful as her father, and as talkative as me.
Did you all plan to have the same birthday?
It was a 100% natural process for my mother and myself.  As for Xiao O, I was dilating a little and the EDD was one week later.  Hence we decided to give it a try by inducing the labour to see if we could have the same birthday.  I reacted very quickly to the first induction pill, and after a few hours, my labour started and Xiao O was delivered.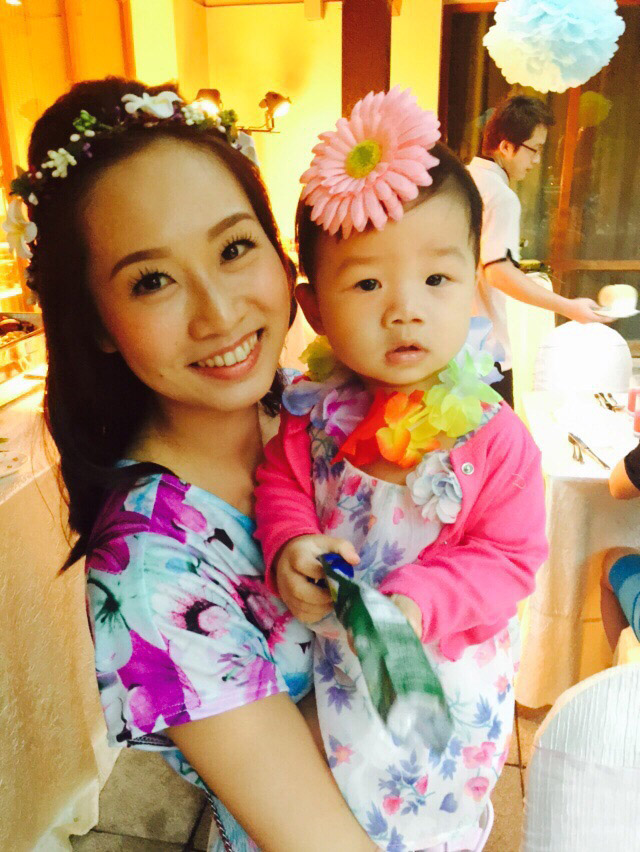 What has been your most memorable celebration so far?
If we refer to a tri-generation combined celebration, there have been two till date.  Both were special in their own ways.  The first one at Sentosa, Xiao O was dancing out as a hula girl with her hands twisting at her wrists with the song 'ching ching ching' and it was the first time she could blow her own candle.
The second one at Hotel Re!, we trained Xiao O to be able to walk down the runway dancing to the Barbie song 'Get your Sparkle On' and she did it perfectly well after numerous rehearsals at home.  During the cake cutting, it is the first time Xiao O could sing her own "Happy Birthday" song and we also bought a large sparkle candle and caught her shocked look when the fireworks burst out of the candle whilst the crowd sang us the birthday song.
Thus both occasions have brought us fond memories!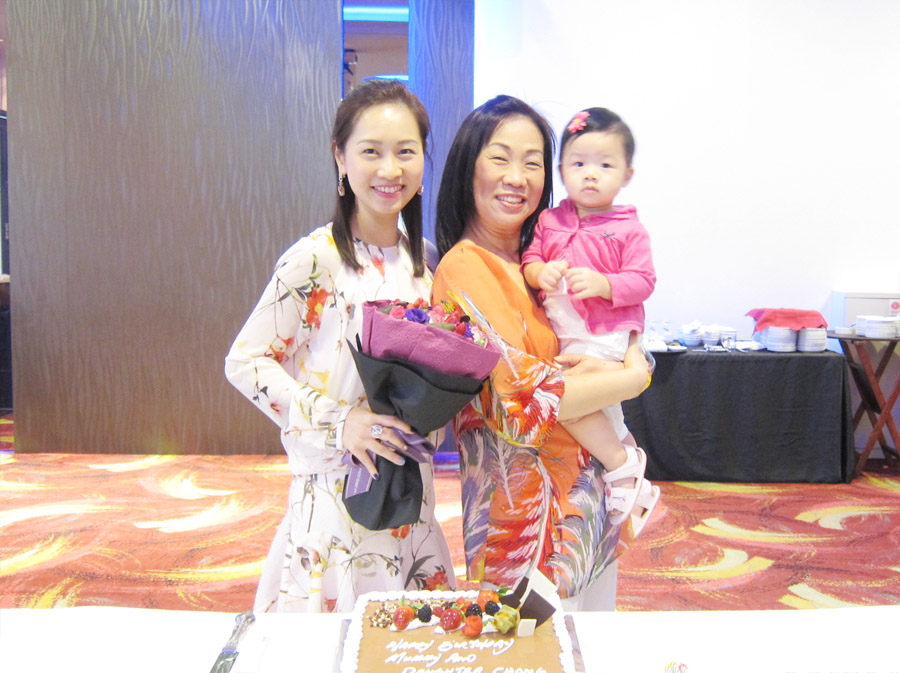 This is a special day that you share with your mom, with mother's day approaching are you able to share some thoughts on the relationship with your mom and your own motherhood journey?
Now that I am a mother of two and having walked the motherhood journey for more than two years, I started to appreciate the rationale behind many of our parents' teachings over the years which previously, we did not have the chance to fully comprehend.  I also truly understood and experience the constant worries a parent would have for their children, and I thank my parents for always doing their utmost for us.  I have seen how the love of my parents has flowed to my children as grandparents, and am glad that they now have the chance to enjoy the growing up progress of little ones again, and perhaps more thoroughly this time round (for instance, it is the first time they accompanied us to Singapore Zoo with Xiao O) as compared to their younger days which was spent working hard for the family.
As for my own motherhood journey, I will continue to give my very best to my children and provide them with all that I can.  With my parents as guides and my hubby as support, I will endeavour to help them lead a happy, carefree, healthy and meaningful life with the right morals and good values.  Hopefully their smiles will always brighten up the days of those around them, and I look forward to guiding them on all the girly stuff as they grow up, like selecting the right bra, positioning their sanitary pads, walking with poise etc etc, just like how my mother had taught me previously!