It is not every day that a Singaporean book makes the bestsellers' list at Kinokuniya and yet, Susanne Ng, the author (and baker) behind the wildly popular Creative Baking: Chiffon Cakes has done precisely that. In three short months since the book hit the shelves (it is available at Kinokuniya, Popular, Times and all major bookstores), it managed to sell out its first print run.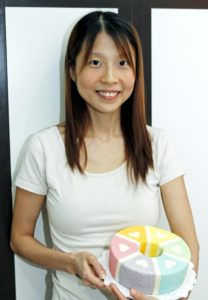 In fact, you may have seen the colourful creations of creative bakers Susanne Ng and Tan Phay Shing peppered throughout your Instagram feed as their chiffon cakes range from patterned and tiered to prettily shaped designs — all decorated astonishingly without the need for cream or fondant.
First discovered back in the 1940s when it was introduced to home bakers, the chiffon cake remains a firm favourite in the world after decades and bakers like Susanne are piquing the interests of a new generation of cake fans with her stellar cakes.
Mummyfique chats with Susanne Ng, the stay-at-home, chiffon baking whiz who is also mum to three kids on her creations, the allure of chiffon cakes and some recipes that readers can try at home.
Gidania Wong: Why chiffon cakes? It seems to be the go-to cake these days.
Susanne: Chiffon cakes are so light, fluffy, moist, tasty and easy to eat! They come in a myriad of yummy flavours like strawberry yoghurt, orange, chocolate, cream cheese, pandan to only name a few.
Why do kids love chiffon cakes so much?
They can be shaped into all sorts of cute shapes like hearts and cute animals that appeal to young kids. Chiffon cakes are less heavy on the tummy and less messy so kids usually have seconds or thirds.
Any benefits as compared to cream cakes?
Yes! It's really healthy, there's no butter and it's lower in sugar than traditional cream or fondant cakes (1/4 of sugar usually used in butter cream cakes!). There are dairy-free options for kids who have allergy to milk and cheese. It can also be viewed as a healthy snack and good way to incorporate yoghurt and fruits into the diet of kids.
How long have you been baking chiffon cakes?
I've been baking chiffon cakes for two and a half years. I fell in love with chiffon cakes after tucking into chiffon cakes made by a mummy friend during a kids' playdate in Oct 2013! A month into baking chiffon cakes, I had the inspiration to make the first patterned chiffon cake ever made, the Sakura matcha chiffon cake in Dec 2013; and created the first chiffon cake pops — Christmas tree chiffon pops.
Since then, I have been specialising in making these patterned decorated chiffon cakes, sharing recipes for my creative chiffon cakes and also getting numerous enquiries on the blog lovingcreations4u (started in Mar 2014 with my friend, Phay Shing). It has been a wonderful journey!
You are now a published author! Congratulations! Tell us how your book deal came about.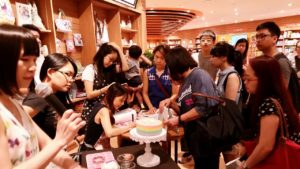 In June 2015, Marshall Cavendish wrote in to us and the rest is history! The first Creative chiffon cake book debuted in Jan 2016 to a resounding success. It did really well and I am encouraged and very thankful to be working on my second Creative chiffon cake book — Creative baking: Deco Chiffon Cakes now.
Strawberry Yoghurt Hearts Chiffon Cake Pops (no special moulds required)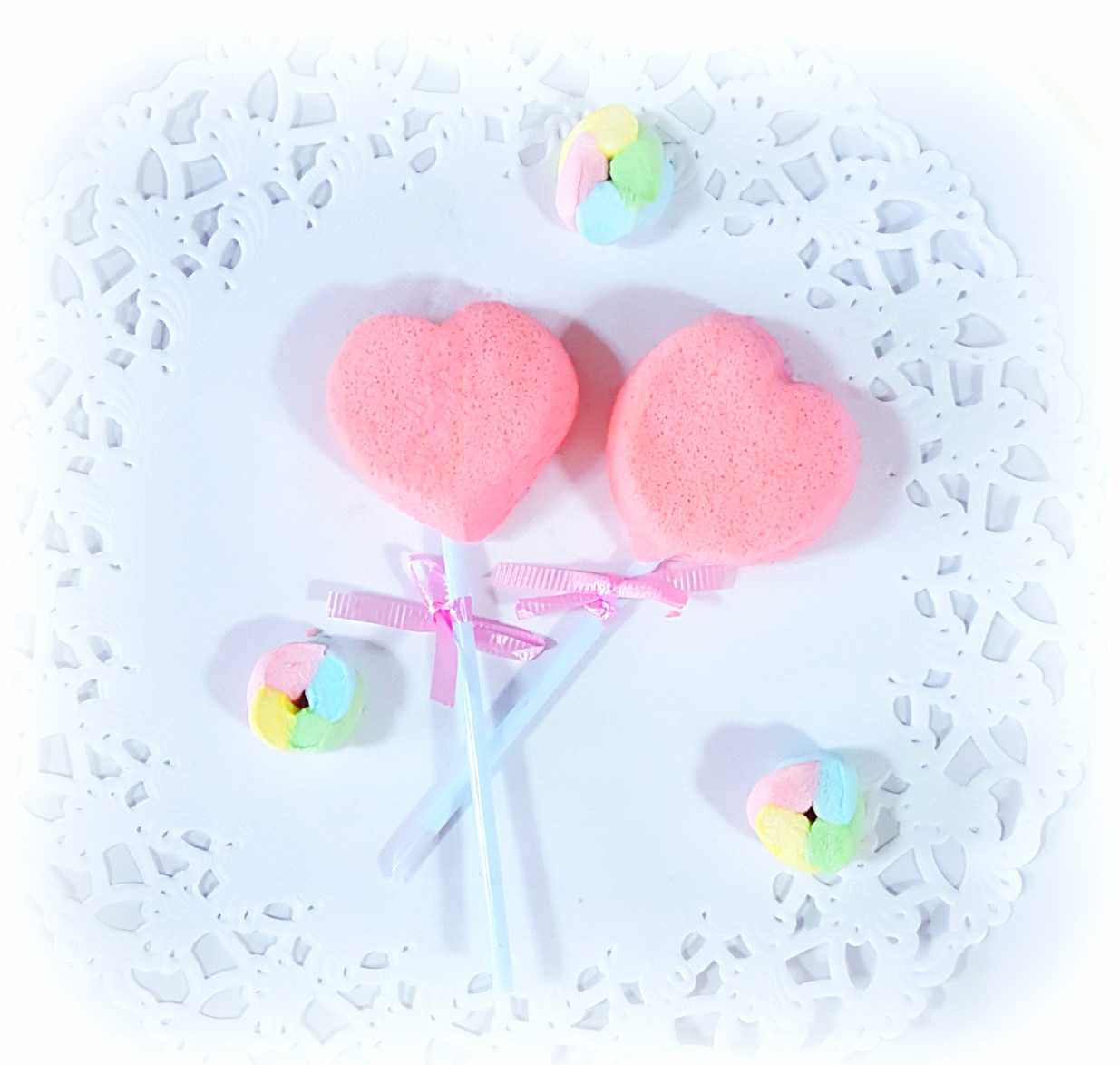 Strawberry yoghurt hearts cake pops (makes 8 cake pops)
1 egg yolk
9g castor sugar
18g vegetable/corn oil
25g strawberry yoghurt or yoghurt drink
2g vanilla extract
3g strawberry paste/emulco
26g cake flour, sifted
A pinch of salt
Meringue
2 egg whites
1/4 tsp cream of tartar
20g castor sugar
Instructions:
Prepare heart shapes from waxed paper cupcake liners by using finger to push in one edge and pinching the other edge. You may open the liner and the sharp edge to get a more 'V' shape
Preheat oven to 160°C
Prepare egg yolk batter
(a) Whisk egg yolk with sugar using hand whisk until light and well-mixed
(b) Add in oil first, then yoghurt, vanilla extract and strawberry paste and mix well
(c) Whisk in sifted cake flour and a pinch of salt. Mix well
Prepare meringue:
(a) In a grease-free, dry bowl, using electric mixer, whisk egg whites with cream of
tartar till frothy
(b)Add in ½ castor sugar for meringue and whisk at high speed till soft peaks form
peaks slope downwards forming a hook
(c)Add in rest of the castor sugar for meringue and whisk till firm peaks form – peaks
point up but slightly hooked at the tip
Fold in meringue gently into egg yolk batter 1/3 at a time. *Fold in unidirectional, gentle strokes and do not overfold
Spoon into cupcake liners. Gently tap to remove air bubbles and bake at 160°C for 10 min then 140°C for 10-15 min, or until skewer inserted into centre of cake comes out clean (bottom left pic). Or 140°C for 30-35 min
Allow to cool completely on wire rack
Unmould the hearts chiffon pops by gently opening up the waxed paper liners
Prepare cake pop sticks by cutting them to desired length and insert them into the base of the cake pops
Sakura Orange Chiffon Cake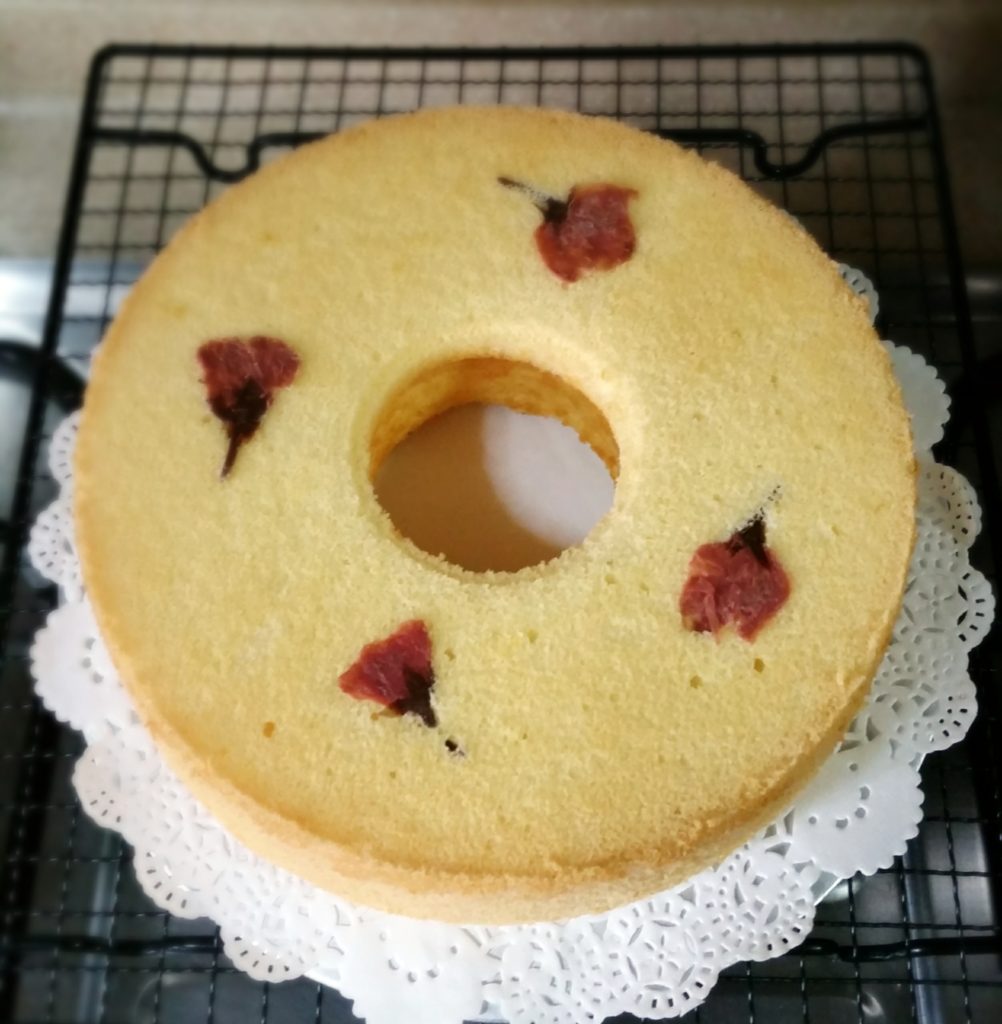 Preparation of pickled sakura flowers (optional)
Gently wash off the salt first under running water
Soak in hot water for 15 min
Pour away the hot water and refill with drinking water
Remove the flowers and pat dry using kitchen towels. *Note to get the petals to "fan out", you need to dip it back in the water and hold the petals open before you dry them
Arrange them at the bottom of the tin
Orange chiffon cake (for one 18-cm chiffon tube pan)
3 egg yolks
20g sugar
39g vegetable oil
41ml orange juice
60g cake flour
Orange emulco
Orange zest
½ tsp baking powder *optional
4 egg whites
45g sugar
1/4 tsp cream of tartar
Instructions:
Preheat oven to 160°C. Prepare a tray of water at the bottom of the oven (I used the lowest rack to bake the cake)
Beat egg yolks with sugar with whisk till pale yellow before stirring in oil and orange juice
Next add in sieved flour, orange zest and a drop of orange emulco and whisk till no trace of flour/powder found
Meringue: Beat the egg whites with ¼ tsp cream of tartar till stiff peak, mixing in caster sugar in 2 additions
Fold in the meringue gently into the batter 1/3 at a time
Gently tap the tin on table 3x to remove air bubbles
Bake the cake for 15 min at 160°C then 35 min at 150°C
Invert immediately once out of the oven to cool