It's an understatement that mothers are superhuman beings with amazing powers. Many wear multiple hats being a wife juggling a household, taking on parenting roles and pursuing a career.
For Joanna Goy, 35 years, she had more piled on her plate when she was diagnosed with Stage III Lung Cancer and had to fight it with aggressive bouts of chemotherapy, radiation therapy and immunotherapy.
What was truly amazing was the fact that she fought her cancer and acquired a new factory, expanding her business, Singapore Lactation Bakes (SLB), all at the same time. And, while being a mother to three daughters aged four to nine years, one golden retriever and two chinchillas!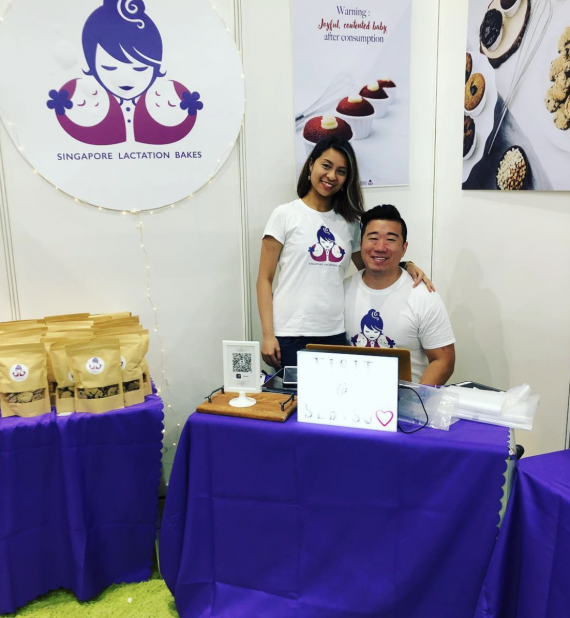 That's really hats off to Joanna! We speak with her to find where she gets her spirit and find where she draws her strength from.
Mummyfique: Could you share how you first discovered about your cancer?
I was misdiagnosed for a whole freaking year! The first GP thought it was just pneumonia which should be cleared up after a few months but it was only picked up by a second GP I went to who discovered that a white spot on my lung x-ray was actually cancer. There was no pains or obvious symptoms. I am also a non-smoker and exercise daily. 
How did you cope with cancer treatments and expanding your business and being a mother all at the same time?
It helped that I was super positive during this period and have a super wonderful husband to thank for! This period was very trying but it has made us a stronger couple. 
We found out that the survival rate for my cancer was only 30% in the first year so we went with an aggressive treatment plan which meant I had to spend a lot of time in the hospital, sometimes up to five hours for chemotherapy. 
We adapted by changing how we work – I would manage the company remotely so I could work while I am home with the kids or in the hospital for treatment. We continue to work daily, organising a couple of events and even moved our operations to a factory which was a mega huge milestone for us!
Nicholas (Joanna's husband) quit his job to pitch in with SLB, researched about the cancer and filtered the information for me to keep my spirits up, helped to care for our family and even took extra care of me. He was always by my side, accompanying me on my treatment sessions, shaving his hair when I needed to and carrying me to bed on many days when I was too physically drained. He is really the pillar of my strength and the one who encourages me to go on, pushing for us to beat this battle.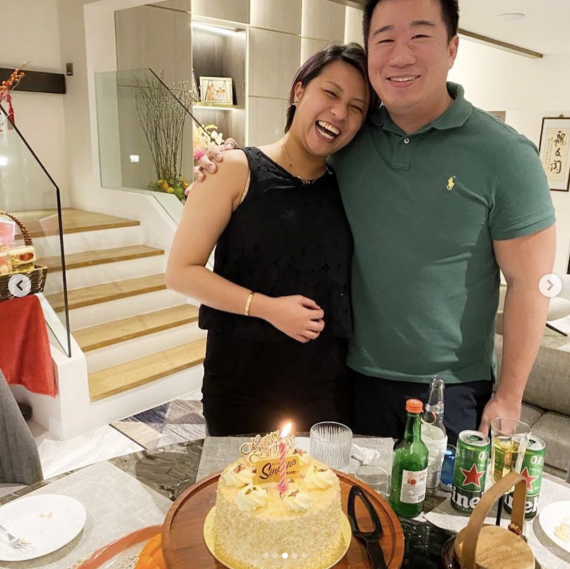 As his wife, I could tell he was super worried, sad and really tired, but he did not show any sign of giving up over the two years. And, I have my faith in God who has shown us many miracles during this period, blessing us and guiding us towards the right path. 
As a mumpreneur in the day, could you share some of the milestones you have crossed as a business owner?
During the early days of the business, Nic and I really struggled to make enough to get by. Once, I was baking late into the night after my kids had gone to sleep. I was worn out and just sat on the kitchen floor to cry out for a good hour. Once my tears dried up, I kept going and continued to bake till the morning. 
This incident stood out in my mind because it was also the turning point in my business. It was when I made up my mind not to give up and was determined to push on. I reviewed the operations and realised the shared kitchen we were working out of was not sufficient for us. So, I took the next step and went in search of a storefront and secured our first retail kitchen within the next two days. We forged ahead and recently, moved to a manufacturing plant in March 2020 during the start of Singapore's Circuit Breaker in the coronavirus year. 
After acquiring licenses from the Singapore Food Agency (SFA), we are ready to scale up and expand our operations in this market. We are aiming to make cookies accessible for all mothers in Singapore. 
It's amazing how you can increase your milk supply to feed two kids with just cookies. Is there a secret booster ingredient?
Most people think that all lactation bakes are the same, but they differ from baker to baker. Why some recipes work and some don't is all due to the composition of galactagogues (foods that increase breast milk production) formulated in the cookies. 
For SLB, our cookies are formulated with ingredients that are essential for milk production, yet uncommon in the market. By including a generous portion of these galactagogues in our recipes, 90% of our customers report a noticeably increased milk production by Day 5 from eating our cookies. 
What about for those mums who don't fancy cookies, is there anything they can choose from SLB's menu?
Our goal is to make breastfeeding possible for all mothers in Singapore, so we have been experimenting with new recipes and expanding our menu. 
Aside from our cookies, which we have in seven flavours, we also have muffins with dairy free options, granolas (vegan friendly), brownies (perfect for chocolate lovers) and a new range of nursing teas!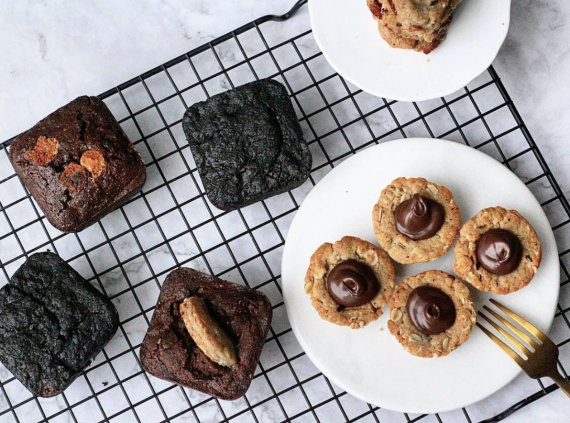 What are your thoughts on motherhood? Do you have any parenting philosophy or motto which you abide by?
 Motherhood is both the best job in the world and one of the hardest. It is a 24 hour role and is the most rewarding job on Earth. It is one where I derive the greatest satisfaction, and one that I can truly be the best of myself. My daughters' love and optimism give me the strength to carry on whenever I feel defeated. 
"Motherhood is a choice you make every day, to put someone else's happiness and well-being ahead of your own, to teach the hard lessons, to do the right thing even when you're not sure what the right thing is…and to forgive yourself, over and over again, for doing everything wrong."
― Donna Ball, At Home on Ladybug Farm
Can you share one thing you knew now about motherhood that you wished you knew before?
It would have to be breastfeeding – which has been a very profound experience for me. I suffered from postpartum depression and suffered from the guilt of not being able to breastfeed my first baby successfully. When I had my second, I researched extensively about breastmilk and realised that my "problem" was due to some missing nutrients. It was amazing that within just one week of changing my diet, I was able to produce breastmilk in excess. 
During my journey, I learnt that there are many mothers like myself who struggled with breastfeeding. Wanting to help other mummies became the inspiration for my business and I kept the motto at SLB – mummies first, profits second. 
To that end, I am now in the midst of becoming a certified Lactation Consultant. I want to share my experiences, learning and help other mothers. Many mothers still have many questions about breastfeeding and we receive many queries at SLB. Because the coronavirus pandemic cancelled live events, we decided to start an IG Live TV to support mothers at home on their breastfeeding journeys. I hope we can serve as a platform to connect mothers and give them a boost on their motherhood journey. 
It is also true that "it takes a village to raise a child". So I would advise other mummies to seek help – from your parents, grandparents, friends or online groups for support. Do some research and set some expectations that things may not be easy, but definitely rewarding. And with "experience", we can also be better prepared for numbers 2, 3, 4…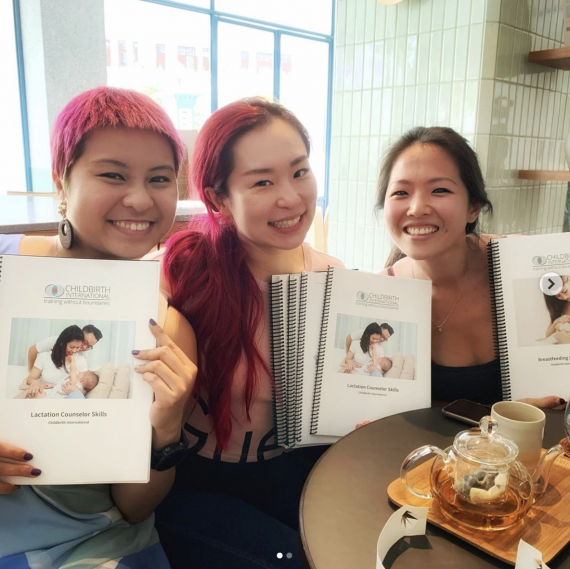 Is it truly possible to love all your children equally?
It's definitely possible and I think this is the thing about a parent's love – it's just like the deepest ocean, you think you have reached the sea bed, but that's where it just gets deeper and wider.
Having to three kids, do you have a tip for parents running out of ideas to occupy their little ones?
We do a lot of stuff together. Recently, we got into hiking so we are currently exploring the different hiking areas in Singapore.
They could bake, draw, DIY sensory projects, science projects, cycling or kite flying. Get the wildlife park membership and organise surprise trips to the night safari, zoo or the bird park. We also throw in the occasional late night suppers but keep these to the weekends only. 
We have weekly movie nights as a family. We bought a projector to mimic a theatre at home and brought back the popcorn and nachos we bought at the cinemas.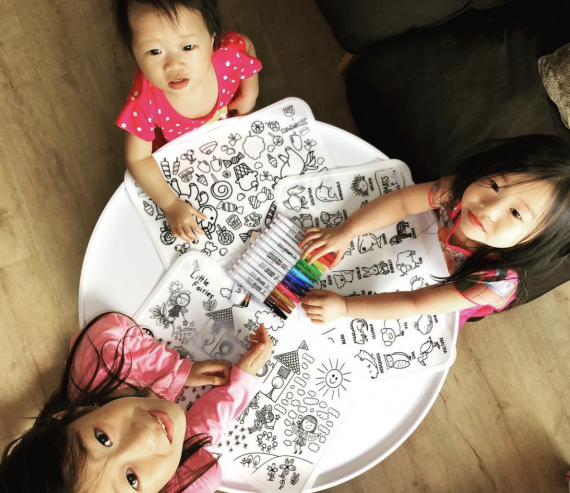 What are 3 things you hate/find tiresome about parenting?
I hate to discipline my kids. Although it is essential and important to their development, I find it difficult to see my kids in distress. I dislike planning meals because I'm not a very good cook so my husband takes charge of this.
I'm one of those mums who really enjoy being a mom (lol!) and, I especially love all our late-night escapades with my children.
Best parenting tip you received?
Let them fall so they can flourish. But, it is very difficult for any parent to let go and allow kids to make a mistake so they can learn.
Worst parenting advice you received?
Google to check why your kid is sick. I often see this on social media when other parents share about their kids' fall, running a fever and looking for recommendations. And the worst advice I've seen is – google what should you do.