Photographer, food-stylist, yoga practitioner and mum to the adorable baby Alessandra, founder of Fleas and Trees Bella Koh is the epitome of a multi-hyphenated modern woman. And she manages to do it all in style! No wonder she has more than 66,000 followers on her Instagram account @catslavery. In this interview, we talk to her about some of her tips on maintaining work-life balance and how she manages to lead a 'Slow Life' while living in the fast lane.
Melissa Lwee-Ramsay: You wear so many hats! How would you describe yourself to someone who's just met you?
Bella Koh: I'm someone who is constantly curious and excited about everything. I try my best to do what I love, and to always be better at it. Whether it's cooking or yoga, mothe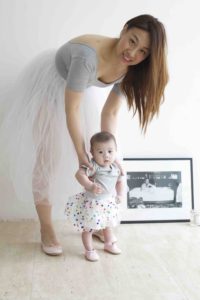 rhood or styling, I truly enjoy digging deeper into each ritual and have it form an ever-stronger pillar in my life. And that's what defines me
With such a multi-faceted lifestyle, you must be incredibly busy. And yet, you're a proponent of living the slow life. What does that entail? And how do you balance all your commitments while taking it easy?
That's very true and I just realised that as well. But the core philosophy is always to live healthy and pace yourself. This is when everything slows down and becomes more focused as a result. That makes me more efficient, I guess.
I remember looking at your Instagram account when you were pregnant with Alessandra and how you continued to maintained a predominantly vegetarian lifestyle. Can you share with some of our mummies-to-be some tips on how to eat healthily when they're pregnant?
I still binged on fried chicken when I was pregnant. That was a major craving that lasted too long! Having said that, I have always been careful with what I eat. Hence, it wasn't difficult to eat healthily during my pregnancy. I did not take any supplements or fortified pills from the gynae and substituted them with the real stuff like an avocado a day and a big bottle of homemade beetroot juice.  I swear by these for folate and iron. Also, I wish I found acai sorbet earlier. Oh, one more tip: never never eat for two!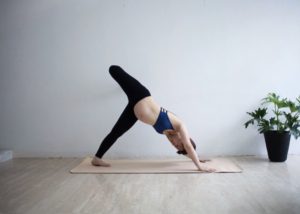 You also continued to practice yoga when you were pregnant (pictured above). What are some poses that you would recommend to mums to be?
Yes, I did at my studio, Pure Yoga. The teachers are knowledgable and they guide you through it.
Of course, this is very subjective as well. We are asked to avoid back bends, inversions and anything that emphasises strength from your belly. However, I did attempt many of such postures with care. Having a sound understanding of your body strength is so important.
As a start, try forward bends and basic stretching to ease up on back pain. If you have been a hot yoga practitioner for a few years, continue with it during your pregnancy. I only experienced feet swelling towards the last week of my pregnancy and owe it all to my hot yoga practice. I heard swollen feet begins as early from your first trimester.
Again, I feel most first-time mothers can be overwhelmed by too many rules, traditions, old-wives' tales and outright myths. Of course, it's always better to err on the side of caution, but it should never come at the expense of experiencing motherhood as what it is and should be — joyous and exciting. The only person who understands your body best, is you. I did a lot of homework, sought opinions and then decided what was best for myself! And I'm glad I did.
Now that Alessandra is on solids, how have you started to introduce your slow life philosophies into her lifestyle?
I start her day by returning her morning smile, after which I feed her homemade milk. We then proceed to play with the cats and listen to Chopin on my iPhone. There is a lot of play involved in between and there are mostly non-toxic toys in the house. I continue feeding her with organic goodness in the form of purées. She takes her bath with 100% Castile soap and gets changed into organic clothing. After her three-hour nap, I will bring her out for walks around the neighbourhood. Along the way, I introduce various plants, trees and birds to her. When we head home, she watches me prepare dinner. The day is thoughtfully spent in that manner of slow and sustainable living. Not so much on the high usage of diapers though…haha.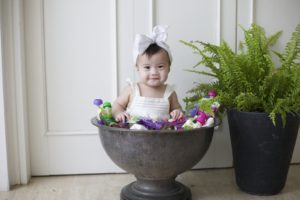 Can you share some of the yummy dishes you've been making for the little one?
Loads! We started with avocados, plenty of purple vegetables, lentils and now steamed custard. Her milk is also freshly made by me from raw goats milk, brown rice powder, black glutinous rice with Gula Melaka, oatmeal and soy powder. I blend them until fine so it's easier for her to drink. I'm working out plenty of recipes in my head and can't wait to get her started on them once she's ready!
How has your life changed ever since you became a mum?
I used to be happy being child-free but since Alessandra came into my life, it has been very fulfilling. I am motivated to do things for her and wouldn't mind being sleepless just for her. I used to get 12 hours of sleep before she was born haha! I mean it's not so bad now, I still get a good eight hours of sleep. Thank goodness she has been sleeping through the night since she was one and a half months old! To be really honest, I don't think it has changed that much. Maybe I'm embracing it? I don't know but I still continue to do the things I love. 
How do you balance motherhood with a bustling career and life as an Instagram powerhouse?
Stay zen at all times and understand your priorities. Do what matters most first and always plan your schedule around your child. She should be the first priority no matter what. Lastly, be happy with whatever that you will be doing. Even if it is a mundane chore like mopping the floor. Haha.
Can you share some tips for taking great pictures?
A nice house with good lighting is definitely favourable. Food, cats and babies are always good subjects which I like to incorporate into my pictures. Stuff that are part of your life make a whole lot of difference and they will come across as genuine and honest.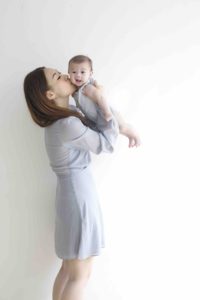 Please share some of your favourite moments of motherhood!
I'm not sure if you call this a moment, but I am so intrigued by googling and researching for the best baby stuffs for her! Reading up on food knowledge, baby knowledge. I find it very interesting that I am discovering so much of life through this tiny person! Short of being clichéd, she's giving me life as much as i've given hers.
Of course, my favourite moment must be playing with her. Those peekaboos before bath time, sitting her with the kitties, making weird sounds to her for her to mimic, feeding her and seeing how her response to my food will be…the list is endless. But nothing beats seeing her wake up every time and she is always smiling back at me. Every day. I'll miss that a lot when she grows up.
How did you feel celebrating your first Mother's Day?
Honestly, I'm celebrating this Mother's Day for my mum with so much gratefulness. It's no longer about me being a mother but how much she means to me this Mother's Day after having a child of my own. That makes it ultra special.