From marketing executive to singer-songwriter, Priscilla Tan took a leap of faith to produce her very own original compositions and made waves with her song, Love Like Mine, which was released for Mother's Day. Priscilla struggled when COVID-19 hit just after she had left her corporate job to pursue her passion in music. With experience in marketing under her belt, Priscilla pressed on and throughout the two hard-hit pandemic years, she created music for brands like LANEIGE, Lee Hwa Jewelry, Colgate, and Sennheiser. She also pivoted to become a commercial actress and worked with a wide array of brands like NTUC Income, McDonalds, Eu Yan Sang, Meiji, UOB, Singtel, AIA, DBS, Guinness, and more. Her song, Love Like Mine, is a personal ode to her journey as a mum, still pursuing her dream to be a singer-songwriter.
Describe Priscilla Tan in three words.
I.Need.Coffee.
Tell us a little about your family and career background.
I have a five year old son, and my husband and I are constantly amazed at how blessed we are because our son is very emotionally mature and the sweetest boy! The other day I was driving home with my son and it was way past his bedtime. He insisted on staying awake so he could help to carry the stuff up to our house because he was afraid I could not manage. He eventually fell asleep though.
I was a marketing executive at Marina Bay Sands, where I helped to brainstorm and execute different marketing campaigns to bring in new customers and retain as well as develop existing customers. It was an amazing first job where I was given opportunity to market big players like Tiger Woods, The Rolling Stones, David Beckham, Michael Bublé, and the late Kobe Bryant for exclusive meet and greet sessions for our high end customers. But there was also the other end of the spectrum where you have run-of-the-mill aunties asking you for free gifts.
After four and a half years, I took a break and wanted to try my hand in music. I took part in a reality singing competition, got jaded and decided to go back into the corporate world as my husband and I were planning to get married.
I joined Singapore Press Holdings as the Brand Manager for The Straits Times and handled branding campaigns, partnerships, and events. The highlight of my time there was definitely organising the Singapore Coffee Festival while I was 30 plus weeks pregnant! Imagine, all the best coffee from cafés in one place, but I couldn't drink any!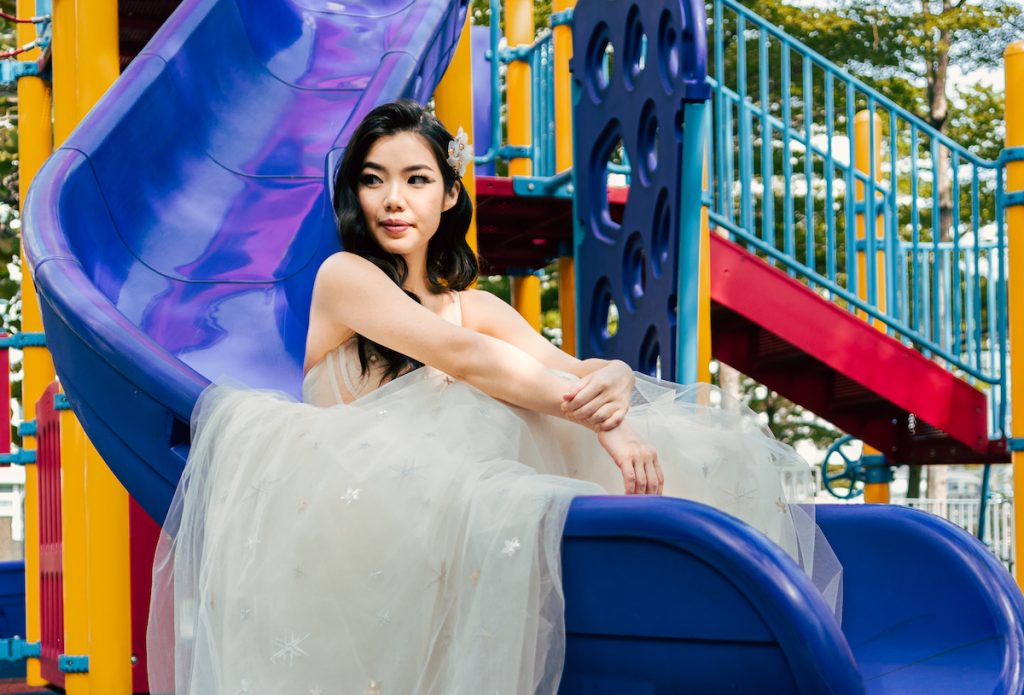 Who or what shaped your character, attitude and approach to life?
Everything and everyone I met in the last 10 years have contributed to who I am today. I used to lament about having to drag myself to an office job, not having job satisfaction and fulfilling my purpose in life. But little did I know that all my past work experiences have prepared me for being an independent artist now. I am able to market content on my own, plan my own events, partnerships with other brands in order to support my passion as an artist and also promote my song.
My family, friends, and husband play the biggest roles in shaping my character. I used to be really insecure (due to past toxic relationships) and my friends and husband really stood by me, saw the worst in me and helped me to discover a sense of self-worth and confidence over the years. Looking back, I'm amazed that my friends chose to stay friends with me.
Of the many career hats that you've worn, which do you love the most?
Being a freelancer means I don't have to choose because I can wear a different career hat on different days! For me every day is a different job – Monday I'm acting in a commercial, Tuesday I'm at a recording studio for my song, Wednesday I'm at a café editing videos for my marketing content, Thursday I'm at home writing a jingle for a brand campaign, Friday I'm talking to clients, sending out quotations and invoices. Saturday and/ or Sunday I'm hosting or performing at corporate events or weddings. Every job and task brings me a different kind of joy. I love that every job works a different muscle and challenges me in a different way.
What do you love about singing and composing?
I love to sing because music has a powerful way of bringing people comfort. Often when I am going through a hard time, music is my respite and I can express myself in ways that words cannot. It's the same how certain songs have helped me through difficult periods. I hope I can write songs that can be a source of strength and comfort for others as well.
There are only 12 notes in a music scale, but somehow you can create different songs and genre. I love composing because it is an outlet for my emotions, my struggles and a way to tell my life stories creatively.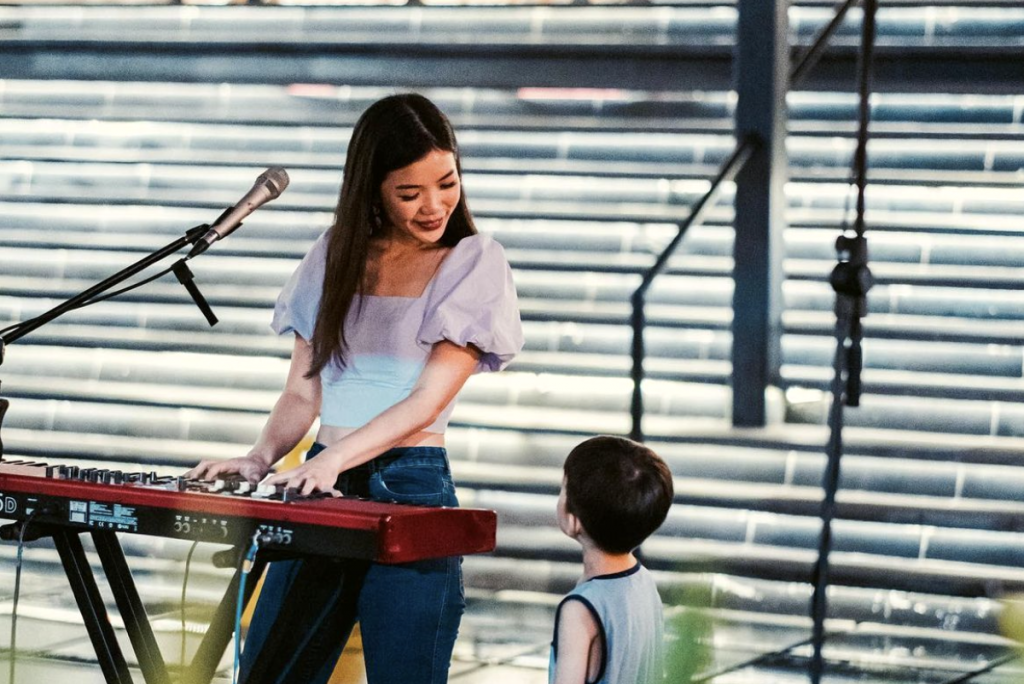 What are the challenging aspects of being a singer-songwriter and how do you overcome them?
The biggest challenge for me is having to spend money to produce my own craft. I've been very thrifty since young, so the idea of spending money to produce my own songs seems like a luxury. The paradox is that being a singer-songwriter is a job but at the same time, you don't get paid for producing your songs (in fact it is 100% expense with no guarantee of any return on investment). I am still trying to overcome this challenge!
What's the most fulfilling part about leaving the corporate world and pursuing your passion?
The most fulfilling part about leaving the corporate world is having the freedom to spend time the way I want to. The biggest misconception about being a freelancer is that we can spend more time with our kids and have more free time on our hands. But I have never worked this hard in my life before and if I don't work, I won't get jobs, and I won't have an income!
The best part about pursuing my passion is being able to do what I love and make a career of it. I remember last year when I was reflecting back, I realised that I have finally found job satisfaction – I'm doing what I love and I'm getting paid for it! BEST FEELING IN THE WORLD, right next to having Mr Coconut on a hot day.
What inspired you to compose your debut song, Love Like Mine? We love to know all about it!
My debut song is a personal ode to my journey as a mother, still pursuing my dream to be a singer-songwriter.It is a song that I wrote about a mother's love, which I truly only understood after a few health scares with my son.
I wrote this song after an encounter that made me realise what a mother's unconditional love means. One night I was having a music performance and it was the first time I didn't bring my phone out with me. I came home to shattered glass, a floor filled with blood stains, and a slew of missed calls on my phone. It turns out that the glass door had fallen on my son and he was in hospital getting stitches.
In that moment, my heart broke, and I was filled with mum guilt as to why I was not home for my son when this happened. I was out singing and I would have done anything to take his place and suffer the pain that he was going through.
When I got to the hospital, my son was blowing kisses and smiling together with the doctors, nurses, and family members, as if nothing had happened and the bandages on his face were not there!
I realised then that I was absolved of all "mum guilt" for pursuing my dreams and suddenly knew what it meant to love unconditionally. This boy knew how to love because he was first loved by me, by his father, and everyone around him. How powerful a mother's love can be.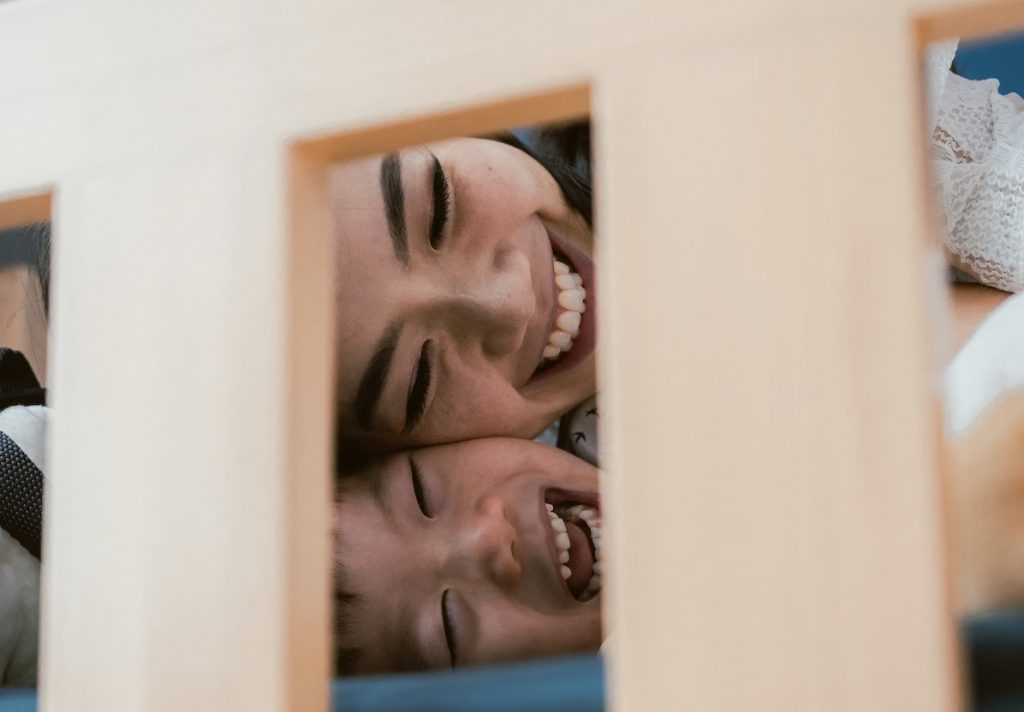 One advice to mums who are thinking of a career change and follow their dreams?
You will doubt yourself every single day. You will feel like an irresponsible mother. But ask yourself, if you don't do it, will you regret it?
Do you think your outlook in life changed the minute you became a mum?
Yes. You can find pre-mama Priscilla in the lost-and-not-found box.
What's your motherhood journey like?
Being a mother is hands down, the toughest job I ever have to take on.
My motherhood journey in summary?
0 to 6 months: I was a crazy obsessed and clueless first time mum who couldn't spend a minute apart from my baby.
Then I started thinking, "I'm quitting my job to be a stay-at-home mum." Two minutes later, "I hate breastfeeding." But it's the best for my baby so I must do it. Then I thought to myself, "I drank formula milk when I was a baby and I'm still alive."
6 months to 18 months: I had the back-to-work mum guilt.
I hate work. Why am I wasting my life in the office?! How can I miss my son's milestones?! How can I leave him at home with my helper?
18 months onwards: More mum guilt.
How could I send him to infant care? I'm the worst mother in the world.
I'm definitely still learning on the job as I go along, but it is most rewarding when I see my son being kind to others, is protective over his family and bring joy to the people around him.
If there was one thing you wish you'd have done better as a first-time mum, what would it be and why?
I would have given myself more credit as a first-time mum and not fret so much about whether what I was doing was right or wrong.
One thing you love about being a mum?
I have a baby face so it always shocks people that I'm a mum because I don't look like one. So, I always tell people I'm a mother of four and the expression on their face is always priceless.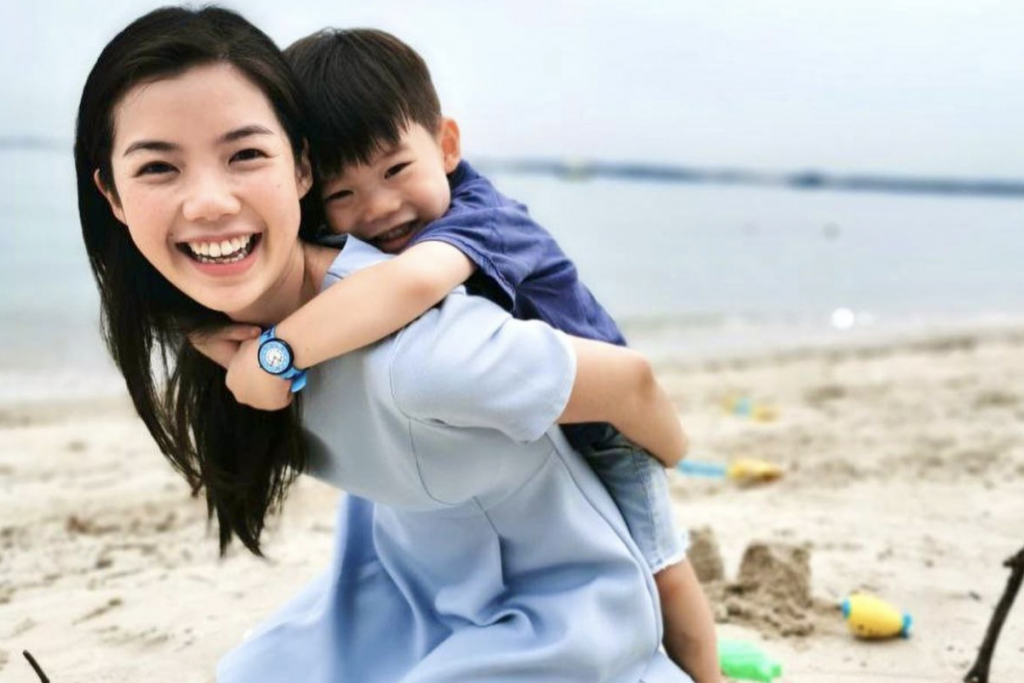 What are the activities that you love doing most with your son?
I love cooking with him! Our favourite activity is making Mee Hoon Kueh (Hand torn noodles) together. It's basically like Play-Doh for him and free kitchen help for me.
Greatest achievement – personal and/or work?
My greatest achievement in my personal life is giving birth to a human. My pain threshold is … and I faint when I take blood tests. I'm as scared of needles as I am of cockroaches. So, I was the first to give birth within my circle of friends so after I gave birth naturally (with epidural of course), my girlfriends said, "Ok if Prissy can do it without fainting, we will have no problem too." Congratulations to me.
Work wise, I think releasing my first song, putting my life and emotions on a platter and being vulnerable in public is my greatest achievement. It's really about fighting self-doubt about how good my song is. Do people really care about my story? How many streams am I going to get? Was I really going to add "singer-songwriter" to my resume at 33 years old?
I was really going against societal norms, but I'm glad I did it.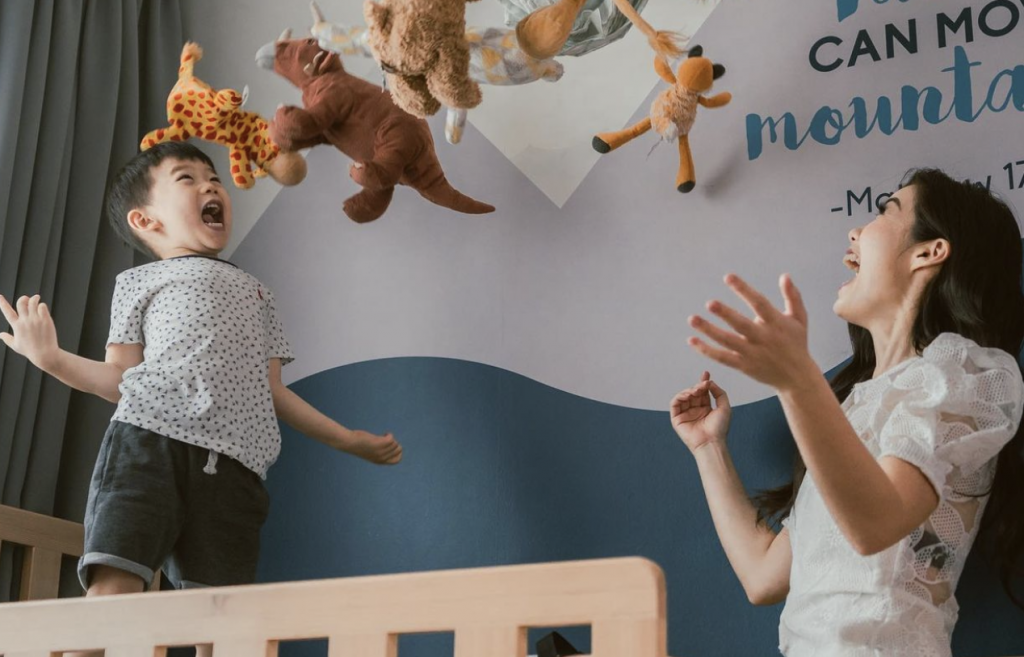 Hardest life struggle you've had to go through and how you overcame it?
This has got to be when I quit my corporate job to pursue music in confidence. Then COVID-19 hit and all my music gigs and income were gone just like with a tap of the delete button. 
At that time when the entire global music entertainment industry was put to a halt, I tapped on my marketing experience and started to do virtual performances. I combined music with marketing for brands that had a marketing budget to spare. As well, I brainstormed about how I can use my "non-essential" music service to still earn an income.
I did a live Instagram jamming session with LANEIGE. This was where I took my followers through a five-step skincare routine and sang a song related to the product (For example, for their eye cream, the song was "Can't Take My Eyes Off You"). It really helped me to be creative with music, songwriting, marketing, and it was really well-received. That was when I began customising my performances to make them relatable to the brand and/or audience. Companies started engaging me because it was something different.
Next travel destination? Why?
I would travel to a time and place where I've got unlimited cash so I can visit the Swiss Alps for snow, Japan for the freshest sashimi, Bali for the beach bum life, Norway or Finland to see the Northern Lights.
What are your plans for the future? Personal projects? Career collaborations?
I'll be releasing my next song in August! Really looking forward to it because I've got an exciting brand collaboration for the song too.
Personal goals? I would love to act in a movie and also be in a musical!