You have entrepreneurs and then you have mumpreneurs, who exude the qualities of fearlessness, are go-getters, and out to make a mark that inspires us all. In this series of Mums We Love, we present fashion mumpreneur, Dahlia Mohd, whose personal style intertwines tradition and modernity. She proudly showcases her heritage through En Pointe & Co., her multi-label boutique featuring local and regional designers. This mama of three boys shares about how she manages being a business owner and hands-on parent at the same time. 
Dahlia in Three Words!
Prints, Colours, Energy.
Share with us your childhood and family heritage.
I am the second child out of four kids. I have an elder sister, younger sister and younger brother, so I definitely have the middle child syndrome! Generally, I was an attention seeker because I wanted to stand out from my siblings. That being said, I was also more of a risk taker, riding my bike around the neighbourhood, going on inline skates down the slopes and always getting in trouble for being home late from my little adventures. My parents are of Javanese and Chinese parentage so I had a pretty eclectic cultural experience growing up.
Introduce us to the world of En Pointe & Co.
En Pointe encapsulates what I love : Fashion! and it highlights local and regional designers which i especially love because they marry heritage and contemporary design. For example, for a recent Chinese New Year trunk show, i featured Malaysian designer, Khoon Hooi whose designs include luxe brocade fabrics with feathers in qipaos and cheongsam silhouettes.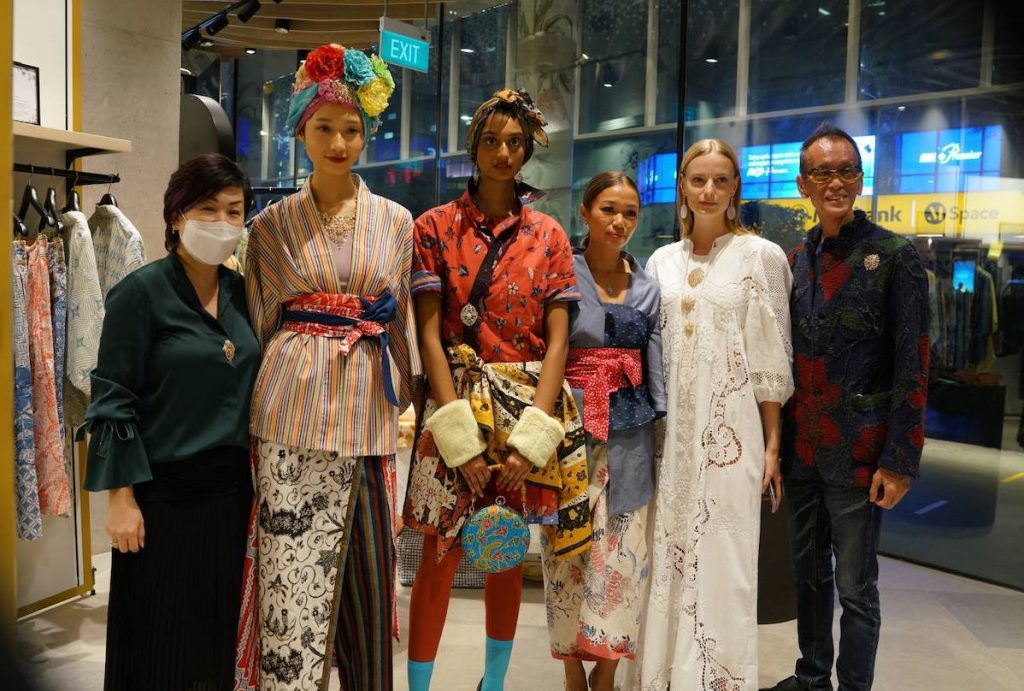 Has setting up En Pointe & Co. influenced your personal style? How so?
En Pointe has allowed me to showcase my heritage through the use of traditional fabrics like batik but integrate it in a modern setting. I can use a batik sarong with a tshirt and pair it with my heels and a chic handbag for a day out and not feel self-conscious that it's "old fashioned".
Tell us more about Parrot Social.
Parrot Social is my "nerd" pursuit. The fourth industrial revolution is already here and technology plays a large part in increasing interconnectivity and AI. Parrot Social uses AI and machine learning to power research insights. I have been fascinated by data and took up Python programming to further improve my understanding. I felt that with three young children and the push for them to pick up coding, programming, IoT, etc. that I needed to set a good example and pick up a few skills myself. The government has great incentives to promote lifelong learning and I used my Future Skills credit during the pandemic to learn coding from the comforts of home. The experience is life changing. It reminded me to never be afraid to start from zero!
What were some of the challenges you faced when setting up your businesses?
You need a strong stomach to start a business. There are so many things that can go wrong and very few that go right. Everything should be seen as a learning journey, so there must be some emotional distance between you and the business. If you take it too personally, be it the victories or defeats, you won't last long. However, I also feel you should also surround yourself with the right support system. There is a community of women entrepreneurs out there who are always ready to lend a hand and I believe that we should always give back. I almost never say no be it to an event or lending support to another female entrepreneur. When we rise, we should rise together.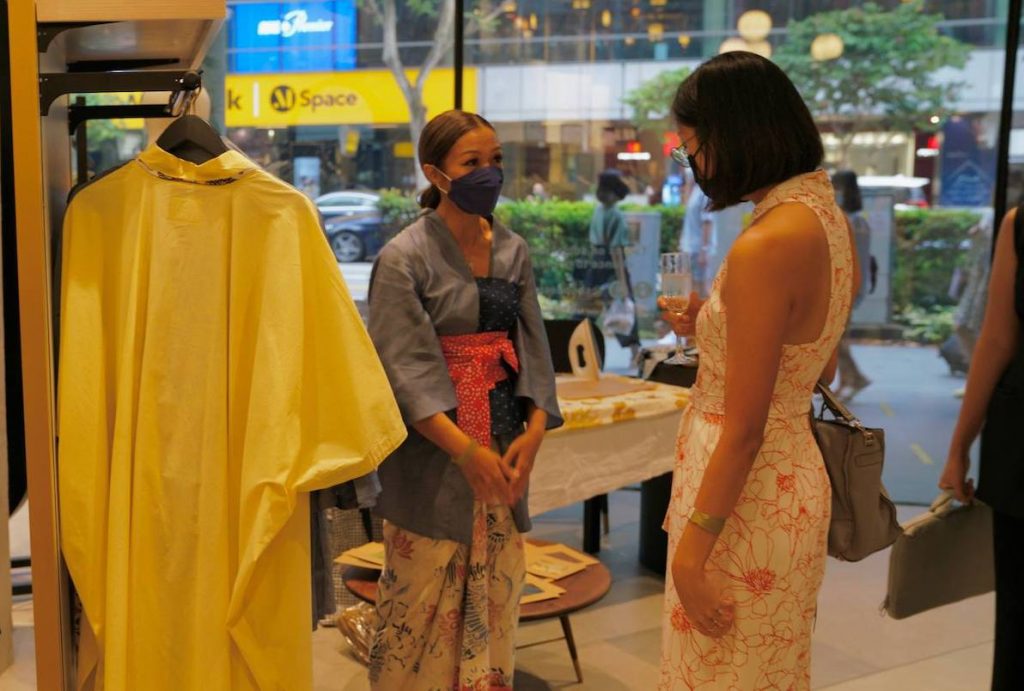 Most rewarding moment(s) in your career?
I feel most rewarded in the quiet moments when brand owners or designers share with me that they took that leap of faith because of my support. I provide mentorship to many smaller brands who are unsure of how to build up their brands or lack expertise in the supply chain know-how. I see myself as a facilitator of sorts and I help to link them up with my own contacts so that they can benefit from an eco-system which is cheering them on to succeed. Today, when I see how much they have grown, it is the most rewarding part of the journey for me. 
Tell us more about your kids!
I have three boys so you can imagine how much they keep me on my toes. I am definitely the affectionate kind of mum. I am always kissing and hugging them. I feel boys need to grow up in an environment where they feel safe expressing their emotions because the world can be pretty judgmental about boys and men. I always lead with questions like "How are you feeling today?" or affirming their emotions with "I understand why you must be upset by it." Instead of telling them not to cry or to "be a man". I tell my boys, you can be many things but above all, choose to be kind. 
How is it like being a mum and entrepreneur all at the same time?
It's a balance. I don't believe in work-life balance. One thing must be more important than the other for it to be a priority. At this point, it's my family and life, in general. I think the pandemic has shown us how fragile we all are. Work comes and goes, but the people around us are the most important. I took up road cycling and long distance running during the lockdown for my mental health. Since then, I've completed a marathon and competed in duathlons. I need to always find ways to challenge myself; discomfort will help us to change and grow.
How would you describe your parenting style?
I am definitely a hands-on parent and I believe in giving autonomy as well as trust to my kids. I do have routines for them. For example, bedtime for all three is 8:30 pm and this is non-negotiable. When it's time for homework, it's strictly homework. But when it is time for play, I give them free reign. So far it's working, but check back in ten years to see if my methods worked!
Has being a mum changed your outlook in life and your businesses?
Being a mum, I am definitely more nurturing. Therefore, I look for businesses that are not so cut and dry but it gives me room to create and grow. I used to be in finance and worked in a hedge fund. My day-to-day decisions were more binary and leaned towards technical skills. Dealing with people is a core strength of mine and something I really enjoy doing. Thus, I don't think I could ever go back to a vocation which just requires me to be very good at executing but not playing up to my strength.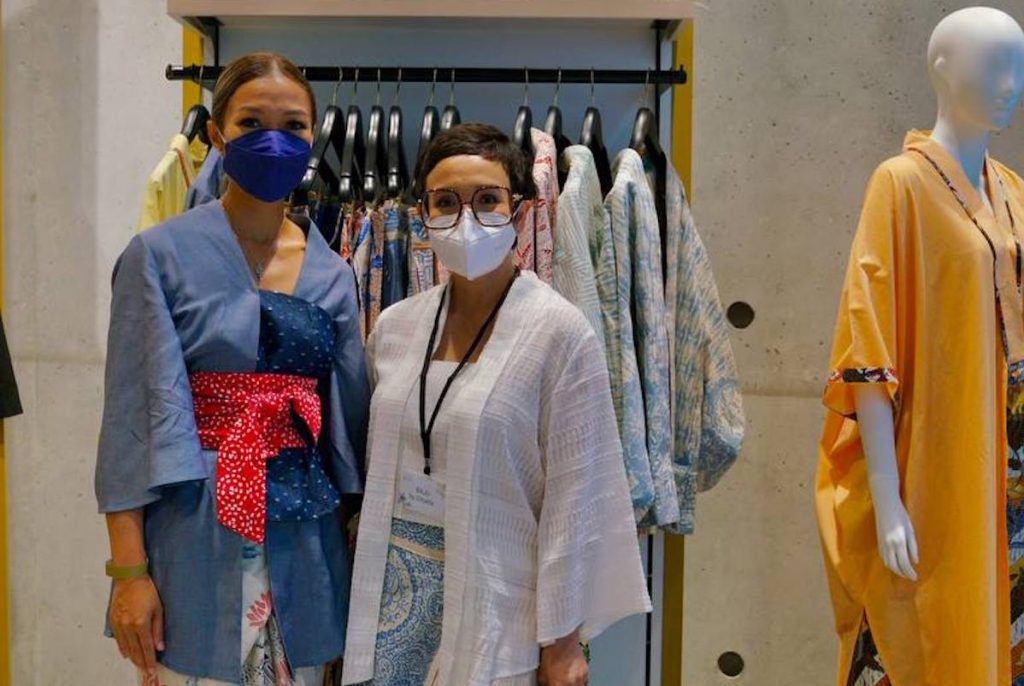 Favourite fashion labels that inspire you?
I am definitely a print kind of person and the brands coming out of India are very exciting. They use artisans to produce prints on natural fabrics, like linen, and also promote sustainability. Nowadays, Cord (India) is a favourite brand of mine. I also have a soft spot for handloomed or handmade fabrics with embroidery, for example those from Indonesian designers like Edo The Journey, Sapto Djojokartiko and Kloset (Thai). They showcase such youthful exuberance.
Top three fashion staples that every woman must have?
White t-shirt ( I love the local brand Source for their super soft t-shirts), jeans ( I alter mine so it looks tailored) and a statement jacket.
My beauty regimen in the morning is…
I use Re:erth ( a local skincare brand which uses Japanese turmeric) religiously since I am past 40 years old and aging is an issue. I use their multi-targeted elixir then I slap on moisturiser and a good sunblock. As I grow older, I focus on products which have high efficacy but use less ingredients. At night, I love using a facial oil to sleep ( I use a local brand, PSA's Midnight Courage, which has retinol).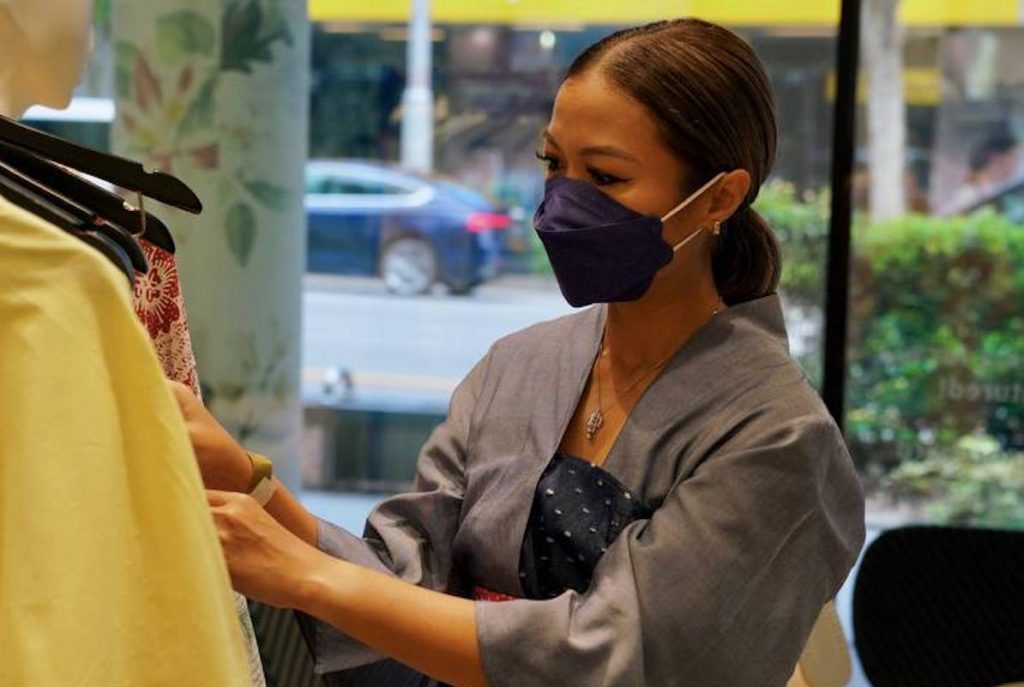 Three absolute essentials that I must have in my bag are…
Lipstick, hand cream and wet wipes.
Personal Motto?
"Don't be afraid to start from zero."
Future aspirations? Both for work and family?
To allocate more quality time for family and create more meaningful work relationships.