In this edition of Mums We Love, we present Colleen Lota, the Global Educator and Brand Ambassador for Pixi Beauty. This international beauty brand is renowned for its youth-enhancing, skin-loving, multi-tasking colour and skincare products. With over 20 years of experience, Colleen is passionate about what she does and has a deep understanding of how things work in the beauty industry.
Colleen joined Pixi over a decade ago and has travelled the world with the brand to work with retail beauty advisors, lead masterclasses, host events and even meet with press and influencers. Her bubbly personality and energetic self enable her to interact with people easily and share the #PixiLove wherever she goes.
Outside of work, Colleen is a proud mama to her 16 year old son. She enjoys spending time and making memories with her family and friends. Aside from that, Colleen loves dancing too and you can often find her having fun creating mini video contents on her social media platform.
Tell us a little about yourself, family and career background.
My name is Colleen Lota. I was born and raised in Los Angeles, California as an Asian American. As well, I'm a mum to a 16-year-old son. I have been a makeup artist for over 20 years and loved every moment I have experienced over the years being in the industry. Working with Pixi, I have been able to express my passion of making people feel a certain way about themselves using Pixi products. As Petra Strand, creator of Pixi, says, "If you look good, you feel good and that's what Pixi's all about."
When and how did you enter into the beauty industry?
I entered the beauty industry when I was in high school. I started to do makeup on my friends for school dances and went to beauty counters in the mall asking makeup artists what tools and colours they were using and why. During my senior year of high school, my art teacher shared a nice compliment on a painting I was working on. It was this moment that she made me feel a certain way about bringing a piece of paper to life and I thought, what more can I do that for another person. At that very moment, I knew I wanted to be a makeup artist.
Introduce us to the world of Pixi Beauty.
Pixi Beauty started in 1999 by Petra Strand. She wanted to create products to simplify the beauty routine for the everyday person. She wanted everyone to experience luxurious formulations at an accessible price point and believes that it should not cost a lot to look good and feel good, and she wanted everyone to experience that. Petra puts a lot of time, care and love into each of the products she develops. To this day, she tests, tries and plays with all formulations and products before they are released. Pixi does not test on animals, but we test on ourselves instead! We are proud to say that Pixi is cruelty free, paraben free and made with natural botanical ingredients.
What do you love most about being a global education and ambassador of the brand?
I love that I get to do what I enjoy with a family and brand that I admire. I love being able to share Petra and Pixi's vision and mission with the world and making others feel positively good about themselves.
What are the top three Pixi Beauty products every mum must have?
Pixi Beauty is all about using products that are fuss-free in a few minutes. Most of the products in our assortment are multi-use. The top 3 products every mum should have are Glow Tonic, Rose Glow Mist and On-the-Glow Blush.
How do you juggle being a mum as well as working and travelling the world?
Having a good, strong and understanding family support system has allowed me to balance work, travel and being a mum. I am grateful and thankful that my family has and continues to be supportive of everything that I do.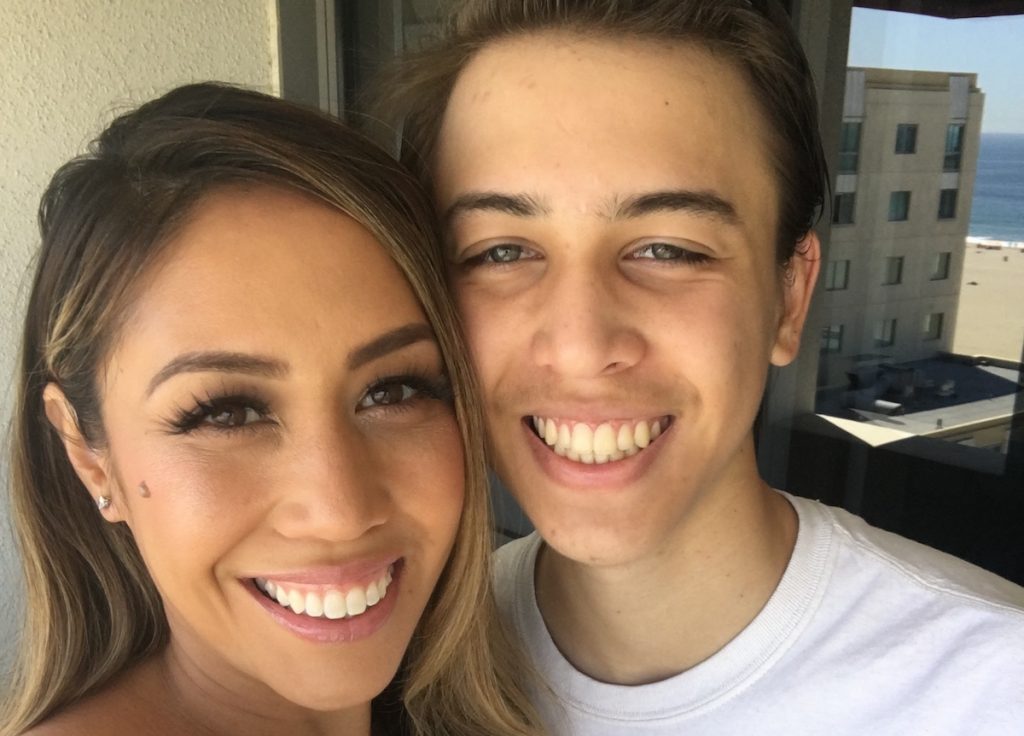 If there was one piece of advice you'd give to mums who love to have your career, what would it be?
Listen to your instinct and follow your heart, passion, purpose and make it happen! Know that whatever you want to do, you can do it and know you will! Ask yourself what your purpose is and educate yourself with what you are passionate about and love.
Mum guilt – When have you come across it? Share with us more.
There was a time I was traveling a lot and felt sad to leave my son. My son and I overcame this together by communicating constantly whilst I was away – I'd share stories and photos of what I did, who I met and what I experienced. My son grew to be more understanding as he got older and shared with me that he is happy for me and loves seeing me happy. He also said that he hopes that one day he finds a career he passionately loves and has the opportunity to travel the world too.
Any tips to banish the mum guilt we all feel?
I believe as a mum, there will be feelings of guilt from time to time. I feel that if we do our best to be the best for ourselves, our children, family and peers, everything will fall into place and we will grow a stronger connection of understanding and love.
My favourite destination with Pixi Beauty is…
I have met and worked with amazing people from all over the world which makes them all my favourite destinations!
Three beauty essentials in my bag are…
The three beauty essentials in my bag are Pixi's On-the-Glow Blush, LipLift Max and Endless Silky Eye Pen.
I love to have more time for…
Travelling.
My beauty regimen in the morning is…
My beauty regimen depends on what my skin needs, but lately I have been using Rose Cream Cleanser, followed by In-Shower Steam Facial or Peel & Polish, Rose Tonic, Hydrating Milky Serum and Rose Ceramide Cream.
What's your go-to outfit? At work? At home?
My go-to work outfit would be a nice top and pants or a dress. At home, I like to wear comfy workout clothes.
How is it like parenting a teen? Any advice for mums out there with kids around the same age?
Parenting a teen has been nice. My son is so sweet, kind and thoughtful. He drives himself to school and work, which blows my mind all the time. I feel that he was born yesterday – how time flies! My advice is to develop a friendship with your children, be open and transparent, listen to what and how they are feeling, share experiences and make memories together.
What was the most challenging moment in your motherhood journey?
The most challenging moments have been when my son was not feeling well. The only thing I can do as a mother during these times was to be there with and for him.
Most fulfilling moment?
My most fulfilling moment was when I gave birth to my son. I remembered looking at him when he was born and realized the look I gave him is how my parents looked at me.
One motto you live by?
Live every day to the fullest and treat everyone with kindness.