Not only is Brie Benfell a Model, Host, Content Creator, and fabulous mum of two, she has also taken on the role as fitness influencer to inspire us all through her workout routines with the launch of The Anjea Way and Thrive Fitness. Furthermore, this trailblazing entrepreneur has also set up Ever After, a princess company that makes little girls' birthday wishes come true! This edition of Mums We Love features Brie, who opens up about her family, career, pre- and postpartum journeys as well as how motherhood has changed her approach to life.
Tell us a little bit about yourself, family and career background.
My name is Brie Benfell. I wear a lot of hats and it's sometimes hard to explain all that I do. First up, I share openly and honestly on Instagram and sometimes TikTok. My whole goal with that is to help, inspire and empower women! I am an actress and the local movie I filmed in Malaysia is now in cinemas islandwide. I sing, do a lot of voiceovers, model and host. In December, you can find me singing with Robocar Poli at i12 Katong! I am very much into fitness/wellness and have teamed up with my husband to create Thrive. We focus on health-focused transformations. I also own Ever After which is a princess company for events and parties, so you might see me dressed up as your little ones favourite queen from Frozen.
Of the many career hats that you wear, which do you love the most and why?
That's a tough question! My biggest passion has always been performing. Whether I'm filming a movie, performing on stage or hosting, I get such a high from it all. Storytelling is powerful and can have great impact on others. I also LOVE being an entrepreneur and always aim to inspire and empower others. That fuels me! I believe I was born to be an entrepreneur!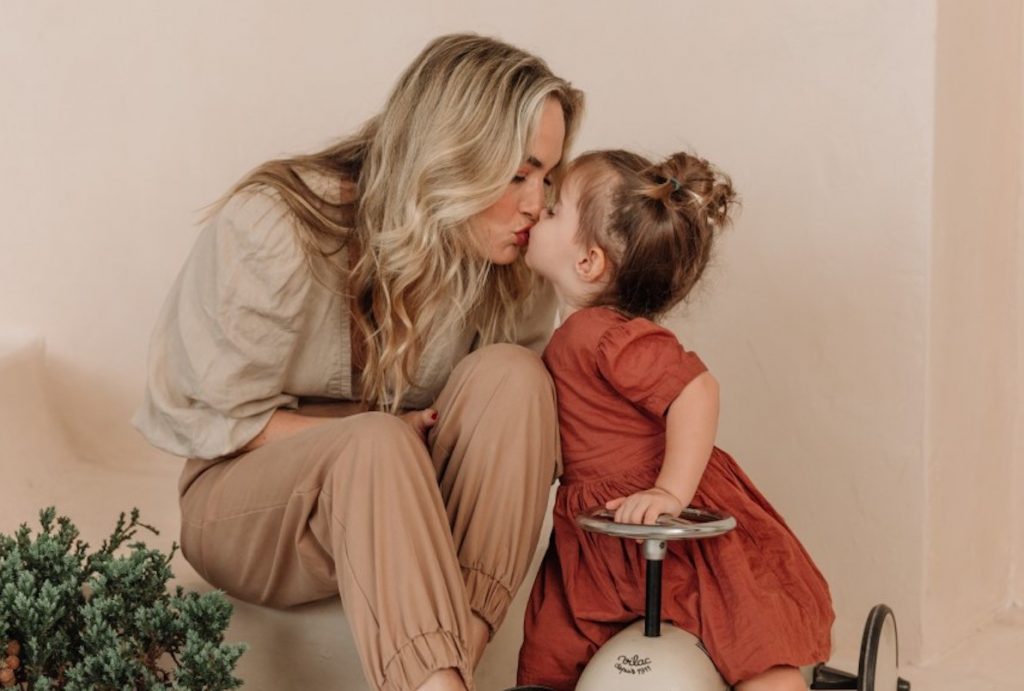 How was your first pregnancy journey?
My first pregnancy was a breeze. I was probably so annoying to other mamas (sorry!) as I felt like a goddess when I was pregnant. I loved giving birth and loved my postpartum phase. I'm very blessed and never take it for granted.
What about your second pregnancy? Were they both about the same or different?
Well, my second pregnancy was the OPPOSITE. I was exhausted for most of it. My first trimester was riddled with nausea and tiredness. My second trimester was not what it's known for. I was just an angry version of myself (I assume it's the boy hormones?) and in my third trimester I was uncomfortable. I gave birth to Thea at 38 weeks and went all the way to 41 weeks with Everett. I was so beyond ready to give birth!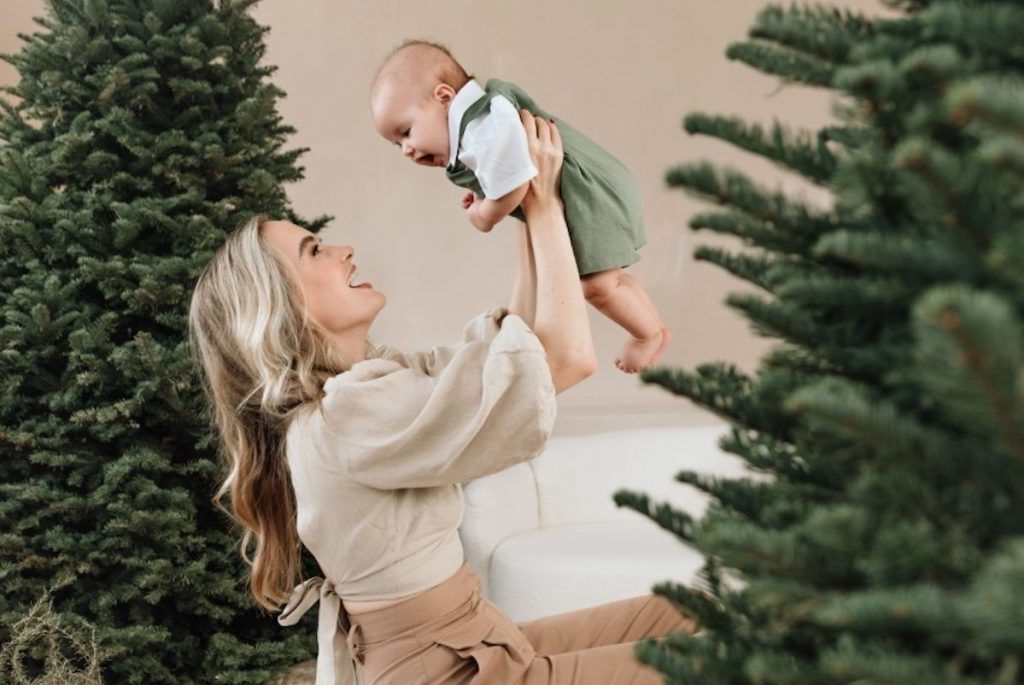 Share about your postpartum journey for both pregnancies.
My postpartum phase first time round was great. I healed slowly and built my strength up slowly too; there was no rush. It takes nine months to make a baby so it took at least nine months for me to heal! I made sure I checked my pelvic floor and abdominal separation for both. Well, I had no abdominal separation and was just forever doing my pelvic floor exercises.
With my second postpartum phase, I suffered severely from postpartum anxiety. I went to see so many doctors and a therapist. They all said that it would take seven weeks to go away as it was just hormone-related and then I would be fine. At that time, I didn't believe them. I hit rock bottom. My son was blissful and happy, but I was having the hardest time of my life. Just thinking about it now brings tears to my eyes. After seven weeks, the doctors and therapist were right! I found myself again. So, if any mama is feeling this right now, you need to find ways to let others help. I went to therapy and it helped immensely so I promise that you'll get through it!
How has your character, attitude and approach to life changed after becoming a mum?
My children have changed me in ways that I find it hard to explain. They have definitely made me the best version of myself. I have re-evaluated things in my life and have made many changes for the better. Since becoming a mum, I respect my time more than ever. Things that once were so important to me like my career, for instance, aren't anymore (and vice versa). Success is still important but family comes first. Spending quality time with my family is on the top of my list and there is nothing better. For me, becoming a mother has truly shown me what life is all about – taking it slow, enjoying the moments as soon they will all just be a memory. Life is a miracle so drench yourself in love!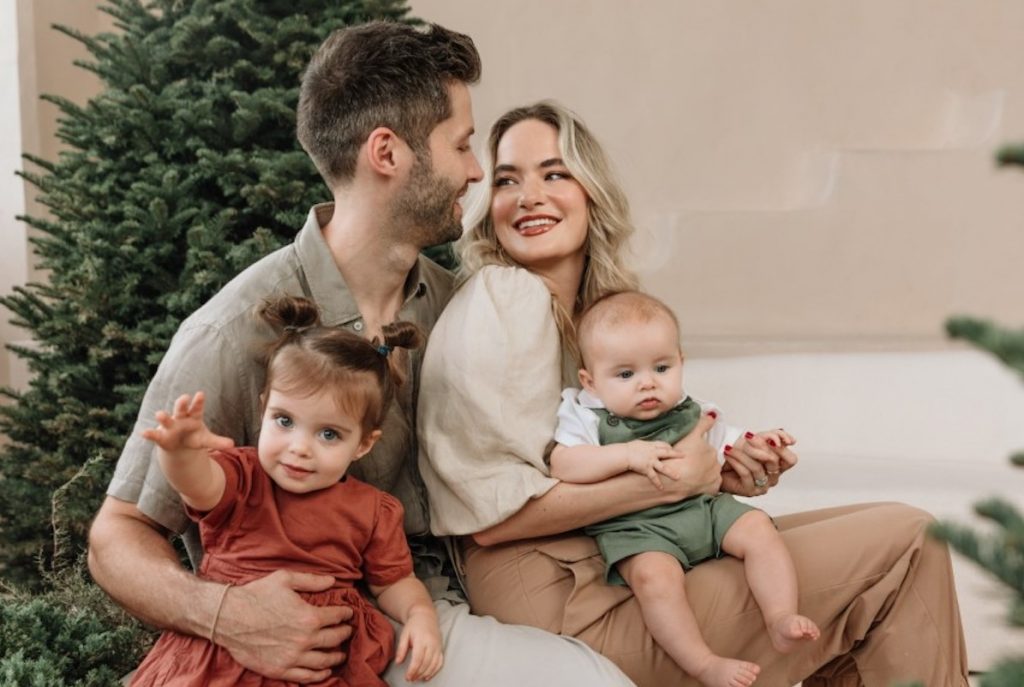 Most difficult time in your motherhood journey thus far?
The crippling postpartum anxiety after giving birth to my son. I have never experienced anything like it before and I never want to experience it again. It was really tough. The newborn bubble is the best time ever and I felt like some of that was robbed from me the second time around. Thankfully Everett was happy and when I am with him, all my anxiety attacks would go away!
Three things you love about being a mum?
Firstly, it's the unconditional love I have for my children and how it fuels me to be the best I can be. Secondly, it's watching my little creation grow each day. There is nothing better than seeing their personality shine and flourish. Thirdly, my outlook on life has completely changed. I genuinely want to sing Disney songs, dance and create art with my children!
Introduce us to The Anjea Way and Thrive Fitness.
I am very much into the fitness and wellness scene. Health is wealth. For me it's not about getting the before and after. It's about getting stronger, healthier and living longer. I also think the fitness and wellness industry can be so overwhelming for so many and I hope that I can help people to achieve their goals.
The Anjea Way is a platform for mamas with videos and content to help you with all things motherhood. We cover so many topics with the experts. It's basically everything I wish I knew and definitely did not!
Thrive is a personal training gym that gives you healthy and sustainable transformations. We care about all aspects – your fitness, mental health, sleep, nutrition. We truly have got you covered and hope you can thrive with us!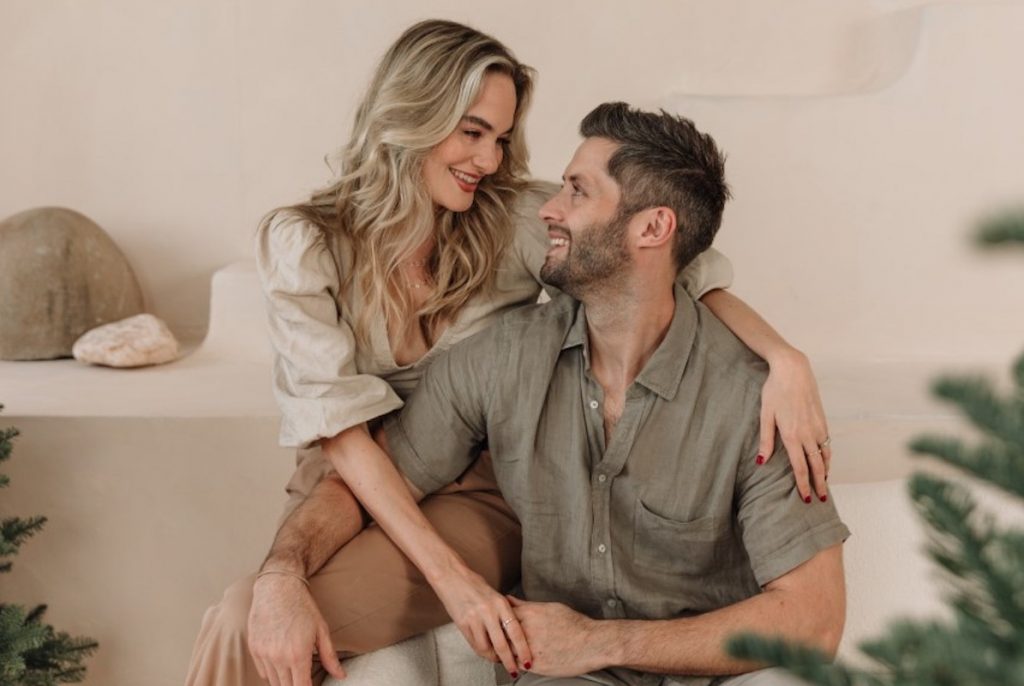 What or who inspired you to set up The Anjea Way?
As mamas you almost forget what you go through as you're in another chapter of motherhood. So we wanted to hold a safe space for a community for mamas to feel empowered as they head into motherhood!
Describe a typical day in the life of Brie Benfell.
Oh my, that is ever changing! Every day is completely different, but here is a little insight. I wake up and walk my daughter to school and then grab a coffee at my favourite coffee shop with my son. Normally I will FaceTime friends and family in America/UK. I do the most I can whilst my daughter is at school or napping and Everett is napping too! Any mama will understand that those are golden hours to get things done! I have a manager who guides me with what I need to do; she is the absolute best and I couldn't do what I do without her!
I would usually have some sort of photoshoot for content creation during the da. Then, I will work on my businesses and take meetings when I can. I most likely will attend an event! I will free up some days as I truly love to spend as much time with my children as possible. These moments are so very precious so I'm happy I can work from home and can take them with me. I have so many things on my Google calendar (all colour-coded!) so I can really see what I have to do. It's my lifesaver!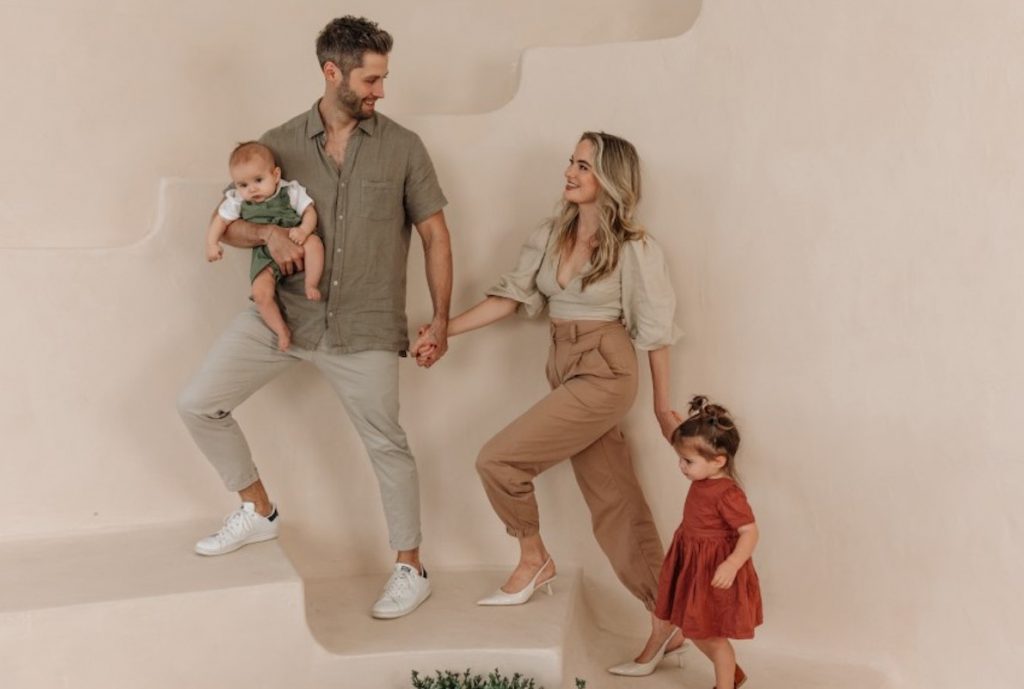 One thing I love to do with my kids is…
Every week we have a family outing even if it's just a walk around the neighbourhood! My favourite thing is going on adventures together. My children make even the dullest things so fun so I love it all!
I wish that I had more time for…
I wish I had more time to see family and friends overseas! It's sometimes very difficult to be so far away and it pulls on my heart strings. However, Singapore is home and we are so blessed to call it our home! 'SingMohs' for life!
Three must-haves in your bag when you're out and about with the kids?
Snacks, snacks, snacks! Spare outfits are a must, no matter at what age, because anything can happen. We went to the zoo and Thea was sick for the first time! We had no spare clothes so she went around in a zoo t-shirt and diaper! You learn along the way what you need in your bag. Wet wipes and diapers are of course a must too!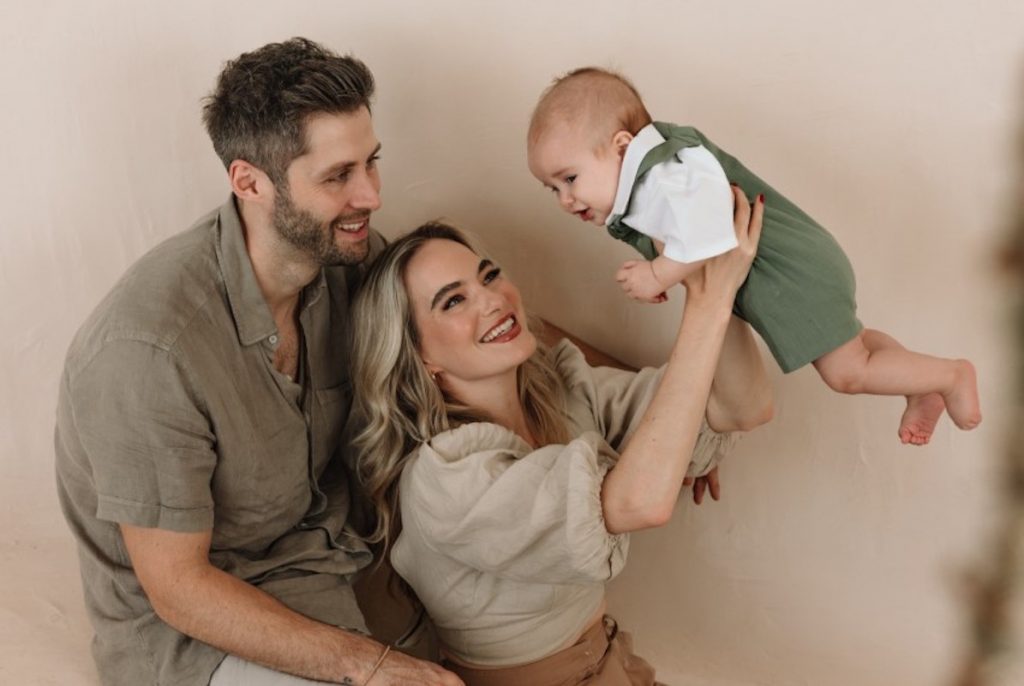 Plans for the future? Work and family?
We are proud 'SingMohs'! We will both be working hard on Thrive and just growing the business. Hopefully, we can open our own space. Saving up for school is always on my mind and we are hoping to become Permanent Residents very soon! I might have something exciting next year being filmed, but can't quite confirm just yet! I do want baby number three, but I have to persuade my husband first!
Photos Credit: The Love Studios