Meliza Salim is the Co-Founder of TOUFIE, a homegrown brand that creates specially-engineered and handcrafted shoes to fit real women. A mumpreneur and mama of two young girls, having space to store all her products at home is non-existent which is why she has engaged the services of Extra Space Asia to hold her inventory. We asked Meliza to share with us about her mumpreneur journey and also enlighten us about having a self-storage unit as a business owner.
Briefly describe your family.
I am a mum to two young girls, Eva aged five and Nyla aged eight. Usually, there is little or no disruption to work on weekdays as both are in school/ preschool. My eight-year old is also in student care (up to 7 pm) so that helps tremendously.  However, given the unique situation we all in right now, there have been several instances where childcare arrangement was an issue. For instance, when Home-based learning (HBL) was activated, working parents like myself have had to make additional arrangements to care for the kids at home. Not only that, managing both work and supporting the kids' learning at home is not easy tasks! Work became almost impossible to get done until their HBL tasks were completed, as constant parental guidance and supervision are required. As such, during those times, meetings had to be rescheduled or pushed back to later in the day.
Who or what inspired you to set up your own business?
The biggest inspiration has to be my family. I've often encouraged my girls to have the courage to follow their dreams, to never be afraid to try and to always continue learning. Doing this business is my way of walking the walk and talking the talk.
What is the nature and concept of your business?
Together with my partner, Sufy, we started TOUFIE back in 2017. Today, the company is Asia's FIRST shoe brand to offer sizes of up to EU44 (US 13). With only a few size options available to women in Singapore, most find it almost impossible to get shoes with the right fit. We pride ourselves in handcrafting classic essentials with exceptional quality, at fair prices. Our shoes are suitable for those with bunions and broad feet. Moreover, these shoes will mould to your feet's curvatures and will only get softer with every wear! Thoughtfully and uniquely made, every woman can now experience their Cinderella moment with TOUFIE shoes.
How will you describe your typical day as a mumpreneur?
The day starts as early as 6 am. The first two hours is usually spent getting, Nyla, ready for school, which means preparing breakfast, packing food, and fetching her to school. Eva will be up by the time her sister is in school. Then the routine repeats. By 9 am, I will be at the office and work begins. By 6 pm, mummy duties resume which means picking the kids from school, preparing dinner, family bonding over bedtime stories or casual chit-chats. Bedtime is at 10 pm, if I'm lucky. Thereafter, I'll have a quick catch up with work or read till about midnight and then it's bedtime!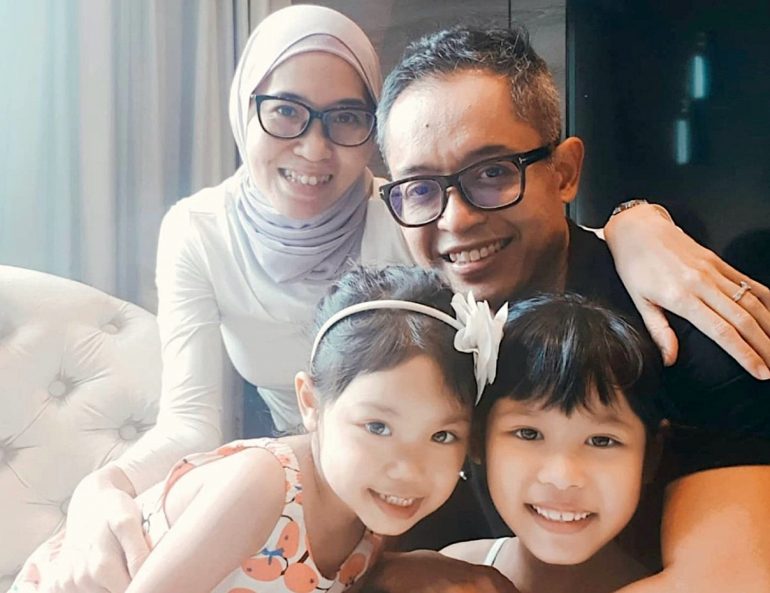 What are the difficulties you face juggling the roles of being a mum and business owner?
Running a company is not a walk in the park, for sure. The work, the pressure, the challenges never stop. I am glad that I have my partner and our wonderful team to support the growth of the business.
As a mum, the roles we play are equally diverse and challenging. To juggle both roles is never an easy feat. I am definitely not an expert in this department and am still learning as the day goes by, but I believe it is important is to remind ourselves that we are enough. Never try balancing the scale between family and work – they are both part and parcel of life. To me, what matters is how we define balance and that is entirely up to us.
Describe your work-from-home office set up. Has space always been an issue?
My dining table is my preferred workstation. I love a big work area so that I can house my laptop, documents, and coffee. On a normal day, space is never an issue. It becomes a problem when HBL kicks in as I must compete with my daughters, who love the dining table equally much, for space!
Why did you rent a self-storage unit?
It is for holding our inventory.
What are the advantages of having a self-storage unit?
It is highly secure with 24-hour CCTV surveillance, and I can access my unit at any time, any day, based on my schedule. It is a convenient space solution to house our inventory. The cost is also reasonable per square foot. What's more, there is free parking, access to unlimited printing and WIFI, and co-working space!
The location of this storage facility is convenient as it is only a seven-minute drive from my home and 10-minute drive from my kids' schools. The price is reasonable, and amenities provided are great. There is also a co-working space available for work purposes or to conduct meetings. Furthermore, the staff at Extra Space Asia are helpful.
What advice can you give other mumpreneurs about selecting the best self-storage option for their business?
Location is important for convenience. Often, especially as a business owner, you will be required to rush down to the storage space to fulfil urgent orders or manage any incoming shipments. You might also have overstretched a meeting and must rush to pick the kids. So, for me, having a storage space near home and my kids' schools really helps.
You need to ask yourself what the storage space is for. Will it be purely for the housing of inventory, or do you need to designate a working area within the storage space? Of course, there's the issue of budget and the amenities that a self-storage facility provides.
Decluttering and maximising storage space at home is possible and can be done in small batches instead of going at it all at one shot. Most importantly, find out your needs, start small, be consistent, and you're well on your way to sparking joy both at home and at work.