If I were to be perfectly honest, the Westin Singapore would probably be one of the last places I would associate with a family friendly stay. It is, after all, located right in the middle of the Central Business District, making it the perfect location for a business hotel rather than one that caters to screaming, excitable children.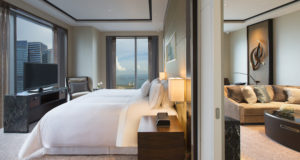 So when a recent staycation opportunity came up at the hotel, I was curious as to whether the little one would take to the space. With a one-year old in tow, the challenge was whether we could sufficiently keep the bub entertained while daddy and mummy attempt to relax.
One of the first things I often look out for is whether they have a kids club. Not that my daughter is old enough to appreciate the space but sometimes it's nice to have somewhere where she can throw some toys about and stomp around. In the absence of one, it is down to the amenities and programmess of the hotel that can really make a difference.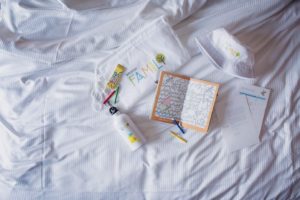 Which is why I was really pleased to find out that Westin had recently launched a global initiative targeted at parents and their children. Called Westin Family, the programme really goes a long way towards making the hotel a haven for young visitors and travelers, particularly in a hotel that does not have a kids club. Built around the idea 'the Universal Language of Play' — where playing is not limited by borders or language barriers but rather is a vehicle to explore, learn, develop new skills and build relationships with others — the Westin Family programme draws inspiration from nature to promote a sense of well-being.
Upon check-in, kids receive a Westin Family Travel Journal with a variety of interactive activities and a Local Activity Guide, with a list of kids' friendly attractions (for example, the zoo, Universal Studios Singapore, Gardens by the Bay). There are also some additional amenities including a drawstring bag filled with a hat, water bottle and some colouring material.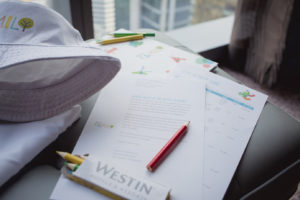 While I have to admit that the materials probably suit kids slightly older than my daughter (and I really do think the older kids will enjoy them), we had a great time with The Little Singapore Book. The book was created by two journalists Sim Ee Waun and Joyceline Sim Tully (both mothers to a daughter each) and caters mainly to children aged five to 10. While my daughter is too young to fully appreciate its value we still had a ball with the book as I took the opportunity to introduce her to Singapore's history and culture. The vivid, colourful illustrations also helped a lot.
The Westin is centrally located so it's easy to get to and from the hotel which is a plus if you're a tourist. Having stayed in a suite, I loved that there was lots of space for my daughter to move around while we lounged about in the bedroom. Plus, the famed heavenly bed certainly lives up to expectations. All three of us (the hubby, baby and I) slept really well.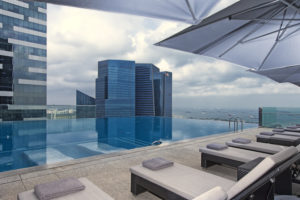 All in, The Westin may not seem like the natural choice for a staycation (if you live in Singapore) or a family-friendly holiday (if you're visiting the city) but with the new programme in place, it should definitely be on everyone's next family hit list.  Our top tip: make sure to factor in some time by the pool. Not only is it a lovely infinity pool, it also boasts a wonderful view of the city. Truly worth making time for.
For more information on Westin Family, please visit www.thewestinsingapore.com, www.westin.com/family or follow #WonderAwaits.