We went on a trip to Bali recently and it was one of the best vacations we'd taken in a while. It ticked all the right boxes: beautiful location, personal service, luxurious spa, great food and activities for the kids.
We made sure we packed entertainment for the kids – downloaded Narnia and Mary Poppins on the iPad and brought a whole bunch of books and activity pads to keep them busy. That did NOT stop them from talking non-stop and asking a million questions, unfortunately. But we did get a few minutes of reprieve here and there when it actually did keep them busy (thank God!)
Anyway, we get to Bali and there's a car to pick us up, well stocked with water, snacks and that refreshing cold towel (so good after a flight with kids!). Now, it's a two-hour drive to get to Soori from the airport but the sights are worth the travel plus we had a fab driver who took the time to point out the sights.
I made a mental list of all the darling shops we passed on the way, making sure the driver remembered which ones I just had to go back to. (I went back to these shops on the way back to airport. Beautiful home decor.)
Just before we get to Soori, we see massive rice padi and watermelon fields. It was quite a sight and the boys were beside themselves with fascination (and questions).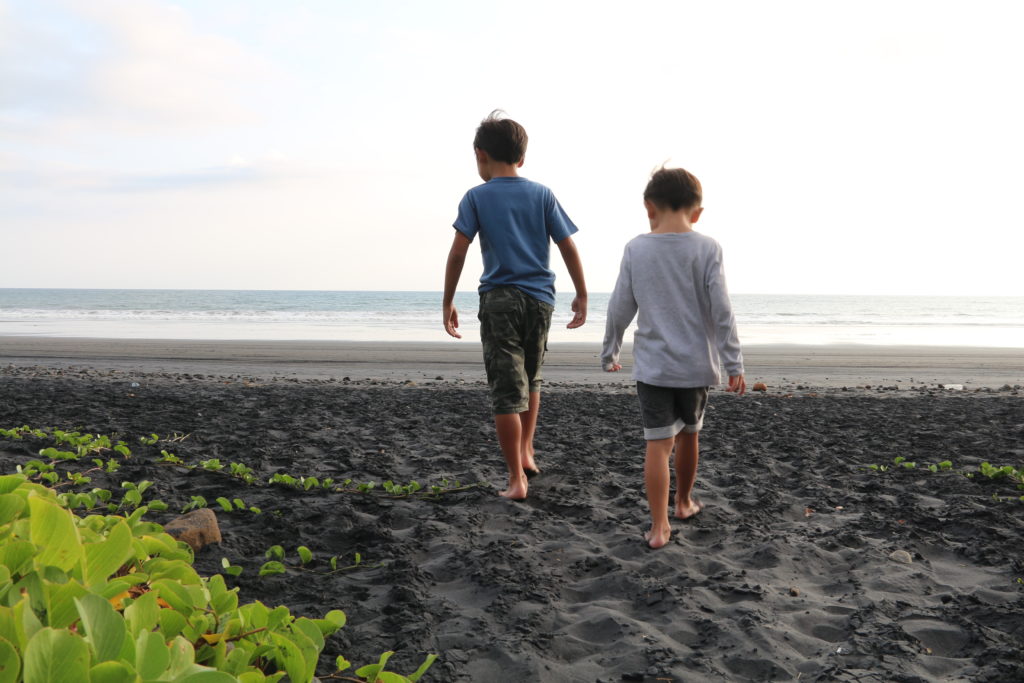 First Impression
So we get to Soori and it is breathtaking! The architecture is clean and linear (love!) and the property overlooks the roaring Indian Ocean on a powder-soft black volcanic sand beach that shimmers in all that beautiful sunshine.
The manager greeted us on arrival and we were attended to immediately. Settling in was a breeze, the staff took care of everything so we could have a quick meal and race off to the magnificent beach. The sand was unlike any I've seen or felt and the waves?! They were monstrous. It is NOT a Swimming beach, for sure. But if you surf? Perfect.
Soori Bali is an eco-conscious resort in the picturesque Tabanan locale, where volcanic mountains, rice terraces and shimmering black sand beaches rule the landscape.
The resort offers bespoke journeys for adults and children catering to all tastes and interests. All 48 of Soori Bali villas feature private pools with spectacular sea or mountain views and facilities include the infinity pool, spa, bar, conference room, 24-hour gym and library.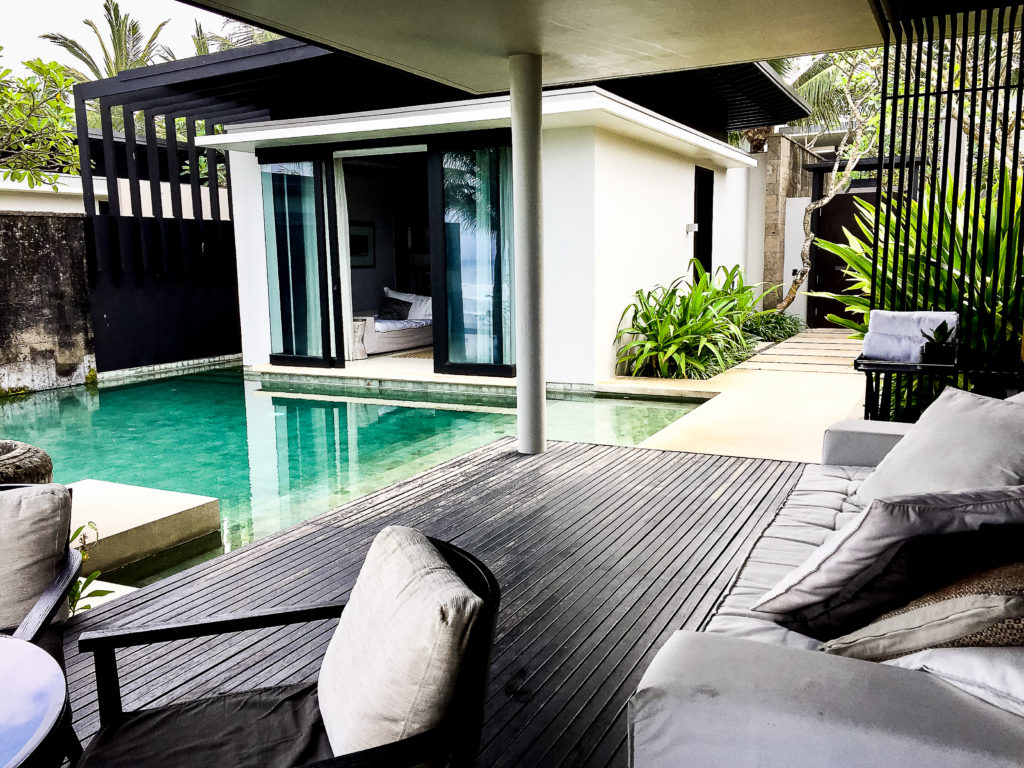 The Villa
The villa was luxurious – spacious and well-planned out. The bed was roomy and comfy. We had a little dining table, where we had our late night meals and, a day bed, where my eldest slept.
The living area opened up to the villa pool (yes, you have your very own pool), so you could jump right in from the villa, to the delight of my adventurous little boys.
The pantry was well stocked with herbal teas, a Nespresso machine, snacks and fruit.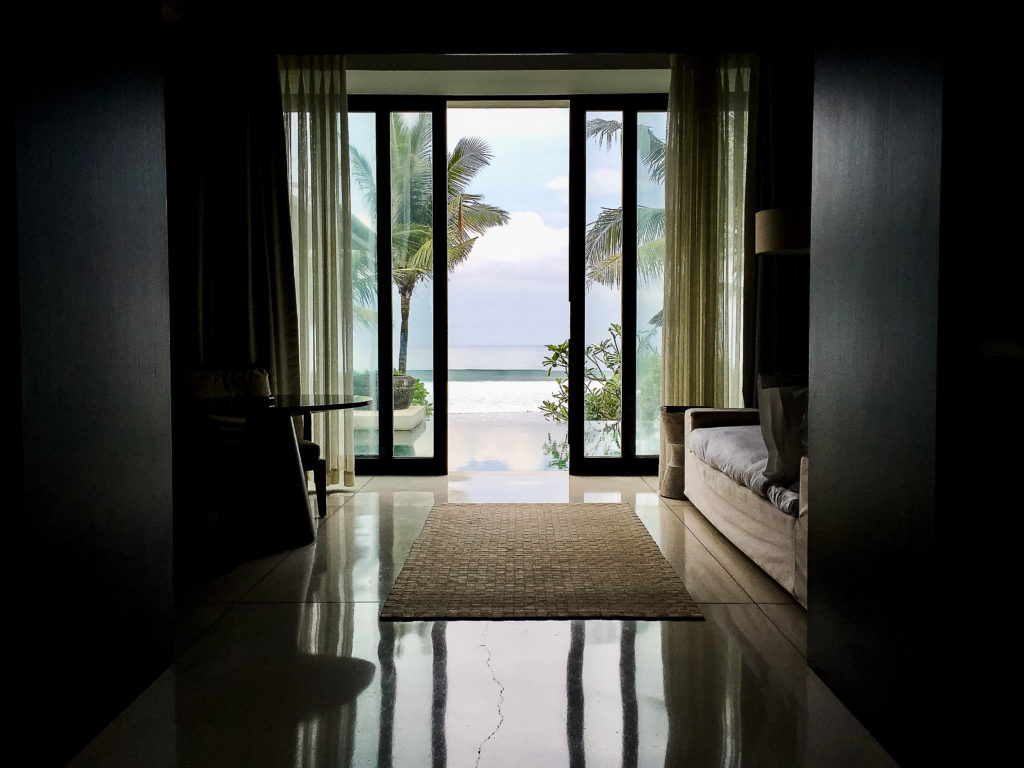 The bathroom, my favourite space, was massive. His and her basins, an outdoor shower, an indoor shower and a bathtub that fit all four of us! The boys insisted on many, many bubble baths.
The resort provided a little baby bathtub with baby toiletries and toys, very thoughtful, however, our boys were too big for the tiny tub but some of the toiletries came in handy – we didn't disclose the ages of our children when we made the booking, so no faulting the staff here.
Don't stress about packing a toiletry bag because Soori Bali keeps the villa well-stocked with spa quality toiletries including sunscreen and aloe vera gel (which they cleverly keep cool in the fridge).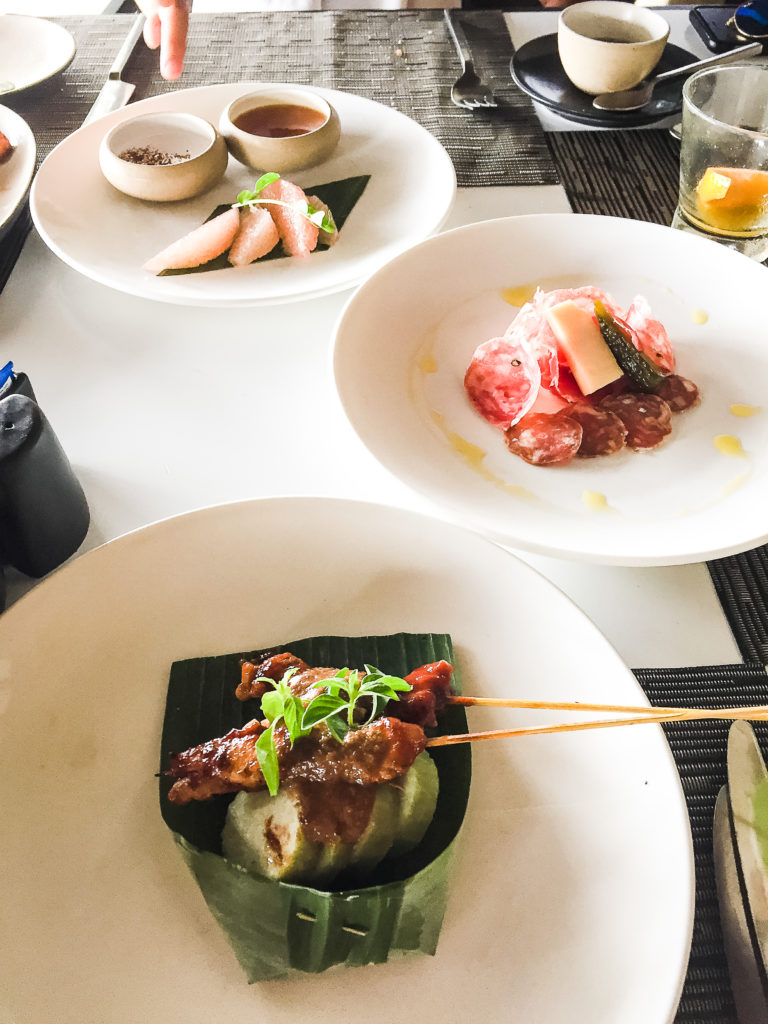 The Restaurants
There are two restaurants, a fancy one called Ombak which offers delectable fine western cuisine and Cotta, an al-fresco option that serves up a rotating taster style menu with delicious twists on local and international classics, try world-renowned Kopi Luwak if you're feeling adventurous.
For lighter, healthier appetites, stop in at The Reading Room, they serve refreshing juices and organic snacks as well as an all-day 'afternoon tea set'.
Soori Spa
My husband and I were booked in for the Ultimate Escape. It was AMAZING! We laughed most of the way but seriously, the herbal steam baths, body scrubs on warm tables and cold jet shower were incredibly invigorating – the therapeutic body massage sent us to snoozeland. Three and a half hours of pure bliss.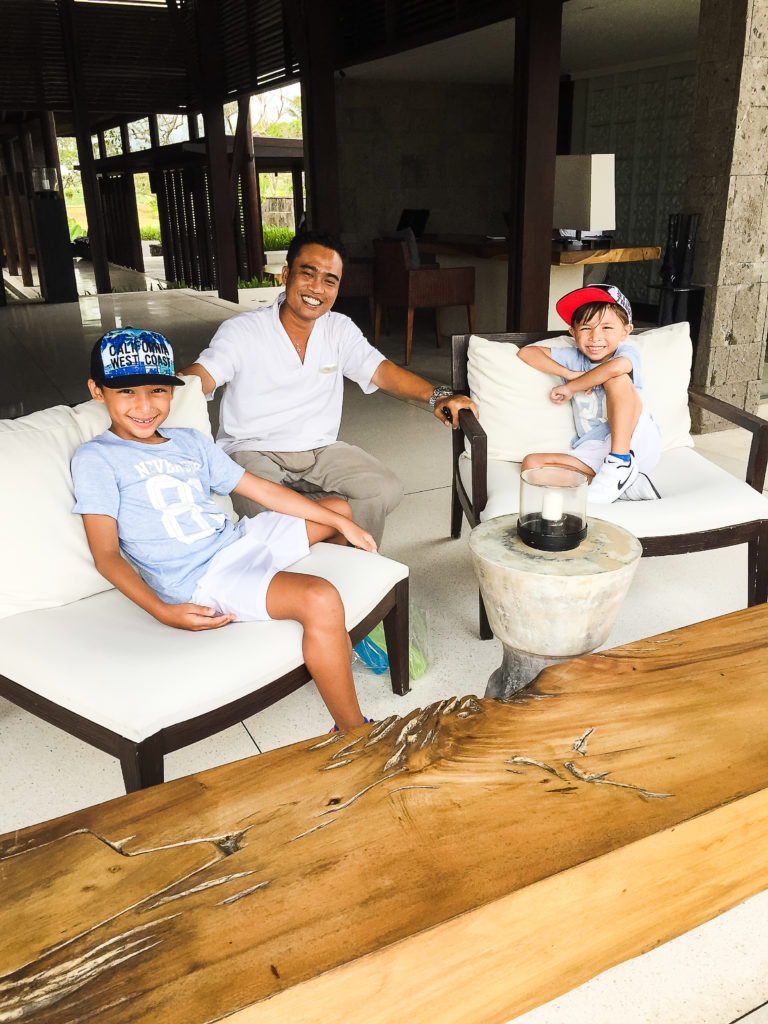 Activities For Kids
Soori Bali doesn't have a kids room per se but the staff did an excellent job of keeping the kids entertained while the husband and I de-stressed at the spa.
The kids got to play adventurers on an exploratory scavenger hunt, which they loved! After their adventure, they learnt how to design, craft and later fly Balinese kites on the magnificent beach. They were the only kids at the resort at the time so these lucky boys got the whole-nine-yards.
Because of where the resort is located, there really isn't much else to do outside the resort unless you're willing to travel at least 30 minutes out. But if you're looking to seriously unwind, and feel pampered, Soori Bali is an easy escape. We got to spend some real quality time with the kids in an incredible setting with amazingly attentive staff.
Definitely a keeper for a quick family vacay.
---
Soori Bali Banjar Dukuh, Desa Kelating, Kerambitan, Tabanan Bali 82161, Indonesia +62 361 894 6388 [email protected]