The Ritz-Carlton isn't a hospitality brand that one would commonly associate with the term family-friendly. Luxurious and glamorous, yes, but kid-friendly — and the idea of noisy, rambunctious kids running around — just doesn't quite make sense when I think of a Ritz-Carlton property.
But a recent visit to The Ritz-Carlton, Hong Kong, didn't just prove me wrong, it went so far as to change my mind about just how great The Ritz-Carlton experience can be for the mini jetsetters.
Families who stay at the property will find that the hotel has an incredible Ritz Kids programme that has been conceptualised to instil a sense of travel adventure in children, while helping them to create lasting memories. At The Ritz-Carlton, Hong Kong, this takes the form of an in-room camping experience.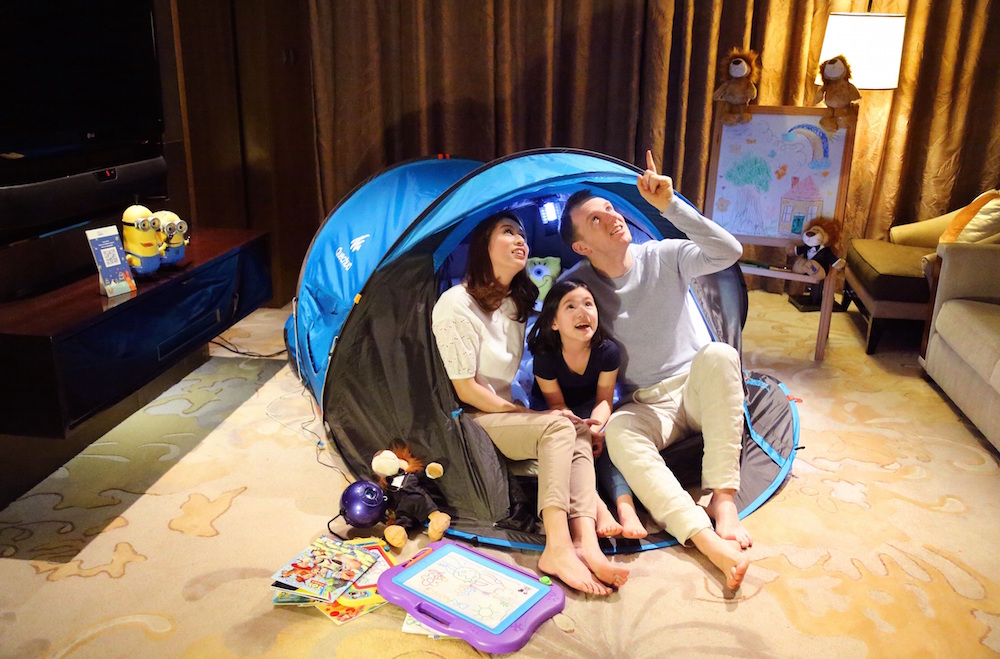 An initiative that can be found only in Ritz-Carlton properties in Asia, little guests will discover that their home in Hong Kong goes beyond a comfortable cot. In its place is a tent, compass, lantern, flashlight, drinking bottle and cuddly lion. Throw into the mix an absolutely incredible view of clouds in the day, and stars at night — taking into account that The Ritz-Carlton, Hong Kong is the highest hotel in the world, occupying levels 102 to 118 of the city's International Commerce Centre — and you can imagine just how amazing an experience that would be for a child who gets to star gaze while enjoying some milk and cookies.
The experience however, doesn't just stop there. The hotel has gone out of its way to include a child-sized counter, so that the kids get to join in the 'check-in fun'. There, they get presented with an amenity kit, and an access-all-restaurants bracelet pass for complimentary ice cream anywhere in the hotel. A 'passport' book, featuring a world of fun, privileges and games accompanies a map to explore the local hotel environment, earning stamps for gifts upon check out.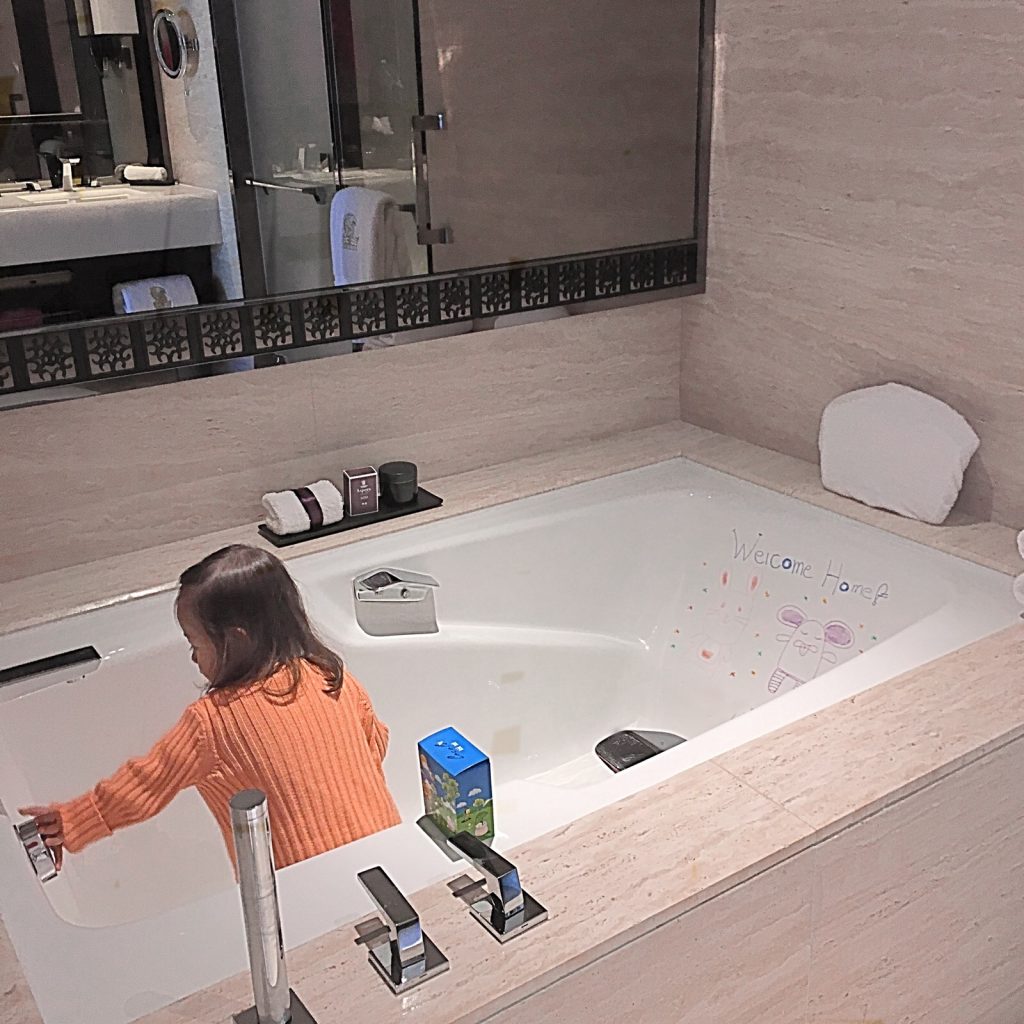 Even bath time is a world of fun for the kids. When we walked into our room, the husband and I were impressed to find that the staff had drawn cute cartoon characters for our daughter who was positively tickled by the sight. The hotel was also well-equipped with the cutest child-sized bathrooms, slippers and safari-themed pajamas — I wish I could have taken them home!
Now, I could go on and on about how great the experience was for my daughter but what is just as important to me when I travel is just how much the adults enjoy the experience as well. One of the things that we've always been very keen to highlight here at Mummyfique are places that both the parents and kids will appreciate (I've often felt that the idea of kid-friendly and mummy-approved tend to be mutually-exclusive for most hotels).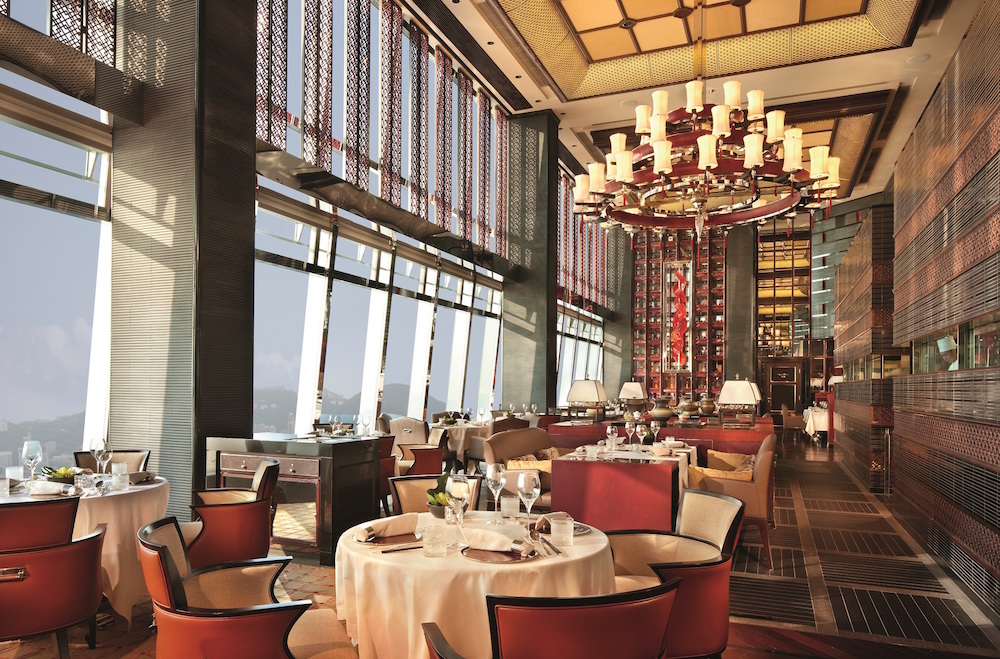 As is to be expected from a Ritz-Carlton property, the rooms in Hong Kong are beautiful and the service, top notch. But what really makes The Ritz-Carlton Hong Kong stand out is the absolutely stunning vista that you get when you're within the hotel. Everywhere you go, there are floor to ceiling windows that remind you of just how high up you are. A meal, at the two-Michelin starred Ting Lung Heen for instance, is made all the more special when exquisite dim sum is paired with an equally exquisite view.
One of my top tips if you find yourself visiting this property, is to book a club room. The club lounge — located on level 118 of the hotel — is great if you're travelling with kids as it allows you to have breakfast upstairs with relative peace and privacy without worrying about the young ones getting lost, or overwhelmed by too many people around.
There is also food and drink provided throughout the day, which is great if you find your children needing a snack or some milk, so there's no need to rush out and buy some when you find yourself missing some basic food essentials. The only thing to note is that children are not allowed in the lounge in the evenings, but we found that the staff are more than happy to pack some food and drinks for you to take back to your room if you find yourself (as my husband did when I went out for a birthday meal with some friends) single-handedly babysitting a toddler for one night.
All in, The Ritz-Carlton, Hong Kong ticks many boxes for family travellers: it's kid-friendly enough with ample amenities and activities to entertain young travellers while remaining as a top-quality, luxurious choice for the adults. My family had a wonderful time at the property, and if I'm in the market for an indulgent yet family-friendly hotel in the near future, I know which brand will be my first port of call.
Advanced reservation is required for Ritz-Kids® Night Safari experience. Ritz-Kids® Night Safari experience is only available for rooms reservations of Grand Harbour Room or above. For enquiries or reservations, please contact us at (852) 2263 2100 or [email protected].
The Ritz-Carlton, Hong Kong
Elements, International Commerce Centre (ICC)
1 Austin Rd W
Yau Ma Tei
Hong Kong