When it comes to Hong Kong, hotels located in Central (on Hong Kong Island) tend to be very popular with business travelers throughout the year. That is, apart from the mo

nths of June, July and August where the chances of being stuck in a typhoon are pretty high.
Interestingly, however, despite the rather erratic weather, those months are actually a rather good time for leisure travelers. This is particularly so with families on vacation, due, perhaps, in part to the Summer holidays, as witnessed by hotels such as the Four Seasons Hong Kong.
Now the Four Seasons in Hong Kong is known for many things — being home to Lung King Heen, the first Chinese restaurants to be awarded three-Michelin stars, its amazingly central location, and having a lovely view of the harbour — but not, as a family-friendly hotel per se.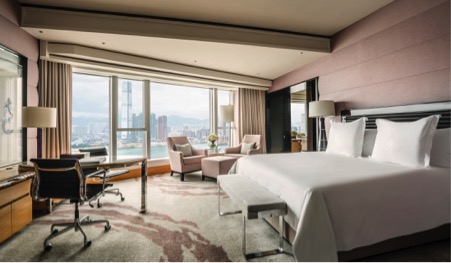 Which is a little surprising given that the hotel is really a great choice for families. Super convenient location aside, the hotel, as is to be expected from a Four Seasons property, is beautiful. It is also very kid-friendly. Young guests get to enjoy complimentary infant amenities — pillows, blankets, disposable diapers, bottle warmer, sterilizer, high chairs, strollers, playpen, and toiletries — and the little jetsetters even have their own child-size bathrobes to use when they visit the spectacular infinity pool located on the sixth floor of the hotel.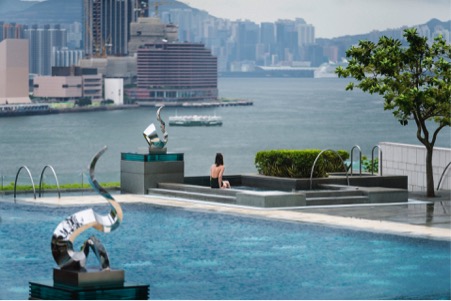 Food-wise, there is very little to complain about. With some of the best restaurants in the city under its roof — including the two-Michelin starred Caprice — gastronomes will certainly enjoy eating in-house. Unlike many fine-dining establishments, Lung King Heen and Caprice actually accommodate young kids (above the age of three), but those that are traveling with infants need not worry as they are allowed into The Lounge at the lobby where lovely menus for both adults and children await.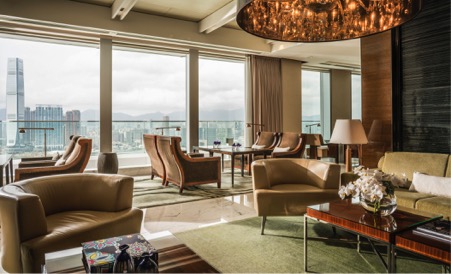 Our top tip: it is well worth the money to get a room that comes with access to the hotel's Executive Club Lounge – hot breakfast buffet, all-day refreshments, afternoon tea, and a light supper buffet (with a hot noodle station). Not only is this one of the best club lounges to offer good food and premium alcohol selection; children are actually allowed in all day, unlike many other lounges that prohibit younglings in the evenings.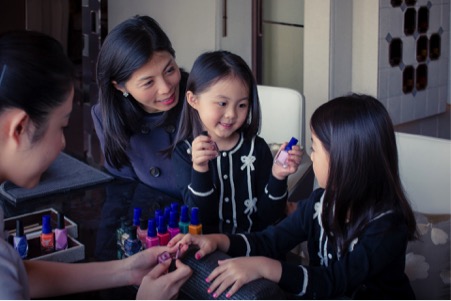 If traveling with little girls, it is also worth visiting the Nail Bar at the Four Seasons where young princesses get to enjoy the Jelly Bean Manicure and Pedicure service — nail pampering sessions complete with eco-friendly nail polish that are paraben, paraffin, silicone, and sulfate-free.
Understanding that there is a real growing market for family travel, the hotel has even launched a new kiddy mascot in the form of Max the Chipmunk. Young guests are given a plushy version of the mascot, perfect as an accompanying toy when visiting the likes of Disneyland and Ocean Park.
All in, the Four Seasons Hong Kong is a great choice for families looking for a luxury hotel that is kid-friendly, one that both parents and children will enjoy immensely.
Four Seasons Hotel Hong Kong
8 Finance St, Central, Hong Kong
+852 3196 8888