As we head into the last quarter of the year, you might find that things are starting to pile up around the house and with work-from-home plus home-based learning being pretty much the new norm for this year, you've had no time to sit down, breathe and declutter. Maximising storage space at home is not an impossible task when you follow effective decluttering steps. What's more, there are also professional storage options available that are affordable and convenient. We chatted with two experts in their field of home organisation, Dr Aparna Chari Sundar and Martini Constance, on decluttering and maximising storage space especially for mumpreneurs.
Dr Aparna Chari Sundar is a certified KonMari® Consultant and Professional Home Organiser and founded Global Mindful Journey, where she helps parents foster meaningful family connections by creating a peaceful home environment using mindful organising strategies. Here are her top five tips to create a joyful home workspace:
Start with your 'why' and create a vision for your ideal workspace. What do you want it to look and feel like? This will serve as a motivational tool in your tidying efforts. Keep this vision board in a visible location! 
Take 'before pictures' of your current space. Categorise your workspace items and create piles. In each of these categories, decide which items make your work enjoyable, convenient, and enable you to do your best work. Think about quality over quantity. Keep only these items and discard the rest with gratitude.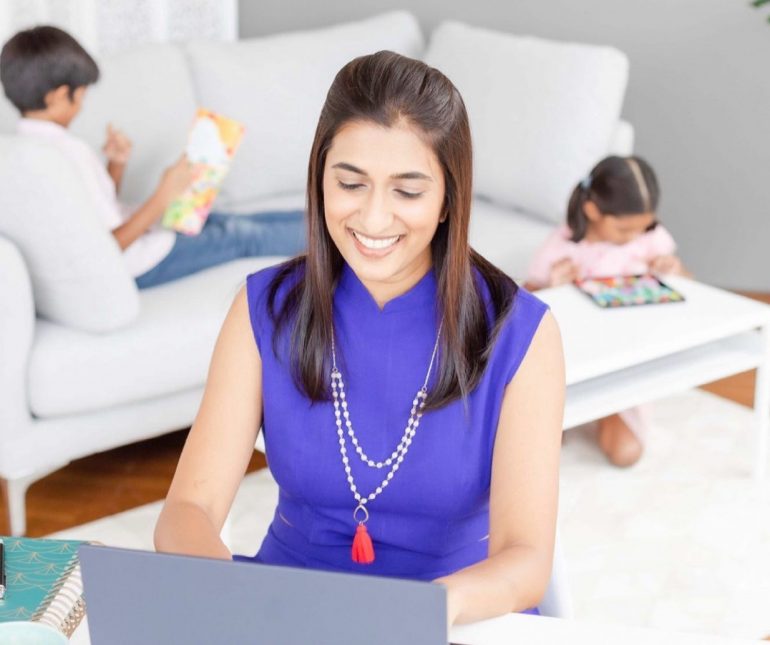 When organising, vertical storage is key. This helps to not only make it visually appealing but also helps to access & put away items with ease. If possible, stack paper, stationery, and even snacks vertically.
Store similar items in their own compartmentalised containers. For example, office consumables like stationery in one area, papers & other document folders in one location, electronics in another, and food items in one shelf. This helps to understand how much you truly have & need and will prevent unnecessary duplicates from accumulating, avoid waste, and also keeps clutter to a minimum.
Add 'joy touch' elements to your desk area (like a framed photo or artwork, sentimental item, or plant) so you're empowered to put away your belongings or completed work into their closed closet space/recycling bin/confidential paper bin at the end of the day. Resetting your space helps to start your work the following day on a positive note.
Her bonus tip? Manage your time joyfully. However passionate you are about your job or personal commitments, you need to establish boundaries around how much you can take on based on how you feel while doing the work. It is okay to say 'no' when something is out of your comfort zone. People will learn to accept you when you are authentic with your expectations. Finding joy with how you use your time is as much or even more important than how tidy our belongings are.
'What began as a tidying exercise rapidly transcends into a lifestyle.' This was how it was like for Martini Constance, also a Certified KonMari® Consultant and founder of Minimize with Joy. She shares with us her top tips on decluttering and storage:
Start with choosing what to keep. The KonMari method encourages tidying by category not by location. The sequence (Clothes, Books, Papers, Komono and Sentimental items). Remember to choose what to keep, not what to discard. Keep only those things that bring you Joy.
Discard – Let go with a grateful heart. The common challenge most people face is being unable to let go of their belongings despite it not serving any purpose to them anymore. Let go with a grateful heart that the item has served its purpose to you, it's time to let it serve its purpose to others by giving it away or donating.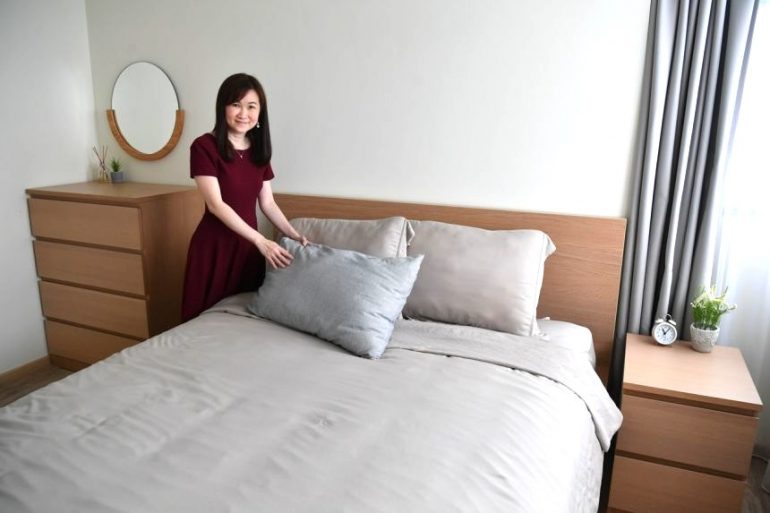 Organise. How you organise your belongings is important in order to optimise the space at home. The KonMari method recommends organizing by placing the items upright. This method helps you to be able to see all your belongings at a glance and save space. 
To give every item a 'home'. In order to keep the home tidy and neat, the rule is to give every item a 'home'. Return to where it belongs each time you use it, so you won't find yourself missing a thing because you know where the "home". 
Mindfulness purchase. After you complete the KonMari tidying, you will be mindful before you purchase something. Check if it sparks Joy and check if you already have something similar. 
As you start your decluttering process, do not be afraid of discarding what you do not need. Martini recommends the use of the Olio app where you can donate and give away household items to those around you. This is a sustainable way to declutter and minimise waste at the same time! You can consider renting a storage unit at Extra Space Asia for items that are seasonal or for storing your inventory and documents if you are a business owner. It's an affordable solution for aspiring entrepreneurs!
Extra Space Asia provides 24-hour access of air-conditioned and non-air-conditioned storage units where your items can be stowed away safely. All of their storage facilities are fitted with state-of-the-art security systems. You can decide to store your items from as short as two weeks to as long as you need, and can also choose to upsize or downsize your storage unit at any time! An alternative approach that some might find even more convenient would be to opt for Extra Space Asia's E-Valet Storage where you'll be provided with high-quality industrial-grade boxes to pack your items. Once you're done, your boxes will be collected and stored safely in their storage facility. When you need your items back, simply schedule a date at your convenience via their web app and you'll have your boxes delivered back to you in no time!