Think Maldives and images of blue seas, sandy beaches, fun in the sun and water sports immediately spring to mind. My husband Jamie and I have always wanted to visit Maldives and enjoy some couple time, lounging by the pools, sipping on cocktails, holding hands and snorkelling in the sea. So I was very surprised when one day, he suddenly suggested that we should go as a family to Maldives for a year-end vacation.
"Are you kidding?" was my first thought, followed by the list of things we could not do with our little toddler, Zyah, around. Who would watch him if we both wanted to go out to sea? Would he be safe surrounded by the ocean? Would he enjoy himself? I mentioned this to my friends and was met with the same response all round: "No way! Maldives is not for kids!"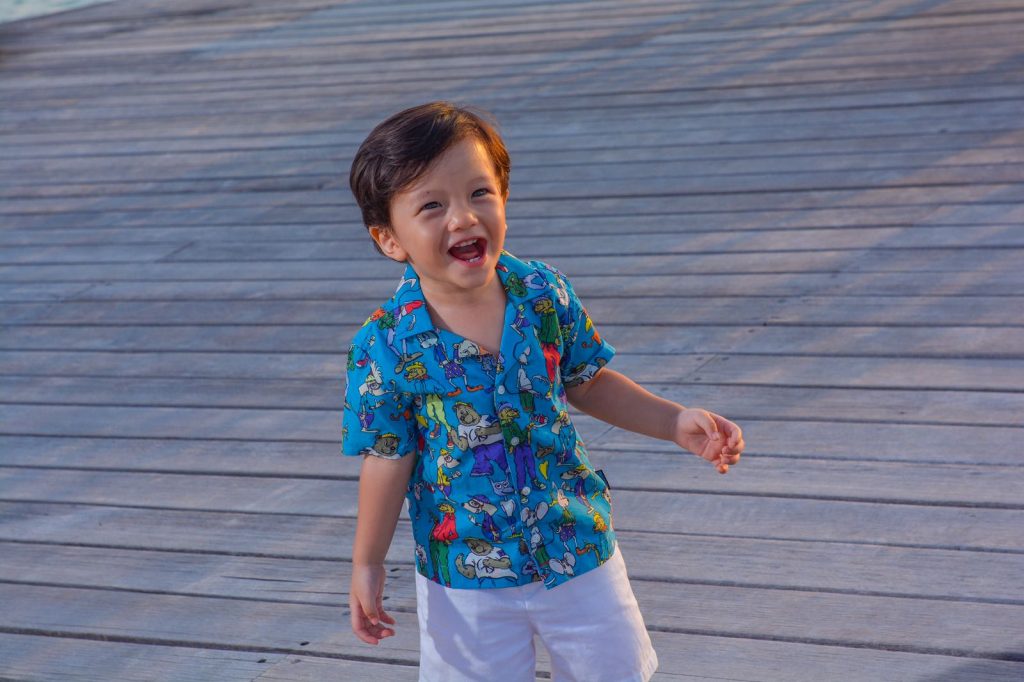 A thousand questions and uncertainties filled my mind but Jamie calmly deflected my worries and suggested we stay at a family-friendly resort, instead of a couple-oriented one, and make our child the priority for this vacation. That meant "doing things Zyah would enjoy," declared my husband, instead of what we would usually want to do. Doesn't sound like a vacation already…
Our 17-month old toddler had been on five trips prior to this and it seemed to get tougher to travel as he got older. The trips to cities like Taipei and Bangkok did not go smoothly as he was over-stimulated in the day and cranky at night.
He was also often bored with our choice of activities, especially shopping, which he absolutely detested. So for a change, we thought a resort would be great for him and a good differentiation of pace from the usual hustle and bustle that we were used to.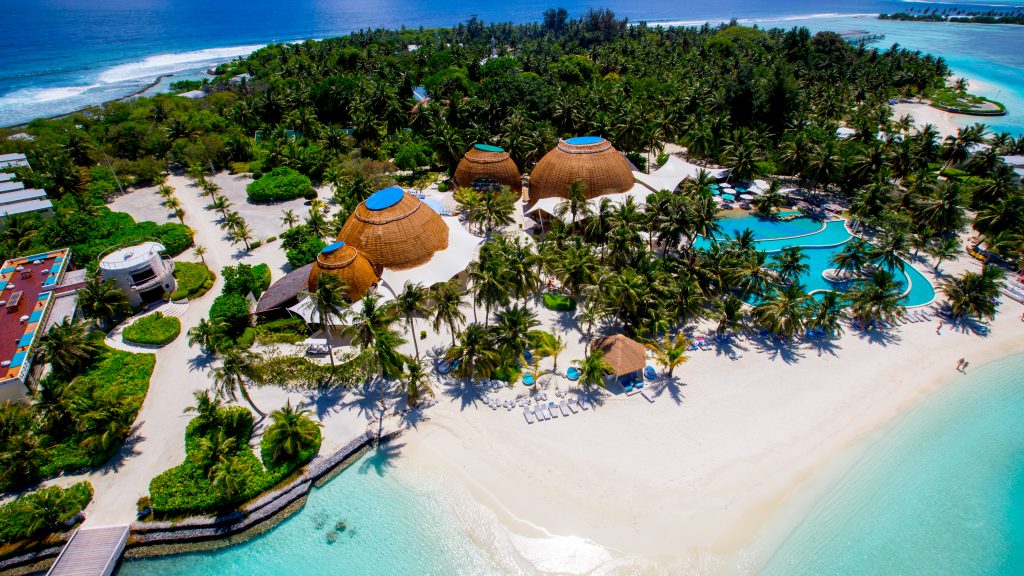 We booked our six-day stay at Holiday Inn Resort Kandooma Maldives and I continued to be a nervous ball of energy in the lead up to the trip. The four and a half hour evening flight went rather well and Zyah managed to take a nap since it was after his dinner time, so we got off easy. When we arrived at the airport in Male, it was past midnight in Singapore and close to 10pm in Maldives (there's a three hour time difference).
We were whisked through immigration and a friendly porter attended to us in an instance, assisting with our luggages while we waited for our speedboat. It was pitch black out at sea and Zyah started to become fearful, clinging onto us tightly. The 45-minute ride from Male to Kandooma went without a hitch and the cool sea breeze soon calmed Zyah down as we arrived at Holiday Inn Resort Kandooma Maldives. The resort thoughtfully ushered us to our villa to rest, due to the late hour, and happily informed us that we could check-in in the morning. Plus points for great service!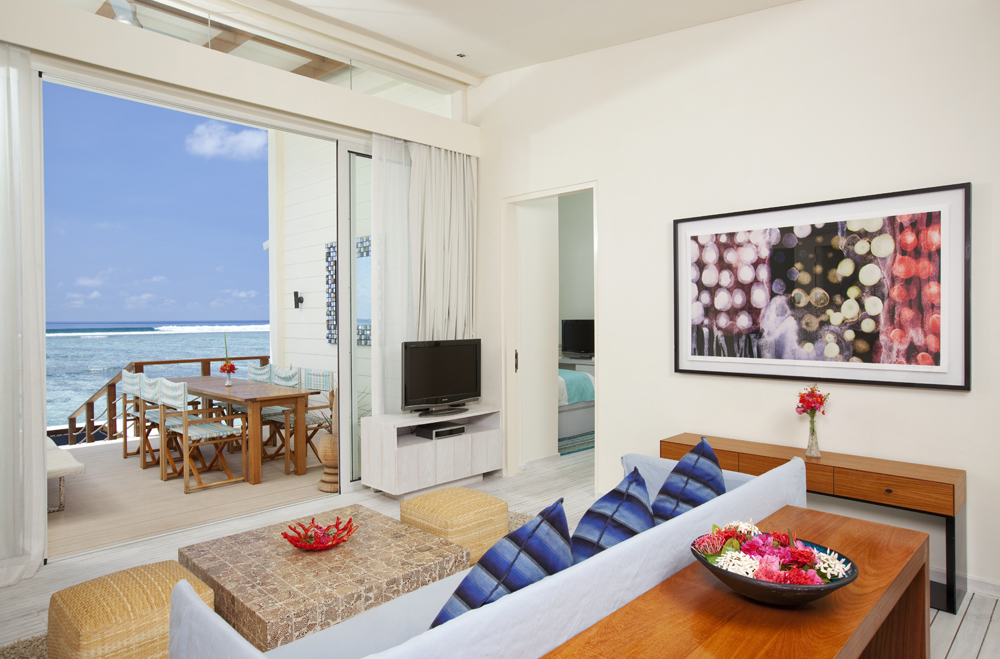 The Holiday Inn Resort Kandooma Maldives is conveniently situated on the South Male Atoll, adjacent to world-class diving and surfing sites. As an internationally recognised mid-scale brand, it offers real value with a fresh, modern approach in a friendly environment. With smart casual dining options, extensive water sports and activities, dedicated kids service and a refreshing spa, Holiday Inn Resort Kandooma Maldives is the ideal gathering place for families.
Named after the abundant Kandoo tree, Kandooma welcomes you to stunning views of the Indian Ocean and soothing wave lullabies.
Time difference
Maldives is three hours behind Singapore so this started posing some problems. Whenever we awoke around 9am, it would be time for lunch for Zyah, so some adjustments had to be made to ensure that he could have his meals on time, and we could still have fun and proceed with the activities that we wanted him to try out. Sleep time was also fairly early for Zyah, around 8pm, compared to his usual bedtime of 10pm in Singapore.
Room
Holiday Inn Resort Kandooma Maldives offers 160 villas in eight different categories: Garden Villas, Beach Villas, Beach House, Family Beach House, Overwater Villas, to name a few. All villas are designed with cool clean lines of whitewashed timber and large picture windows that look out to the great blue outdoors.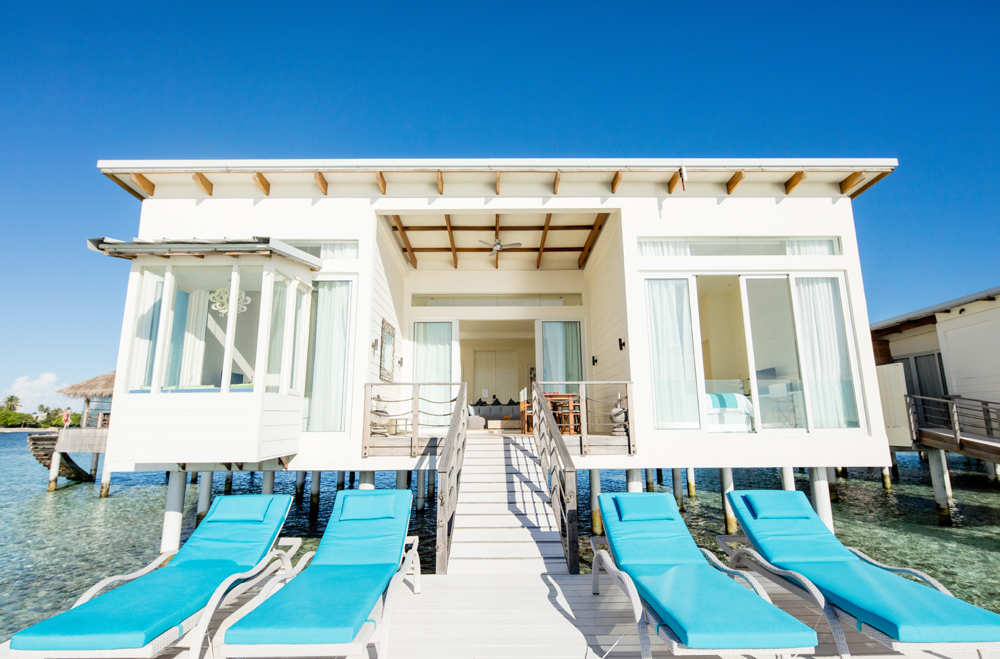 For greater privacy, opt for the Overwater Villas, which provide direct access to the sea from the comfort of your room.
For the discerning sleeper, every room offers five pillows to choose from including the Buckwheat, Lavender, Latex, Hypoallergenic and Memory pillows.
Service and Kandoo Kids' Club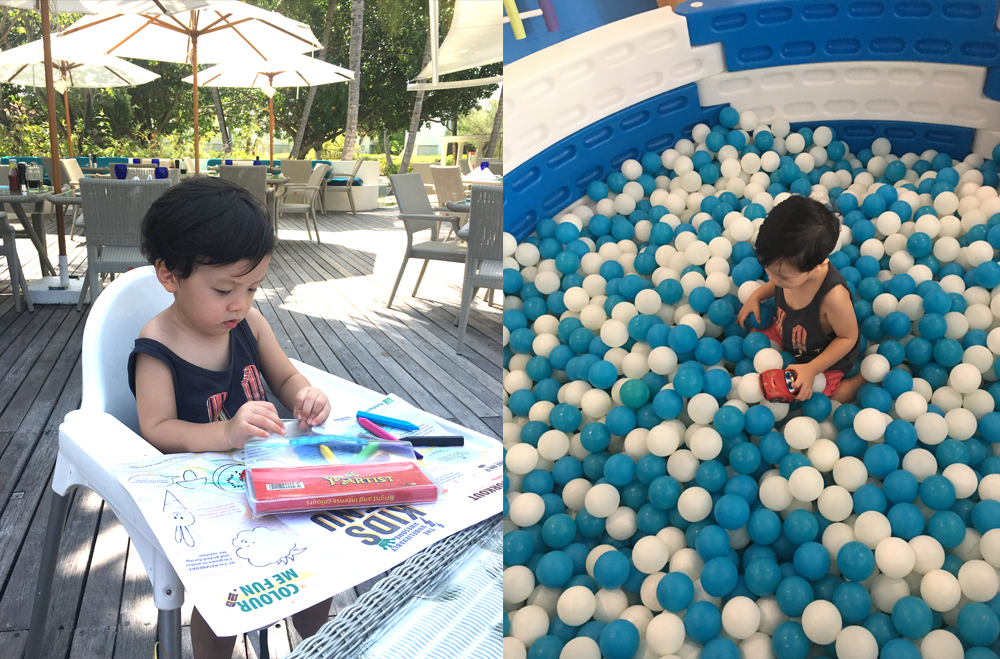 We were conscious that while the resort was a family-friendly establishment, most of the guests we encountered were on their honeymoon so the last thing they'd want is a screaming and crying child interrupting the peace. But as it turned out, our worries were unfounded.
Zyah was at ease and jovial throughout the trip as the staff at the resort were extremely attentive and friendly. They always had a smile for us and especially, for little Zyah. They greeted us by our names and remembered what Zyah likes and always made an effort to entertain him and keep him occupied so Jamie and I could have our meals.
At the restaurant, they set aside his favourite crayons and always brought it to him once he got into the baby chair. There were daily surprises for him, such as a fishing rod and fish made out of leaves for him to wave around. Zyah was also extremely taken with the buggies and the warm drivers would always make his buggy ride extra fun by having sound effects of the engine's sound.
One place that left a big impact on our toddler was the Kandoo Kids' Club. The air-conditioned indoor fun zone comprises two fun-filled activity levels. The ground level kid zone caters to three to seven-year-olds and the upstairs area is dedicated to the eight to 12-year-olds. Both levels are colourfully decorated and furnished to capture the children's imagination. This includes a library, art and crafts speciality area, and an interactive gaming room on the upper level, and a ball pit and craft making on the lower level.
Kids can partake in various activities such as henna hand artwork, face painting, cake decorating and designing their very own Kandoo Kids t-shirt. For younger kids, the Kids' Club also features a crawl and napping area, for those needing a break from all the fun.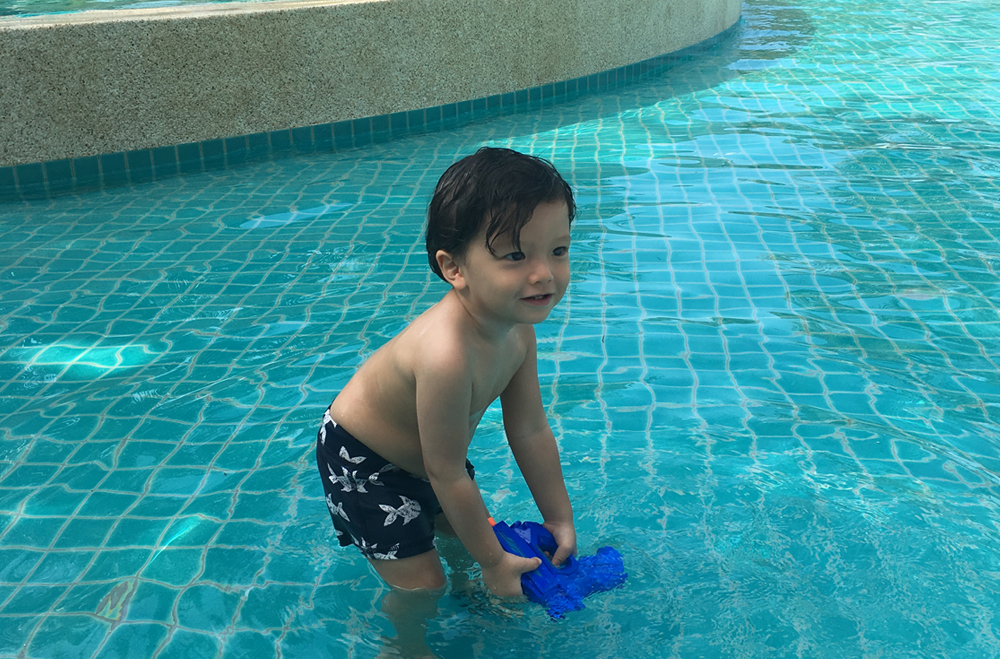 To cool off, kids can enjoy the 'Splash Pool', the first of its type in the Maldives, located just at the entrance of the club, which features a low wading pool, waterslides, water cannons, spray wall and water tipping buckets to keep the kids actively entertained. Open from 8am to 8pm daily, the Kandoo Kids' Club is free for children between the ages of four to 12 and babysitting services are available upon request.
To Zyah, this was paradise as he zeroed in on the ball pit immediately and helped himself to the toys that were neatly stacked in baskets around the club. We were introduced to the team at the Kandoo Kids' Club and they impressed us with how good they were at managing the kids that were present. To continue our tour of the resort, the Kids' Club staff advised us to let Zyah play there with them.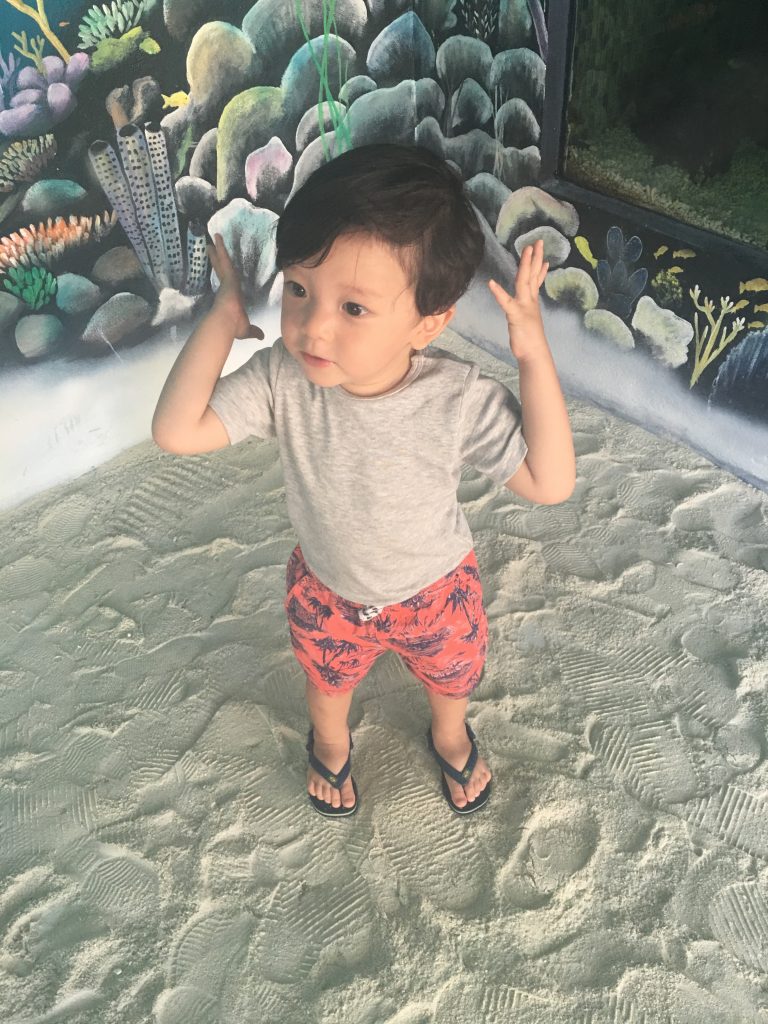 After some consideration, we agreed and were delighted to return an hour later to our happy son enjoying his time with his new friends and their caregivers! Over the next few days, the Kandoo Kids' Club became our most frequented place and we even enjoyed a three-hour snorkelling expedition while Zyah slept soundly there and shimmied to the spa while he busied himself with arts and craft lessons!
Dining
Seven dining establishments are available at the resort and knowing that the culinary team reaped 20 medals and the prestigious Best Culinary Establishment 'Alan Palmer Challenge' award at the 11th Hotel Asia International Culinary Challenge, assured us that we were in good hands.
The all-inclusive stay package offered at the resort includes all meals at any of these seven establishments, making it convenient for guests to dine and different varieties from Asian, Maldivian, Italian and French cuisines are served daily. The best part? Kids under 12 dine for free.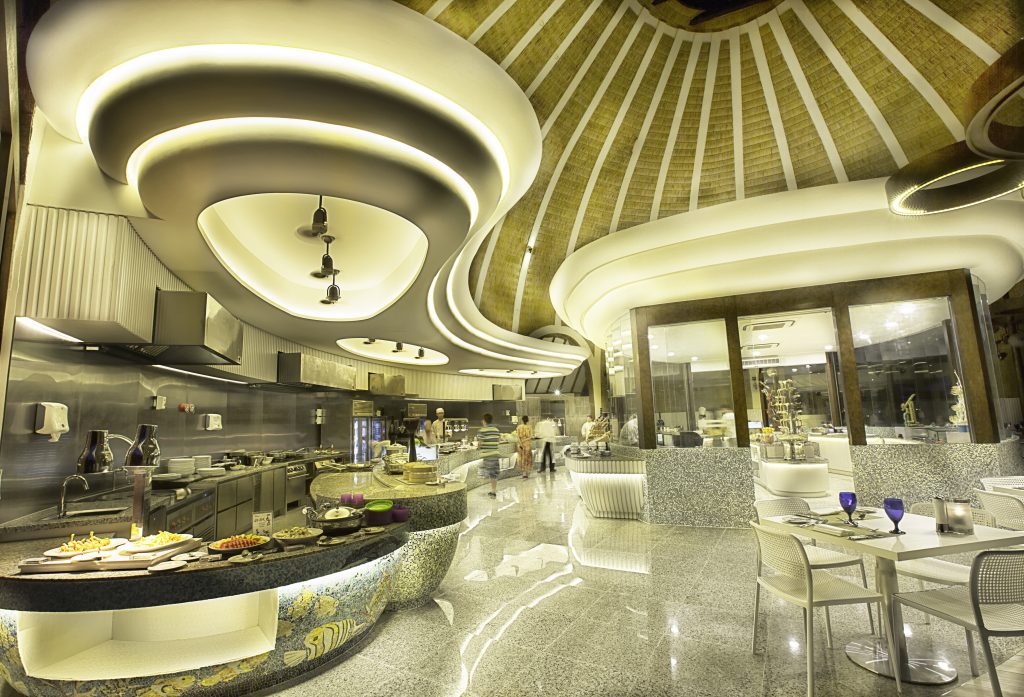 We spent most of our breakfasts at the Kandooma Café where the international buffet spread had everything we were craving and the staff had lots of tricks to keep Zyah entertained during our meals. It was a visual treat taking in the stunning vistas of pool, sea and sky here. On our last night, we even participated in the Maldivian night alfresco barbecue party that was held here and had a lovely meal under the stars.
The Kitchen, an exquisitely elegant dining experience with the best view of the island, serves up a sublime Modern Fusion menu and was our choice for some quiet dinner nights, while the Bokkuraa Coffee Club's homemade ice creams and boutique freshly brewed teas were perfect for our lunches. On days when we were too lazy to move and Zyah was taking a nap, we ordered in. In-villa barbecues are also available upon request.
Activities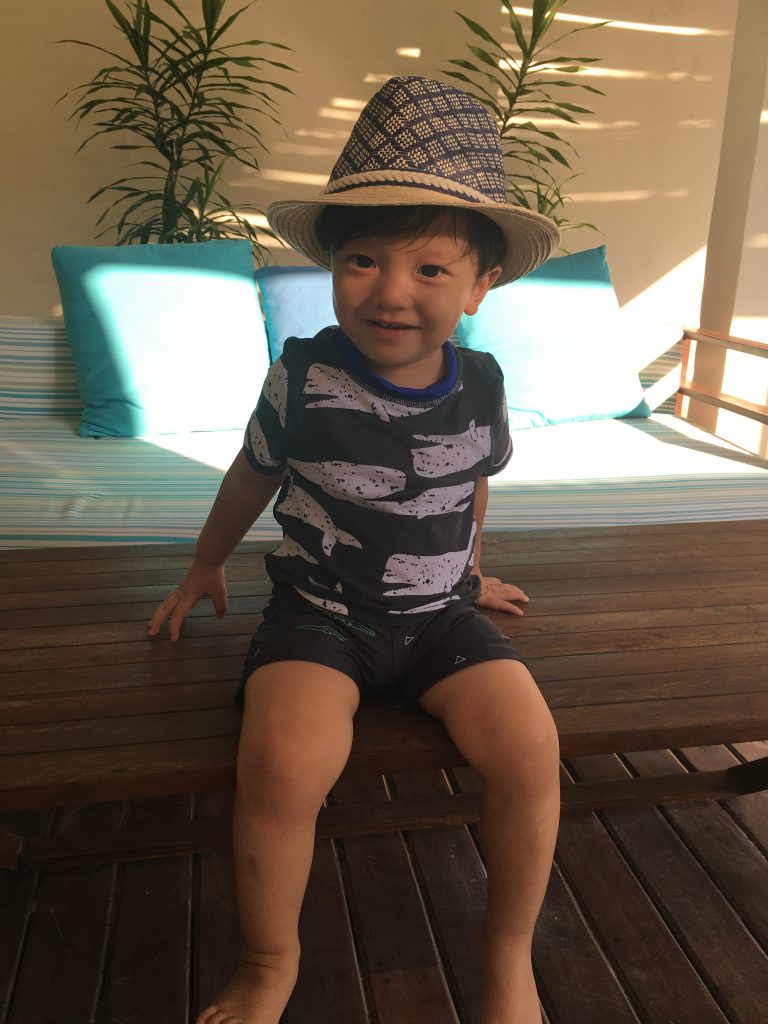 As we soon discovered, Kandooma is a stunning tropical location with beautiful skies and clear, sparkling oceans and the opportunities for recreation here were as varied as the corals beneath its waters. Besides the huge swimming pool where we lounged at daily, the island had several prime beachfront spots to relax at or play by the beach, much to the delight of our little active toddler.
Besides the usual scuba diving and snorkelling, we were informed that the recreation crew could design excursions for us according to our preferences, and some options included embarking on an enriching aqua safari, savouring a cup of tea at a moonlit campfire with a Maldivian story teller and night fishing the traditional Maldivian way, as well as island hopping. We decided to opt for a balance between relaxation and adventure and the experienced staff did a fantastic job putting together a fun itinerary for us.
Snorkeling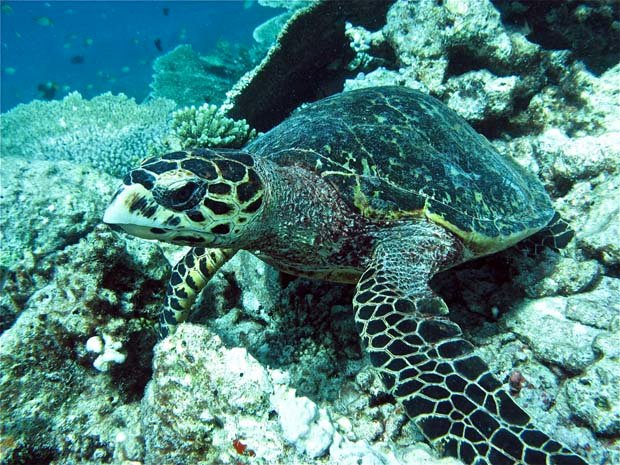 An absolute must-do when you are in the Maldives. Fret not if you've never tried snorkelling before. The resort organises complimentary daily morning classes for guests to get the hang of snorkelling and guests are issued snorkelling gear which you can hold on to for the duration of your stay, or return after each use. We went turtle reef snorkelling for three hours, visiting three different spots and saw gorgeous corals, marine life and of course, the endangered turtles! We also snorkelled around the island looking for different types of fishes.
Shark-feeding
We were informed by the resort staff that the island is home to several sharks and that shark feeding happens weekly so of course, we couldn't miss it! We gathered at a sandbank close to The Kitchen and watched baby sharks come close to the shore where we were at and gobbled meat before swimming off. Zyah squealed in delight whenever he saw a shark chomping down food.
Sunset boom cruise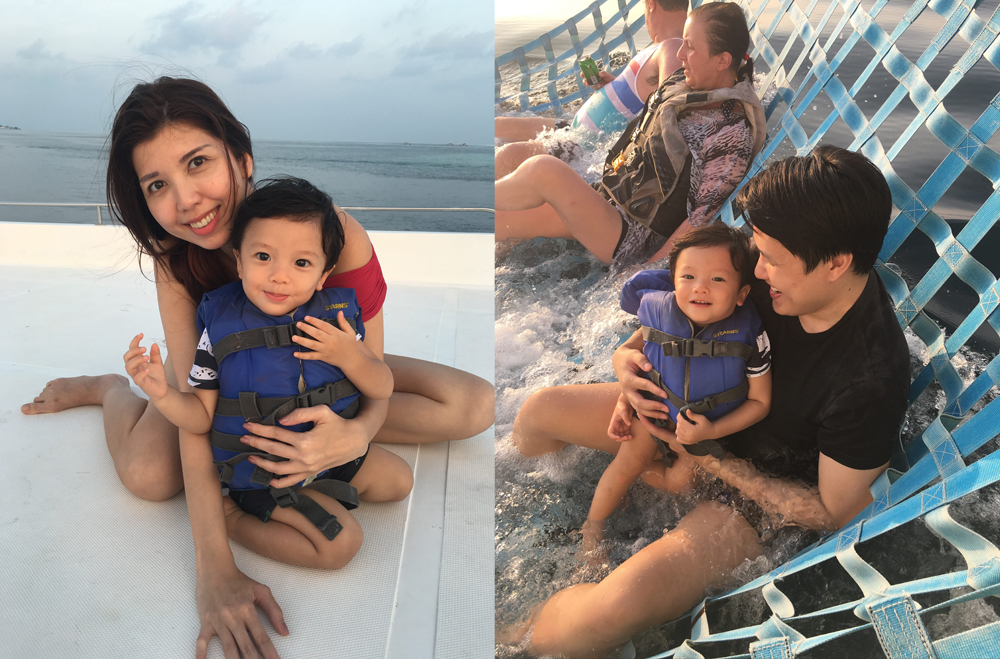 Hands down our favourite family excursion during our stay. It was a perfect day at sea and we thoroughly enjoyed ourselves as we felt the tranquillity of the surrounding waters, while watching the sunset on the horizon, sipping cocktails and enjoying the snacks prepared by the crew. The sky was a colourful display of orange, and with the wind in our hair, we lay on the boom nets lowered into the sea. It truly felt like paradise right there in the Maldivian ocean. Our little trooper put on his life vest and sat happily on either of us during the cruise, clapping and laughing heartily.
Night Fishing
One of the things that we made it a point to do was to experience night fishing. An experienced Dhoni crew brought us out on a speedboat to the edge of the reef to commence our night time fishing in the traditional Maldivian way. Using local methods to cast out our line and hook, they shared some tips with us and Jamie managed to catch some fish!
If fishing is not your thing, relax on the upper deck of the speedboat and observe the activities of marine life at night. Zyah started getting scared as the sky turned darker and the sea got choppier so Jamie and I took turns to calm him. The crew also informed us that we could bring our catch back to Kandooma to be cooked and prepared any way we like by the chefs.
Spa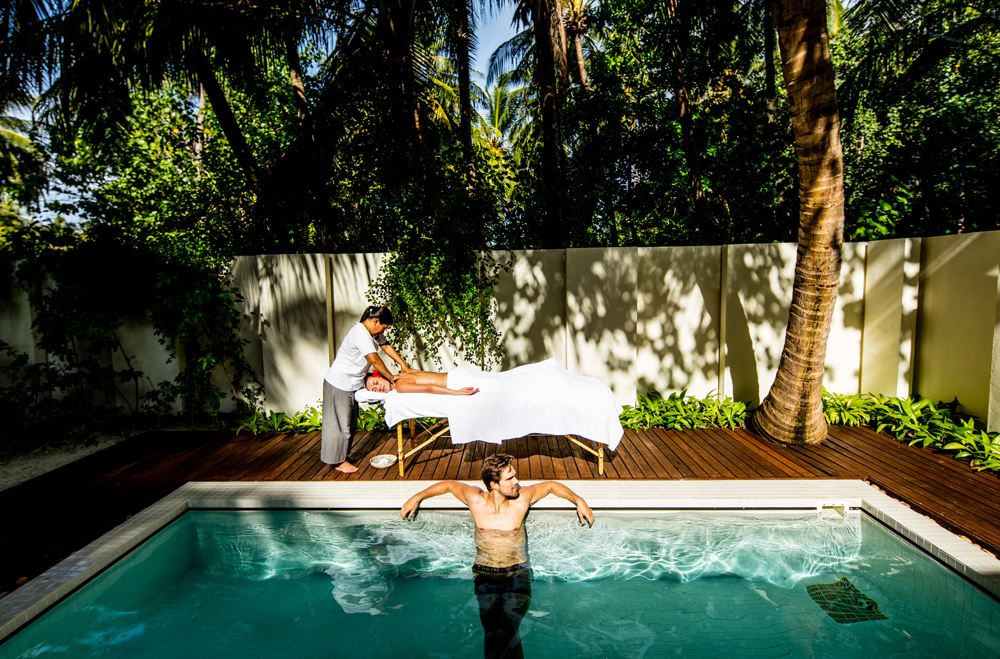 What's a resort vacation without a spa session? We were pampered at the Como Shambala spa on the island and had a good two hours break from parenthood as our skilled therapists kneaded fine strokes on our bodies during the massage and the aroma of essential oils filled us with serenity. The visit to the spa midway through our trip was a good perk-me-up for the rest of the trip.
Photo-taking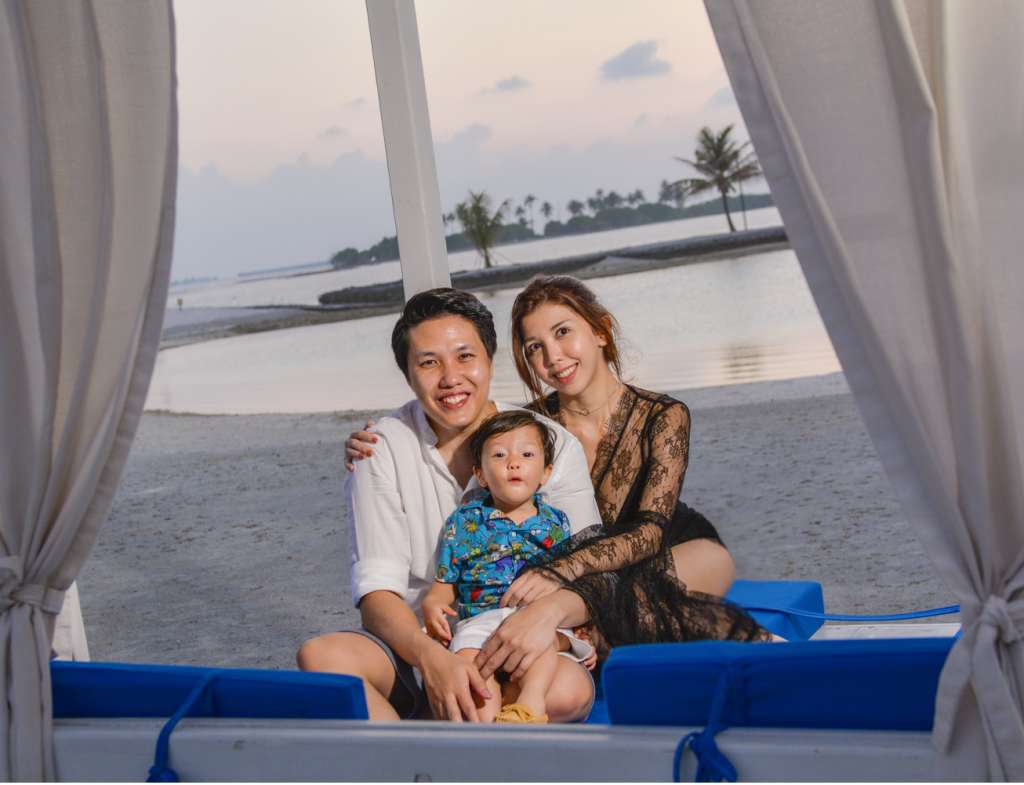 I love capturing memories with photography and jumped at the chance to have a photographer take some family shots of us around the island. The one-hour service is priced at US$90 and I strongly suggest you go for it because our sunset pictures turned out great and it was a fun experience for the family.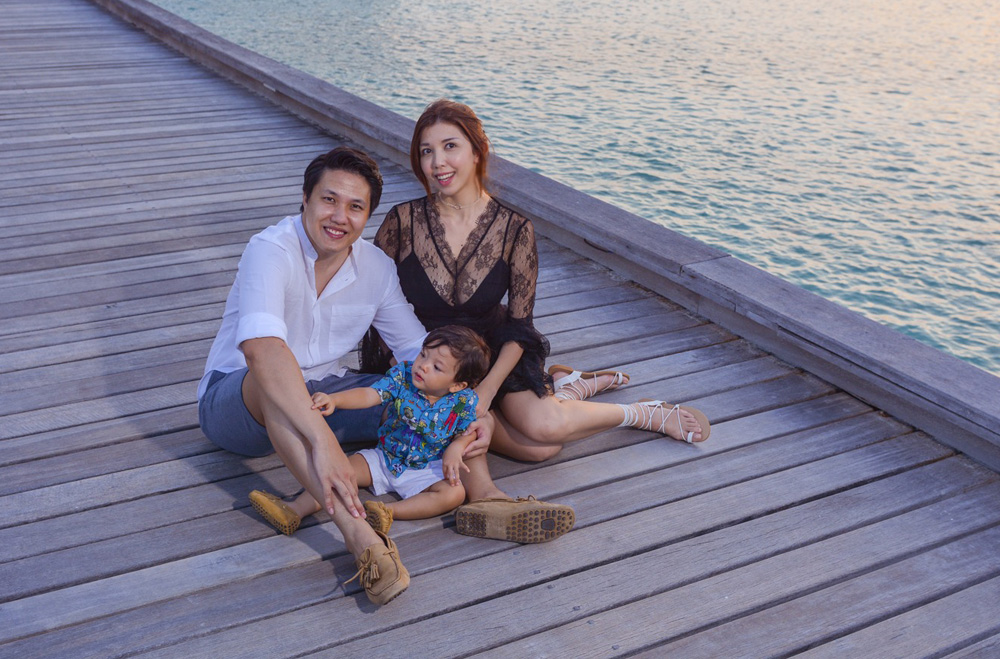 By the end of our trip, we had grown so accustomed to the charming island of Kandooma and were truly sad to leave. The friendly staff bade us farewell and we could tell that our son enjoyed this vacation more than any of his previous trips and even protested leaving, so perhaps Maldives with a toddler isn't so bad after all?
All-inclusive stay rates start from USD359++ per night. Visit the website here for more information.