From exciting, adventurous to educational and bonding activities, Sentosa has it all for the whole family during this year-end holidays. It's time to take a break from the hustle and bustle of work and school and make time to bond with your loved ones. Beyond beaches and popular attractions such as Universal Studios Singapore (USS), iFly Singapore, and the Luge, Sentosa has a whole slew of offerings on the island that's perfect for those seeking new adventures, fulfilling experiences, and embarking on gastronomical delights this holiday.
LEARN - PROGRAMMES IN THE MONTH OF DECEMBER
Explore a series of limited-time workshops and activities by the beach and pick up a new skill at the same time!
Workshops/activities available include:
Macrophotography – Macrophotography is close-up photography taken of very small subjects to make them appear larger than life. This workshop teaches the basics of Macrophotography which allows you to connect with nature's different species of tiny creatures and view them in a new perspective. You will learn how to create the perfect environment to capture the features of these insects using your mobile phone and learn the basics of optimal settings for shooting such as the angle, timing, settings, ISO and more! Suitable for ages seven and above. Purchase your tickets here.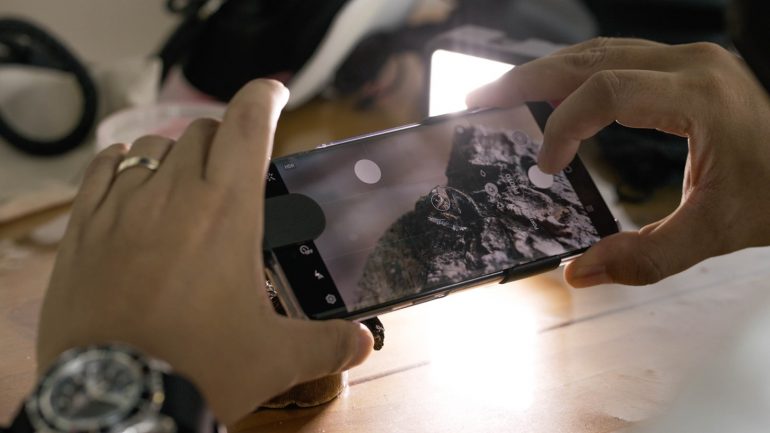 Jumping Clay Sculpting – Jumping Clay is made of non-toxic, harmless water-soluble filler. It is light weight, soft to touch and easy to work with for any age group. These workshops are led by trained instructors who will teach you how to mould basic shapes, mix coloured clay and ultimately create your own figurines. Recommended for ages six and above. Purchase your tickets here.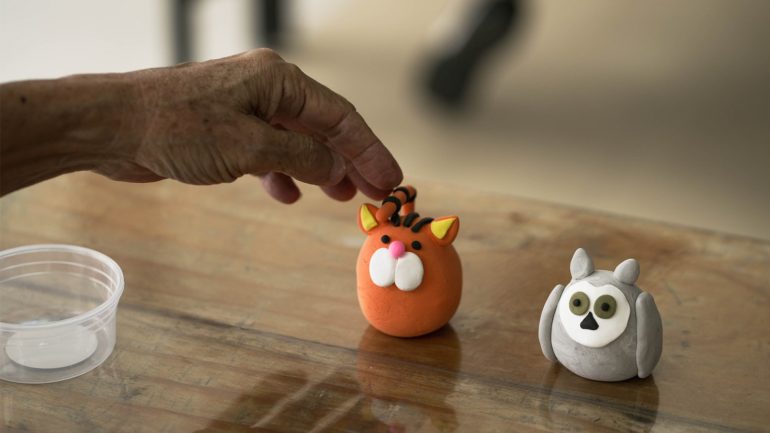 Clean Beauty – Be a child all over again and explore some bubbly goodness in this workshop where you'll learn how to make your very own playdoh body shampoo. Led by trained instructors, you'll be taught step-by-step on creating the playdoh body shampoo from natural ingredients. Great for ages five and above. For kids below the age of eight, an accompanying adult is advised. Purchase your tickets here.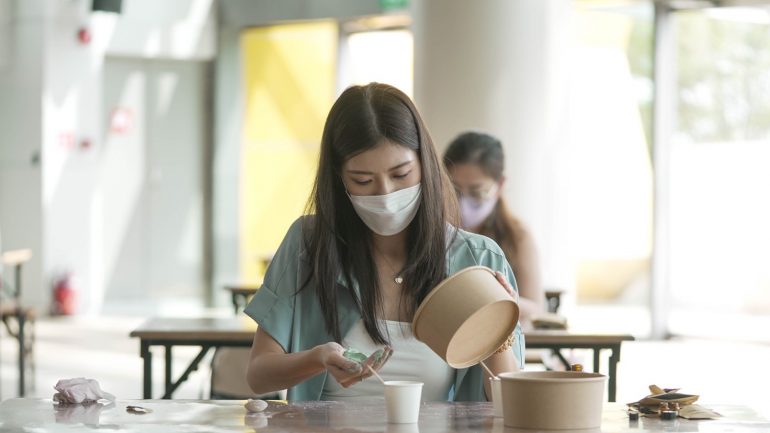 Barre by the Beach – Inspired by ballet, yoga, pilates and strength training to transform your entire body, experience an exhilarating 60 minutes with the WeBarre workout, a fusion of isometric holds (small controlled movements) and full-range dynamic movement to challenge you to build strength and move gracefully with poise. Think body control, flow, strength and technique fused into one class – pushing you to go beyond your limits! This workshop is fabulous for all you busy mamas to recharge and refuel while the kids spend some bonding time with Dad. Purchase your tickets here.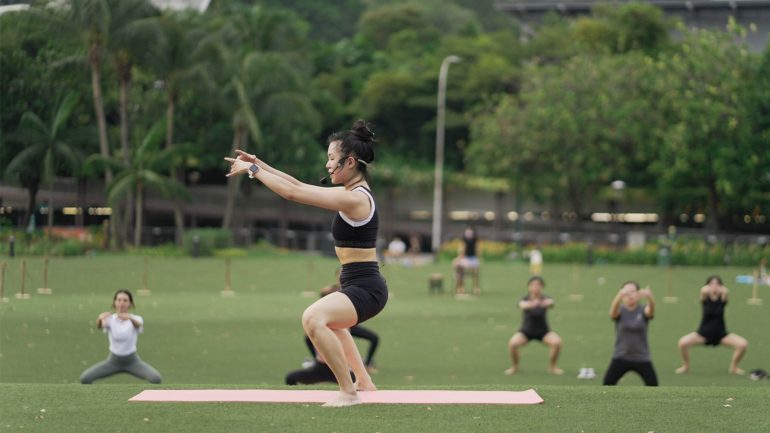 Bring out the adventurous side of you and your family and have a world of fun as you challenge yourselves through the various activities at Mega Adventure Park:
Megazip – This is your chance to go "over seas" as you zipline over jungle, beach and sea or fly tandem (for kids below 30kg) with your parents/friends! Did you know that the MegaZip descends at speeds of up to 60Kph, as fast as the average horizontal speed of an eagle?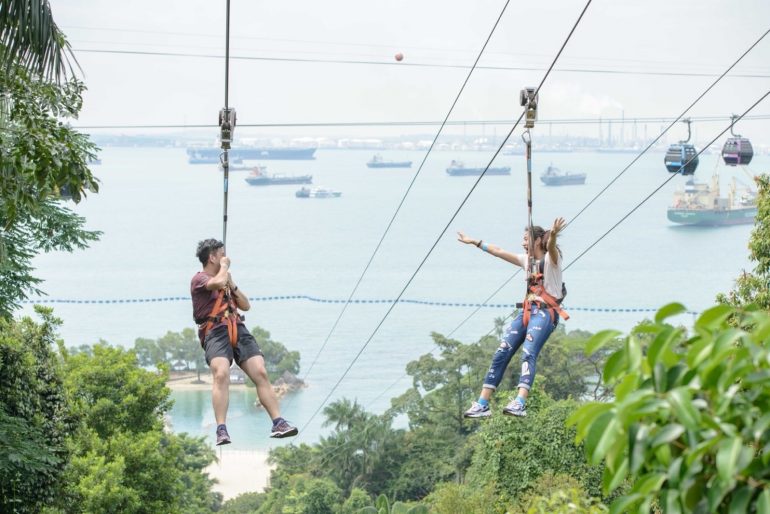 MegaClimb – Test your balance on the 36-obstacle treetop ropes of MegaClimb! This treetop adventure course is located at Sentosa's Imbiah Forest. You can choose from three difficulty levels, from moderate to challenging. Suitable for kids above 1.2 metres.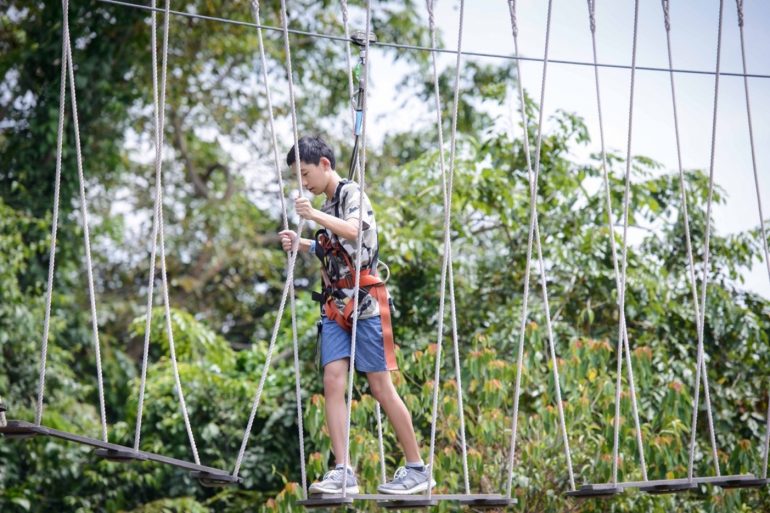 MegaBounce – Have your kids experience this ultimate trampoline experience along the breathtaking Siloso beachfront. Test your acrobatic skills and get your adrenaline pumping right here! Purchase your tickets with a choice of combo options here.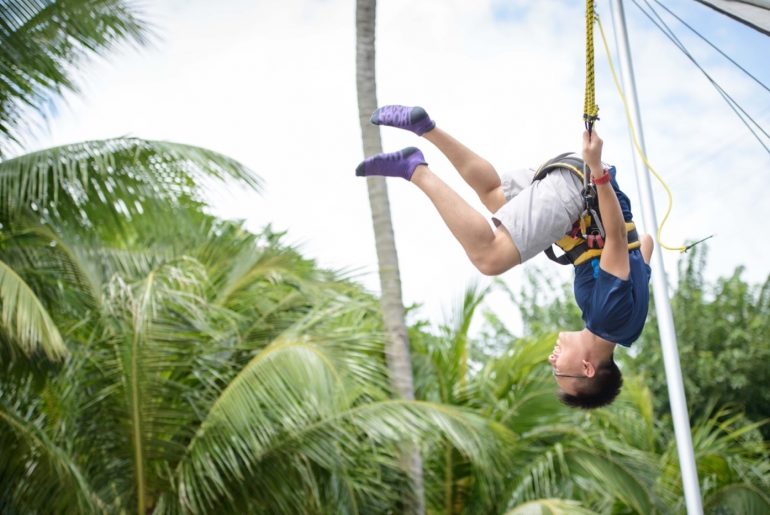 Indulge in an Italian feast with the kids and soak in the breath-taking views of the Siloso Beachfront. Trapizza offers a dedicated kids' menu where little ones can build their own bento or munch on sweet treats such as mega candy floss and ice cream! If your kids are still raring to go after this sumptuous meal, have them explore Nestopia, a kids' adventure space right next to the restaurant!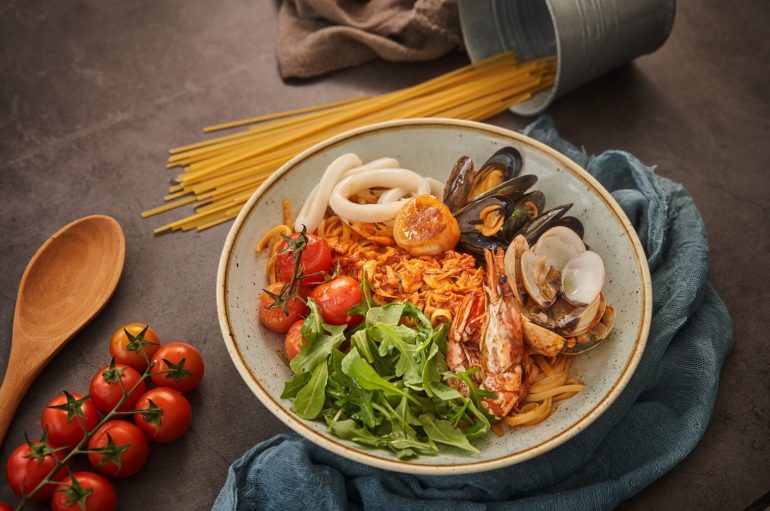 SPEND, SAVE & WIN - PROMOTIONS IN DECEMBER
Check out Sentosa's promotions happening this holiday and you could win exciting prizes and save on your visits to the attractions.
Scratch & Win Campaign – Valid until 31 December 2021

Redeem a scratch card with sure-win prizes for every S$30 spend on Sentosa and get up to five scratch cards per receipt. Stand a chance to win exciting prizes from staycations, attractions, F&B vouchers and more! Simply redeem your scratch card from Sentosa Ticketing Counters (VivoCity Level 3, Resorts World Station or Beach Station).
Sentosa FUN PASSTM (12.12) – 6 to 12 December 2021

Get your second Sentosa Fun Pass (90 or 120 Tokens) at only S$12 when you purchase the first pass at full price. While stocks last!
Eevee Dance Parade – 

9 December

 

at 7 pm 

(Preview show for Islander Members), 10 to 12 December, 17 to 19 December 2021 at 7 pm & 

8.30 pm

It's boogie time as lovable Eevee make their way to the sunny shores of Sentosa. Catch 15 adorable Eevee spin, hop and shake their way to a joyful evening.
Simply spend S$15 at Sentosa and gain free entry to the Eevee Dance Parade happening at Palawan Green.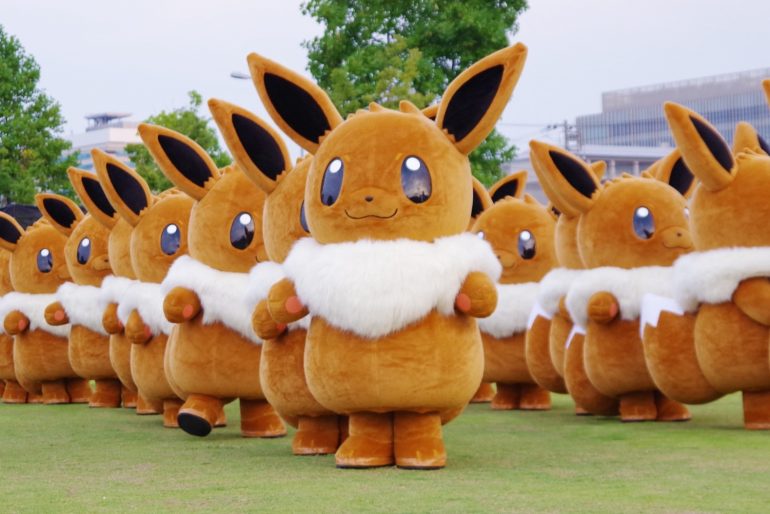 With so much happening on the island, it's time to get planning and embark on an adventure with the whole family and make time for the holidays with Sentosa! Pair your thrilling adventures with relaxing staycays and panoramic cruises and escape from all the busyness on this island paradise. Visit https://www.sentosa.com.sg/maketime for more details.