Mums rejoice – The LG Styler is a super hero in the house. It steams and reduces wrinkles on clothes, refreshes lightly soiled garments and sanitises your bedding and toys, without the fuss. By ORIELLA ONNI
How often does this happen – you take an item out to wear and are out for an hour or so. Your clothes are not soiled enough to throw it in the dirty pile, yet aren't clean enough to hang back in the wardrobe. You can wear it again, but there are creases now, and it means breaking out the iron and board. What a chore. Well LG Electronics has a sweet solution that promises to save Mums both time and effort, with its multi-purpose smart wardrobe that steams and reduces wrinkles on clothes, refreshes odours and lightly dry cleans. It also sanitises bedding and toys toys – items that are difficult or impossible to wash.
This innovative steam closet from LG Electronics comes in two colours: White and brown. It stands at 1.9 metres tall, and is half-a-metre wide (or about half an arm span). The smart wardrobe steams, dry cleans, and sanitises clothes, soft toys and bedding, reducing wrinkles, allergens and odours. What's behind it: LG's TrueSteam®.technology, that uses high-temperature steam from pure water, not chemical additives, to clean and kill harmful bacteria or odours. Allergens and bacteria are reduced by up to 99.9% with TrueSteam®.
The LG Styler has three main components:
A rack at the top to hang clothes – this rack gently vibrates (approximately 180 times per minute) when the steam mode is on, shaking out wrinkles on garments. 
A pants press compartment to keep trousers in place during the steam cycle. 
A shelving rack to place items such as soft toys, hats or gloves.
Bonus: The aroma compartment offers the option to use scent sheets during the cycle.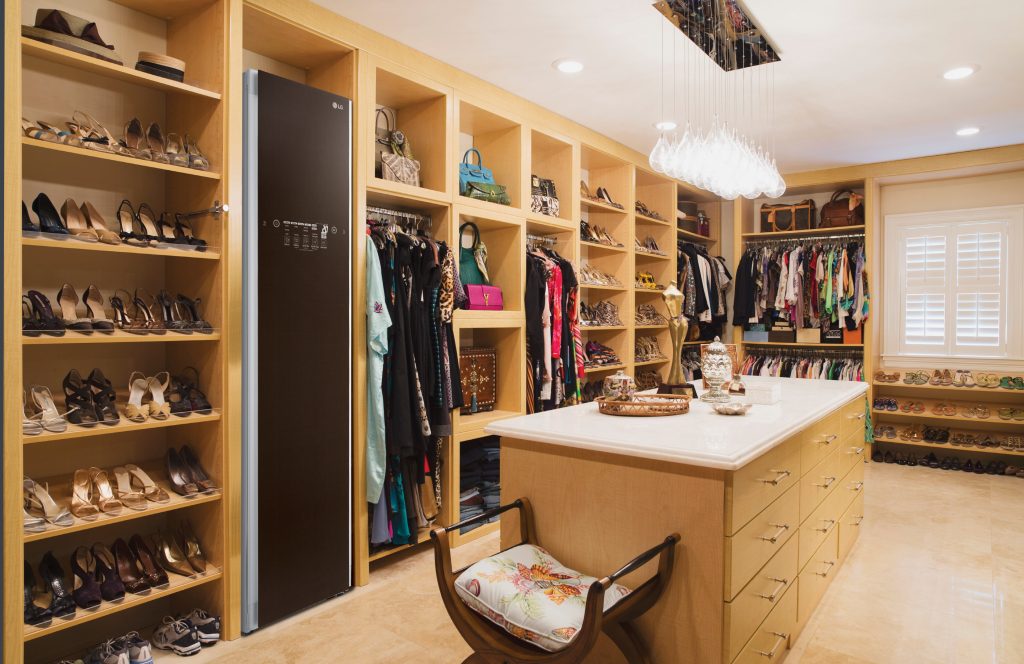 Made for all
The LG Styler is truly a handy helper, allowing you to de-wrinkle and lightly dry clean all types of fabrics, without the worry of shrinking or damaging clothes. Its four cycles are geared specifically to the garment material, such as wool, polyester, cotton or nylon.
Refresh Cycle uses steam to de-wrinkle clothes.
Sanitary Cycle again uses TrueSteam™ to reduce allergens in clothes, bedding and even soft toys.
Gentle Dry Cycle is mainly used for articles of clothing that require special care. By using a low-temperature drying system, it helps to refresh and dry clothes such as wool and cashmere without shrinking or damaging it.
Pants Crease Care gives trousers a neat precise crease, while reducing the appearance of wrinkles on the clothing.
Additionally, the styler can double up as a dehumidifier in the room that it is installed in. This cycle uses only half the power consumption, as compared to the refresh cycle. To use this function, leave the door of the LG Styler opened at a 45-degree angle.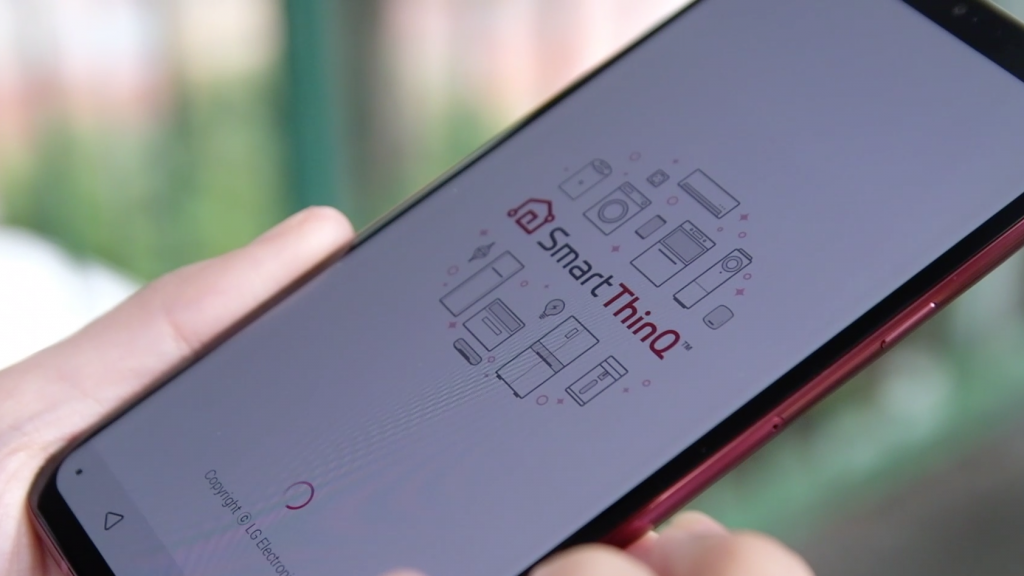 Smart ThinQ App
There are many brands out there that allow you to control your appliances remotely. In order to bring convenience to users, LG Electronics has also come up with a phone app called Smart ThinQ. This app allows users to control their appliances remotely, regardless of where they are. Simply pair the styler to the phone app, and via your phone, you can operate the steam closet, check the status, as well as turn it off when the cycle ends. It also allows you to track and control energy consumption. In addition, the app has a Cycle Download to add specific cycles for items including jeans, suits and school uniforms and fur and leather care.
The LG Styler offers no fuss, no muss convenience for mums, saving time, money and effort. At $2,499, it isn't the cheapest of gadgets. But when you factor in how much you will save in time and unnecessary trips to the dry-cleaners, plus the fact that it easily sanitises fabrics and items that are difficult or impossible to wash and reduces allergens and bacteria by up to 99.9 per cent – it's a small price to pay for the assurance that your things will be cleaned efficiently.
The LG Styler is sold at all LG authorized retail outlets.
We are giving away an LG Styler to one lucky winner on our Instagram. Head on over to our Instagram to find out how you can bring home this steam closet.