Hairy Balls. That's what my daughter proudly calls rambutans. She loves them and often asks for them. But the first few times I packed them into her lunchbox, I hesitated at the possibility that her classmates would "yuck" her "yum". Four-year-olds can be cruel. 
Recess time can be a stressful or enjoyable time for kids, often depending on what they find in their lunchboxes. Raising two Singaporean children in California, where staple foods are celery sticks, hummus, pizza and cheese sandwiches, packing school lunches is a challenge one has to approach by trial-and-error.
Here's what I've learned:
One week, my daughter loved eating kale. She was eating so much of the green, leafy vegetable that I went and bought more mid-week. The next weekend, I spent $15 on kale alone. On Monday, she came home with half her kale left over. When I asked her why she didn't eat it, she said she didn't like it.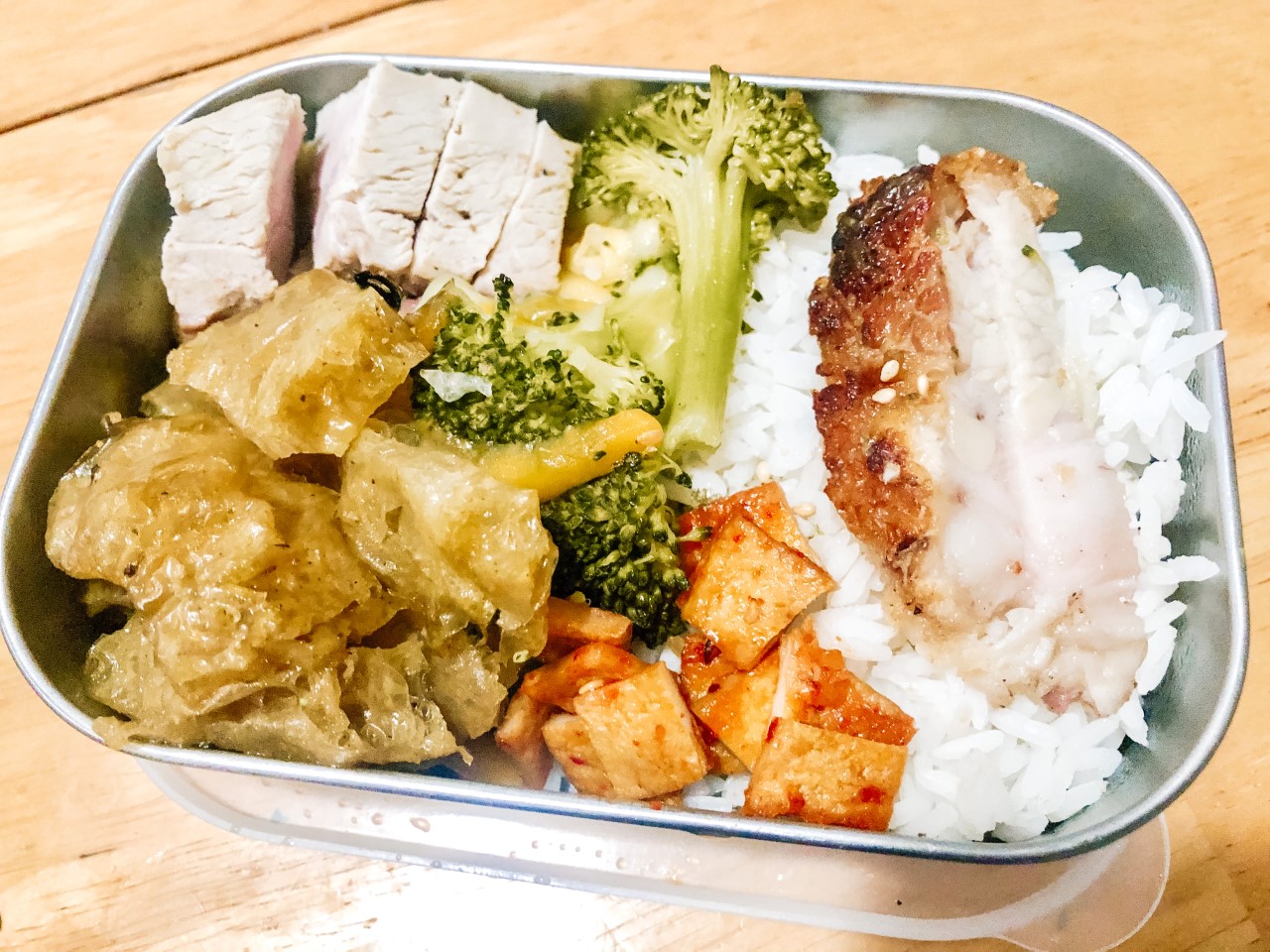 Honestly, prepare food you'd be happy to eat. I make my kid's lunches colorful and often with delicious foods like salmon, pork belly and fried tofu. I honestly also know that if they forgot their lunches and their school said they would just feed them, I would be so happy to eat their lunches.
Refusing to let your kids waste food does not make you a bad parent.
Whatever food my kids don't eat at school, they have to eat when they come home. They can eat it for a snack before dinner, or they can eat it for dinner. But the bottom line is that they'll have to empty their lunchboxes before getting some of this hot, delicious, fresh-grilled, juicy steak. Great dinners encourage great eaters.
The RIGHT way to reduce food waste.
If your child comes home from school and they did not finish eating the fried beehoon that you painstakingly shredded carrots and cubed pork belly for, DO NOT try to reduce food waste by eating from their lunch box. Learn from me, I did that and got stomachaches for a day. I still have no idea what my daughter did with her food at school that made it poisonous. But the lesson is that you do not deserve the punishment of eating food that comes back from school.
The right way to reduce food waste is to: make the kid eat it. If she has poisoned it, she will likely not eat it even if she has to skip dinner.
Variety, colour and flavour.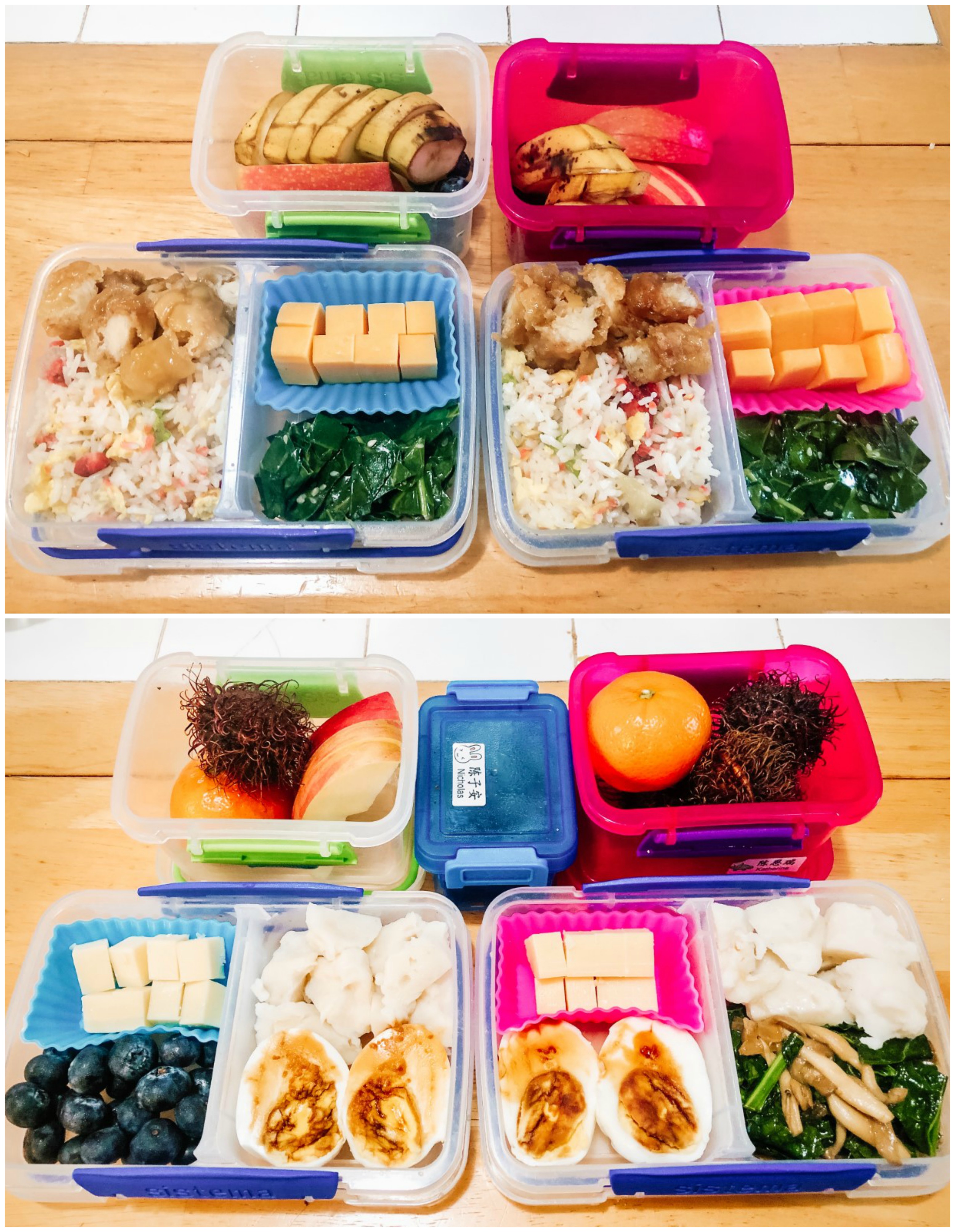 I could easily pack my children a variation of sandwiches every day and alternate between apples and oranges to "spice things up". But that's absolutely not the lunch I would be excited to eat and so that's not what I do.
I love food, everything from textures and flavours to colours and temperatures. On cold days, I hear my mother's nagging voice and I send them to school with stews and soups, on warm days, they get colder foods like pasta and sometimes yogurt.
As a visual person, I like packing lunches that are colourful and this means always including something green, orange, red or yellow. It's also a way to ensure the lunch provides nutrients from all the food groups.
To do this, cooking doesn't have to be complex. In fact, my kids prefer foods that are simply cooked – hard boiled egg with a couple drops of sweet soy sauce. They will eat a whole slab of tofu with furikake on top in one sitting. Garlic fried rice (use butter).
Children have young taste buds and super complex tastes can be over stimulating. Sometimes, simple is best.
Have fun making school lunches. Don't take it so seriously.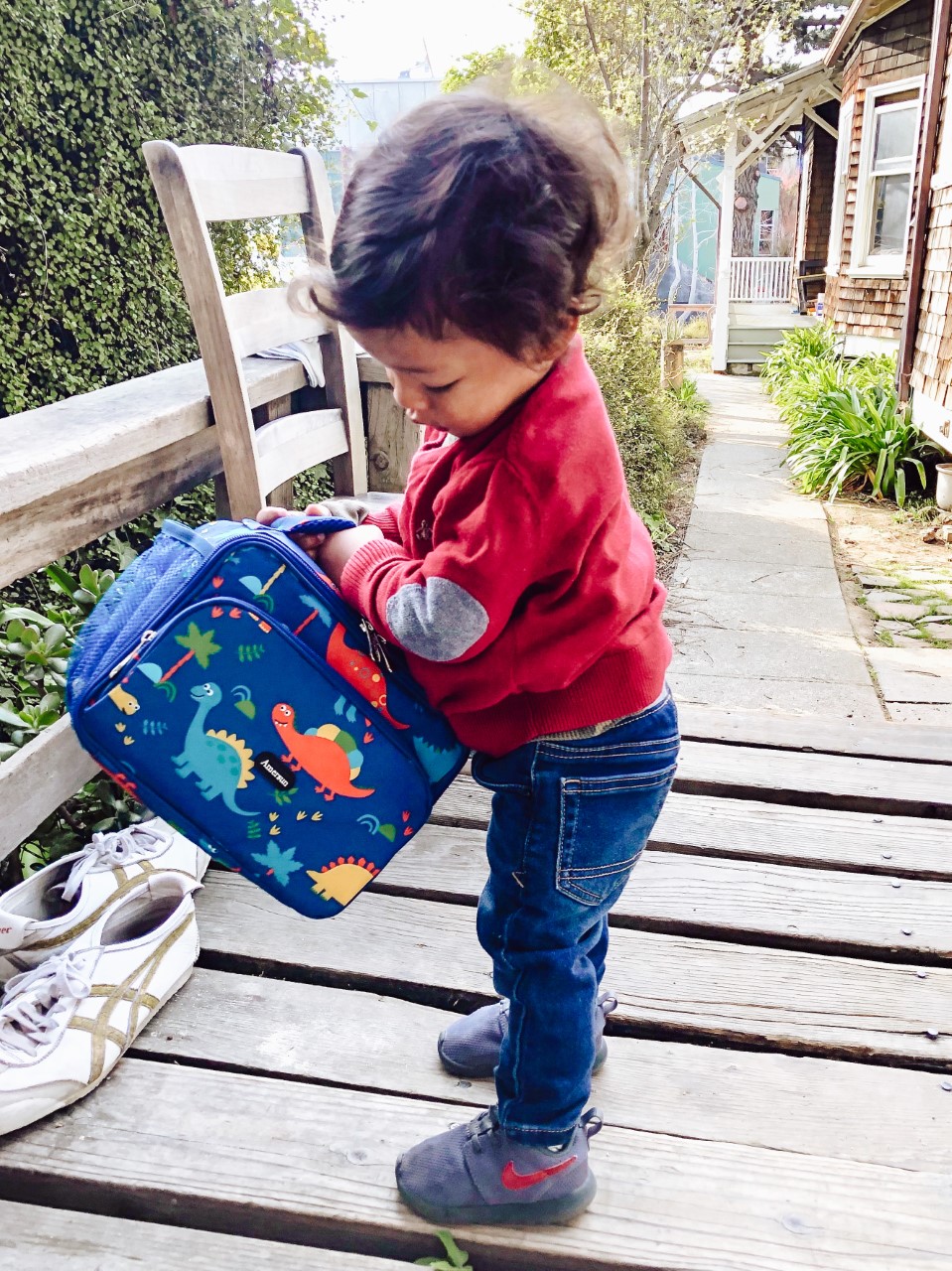 Our kids attend a preschool that has strict meal guidelines. No crackers, no peanut butter, nothing that looks like a treat. That means no vegetable muffins, because kids get jealous of muffins even if they are broccoli flavoured. We fill our kids lunchboxes with two fruits each day on rotation, and one vegetable, one meat and one carb. On hot days, I serve more cold foods like salads, perhaps a coleslaw. On cold days, I send the children to school with herbal chicken soups, beef stew, maybe a hot lasagna in a Thermos.
With so many things to think about, adults have to find the fun in the mundane. I once packed a whole crab into my daughter's lunchbox, giant clams, oysters, a whole fish with eyes and a tail. I send her to school with her favourite hairy balls, sometimes her other favourite hairy ball, the kiwi. We also send her with pomegranate to let her and her friends figure out how to open it, persimmons, soursops even. Key for my husband and I to surviving the madness of keeping up with the Joneses in Berkeley is to do it our own way. And for now, it's essential that our kids find it fun to eat and enjoy food that their classmates may not have eaten, and in bringing a little laughter to their school lunches, I hope we are doing a little work in helping to raise a generation that won't ever yuck anyone's yum.