Less than a fortnight before Chinese New Year (CNY), and not a single red, auspicious decor in sight? Fret not. Here are some decorating tips and go-to places for those CNY knick-knacks and furniture.
One more weekend before Chinese New Year (CNY) is upon us, and we sure hope you are almost done with spring cleaning! Now that your home is spruced up, here's a list of where to go for those last-minute decorations for the house.
Plants & Flowers
As the popular Chinese proverb goes, 花開富貴 ("when the flowers bloom, you will receive good fortune"). That's why plants and flowers are CNY essentials where decorations are concerned. They represent new beginnings, good fortune and bountiful tidings, instantly dressing up any corner of the house. 
A staple fixture among CNY plants at home, the pussy willows (also known as Catnip) has furry buds that bloom on young, jade-coloured green shoots, symbolising the arrival of spring and prosperity.
Grab a bunch of these unarranged pussy willows from Candy Floriculture and create your very own floral centrepiece.  The plant comes in natural or dyed in pink, yellow and orange.
Get creative and design your unique Pussy Willow display with these unarranged stalks from Candy Floriculture. (Photo Credit:  Candy Floriculture website)
If you would rather leave the floral arrangement to the professionals, check out @MySuperplants Pussy Willow arrangement sets. Perfect for traditionalists, these floral sets come packed with the proper lucky greetings, the reds, golds and pinks, as well as fancy adornments. It makes a great gift or as a centrepiece for your home.
You can't go wrong with the red and gold theme. Pick from these two arrangements and have them delivered straight to your doorstep without any hassle. Left pot – $128. Right pot – $218. Delivery included. (Photo Credit: @mysuperplants)
For a modern arrangement, with a touch of feminine allure, look no further than The Floral Atelier.  Renowned for their exquisite blooms and attention to detail, their CNY collection is steeped in traditional symbolism, yet updated with modern touches like a chic white pot with turf grass, and wispy green ferns.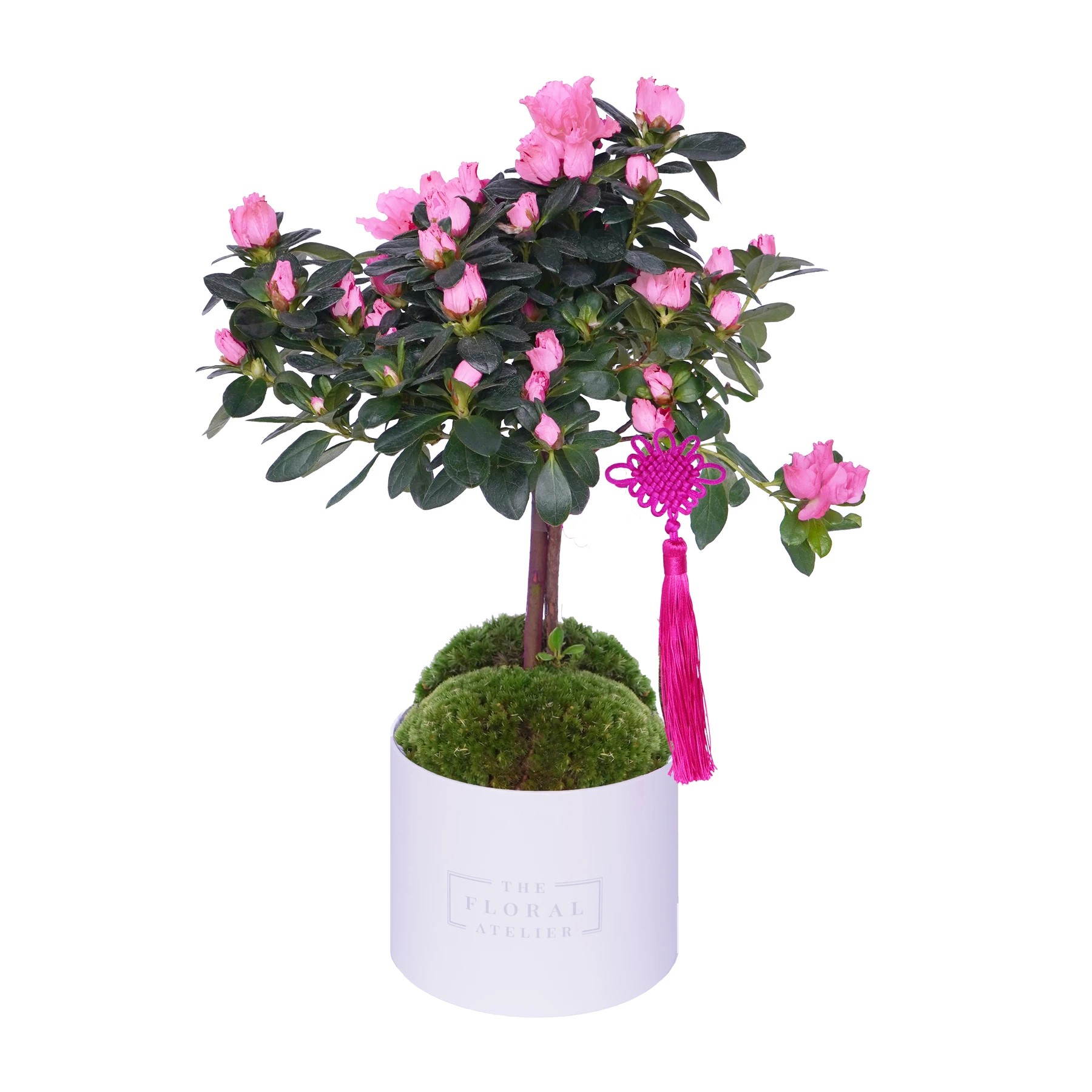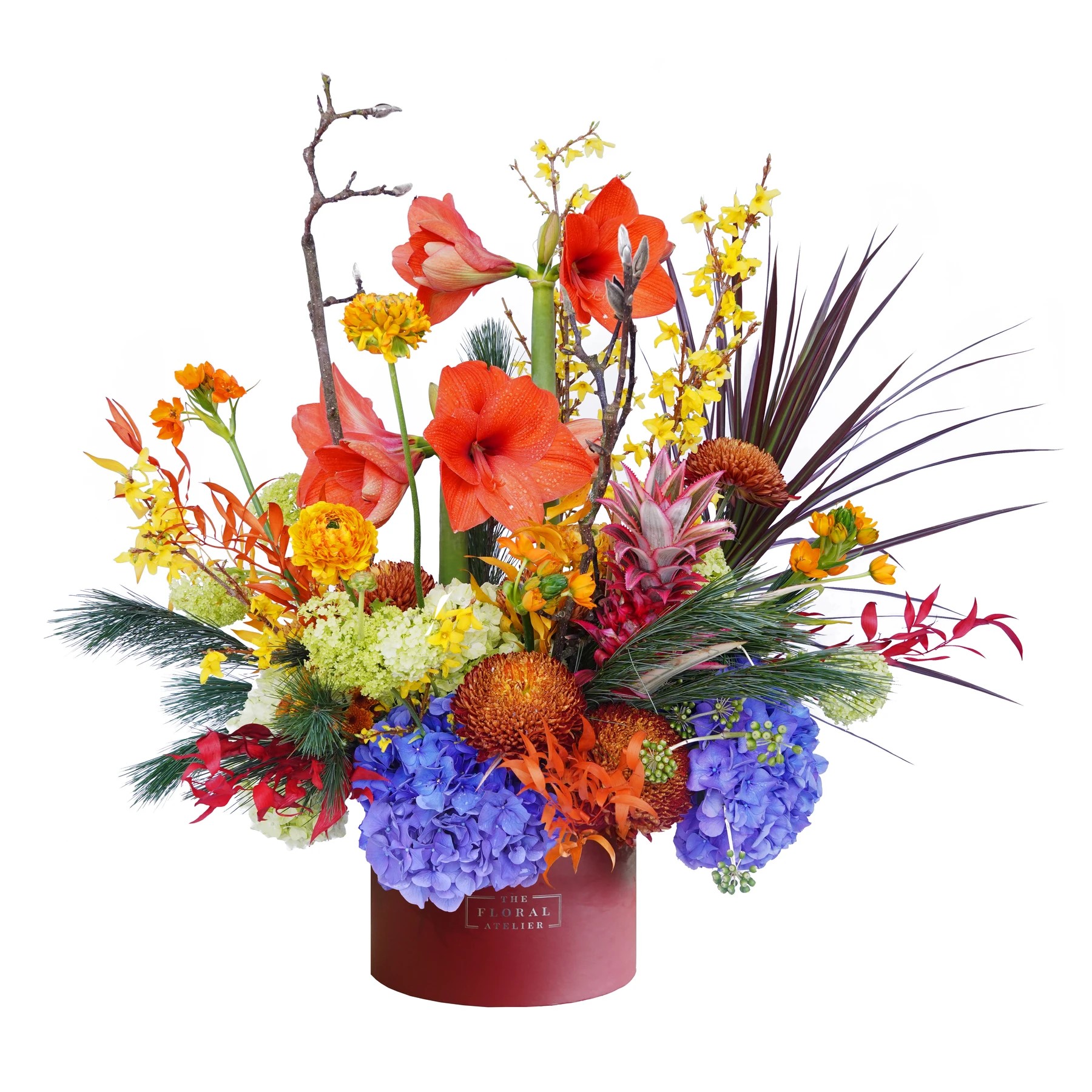 Or, if shopping among the floral selections of a nursery is your thing, then head over to one of Far East Flora Garden garden centres for one of the largest selections of potted plants found in Singapore.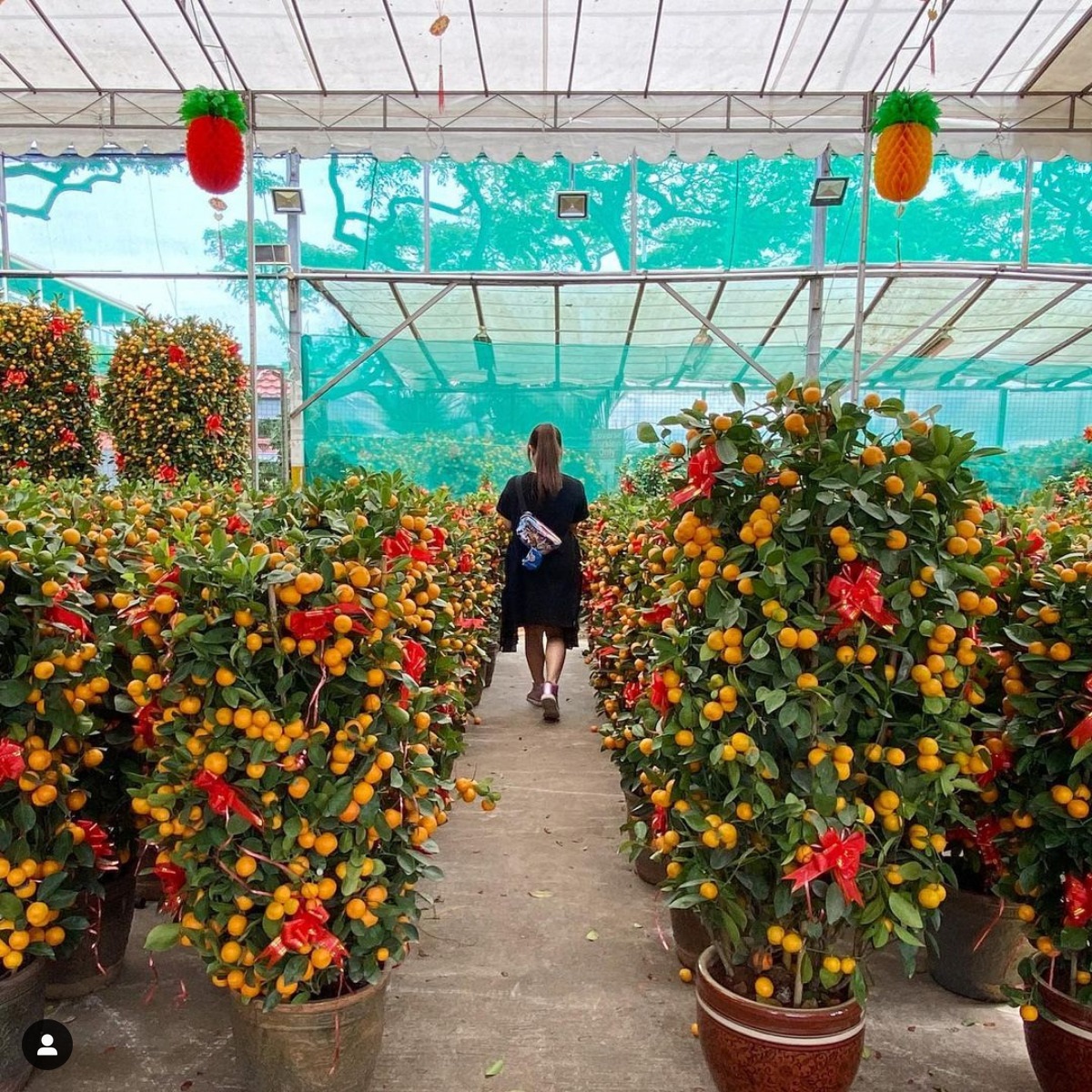 (Photo credit: @fareastflora)
Home Furnishing
The easiest way to dress up your entertainment and dining spaces at home? Soft furnishings. Change out and update your cushions, table cloths, chair coverings, rugs and curtains for an instant, immersive switch-up in ambience and aesthetics. Let guests feel the CNY energy the moment they step into your house.
Brighten up seating areas with these beautiful oriental pillows in red and gold from TANGS.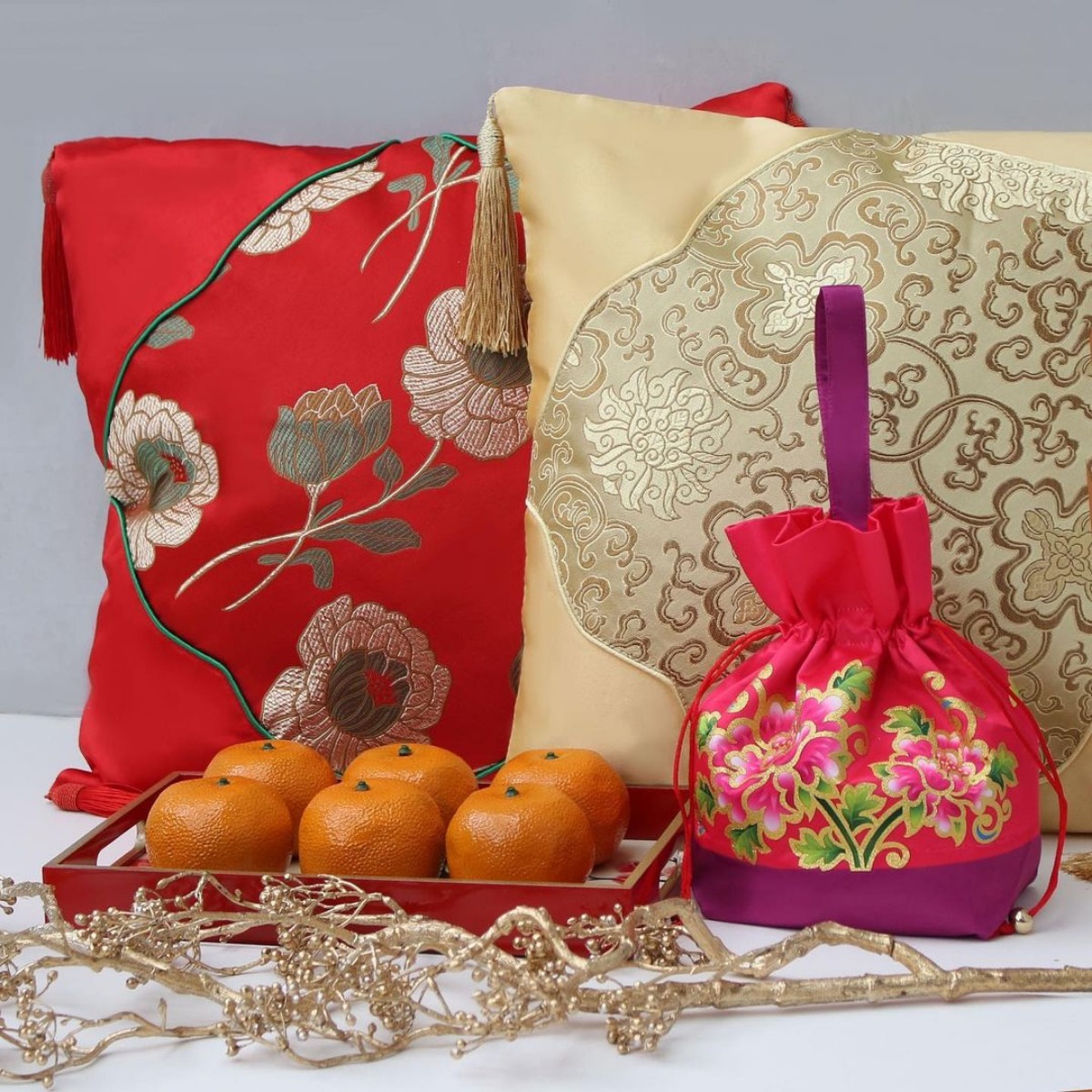 (Photo credit: @tangssg)
Too vivid for your less-is-more sensibilities? You can always opt for a more gentle, but no less impactful, colour in this lovely shade of cerulean blue with oriental embroidery from Tangs.  Or this muted gold double prosperity koi cushion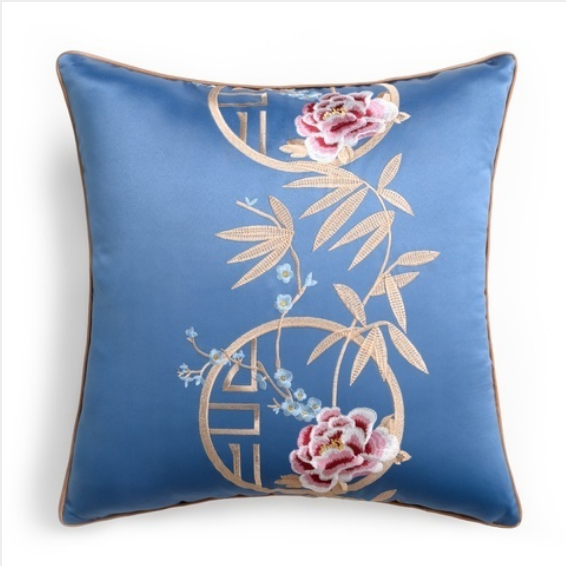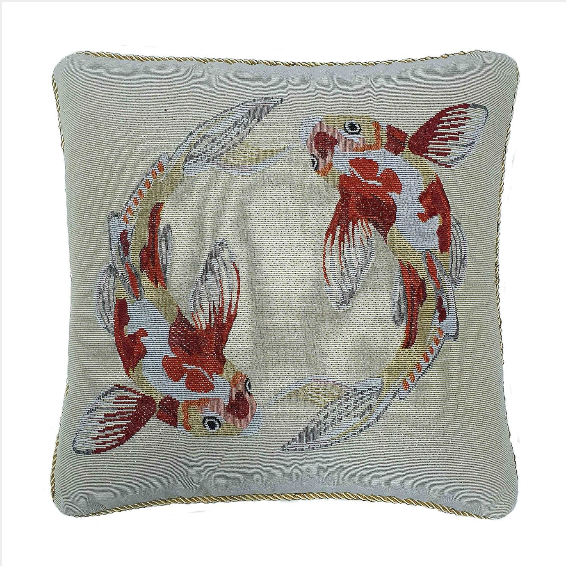 As saying goes, imitation is the greatest form of flattery.  And we've spotted some quaint, yet chic home décor ideas from a Metro retail pop-up. The serving trays, coasters, and ceramic stools designed with peach blossoms and Chinese characters give homes a modern Shanghainese look.
IKEA's SOLGLIMTAR limited collection feature classic homewares in an "east meets west" collaborative approach to help homes get ready for CNY. Inspired by historic Chinese coins, the collection featured coins and flowers in a clean, repeated print in gold and white for good fortune.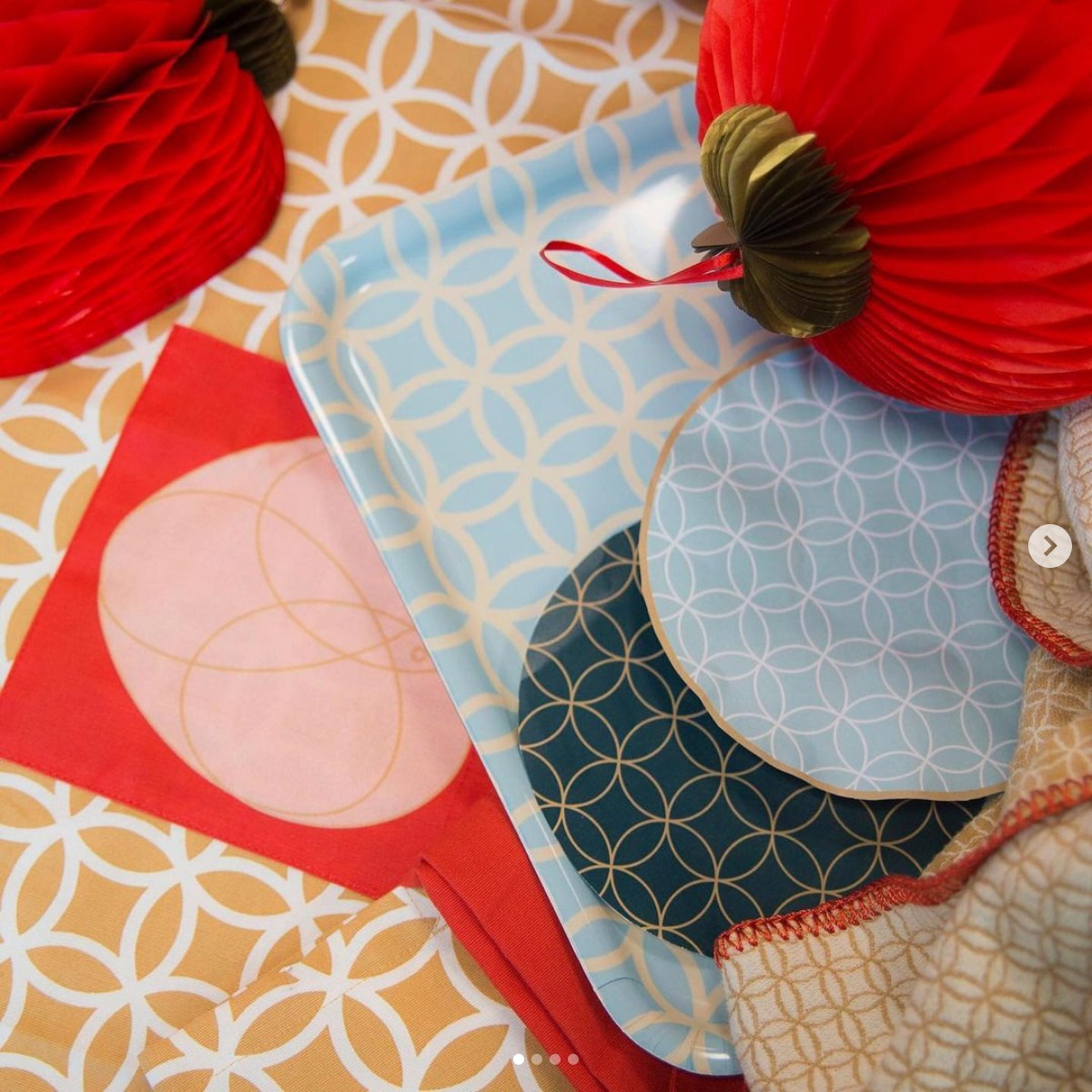 (Photo credit: @ikeasingapore)
Artwork
Contemporary art gallery Ode to Art has curated a collection of auspicious wall pieces that will invigorate your home and add beautiful textures to your interior decor. Pick from vibrant paintings of symbolically auspicious animals to abstract depictions of stunning flowers and plants in hues of reds, pinks and golds. Or choose a refine calligraphy artwork with words of well wishes and propitious wisdom to welcome good fortune and success into the home.


Furniture
And if you want a permanent change to your interior décor, why not go the whole hog and update your furniture with Chinese antiques and reproduction pieces?
Visit Just Anthony, a lovely local Chinese antique furniture and accessories retailer in Singapore for a nice lovely entryway console table where you can store trinkets in the drawers.  Add on with one of their traditional wooden baskets to display your mandarin oranges and as a handy reminder to bring a pair with you whenever you step out of the house this CNY.