Most mums would think twice before taking a baby on a long haul trip overseas, but host and presenter Choy Wan is not one of them. Armed with a sense of wanderlust, the frequent traveller regularly commutes between Singapore and Hong Kong, and was even adventurous enough to take her son Dylan on a trip to San Francisco when the little one was just four-months-old.
In this interview, she shares with us her travel experiences, as well as some great tips for travelling with little ones that she picked up along the way.
Mummyfique: Please share with us some of your most memorable travel experiences as a family and why?
Choy: Our most memorable trip to date was when we took Dylan to San Francisco before he turned four-months-old. It was our first long haul trip as a family, and it was just so fun exploring our favourite US city together. We did a food tour, went to the Golden Gate Bridge, spent the day in Napa Valley, explored the Mission district, and we got to spend quality time with Mike's (Choy's husband) family over there. 
How different is it travelling with a baby as opposed to the trips that you took before you became a mum?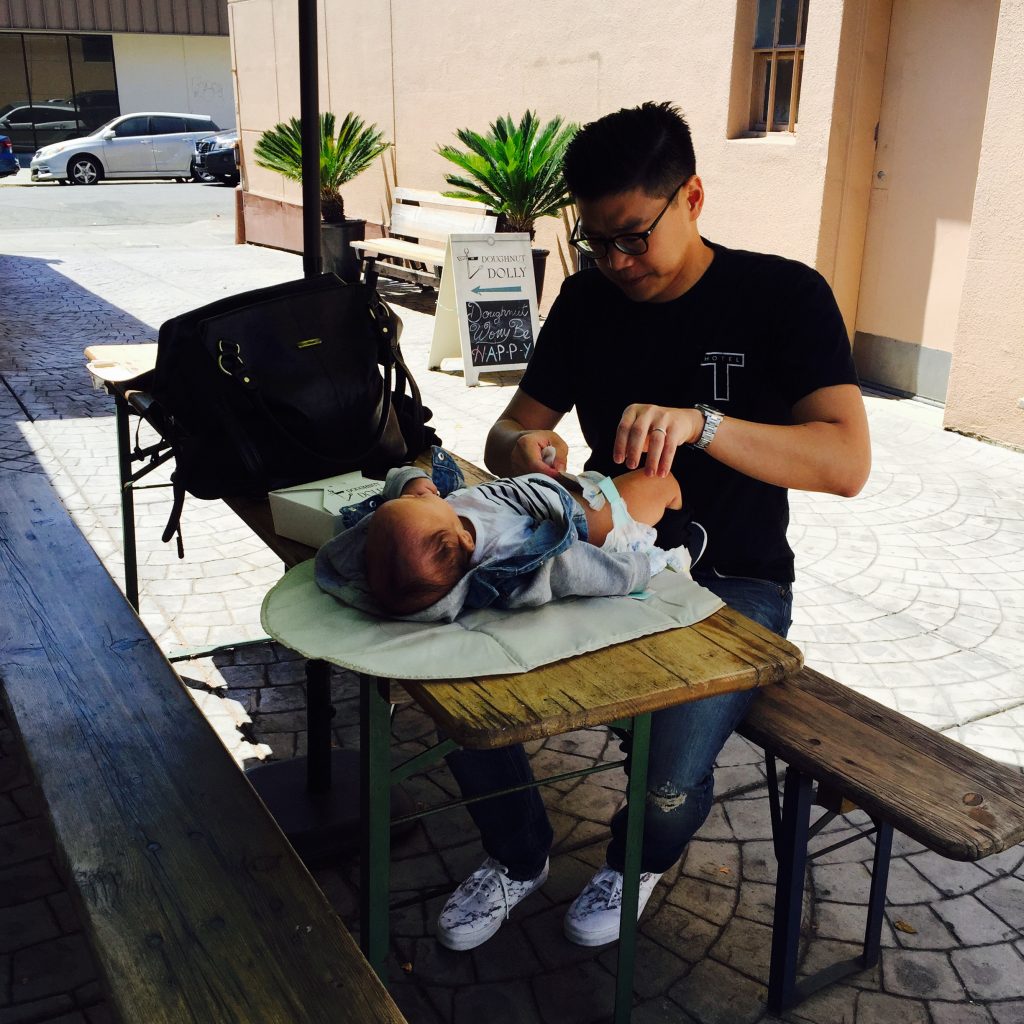 It's definitely not a relaxing experience, in that you can't just drop everything at a hat and do something spontaneous on the trip. We also couldn't do any dinner dates as Dylan goes to bed by 8pm. There are a lot of extras to pack when you're bringing a little person along — you can't afford to forget extra diapers or extra clothes — and there's also the matter of scheduling their nap times in between all the exploring.
There's a lot more on the plate, but we embrace the difference because it's our new 'normal'. We take it as just having a bit more work to deal with, but it's really quite manageable. 
What are some must-have items when travelling with a baby?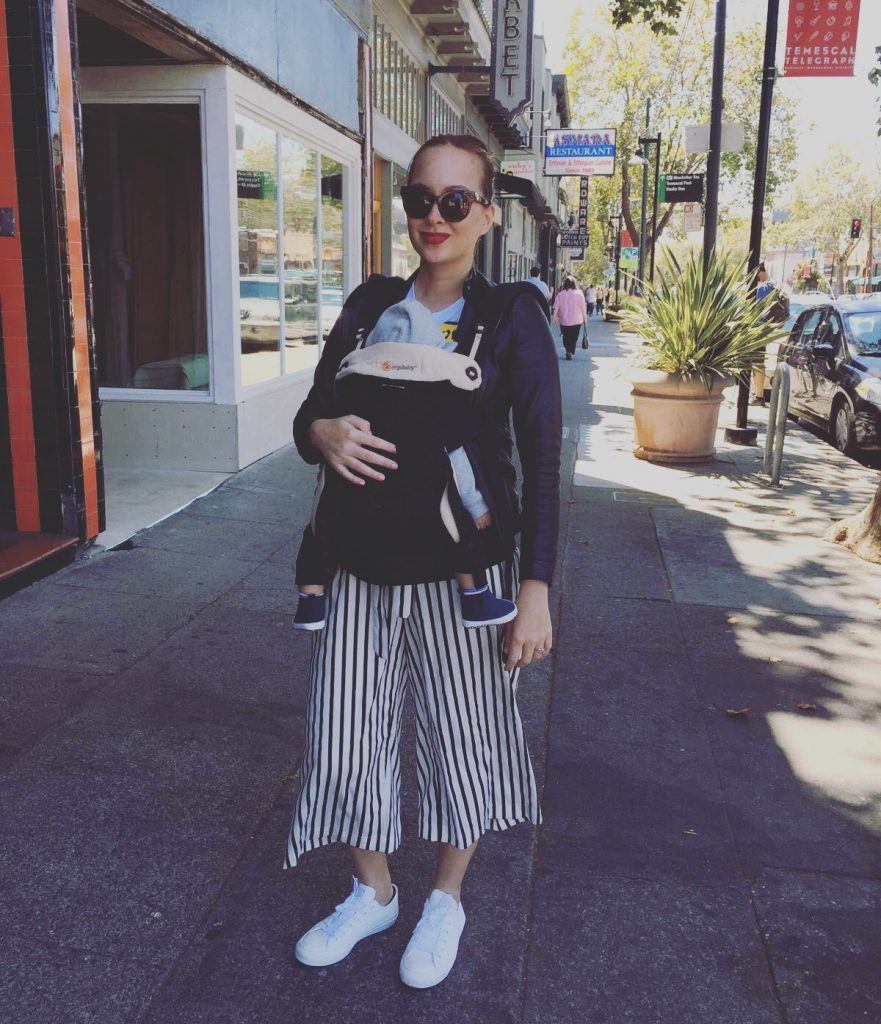 Their personal care products, because their skins are too sensitive for adult or hotel versions, so make sure a gentle baby formulated one is on the packing list. Bringing a favourite small toy along can definitely help with the hours on the plane, and a baby carrier.
I'm big on baby wearing, it really helps when travelling because it leaves your hands free to do a lot of things and you don't have to worry about handling strollers. If you're visiting a big urban city, consider renting a stroller which saves you on handling a large item. For example, our aunt got her neighbour to loan us a stroller during our trip so we didn't have to bring one along.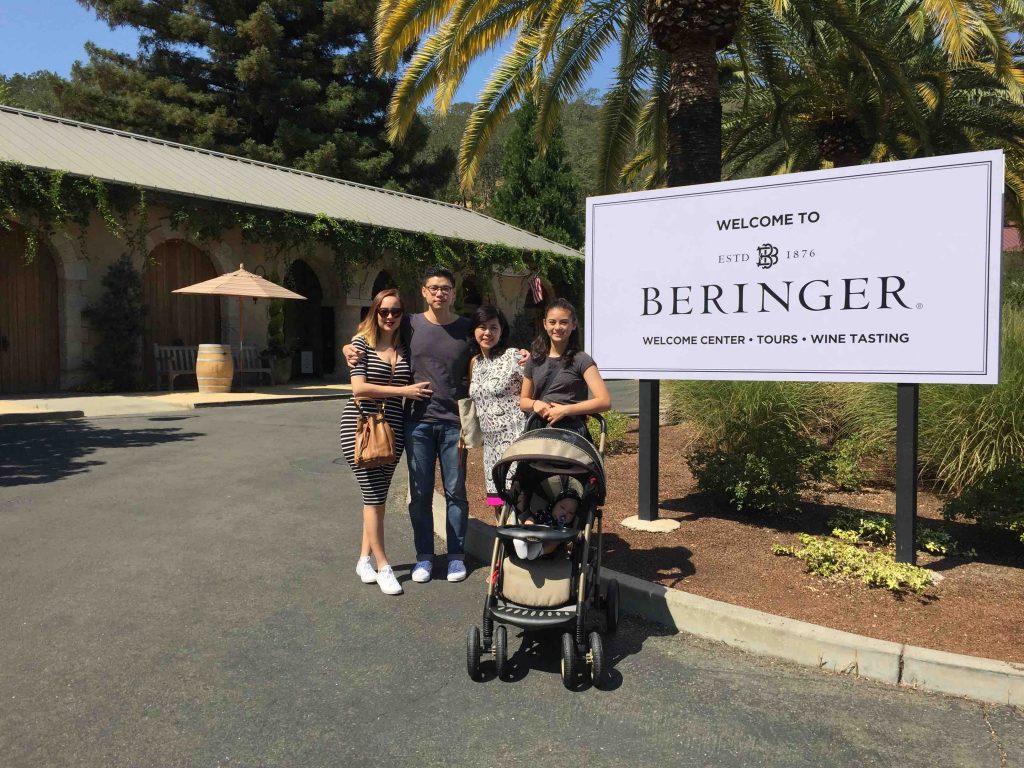 Which is your favourite item in the Pigeon travel kit and why?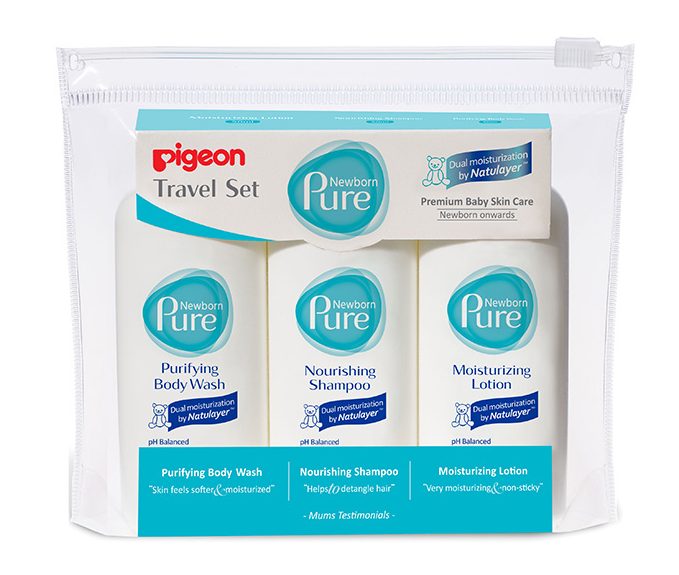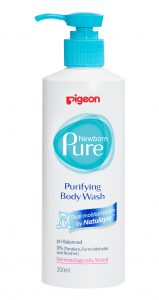 The Purifying Baby Wash. It's gentle and great for bathing the baby after a long day out so he's nice and relaxed for bedtime.
What do you like most about the Pigeon travel kit?
That it's small and handy to take around, and has all the essentials that we need. 
What are some countries that are on your family travel bucket list and where are you heading to next?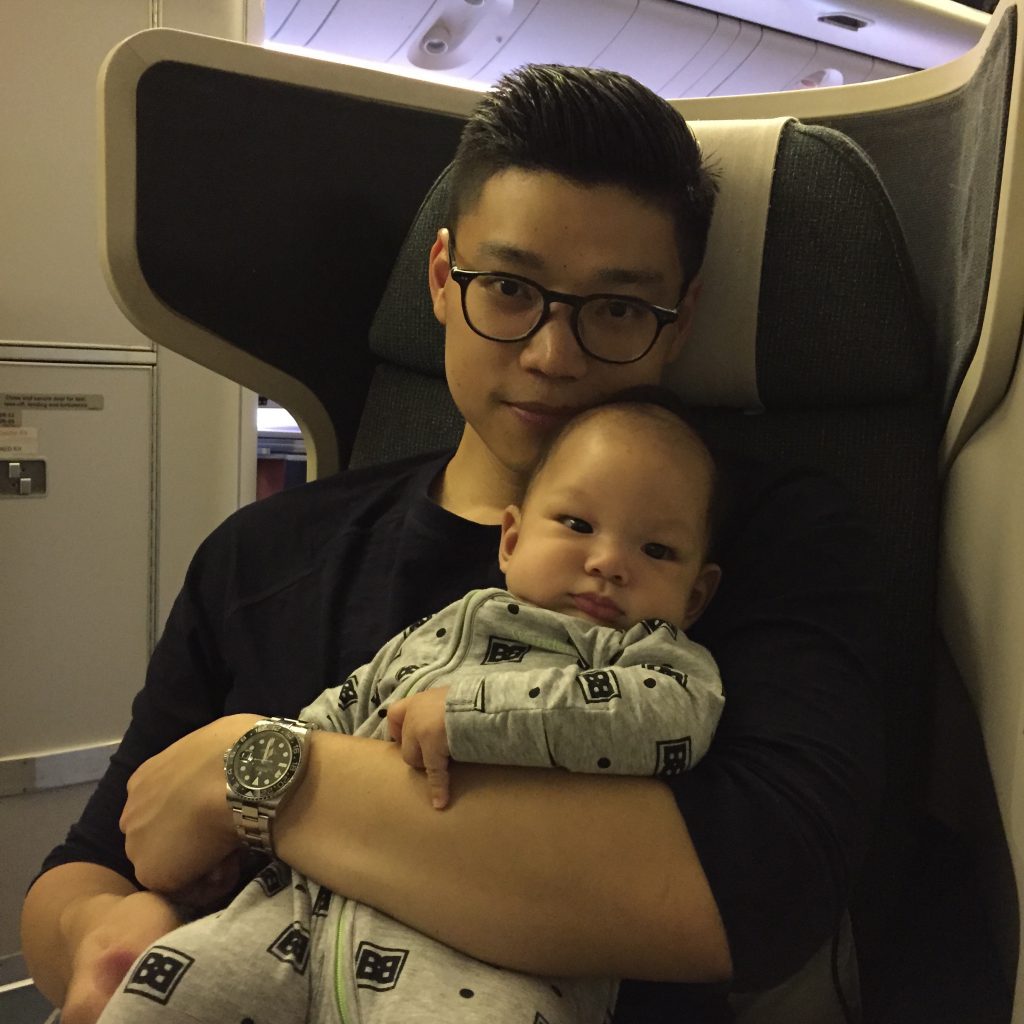 Now that we're based in Hong Kong, We do the Southeast Asia circuit quite a bit, so we frequent Singapore, Malaysia and Indonesia as we have family in these countries. Our next big trip is to London in February. We'll be there for a week, followed by a short getaway to Brussels and Bruges — we're super excited about that!
Bucket list as a family, I would say The Maldives, New York City, Tokyo and Cape Town. Portugal and Spain may also be on the list! 
Can you share some tips on travelling with a baby?
If, like me, you're a breastfeeding mum, nurse your baby on take off and landing when in the plane to help with any pressure in their ears (some get it and some don't, but just in case). Otherwise, give a bottle or pacifier. 

Be prepared for jet lag if you're travelling long haul. It's not fun, but you've just got to be patient with your child until his or her body clock adjusts. It's really important to work out when their naps and bedtimes are going to take place.

Pack travel-sized items, such as the Newborn Pure travel kit, for their personal care needs. The less weight the better so don't bother with standard-sized items. 

Make sure you have medication on standby, such as paracetamol in case of a fever etc.

The bathroom sink in most hotels are perfect to bathe a baby in. Don't bother packing a towel for them, a hotel one works just fine. 

Hotel room beds are big enough for mummy, daddy and baby to sleep on so it isn't necessary to rent a crib (if you are a co-sleeping family). This helps you to save costs.

Be a good team with your husband, wife or travel partner. Take turns to help with the baby on the plane and when out, so the other can have a bit of break. 

If you travel solo with the baby, like I do sometimes, don't be afraid to ask for help from the person sitting next to you on the plane or from the flight attendants. People are generally willing to assist!

Have fun with your baby! Point out new sights and sounds to them, it's wonderful to see the world from their eyes.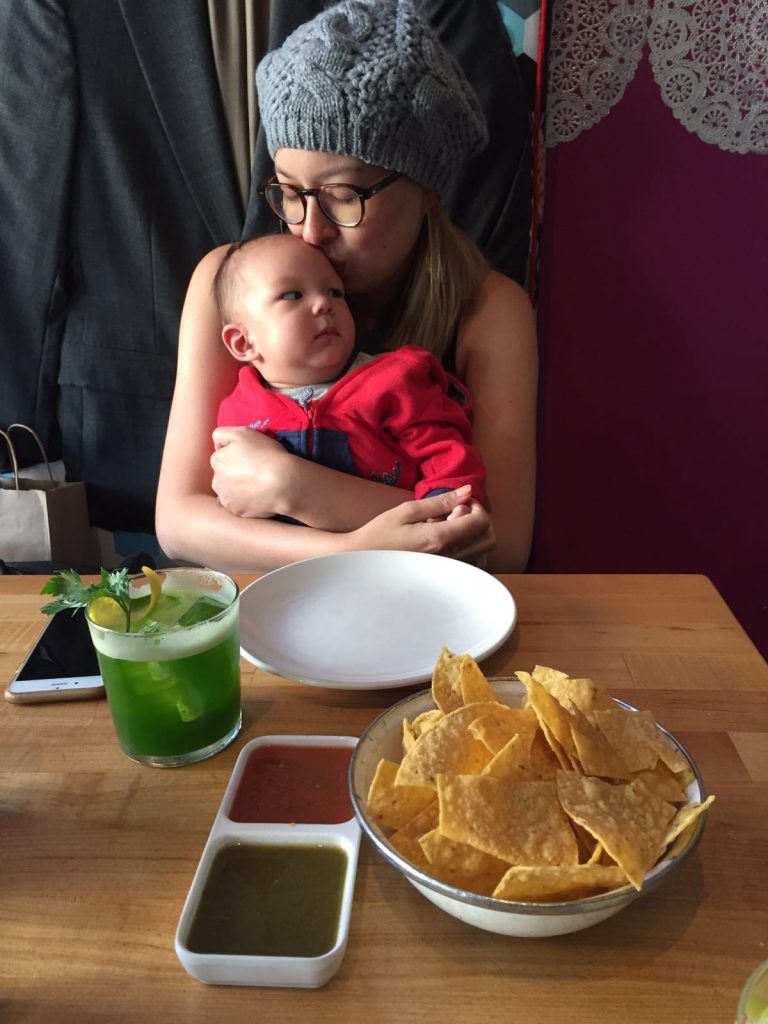 This article was brought to you by Pigeon Newborn Pure.