Jaymee Ong maybe better known as the actress-model who is the consummate TV host but here at Mummyfique, we have been impressed by her role as a mother of two to Juliet, aged five and Harrison who was born last September (2015). Within two months of giving birth, she went back to work and was in fabulous TV shape, all while successfully battling postpartum depression. Here, in this interview, Jaymee Ong shares postpartum fitness tips with our chief marketing mummy Gidania Wong  and her secrets to regaining her smashing figure.
Gidania Wong: Congratulations on the birth of Harrison! He's such a cutie! You were back at work within two months post-partum. How difficult was it to get back into TV shape (since you have to appear on screen)?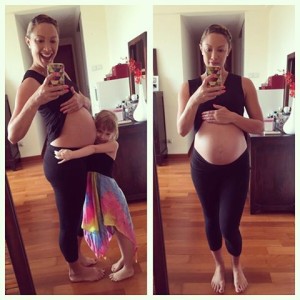 Jaymee Ong: It wasn't too difficult as I stayed active throughout my entire pregnancy.  I worked out the day
before delivery!  I truly believe that staying healthy and fit lends itself to a speedier physical recovery.  I obviously adjusted my workouts at each stage, but keeping my strength and flexibility was important.  Harrison was my second c-section so I wanted to make sure I was as physically prepared as possible.
Can you share your workout routine with all mums?
I've scaled things down a lot, not just because I only just gave birth, but because I have had really sore knees!  I am doing a lot of yoga and core-based workouts, with not a lot of impact.  I'm aiming for three to four times per week.  Sometimes that's a bit ambitious!
What is an ideal timeframe to give yourself to shed those pregnancy pounds?
For most women, I think a realistic time frame is 12 months.  I know everyone wants a quick fix, but it took nine months to create your baby, and nine months for your body to change so it only makes sense it would take about that long for you to lose the weight.  I know my body will never look the same as what it did when I was 25 but I'm okay with that because I've had two kids!  A lot happens to you pre- and post-natally, not just physically but emotionally as well.  The focus needs to primarily be on your emotional well-being, especially in the first few months.  When you feel good, the 'looking good' part falls into place easier!
How has the Tracy Anderson post-pregnancy workout been for you?

Amazing!  I did her month-by-month workouts throughout my pregnancy  and I have slowly been easing into her post pregnancy ones.  Her method is fab at tightening everything back up which is always a struggle when you've been stretched to capacity!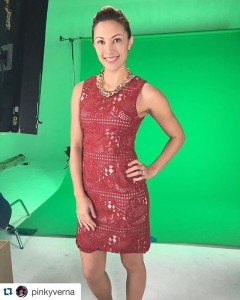 How do you find time to exercise with two kids and a busy career?
I schedule it!  It's become such an important part of my life that I have made it a priority.  Sometimes I push the pram downstairs while Juliet rides her bike, or I may have Harrison in his bouncer at the end of my yoga mat, or wait until his nap, but I try and just get it done.  It's definitely not as easy!  There a days where I don't get out of my pyjamas and that's ok, but I make a point to do something active the next day.
Do you think there's added pressure to get back in shape quicker these days for modern mums?
I think mums put the pressure on themselves, with everything, not just their bodies.  You know what?  Sometimes we just can't do it all!  Sometimes we can, but we need to be a bit more accepting when we can't all the time.  I think we judge ourselves on what other women 'appear' to be, but you have no idea what's really going on.  I have good days and bad days, days that have gone amazingly well and others where I have two screaming kids and I end up joining them!  Days where I can button up my skinny jeans and others where they won't go over my thighs!  I've learned how to stop beating myself up (as much) and just try to take things one day at a time.
Do you have any tips to exercise safely during pregnancy?
Listen to your body!  So much is happening and changing that you really do need to slow down and pay attention to how you are feeling.  Some days you feel strong, and others you feel like you can't get out of bed, and you need to honour that.  Definitely speak to your doctor and make sure whatever you're doing is safe, but pregnancy is not the time to be reaching any fitness goals.  Focus on staying healthy first and foremost, whether that's walking or running, it's different for everyone.
For non-fit mums, how do you suggest they get started with incorporating exercise as a part of their lifestyle or postpartum shaping up routine?
Wait until you have been cleared by your doctor, then slowly ease into it.  Don't expect to be up and running five kilometres anytime soon!  Your body has gone through a lot so you don't want to jar it in any way.  Walking your baby in the pram is a good start.  Maybe you can only walk around the block, but you'll find you can go longer and harder in time.  Gradually build up your strength and speed from there.
What's your favourite outdoor activity to do?
I love the beach!  A family day in the sun and surf in Australia is pretty unbeatable.  Day to day though I like to take the kids downstairs (we live near gardens By The Bay) and Juliet will bike or rollerblade and I'll either push the pram or carry Harrison in my Ergo.  So nice to do now that the haze is gone!