By Calvina Dawn Lee
My husband and I are avid travellers. In fact, one can say that we probably dated through our travels together. So when we had our first child, Emma, we were determined to make a good traveller out of her.
The year Emma was born (2014), we planned for a holiday in London, one of our favourite cities, at the end of the year. My husband and I are both familiar with London since we both studied there (though at different times), and we thought it would be wonderful for Emma to experience her first Christmas there.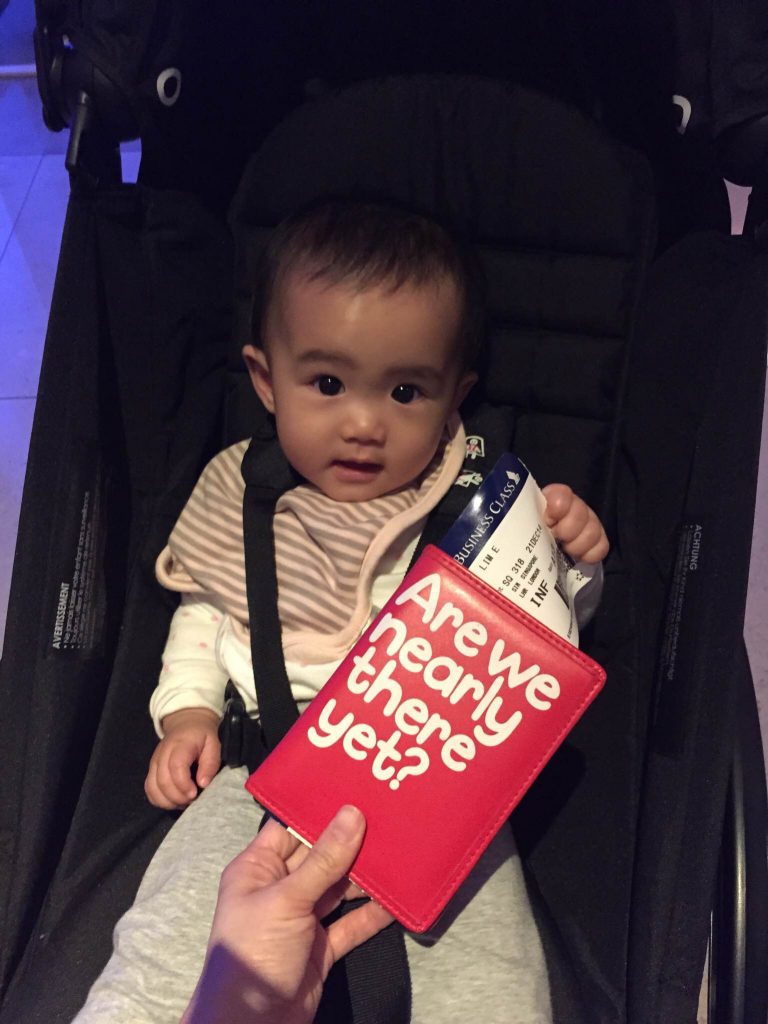 We had wanted to do a "test-flight" with Emma to somewhere nearby, but could not due to D's work commitments. And so, Emma's very first flight and trip would be to London, at seven-months-old!
Making it through the flight
A 13-hour flight is daunting enough for an adult. But to do it with a baby on her very first flight? I did not know what to expect or prepare. Thus I consulted Google at every opportunity I had, poring through articles on parenthood magazines and online forums. Some of the many questions I had: What to bring? Can I bring baby food and water for her milk onboard? What if baby fussed or cried on the plane? How to deal with the change in air pressure during take-off and descend? Whether to bring a stroller or not? How to dress baby for the winter weather?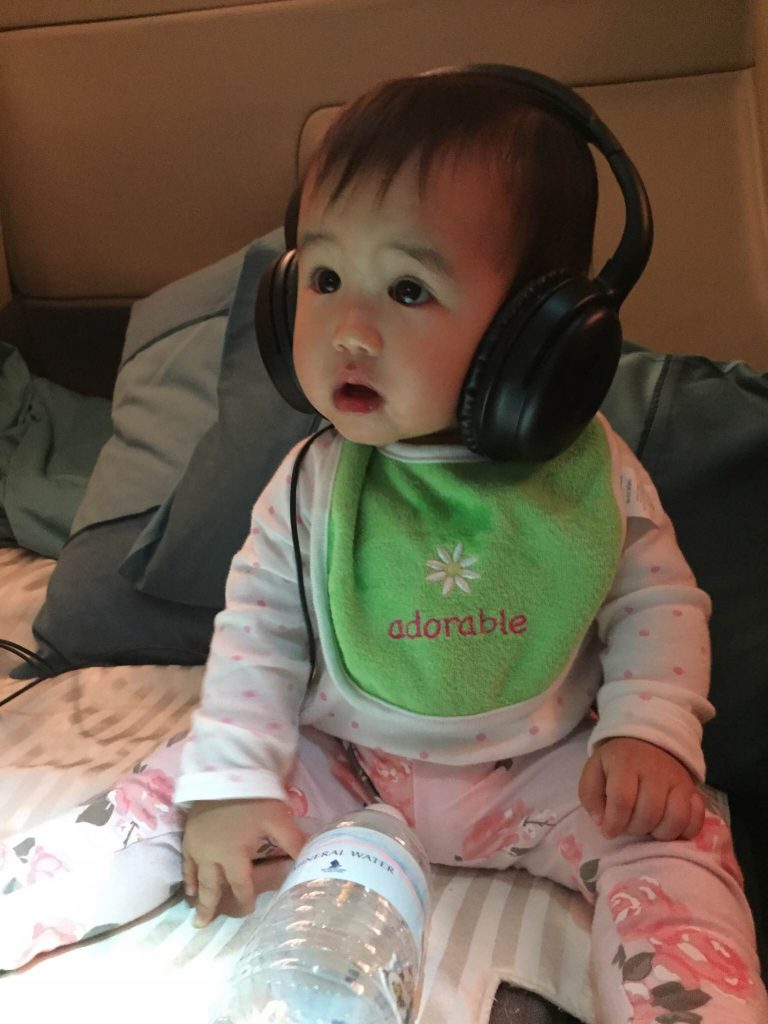 There were lists – oh, so many lists! I decided to best be prepared for all contingencies, which meant severely overpacking both our check-in luggage and our hand-carry bags. My husband had a rollable cabin bag with Emma's and our extra clothes, extra diapers, Emma's blanket, toys and books. I carried a diaper backpack with a diaper change pouch, bottles, snacks and other essentials items. We even bought a stroller that could be folded compactly to fit into the overhead cabin.
We decided on a day time flight instead of our usual red-eye. At least we would not be too sleepy and exhausted if she stayed up or fussed throughout the flight. I had also kept her awake from the time we left home until we boarded, in the hope that she would nap on board. I was so pleased when she nodded off in the carrier just after we boarded the aircraft, allowing me to enjoy a drink and watch the inflight entertainment while she slept in the carrier, without any worries that she would be affected by the air pressure changes during takeoff. I did have to buckle the infant seatbelt over her whilst she was in the carrier. (Note: The airlines do not allow this any longer. Infants will need to be taken out and placed on your lap with the infant seatbelt.)
We had also asked the crew to give us our meals at separate times so we could take turns eating while the other person cared for Emma. My husband was awesome on the flight. He changed her poopy diaper twice, and played with her when she was awake so that I had some rest or could watch a movie. When Emma needed to nap, she would come over to me.
When the flight was about to land, I kept Emma awake, and changed her to warmer clothes before popping her back into the carrier. Again, she knocked out all the way till we landed.
In retrospect, I really brought too many things on board, but it was our first time flying with Emma, so I was a little kiasu. That led to some resentment on my husband's part as he had to carry most of it. For the return flight, we packed a much lighter hand-carry bag.
As it turned out, all she needed was her bunny, her comfort object. Emma's bunny is now a must-have when we travel. It helps her sleep wherever we are, and also comforts her when she is upset or unwell. There was one incident where we had to put the bunny through the security scanners and she got really upset because she thought she had to abandon it. Since then, we always try to keep the bunny in the bag before the security checks and put it through the scanner without her knowing.
Arrangements for a smoother trip
Upon arriving in London, we had arranged for a car service to pick us up at the airport and take us to our apartment. After such a long flight and with a baby in tow, it just made more sense to ensure a quick and comfortable transfer from airport to our accommodation. In fact, this is our standard operating procedure when we travel now.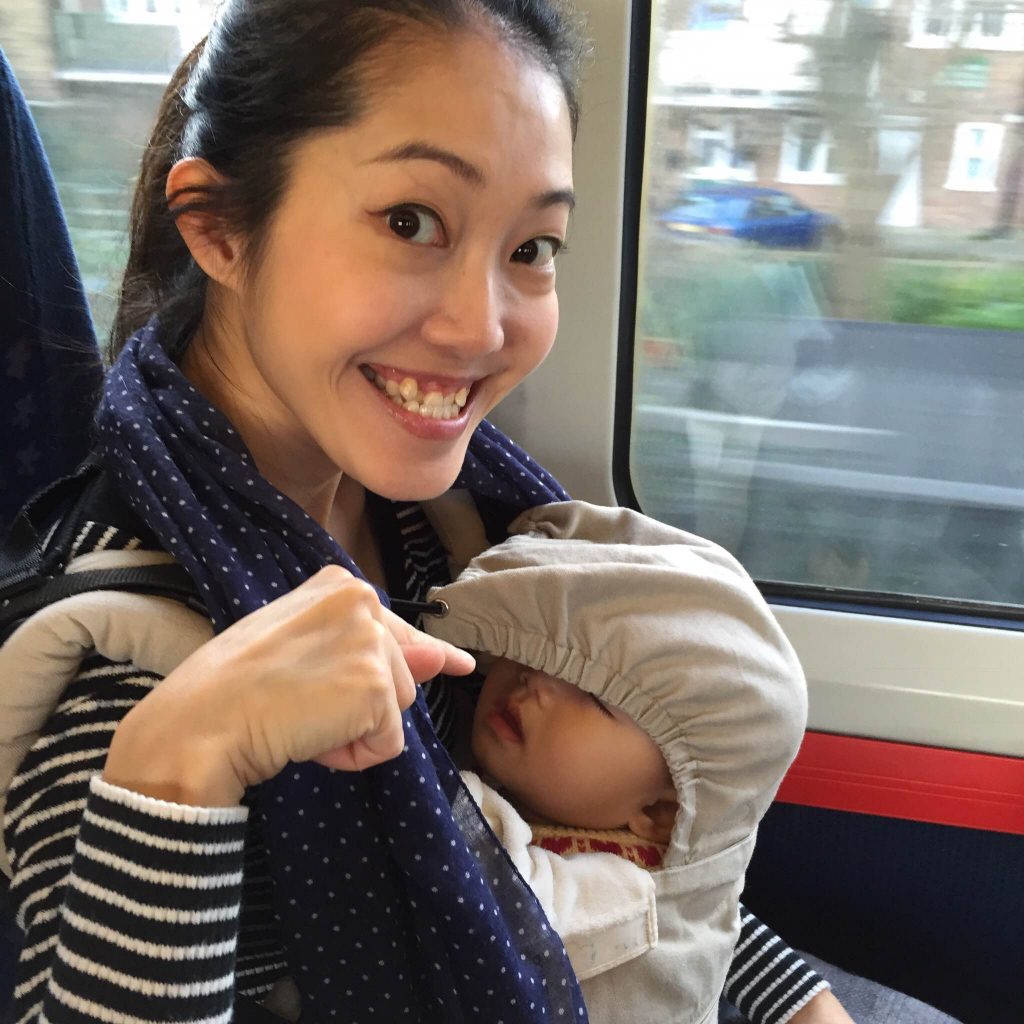 We also try to stay in hotels or apartments that are near supermarkets and other dining options such as cafes and restaurants. Apartments are ideal as this allows me to cook for Emma, as well s my husband and I, if necessary. If there is a washing machine, it also means fewer clothes to bring. When we book a hotel, we always call to check that they can provide what we need – baby amenities, a cot, a king-size or double bed.
When Emma was a baby, adjusting to jet lag wasn't too difficult because we just adjusted her naptimes and she got over it in a few days. However, as she got older, we had to work around her jet lag. That meant working our itinerary around her waking hours, starting our day while overseas at 4am and ending by 3pm. I think the general rule when travelling with young children, is to just go with the flow and focus on the fun bits. Don't let being unable to see everything you planned for   upset you. It's another reason why you should revisit a place again!
All in all, I was glad that Emma was such a good traveller. Ever since that first trip, we have taken her to Switzerland, Israel, Japan and also to nearer cities like Kuala Lumpur and Penang. I had so much confidence in Emma (and myself) that I even agreed to taking a flight from Zurich to Singapore with Emma all on my own!
Travelling with a second child in tow
With our second child, Eliel, we were even more gung-ho – his first flight was when he was just two-months-old. It is actually easier to travel with them the younger they are. All they do is feed, poop and sleep! Pop them in the carrier and we are ready to go! That was how we managed to visit Tokyo Disneyland with a two-and-a-half year old toddler and a three-month-old baby. We basically travelled in the same way we had done before with Emma, except now, we have no spare hands. Since Eliel is still nursing and is pretty much stuck to me, my husband is in charge of Emma and tending to her needs. We switch around when necessary, and just have to take turns doing everything.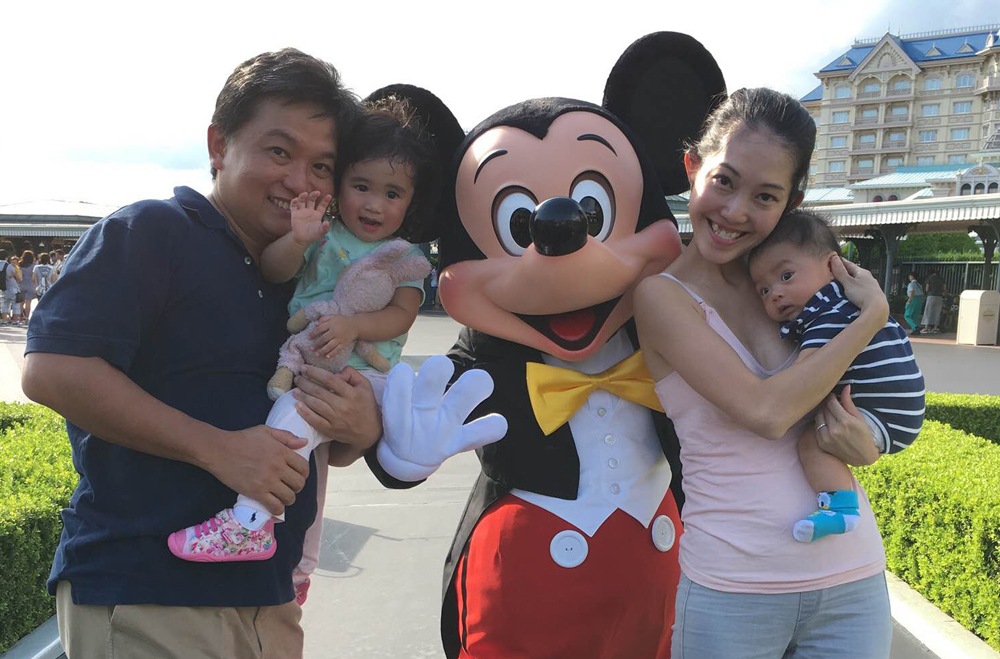 I am now a strong advocate of travelling with young children. The key is to prepare and plan well, but be spontaneous in case of changes to your itinerary. It is important to manage your expectations – you may not be able to visit all the attractions you had in mind or eat in the most fancy restaurants, but if you go with an open mind and just enjoy being in a foreign land with your babies, you'll be sure to enjoy your family vacation!
My tips for travelling with young children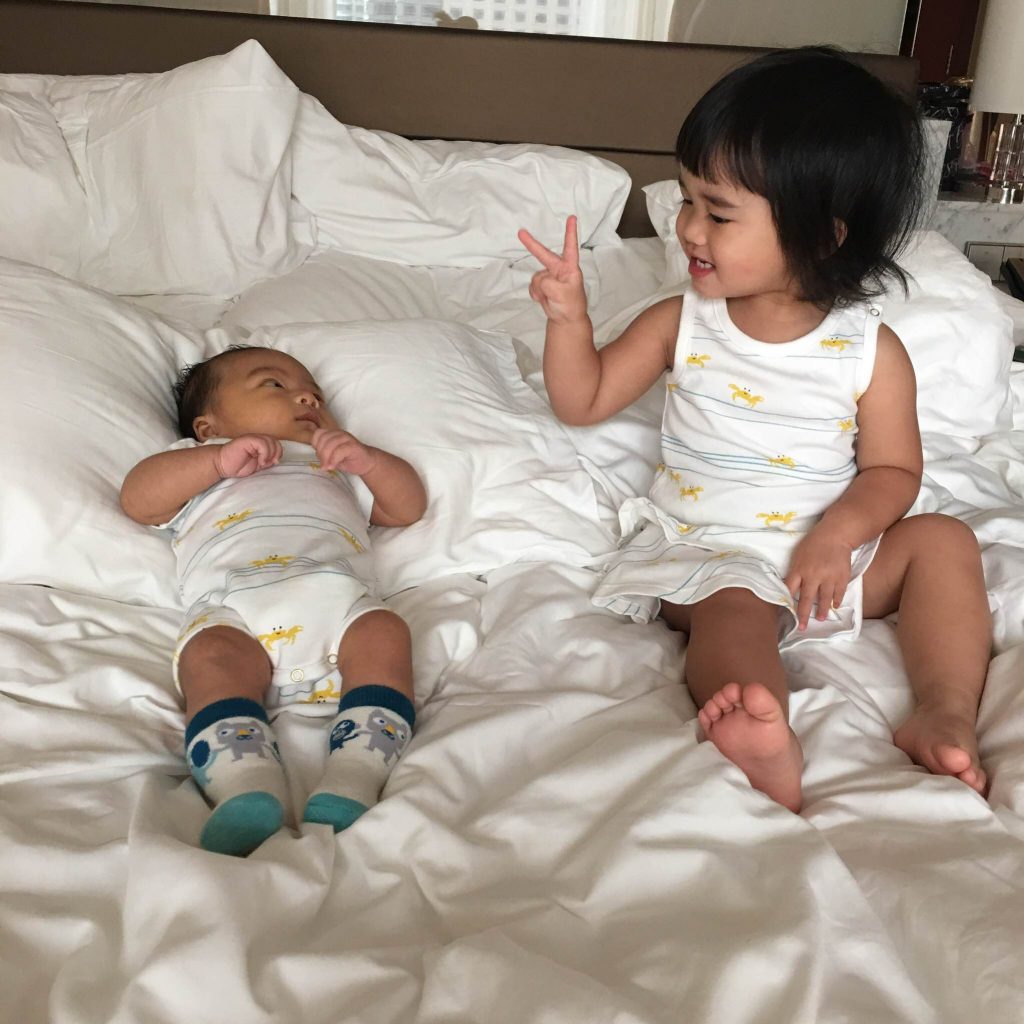 Before the trip
Sort out the flight and accommodation as early as you can – that includes securing the bassinet seat, booking infant or child meals, making sure the accommodation has a baby cot, baby bathtub and any special arrangements, preferences or items you may need.
You can bring baby food pouches and water for baby onboard. Check the airline regulations on this and pack the food pouches neatly in a large ziplock to help with the security checks.
Pack extra diapers and clothes on flights! This is a must for me ever since we took a flight from Kuala Lumpur to Singapore and Emma had the stomach flu. She vomited on the way to the airport in Kuala Lumpur, and started having the runs the moment we landed in Singapore. It was a good thing I packed extra clothes and diapers because she used all of them up. We have never rushed home faster. And to think, this was only for a 45-minute flight.
Bring a copy of your child/children's birth certificate. I have been asked by an immigration officer in Zurich to prove that that baby I am holding indeed belongs to me. I think this is to prevent child trafficking, which has become quite prevalent in some parts of the world.
During the trip
If you are not travelling alone, pass the liquids and aerosols (less the baby food) and electronic devices to your travel partner. This would help with clearing security checks since you would be occupied with the baby.
Toys may not be necessary, depending on the age of the baby. I brought a bag of toys on Emma's first trip, which I now realise is really not necessary. When she got older, she was more interested in the inflight magazines or random things she found. And once she started walking, that was all she wanted to do. We also let her use a tablet once she was old enough to watch videos and play some games on it.
To help manage the change in air pressure, you can nurse or feed the baby during take off and when descending. If your baby accepts a pacifier, you can also let baby take it, or offer older children a lollipop, sweet or something to munch on.
Stroller or carrier? Or both? That is also another personal choice, and sometimes dependent on where you are. Some cities are more stroller friendly than others. It also depends on your itinerary – is there a lot of walking, climbing of stairs, crowds where you are going? I usually prefer to babywear if it is going to be crowded where we are going.
If you do intend to bring a stroller though, I suggest getting one that can be folded to cabin-size. That way, you can handcarry it onboard instead of checking it in at the gate. That also means you don't have to waste time waiting for it at the gate when you leave the plane.
Layering is essential for both adults and kids when going to colder climates. You can then remove or add on layers as necessary. I tend to not wear as many layers when I babywear, and so does baby, since we transfer body heat to each other. However, I always carry an additional cardigan or sweater for baby and myself, in case it turns cold.
Read more about Calvina's travels and daily life with her two kids here.
Traveling overseas without your baby? Read how one mummy managed to bring her breastmilk home after a trip overseas here.