For larger Christmas gatherings, or those who prefer a cosier atmosphere, hold yours at home. Here are some great takeaway options to still have a delicious festive feast in the comfort of your home.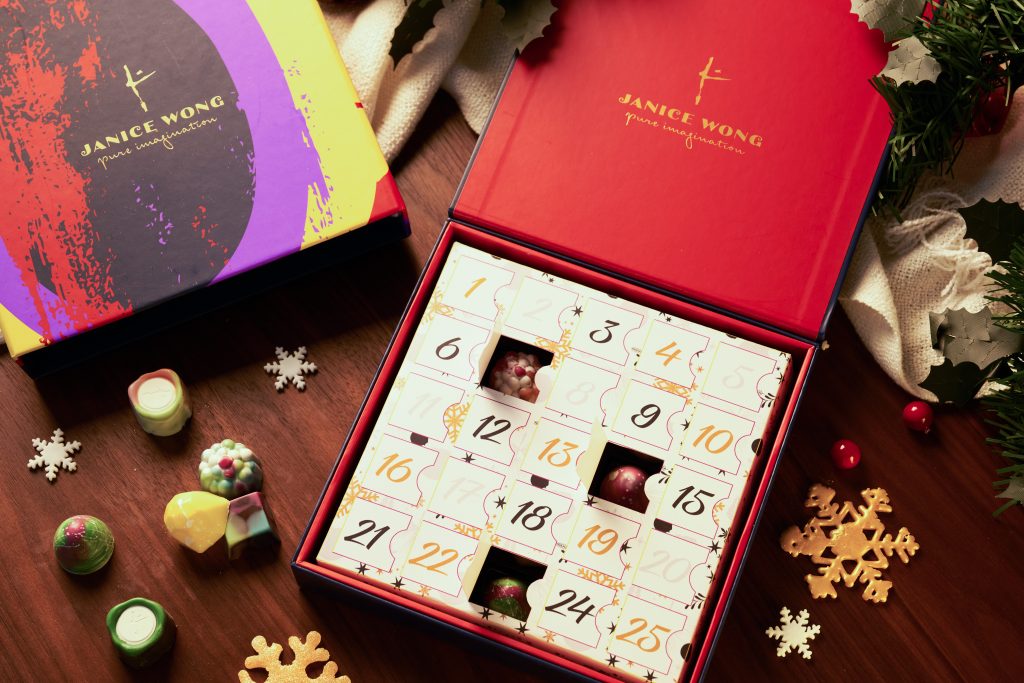 This Christmas, enjoy an amazing array of edible delights, from cakes, cookies, hampers to box sets at Janice Wong. Leading up to Christmas, try the Bean to Bar Advent Calendar ($98) that has 12 different Pure Imagination single-origin chocolate bars. Additionally, the Box of 25 Advent Calendar ($107) contains 25 chocolate Bon Bons in a range of flavours from the Christmas, Signature Singapore and Classic collections. 
For Christmas gatherings, takeaway the Santa Pom Pom Celebration Cake ($88) or the Christmas Tree Praline Chocolate ($228). Miniature versions include the miniature eye-catching Pine Nut, Starry Night, Christmas Wreath and Santa Hat ($12 each). 
Alternatively, a great gift might be a hamper ($80) featuring premium champagne, and Christmas confections in festive, limited edition boxes. These items are available online, at Janice Wong's stores at Great World, i12 Katong and Paragon, or Grabmart. 
Otherwise, take away these amazing sweet delights from Swissbake, and Marmalade Pantry. Starting with Swissbake, their festive sweets ($24.90 to $55+) include the Citrus Coconut Yule Log, the Chocolate Fantasy Yule Log, prepared with less sugar, and the award-winning Stollen. Similarly, the Marmalade Pantry has two new log cakes – the Classic Chocolate Truffle and Tangy Lemon Pistachio log cakes ($68+).
Throwing a party for your friends and family? Satisfy your festive cravings with Stamford Catering. The menu's highlights include the fruity pomegranate-hibiscus scented roast turkey ($15+ for 10 to 15 persons). After being marinated in a fruit and spice broth over two days, it's then stuffed with seafood, dressed, baked then delivered.  Other amazing dishes include the cocoa-crusted rack of lamb with chocolate and chilli sauce , the seafood Al Cartoccio and herb salmon wellington. ($58 to $88).
Finally, end off the meal with the golden double cocoa and orange "crossaint" butter pudding ($36+ for five to eight persons). Choose from the ala carte menu, the festive bundles, mini feasts, and gathering sets to cater to groups of varying sizes.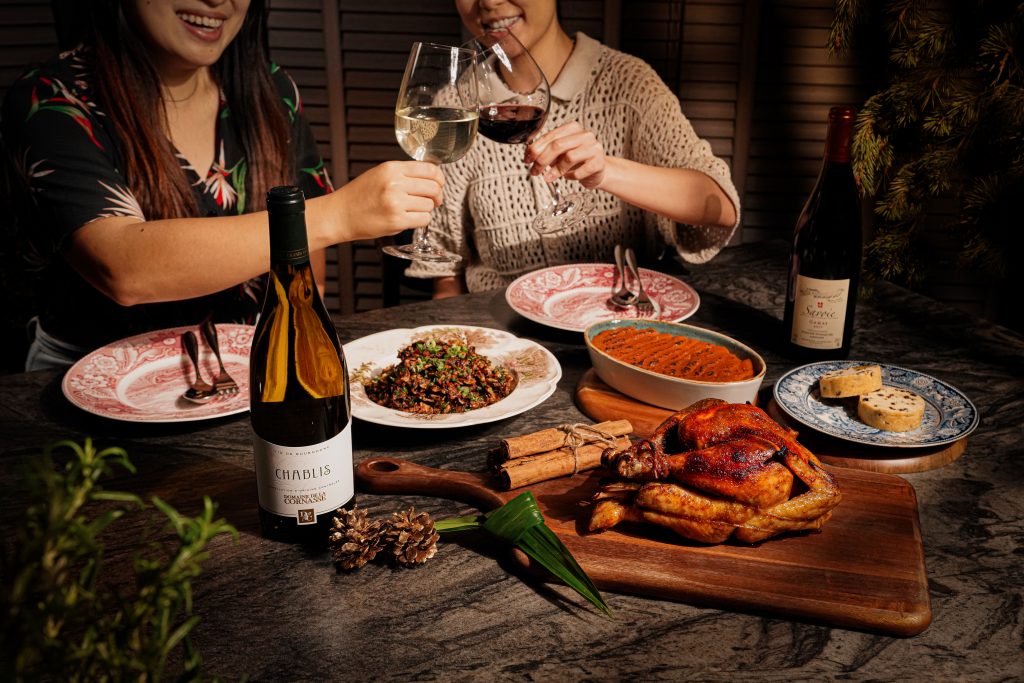 Four dishes are available only for takeaway at Rempapa this holiday season. These include Chef Damian's Roast GG French Poulet with Rempapa Spices ($90+; 1.3kg). Other dishes include the spiced meatloaf with sambal mashed potatoes ($90+; 1.2kg). Both are served with a side of Bubble & Squeak. Continuing the British inspiration, try the Spotted Dick with Gula Melaka Custard ($35+; 500g roll). This traditional British steamed pudding is cooked with beef tallow, brandy-soaked currants, orange and lemon zest, butter, brown sugar and milk. It is then served with crème anglaise sweetened with gula melaka.
For festive gifting, choose from Rempapa's kueh salat, bika ambon, kueh bingka or the sugee cake ($60 to $85+). All these Christmas highlights are available from 15 to 31 December 2022. For more enquiries, call +65 9459 1603, email them, or order via Oddle.
For home feasting, takeaway the Christmas honey glazed ham with roasted potatoes, cranberry sauce, grilled vegetables and applesauce, or the roasted turkey with chestnut stuffing. Apart from these roasts ($138 to $168+), treat your guests to the German Stollen, homemade Gingerbread house and two types of yule logs ($38 to $108+). 
Sofitel Singapore City Centre
Another option is Sofitel Singapore City Centre's takeaway menu. Highlights include the turkey with truffle butter, or the soy-glazed turkey ($172 nett). End off the meal with a range of artisanal treats like the new Framboise Mousse Cake, comprising almond sponge, raspberry jam, inspiration cream and jelly and Opalys vanilla mousse. Another new creation is the Noisette Noir Chocolate Hazelnut Log Cake (both cakes are $96) with a rich chocolate roll, Manjari dark chocolate crêmeux and mousse, hazelnut praline and chantilly cream. Other celebratory gifts and treats are available here from now until 23 December 2022. Save 15 per cent when you order before 9 December 2022 with the promo code EBXMAS15. 
Tablescape's inaugural Festive Deli Counter showcases the best of their festive takeaway menu, available from now till 1 January 2023 at Grand Park City Hall's lobby. This festive menu features main courses like the English-style Gammon Ham and the Chocolate Cranberry Xmas Bread ($58 to $168 nett). Meanwhile, festive tipples include the Mulled Wine at Singapore Sling (both $18 nett). Also available are the Festive set menus and Festive Afternoon Tea ($88 to $352 nett). Additionally, take part in the lucky draw for guests of the Deli Counter, with a minimum spend of $500. Stand to win prizes like a night's stay at Grand Park City Hall's Crystal Club Premier Room. Finally, get a gift bundle, with food and apparel options for your friends and family.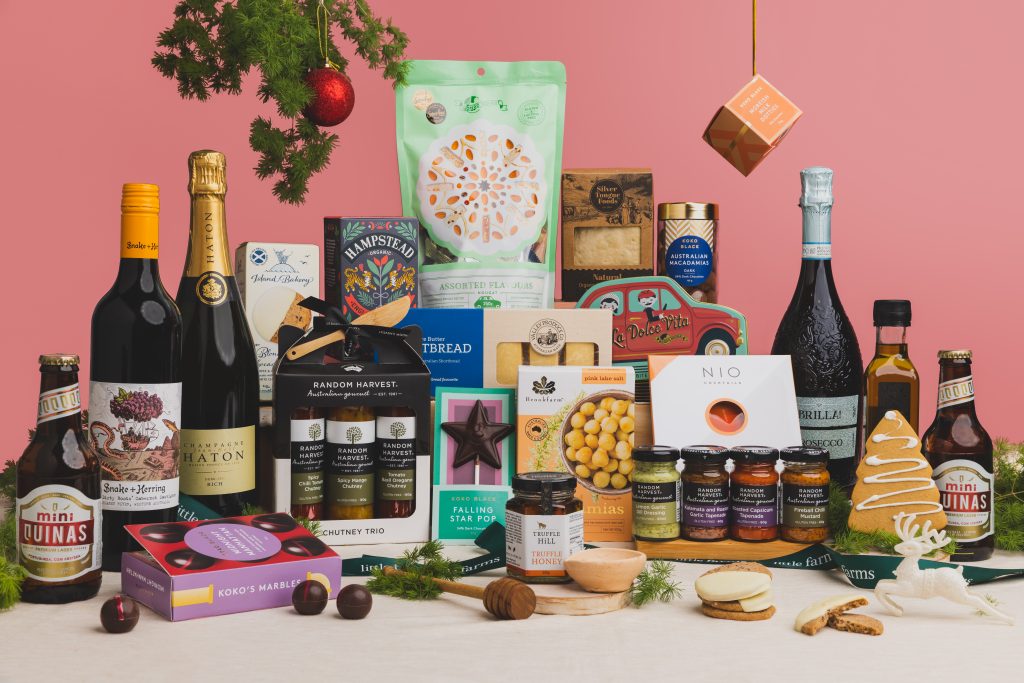 Start the Christmas feasts at home with Little Farms' high-quality and ethically sourced produce. Of course, the centrepiece will be the Christmas roast turkey (eight to 10 persons, $195), served with sourdough apricot and sage stuffing. It also comes with turkey gravy and homemade cranberry apple compote. Other items available for takeaway and delivery are the pineapple and honey glazed ham, O'Connor boneless prime beef rib roast, and Butcher's Porchetta ($228 to $268). Complete this spread with sides like the Heirloom cauliflower and broccoli cheese gratin, and rosemary and garlic duck fat roasted potatoes ($28 each). For sweet treats, get the pumpkin pie, Christmas fruit cake, or the Black Forest log cake ($30 to $80). 
Rounding this off are Little Farms' gift hampers. Choose from the Classic Christmas, Plant-based basket and the Ultimate Celebration Hamper ($80 to $500) or the Festive Baked Goods Gift Box ($90). Otherwise, put together your own customised holiday hamper starting from $80. Call +65 9018 3940 for orders and enquiries or email them. 
From now until 2 January 2023, Goodwood Park offers glorious yuletide cakes and pastries ($68 to $98 nett), starring the all-new festive Tropicana Log Cake. Other options include Pink Party Christmas tart, Jolly Holiday travel cake and a Christmas durian combo. 10 per cent of the sales of the Christmas log cakes will be donated to the Straits Time School Pocket Money Fund. Next, the three-tiered Christmas tree set and two-tiered carousel set ($88 to $118 nett) are perfect for a cosy family or friend gathering. Additionally, Goodwood Park also offers Asian-inspired interpretations of turkey ($40 to $338 nett), with the Chinese-style braised whole turkey with braised eggs, peanuts and homemade chilli sauce. Alternate selections include a mini curry turkey pot pie with onions and potatoes, wok-fried carrot cake and DIY turkey popiah.
Relevant Reads:  Christmas Feasts