An invitation to go on a mindful retreat with the kids has created a special bond for Charlyn Ding and her daughters. She shares her story.  
I was almost falling asleep when I got a ping from Mummyfique's marketing director, Gidania Wong. She asked if I would like to represent Mummyfique on a parent-and-child retreat organised by Holidays with Intention. It didn't take much convincing when I looked at the programme. It looked amazing. In the morning, kids and adults have their own separate activities, and then they all get together for lunch, and the afternoons are for your own family explorations – perfect. 
As I travelled frequently to review retreats, I am plagued by mum-guilt when the kids are left at home. This retreat however, gave me the sweet opportunity to do a trip with them. We were ready for this holiday with an "intention". I pulled both my daughters out from school for a week, and we were all set to go. Needless to say, the girls were very excited about their first mum-and-daughters trip.
The First Day

The first morning, we started off the retreat with a circle formation. I was a little nervous as I haven't met anyone before in this group. I did not know what to expect, living with this group in this huge villa estate, for the next six days.

Melissa Indot, the co-founder of Holidays with Intention, started the circle by jumping straight into song. She sang "Ho'oponopono" a traditional Hawaiian song. This mantra has four lines: "I"m sorry. Please forgive me. Thank you. I love you." 
The kids were silenced, all 22 pairs of eyes were on Melissa. A mum started sniffing. Such a simple song, but when Melissa sang it, I was totally engulfed with goosebumps. That set the tone for this retreat. All my nerves were washed away, and I knew that we were in for a treat. We introduced ourselves, and we set out to take the kids to the FrontYard Playschool.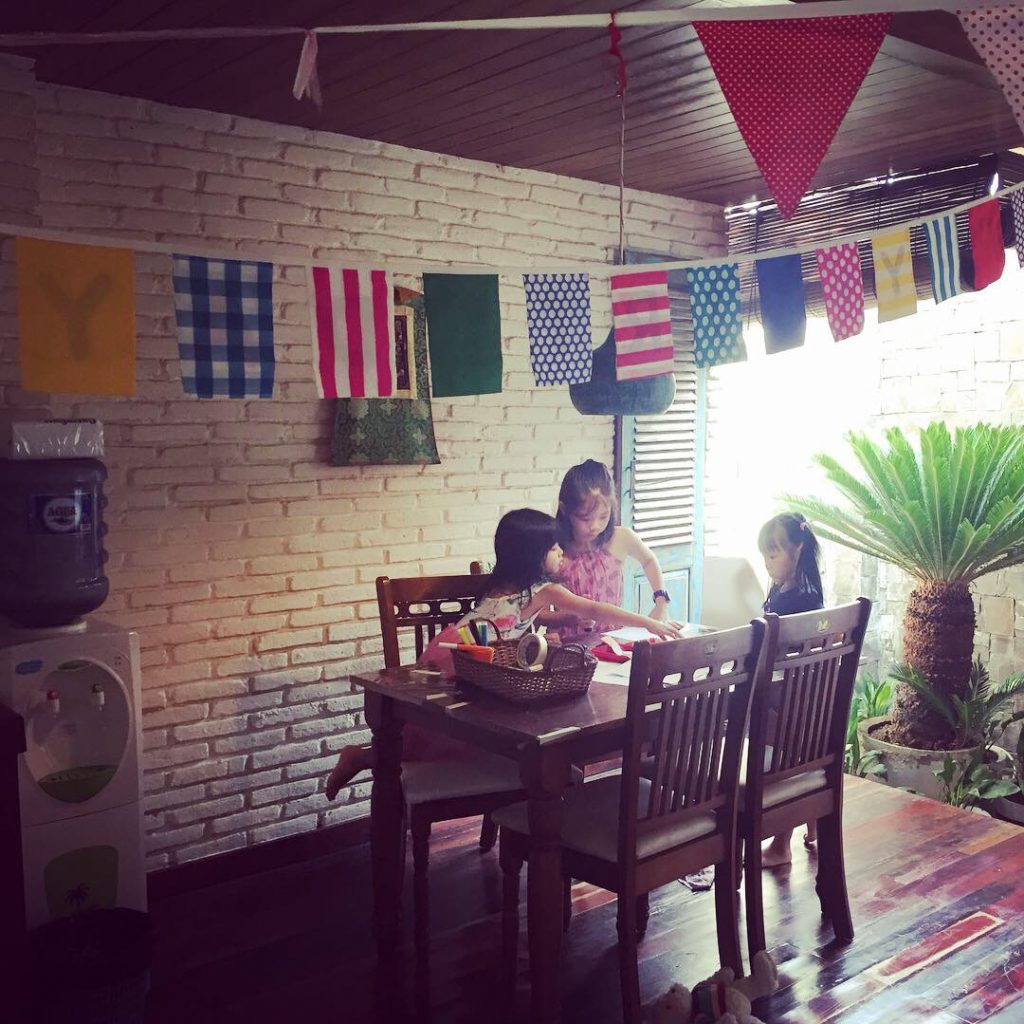 The FrontYard Playschool
The FrontYard Playschool was set up by Ping and Tracey. Ping is the founder of FrontYard School and Tracey is a former Montessori teacher. Both of them had planned an activity-rich program for the kids. The children in this group, ranged from nine months to seven years. Caring Balinese nannies assisted the teachers. It was a great set up for kids of different ages to play and learn from each other.
 
On the second day when my girls came back from school, I asked them what they had learnt. "Respect," Ava and Mya replied in unison.  

I knew then, that it was the right decision to come here. The teachers were doing a great job – values were being instilled in them, without teaching them.
The Daily Grind
A typical day started with breakfast in the morning, then the kids jumped on the schoolbus to the FrontYard Playschool. They did craft and physical activities like walks on the beach, gymnastics or dance, and music. The parents would start a 90-min yoga session at 9am. You got to kick back after, to enjoy "me" time, or catch up on emails. The kids would come back to the villa for lunch, and we would move on to our own activity in the afternoons.
 
All our meals were prepared and served in the villa. We were fed wholesome food, with options for my gluten-free, egg and dairy-free diet. Bali is also famous for its delectable cafes and restaurants, so some of the mums made arrangements to try out certain cafes in Bali. We had a good time eating at Genius Cafe, which was a stone's throw away from the villa. It served great coconut shakes, and creative salads. The plating and setting on the beach was Insta-worthy for sure.
 
During our free time in the afternoons, the different families went off to galavant on their own. My daughters and I hung out at the pool and swam everyday. Bali really has a lot to offer – our friends went off to visit temples at Uluwatu, the waterfalls in Ubud, shopped in Seminyak, and visited museums in Kuta.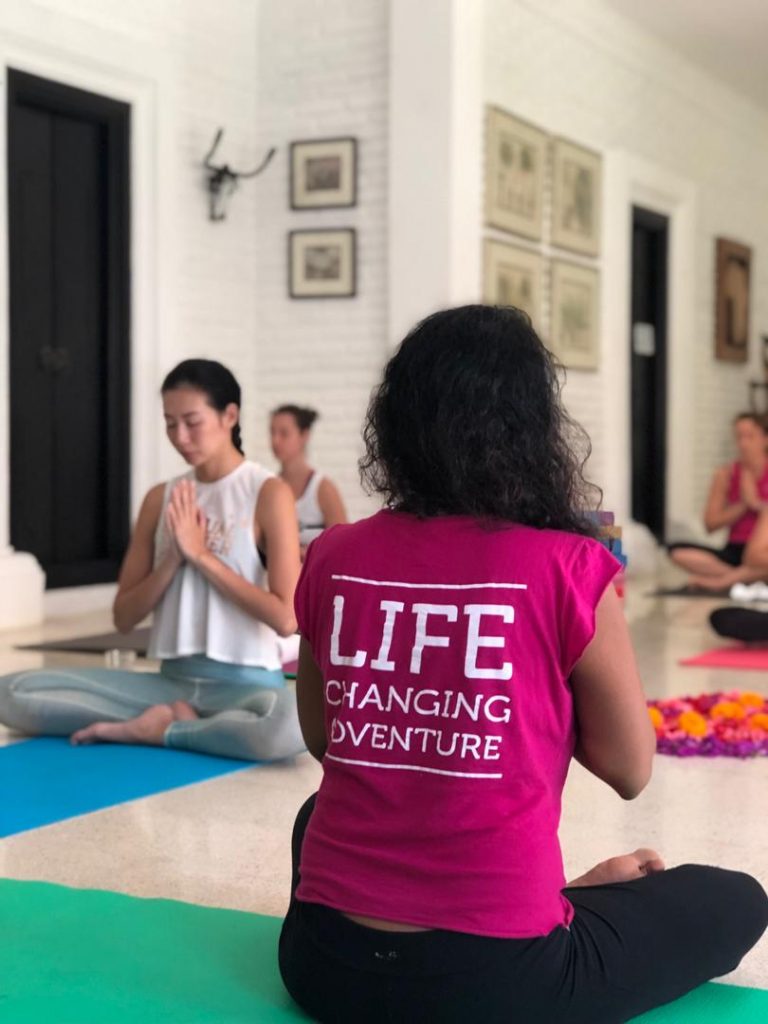 The Parent Workshops
There were two evening workshops for the adults on this purposeful retreat: The Serenity Vibration Healing Workshop, and the Intuitive Music Programming Workshop. Both were great for first-timers and seasoned retreat goers. It helped me be more attuned with myself, aided with the soul-searching process and more importantly prompted change. I thoroughly enjoyed both the workshops, especially the latter. Melissa would play and sing songs in the program, and we would reflect on certain topics with those chosen songs.  
The Location 
Bali, the beautiful island with its kind and welcoming people was the perfect choice for this purposeful retreat. The nature and cultural attractions are uniquely Bali, the sunsets were gorgeous, and there's something magical that happens always, whenever I visit – this time it was the amazing trip by Holidays with Intention.
Self-growth
And just like how we started off  this holiday with intention, in a circle, we ended the trip again with one. I got a little emotional saying goodbye, but I had an amazing time. I would recommend this trip for any mum, whether or not you do yoga. A couple of mothers on this trip never did yoga before and loved it. Post holiday, one of them, May, has even signed up with a studio in Singapore, to continue her yoga journey. She shared:"I"m committing myself to wellness, because five days of yoga mornings in Bali, has given me the motivation to self-care." 

Holidays with Intention is a perfect getaway for mums and dads with children, and it forged a special bond between my daughters and me.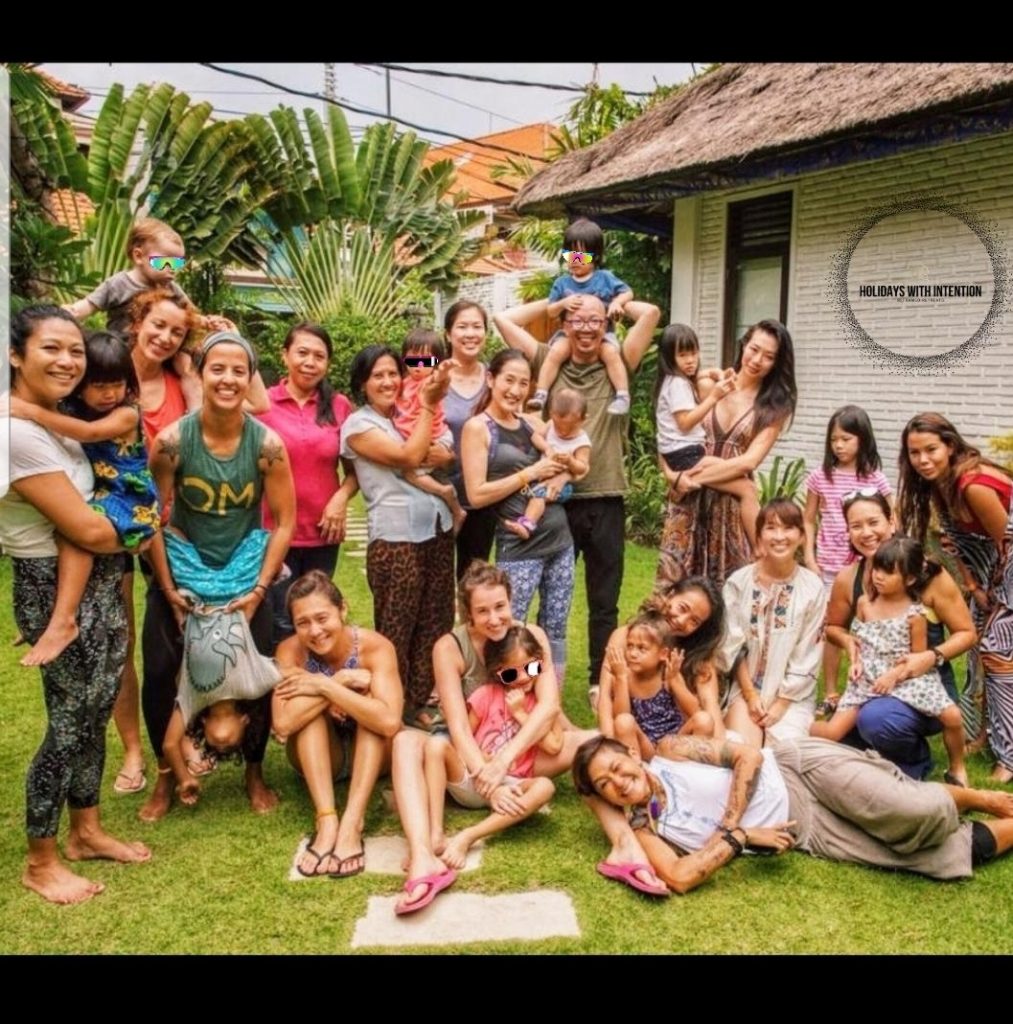 The Friendships
There is one thing that made this trip especially memorable – and that was the newfound friendships that both myself and my daughters have made with the other mothers and their children. My daughters have already invited *Mabel and *Sandy to a birthday party in June, and the mums from Singapore have also organised a reunion yoga session.
*Names have been changed to protect the privacy of the children.