You've worked hard on your kid's costume (or bought it), you've decorated your home and started a fire in your child in anticipation of a wicked Halloween but where do you go? Well, you're in luck mummy. We've scouted and found spooky (and not-so-spooky) places to take your little monsters this Halloween.
Woodlands Woodgrove Trick or Treat
Remember when the kids on ET got all dressed up and went door-to-door to trick or treat? Well, you can do the same at Woodlands Woodgrove. This is probably the only place in Singapore where you will get that experience thanks to the large American community that reside there. Every year, the generous residents at Woodgrove volunteer to fund for this event and welcomes families all across Singapore to in on some trick or treating fun
Where: Woodlands Woodgrove Avenue
On: 31 October 2017
From: 5.30pm to 8pm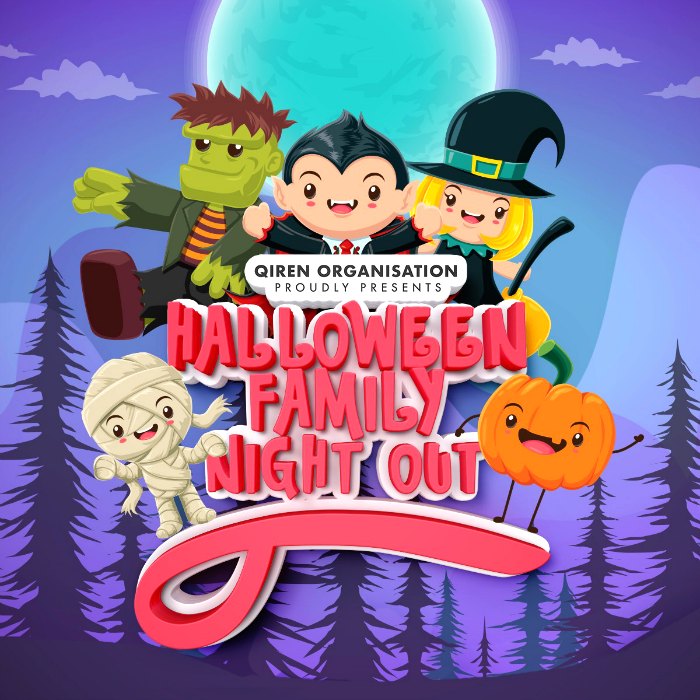 KidZania Halloween Family Night Out
Halloween Family Night Out is said to be the biggest family-friendly Halloween event in Singapore. It is packed with fun-filled interactive games for the kiddos. You and your kids can trick or treat through the candy forest, get your face painted, sit in on immersive storytelling experiences or take a trip down memory lane by trying your hand at traditional carnival games.
Where: KidZania Singapore
When: 27 to 28 October 2017
From: 7pm to 11pm
www.halloweenfno.com/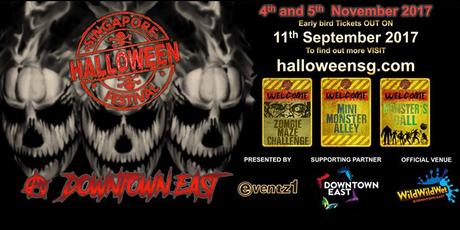 Singapore Halloween Festival
Singapore Halloween Festival is back again and this time, it is at Wild Wild Wet! Outrun zombies in the maze, gather immunity vaccines, strategise to close the gates of hell in Panic in the Park and head down to Mini Monster Alley for family activities and performances. Head to the Monster ball where you and your kids can jam out to the various artists performing after dark.
Where: Downtown East
When: 28 October to 5 November 2017
From: 10am to 10.30pm
www.halloweensg.com/


SAFRA Punggol Demon House
If its spine-tingling scares that you seek SAFRA Punggol is where you want to be. The club went through an all out demon house transformation and fitted with 5D effects. Don't miss it!
Where: SAFRA Punggol
When: 27 to 28 October 2017
From: 7.30pm to 12am
www.demonhalloween.com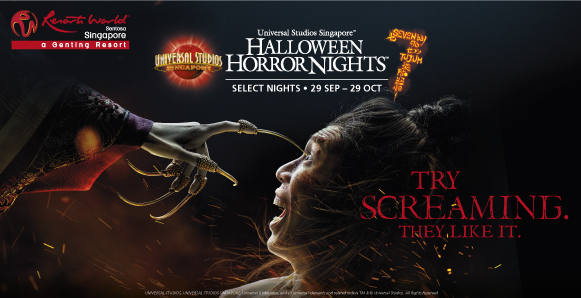 Halloween Horror Night 7(This one's not for kids, but a great date night alternative!)

This highly anticipated event is back again with another installment and the word on the street is it's scarier, smellier, and terrorific. This year, brace yourself as you face your fears at the Pilgrimage of Sins; with 7 new deadly sins unleashed in the scare zones and many houses to scare the bejeez outta you! Also, join the first ever Zombie Laser Tag mission to help control the outbreak of Zombies, its you or them, so make it count!
Where: Universal Studios Singapore
When: 29 september to 29 October 2017
From: 7.30pm to 12.30am or 7.30pm to 1.30am
www.halloweenhorrornights.com.sg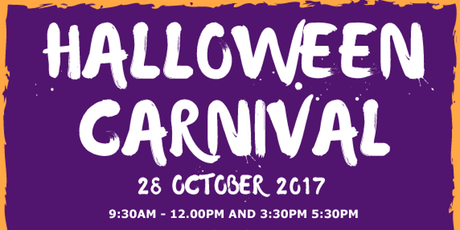 Kaboodle Halloween Carnival
Kaboodle is hosting a Halloween party for children to enjoy and learn through play. Kid-friendly activities such as sticky fingers sensory and craft, game stations, photo booths and a spook-tacular house await the little monsters.
Where: Kaboodle
When: 28 October 2017
From: 9.30am to 12pm or 3pm to 5.30pm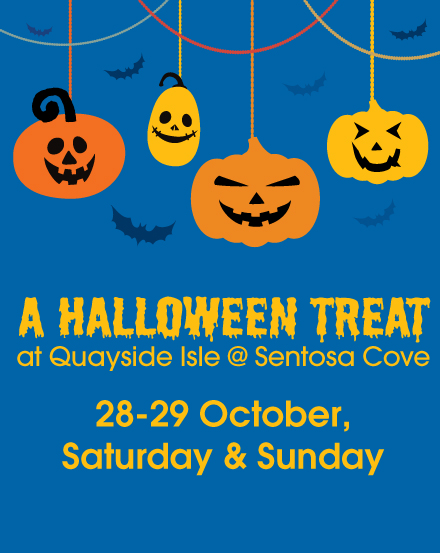 A Halloween Treat At Quayside Isle @ Sentosa Cove
Quayside Isle @ Sentosa Cove will be transformed into a spooky spot this Halloween. Popular Halloween activities such Pumpkin decorating, face painting are on their list of things to do. Also, roam around in search of Dracula or enter the Sabio Haunted House.
Where: Quayside Isle
When: 28 to 29 October 2017
www.quaysideisle.com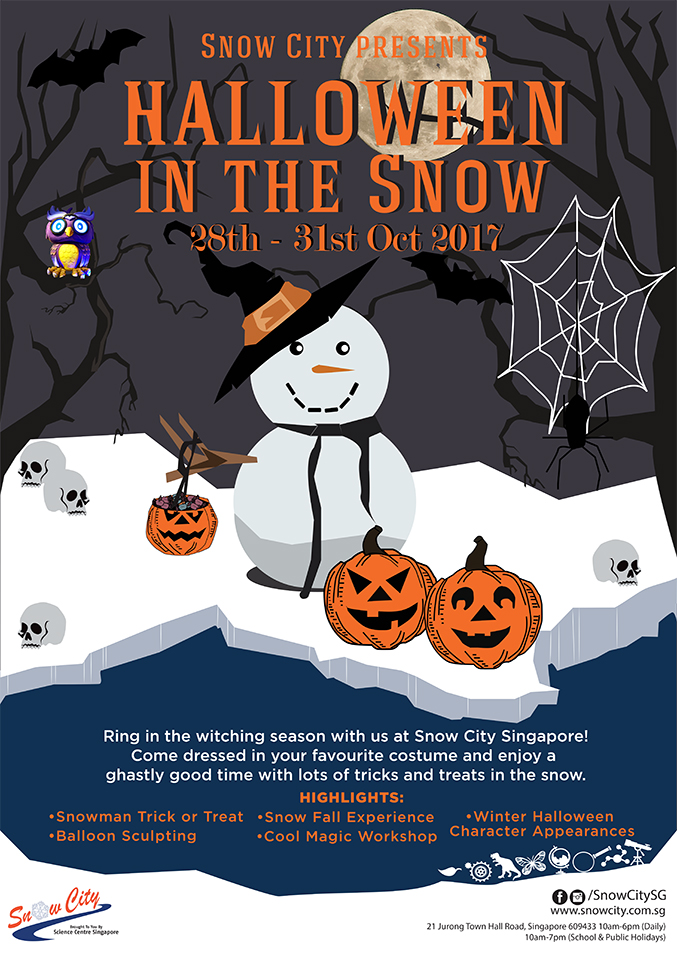 Halloween In The Snow
Love Halloween but hate the heat? Step into Snow City Singapore to experience snowfall and a blizzard this Halloween. Join Halloween characters for balloon sculpting and snow tubing activities, participate in the cool magic workshop with dry ice and liquid nitrogen.
Where: Snow City
When: 28 to 31 October 2017
From: 12pm to 4pm
www.snowcity.com.sg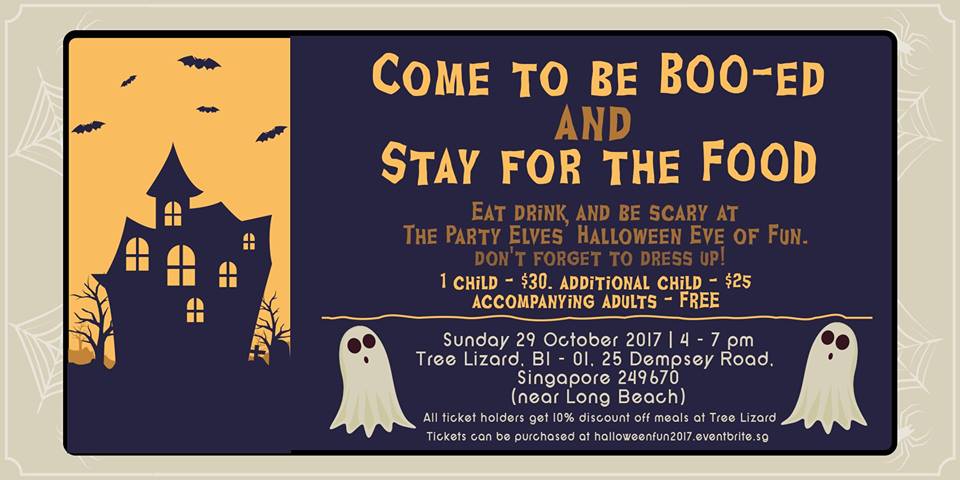 Halloween Eve Of Fun By The Party Elves
Have a picnic over at Tree lizard for some family-friendly fun. From apple bobbing to broom and balloon relays to mystery box walk, it is a welcome change from all the spooks.
Where: Tree Lizard, Dempsey Rd
When: 29 October 2017
From: 4pm to 7pm
www.facebook.com/ThePartyElves
Well, there you have it, mummies. If we've missed an exciting must-do, tell us! We want in on the good stuff! Happy Halloween.