The time of festivities continue as we usher in the Year of the Rabbit come 22 January 2023! Malls are a-blazing and events are popping up in troves all around the island. There's just so much to see and do this year with the family! Check out Mummyfique's top picks of fun-filled activities to do this Chinese New Year!
Bountiful Blossoms – Great World City (6 January to 5 February 2023)

Aside from restaurants in the mall offering up their best deals this Chinese New Year, Great World presents the Great Rewards Members' Exclusive with a sure-win Prosperity Spin! Simply log into the Great Rewards app daily for your free spin. How about gifting an e-ang pow this year? Receive 888 Great Rewards points with a minimum of S$50 Great Rewards e-vouchers purchased in a single transaction and when you e-gift these vouchers (any value) to loved ones, family, and friends! Visit shop.greatworld.com.sg for more information.
Want more? Check out one of the many events happening in the mall! Bask in New Year festivities with an array of auspicious floral creations from MOSSCAPE or shop the finest Food and Home for the New Year at Marks & Spencer's Spring Fair. On Friday, January 27, 2023 at 12pm, catch an Acrobatic Lion Dance Performance, symbolising luck and prosperity, to kickstart this bountiful year! All the above events are held at the Level 1, Atrium of the mall. Get the most out of your Chinese New Year shopping and enjoy all the dining deals at Great World too!
Chingay Parade 2023 (3 & 4 February 2023)

Join in the Chingay spirit as it strides into the first year after its Golden Jubilee! This year, the event presents an entirely different experience of arts, culture, and heritage set in a musical format to mark a new beginning. Chingay Parade 2023 completes the trilogy that began with 2021's "Light of Hope", followed by 2022's "Ignite Our Dreams" and 2023's "Embrace Tomorrow". It calls on Singaporeans to treasure the present and embrace tomorrow together as a community with hope, dream, and confidence.
Indulge in the colourful and vibrant Chingay Parade brought to you by the diverse talents and multi-ethnic community. The event will be performed in front of a street-style container art backdrop that is co-created by youths. You'll be enticed by the return of the iconic Chingay floats and 17 community co-created mini floats. These exemplifies our strong community spirit and togetherness. Tickets start from S$20 excluding booking fee. PAssion card members enjoy 20% discount. Get your tickets here.
Dahlia Dreams 2023 (13 January to 26 February 2023)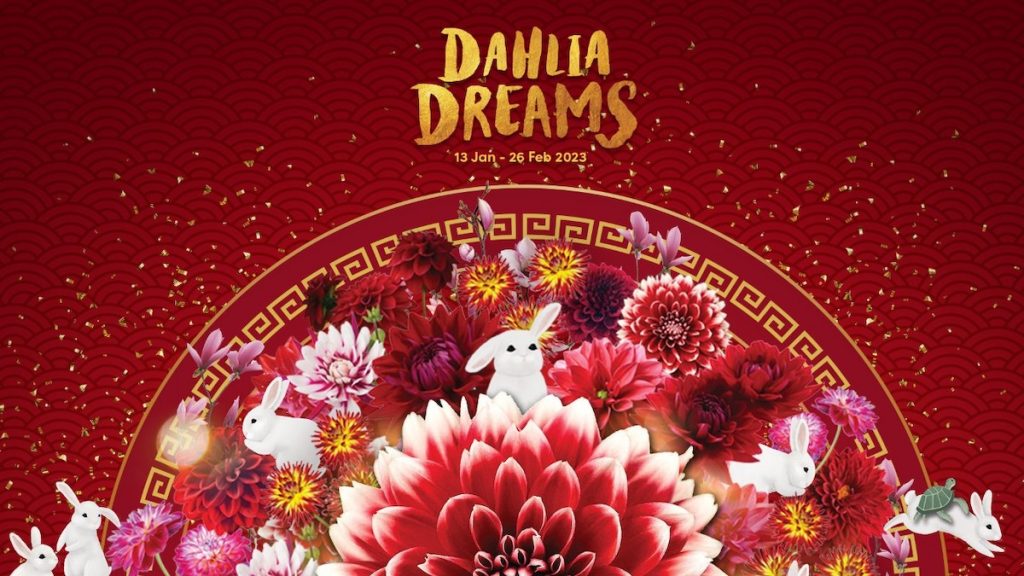 This Chinese New Year, you can look forward to ushering in the Year of the Rabbit with 100 rabbit figurines as they take centrestage at Gardens by the Bay's Flower Dome! This display is part of the annual Chinese New Year floral showcase, Dahlia Dreams. A homonym of the term '白兔' (white rabbit, bái tù), these 100 rabbits, or '百兔' (băi tù) will be frolicking among more than 2,000 plants! These include 40 varieties of vibrant dahlias all grown in-house by the Gardens' horticulturists. There are also popular Chinese New Year blooms such as celosias, chrysanthemums, cymbidiums and pussy willows on display.
You'll also be enchanted by elements such as the centrepiece of the floral display, an iconic River Hongbao lantern set. It features a majestic magnolia tree in the shape of the word 'rabbit' in Chinese (兔, tù). Integrated into the floral display will also be an interpretation of the Aesop's fable, "The Hare and the Tortoise". There are also aspects of Chinese culture such as paper-cutting, lion dance, Chinese New Year goodies and spring couplets. Get your tickets here.
Hop Into Fun At Universal Studios Singapore (13 January to 5 February 2023)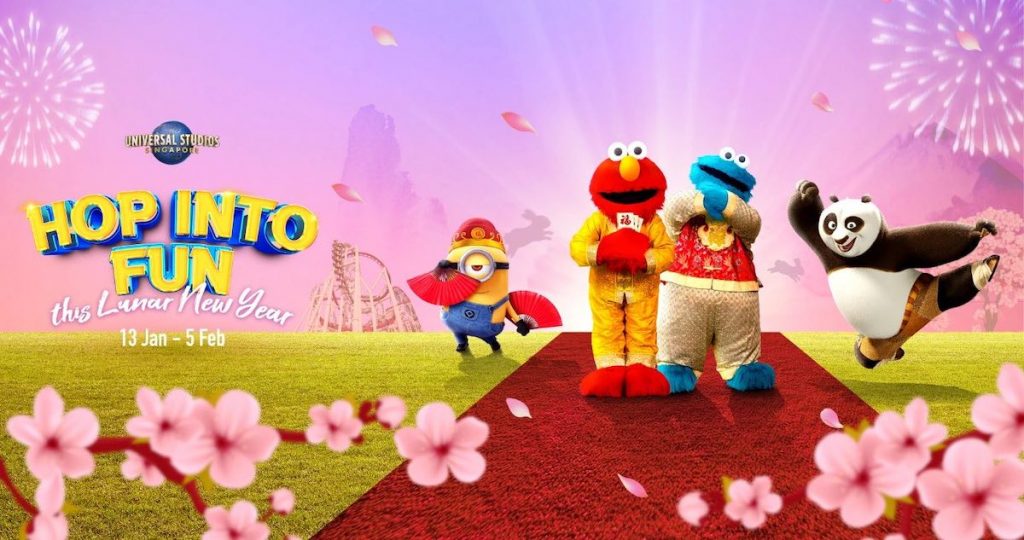 Jumpstart the Year of the Rabbit with a bountiful variety of fun-filled activities! Snap spring-inspired selfies along the cherry blossom street and exchange auspicious greetings with your favourite characters. You can even grab a lucky Ang Bao too! Join Elmo, Oscar, Abby and Cookie Monster at the New York Public Library, as they add ingredients and blessings to the yusheng dish. Let's bring on extra wealth and prosperity, and toss to a year of abundant luck! The Dance of the Dragon lights up the night in majestic fashion with a neon dragon, colourful new dragon poi, as well as dancers and drummers wearing brilliant LED lights. More information here.
Chinatown Chinese New Year Festival (Now to 19 February 2023)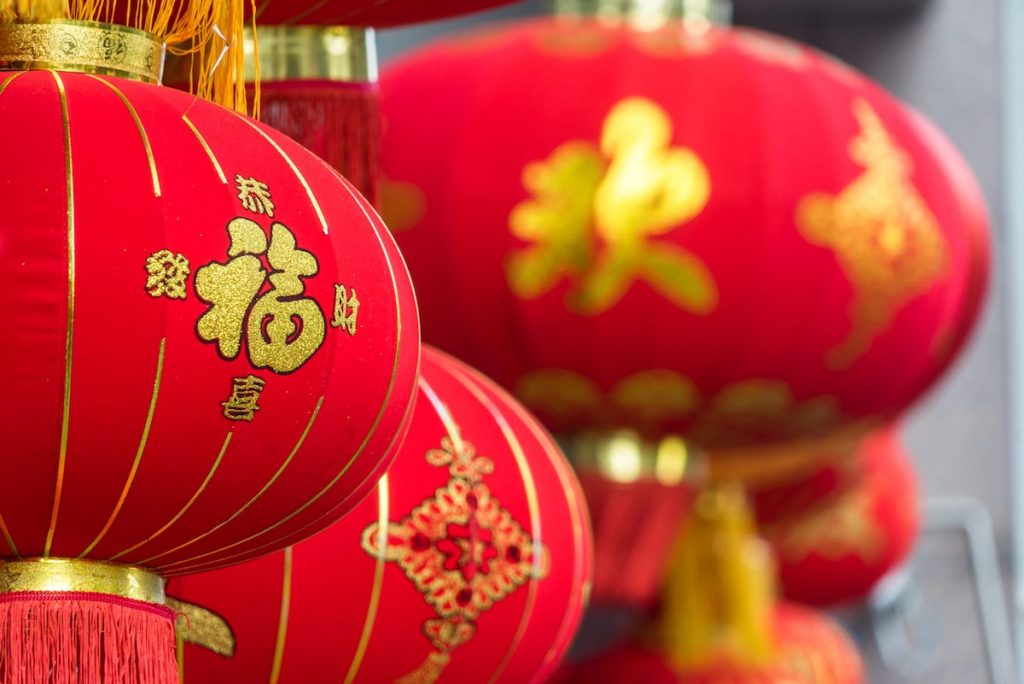 The Chinatown Chinese New Year Festival returns on site with a street light-up, food and festive fairs, and weekly stage shows, as well as a countdown party. The official street light-up will take place at Kreta Ayer Square on 3 January. However, the lights will be switched on nightly until 19 February 2023 in New Bridge Road, Eu Tong Sen Street, South Bridge Road and, for the first time, Upper Cross Street. This year's festival is themed "Leaping into the Prosperous Year of Rabbit", to signify a year of rebirth, resurrection and vitality.
The countdown party will be held on 21 January from 9pm to 1am at Kreta Ayer Square. You can also bask in the festivities at the Chinatown Festive Fair will be held in Pagoda Street, Smith Street, Sago Street, Temple Street and Trengganu Street. Activities are happening from now to 21 January 2023, from 6pm to 10pm. For the first time ever, you can visit the Chinatown Food Fair on Smith Street! There will also be festive-themed weekend workshops, including a hongbao lantern-making workshop on 7 January, at the Chinatown Visitor Centre. More information here.
Spring In The Sea at S.E.A Aquarium (13 January to 5 February 2023)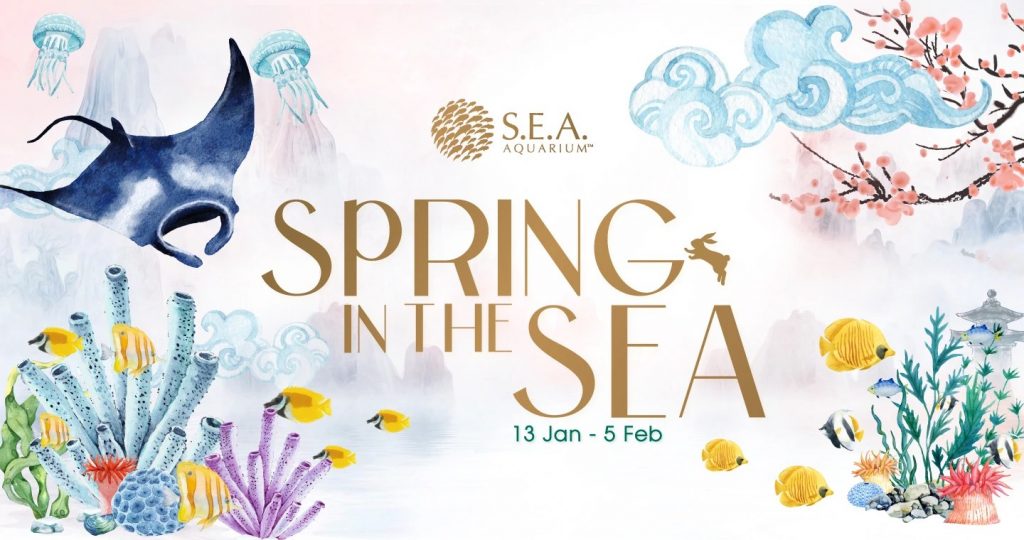 Delve into a bountiful Year of the Water Rabbit with 100,000 marine animals at the S.E.A Aquarium! Discover the eight auspicious stars' symbolisms along the Trail of Fortune. These include the fox face rabbitfish and learn about their amazing traits. Roaring back after a three year hiatus, auspiciousness takes centrestage at Singapore's one and only underwater dragon dance. Gather around Ru Yi the Mermaid as she shares how we can conserve the seas' pristine treasures! What's more, you can meet adorable manta mascots to complete the celebration! Get your tickets here.
Wan Qing Festival Of Spring (Now to 19 February 2023)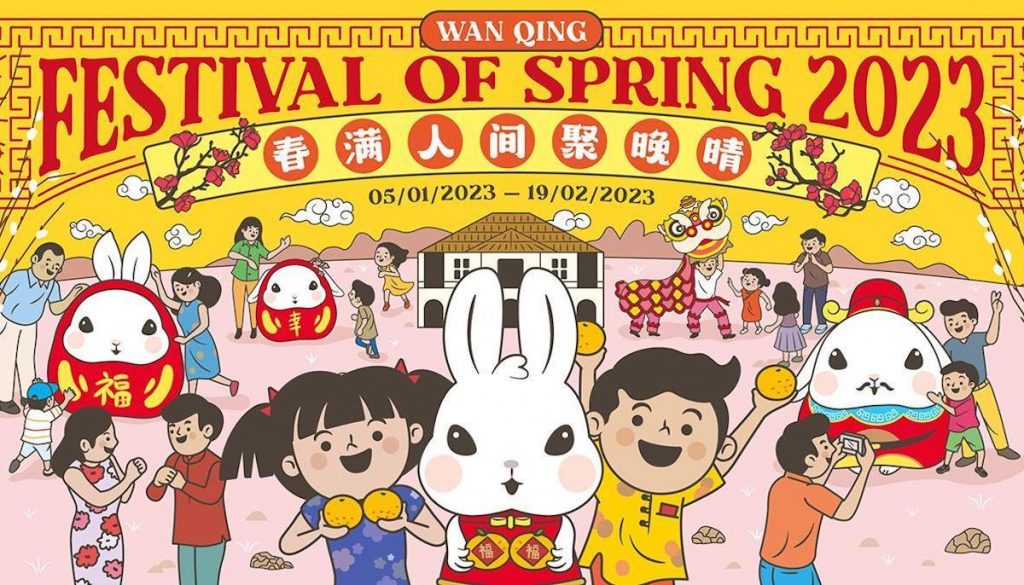 Celebrate the Year of the Rabbit at Sun Yat Sen Nanyang Memorial Hall (SYSNMH) with Wan Qing Festival of Spring 2023! Join in for a spirited weekend as we celebrate the spring festival with an exciting line-up of programmes and activities, suitable for all ages. Expect family-friendly offerings such as lion dance and festive drumming workshops, temple tours and heritage trails, storytelling craft activities for the little ones, and more! Finally, capture your Lunar New Year OOTDs with us at the adorably ginormous rabbit installation of Bit Bit Forest! The fun never stops at SYSNMH. For more information about the Wan Qing Festival of Spring 2023, please visit SYSNMH's website (https://www.sysnmh.org.sg/en) and Facebook page (https://www.facebook.com/sysnmh) throughout the festival period. Do note that ticketed programmes will only be available for purchase at www.wanqingyuan.peatix.com from 6 January 2023, 10am onwards.
Pokémon Spring Celebrations at M Malls (Now to 15 February 2023)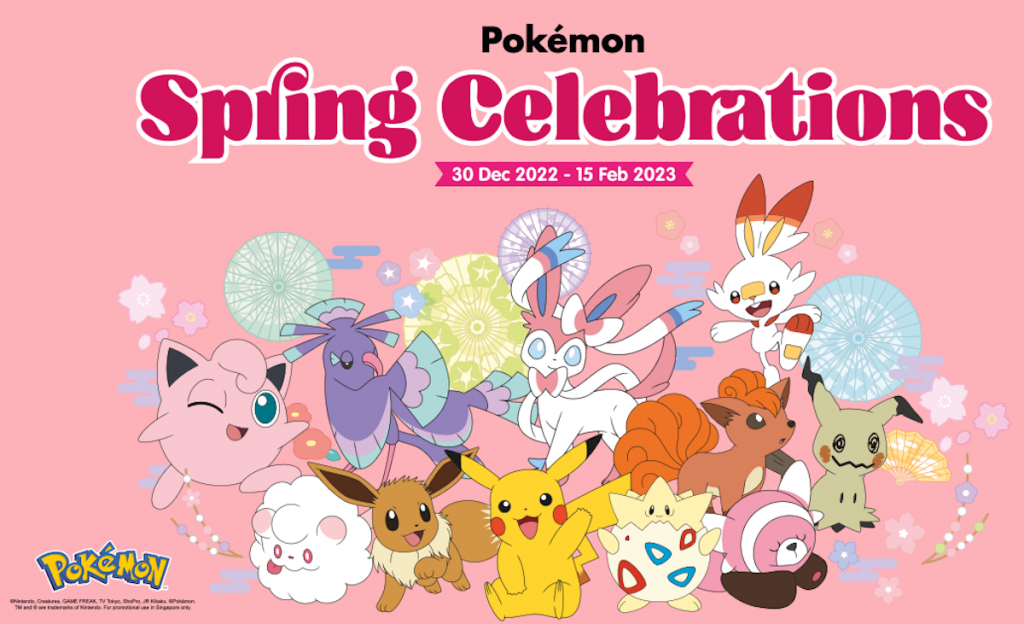 Pokémon fans will be thrilled with these special perks at M Malls this Chinese New Year. To start off, spend S$88/S$178 (FairPrice receipts) to redeem a pack of Pokémon Red Packets. As well, you can participate in the Festive Draw with every S$28 spent (excluding FairPrice receipts) to stand a chance to win an OSIM uDream Pro Well-Being Chair and other attractive prizes. More information here.
(Tu)Gether Art Installation at Singaopre Chinese Cultural Centre (Now to 31 March 2023)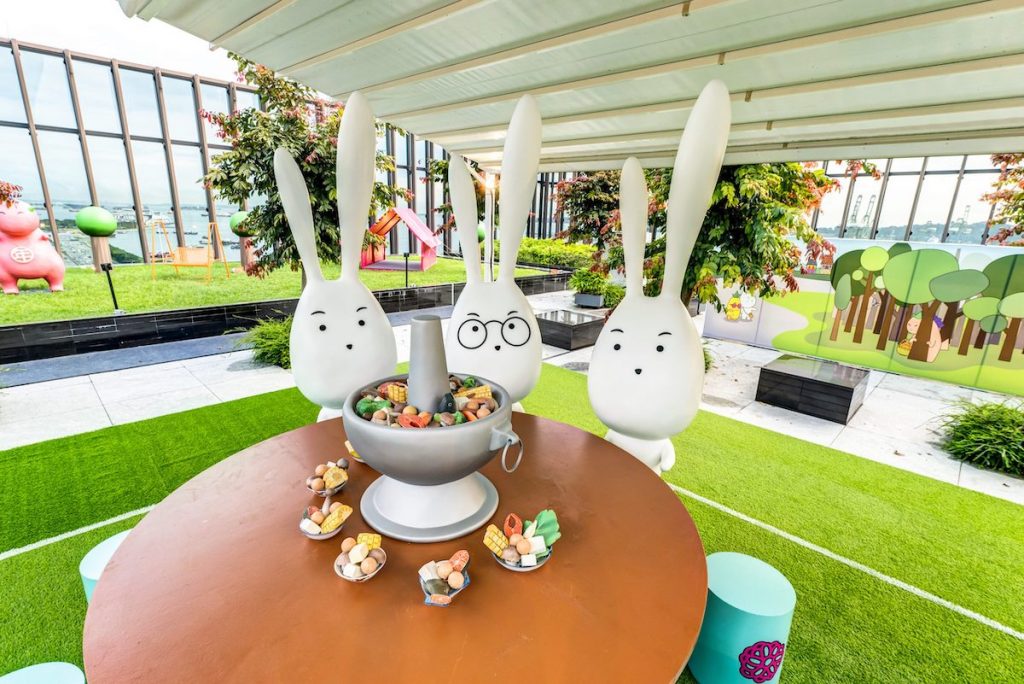 Singapore Chinese Cultural Centre's Roof Garden comes alive with a spectacular rabbit-themed art installation exhibition to welcome the Year of the Rabbit. Entitled 兔gether, the art installations present a cast of characters from Chinese New Year mythology. Local Chinese New Year practices enjoyed together with family and friends are showcased by these characters. 兔gether exhibition is held at the Singapore Chinese Cultural Centre Roof Garden from 18 December 2022 to 31 March 2023 from 10am to 10pm daily. On selected Saturday evenings, visitors can also look forward to special light shows with narration of the story of Tu Zai's journey home to celebrate Chinese New Year with his family and friends. Admission to both the exhibition and light shows are free. Click here for more information.