In celebration of Negroni Week and the upcoming Father's Day, we thought what better story to end the week than with four delicious Negroni recipes that we just know the dads out there would enjoy. While we love our traditional Negronis (equal parts Gin, Campari and Sweet Vermouth) but there's no harm in shaking things up once in awhile. So we enlisted some help from the guys at the fantastic Manhattan Bar at Regent Singapore — they're ranked 35th on the World's 50 Best Bars 2015 list and 5th on the Asia's Best Bars 2016 list so they certainly know their stuff — and got them to share four recipes for four very different types of dads. If you're looking for something to impress dad this Father's Day, we're sure one of these drinks will do the trick.
THE SPORTY DAD — BLACKWOOD NEGRONI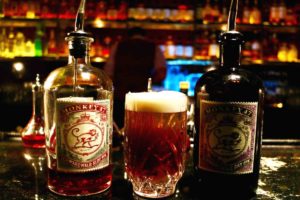 Drink Profile: Having the characteristics of the Negroni topped with fizziness and freshness of the beer;  an afternoon delight for a cocktail.
What You Need:
Ingredients: Monkey 47 – 20 ml, Monkey 47 Sloe – 20 ml, Campari – 10 ml, Knickerbocker Beer  – 30 ml
Garnish: Oil from lemon peel   Glassware: Beer Tumbler
Directions:
1.     Build all the ingredients in a glass except the beer
2.     Pour in the beer glass keeping foam at the top
3.     Give a quick stir
4.     Express lemon oil over the top from a lemon peel
THE DAPPER DAD — DIRTY NEGRONI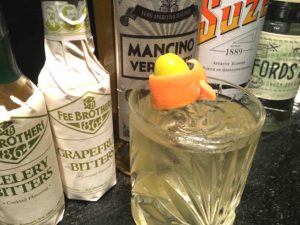 Drink Profile: What happens when a dirty Martini meets a Negroni in a bar? You get a Dirty Negroni! This variation on the classic Negroni is more vegetal and drier. An olive brine is added to the cocktail, creating a truly different sensation for the palate; a cross between the briny salty martini or the bitter-sweet Negroni.
What You Need
Ingredients: Fords Gin – 30 ml, Mancino Bianco – 10 ml, Suze Gentiane – 10 ml, Olive Brine – 7.5 ml, Grapefruit bitters – 2 dashes, Celery Bitters – 1 dash Finger Lime Caviar – 1 tsp
Garnish: One large cube of ice, Olive, Express grapefruit peel   Glassware: Single rock glas
Directions:
1.     Build all ingredients in a mixing glass cube
2.     Add ice and stir until concoction is cold
3.     Strain into glass
4.     Serve with one big ice cube
5.     Garnish with olive and grapefruit peel
TECH SAVVY DAD — BBL KIMCHI NEGRONI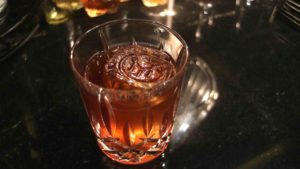 Drink Profile: This Negroni is Master Bartender Monica Berg's take on the classic Negroni. Infusing the Campari with her family's favourite twist — Kimchi. This classic has a more savoury taste profile while retaining the basic flavours of the drink.
What You Need: 
Ingredients: Aquavit – 30 ml, Kimchi-infused Campari – 30 ml, Mancino Rosso – 30 ml
Garnish: One large cube of ice    Glassware: Double rock glass
Directions:
1.     Infuse Campari with kimchi overnight
2.     Strain the next day and combine with Aquavit and Mancini Rosso
3.     Age in fresh American oak barrel for four weeks
4.     After four weeks, extract and store in bottles to stop the ageing process
THE FAMILY MAN — SBAGLIATO ROSA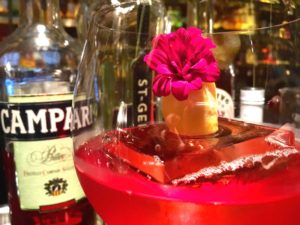 Drink Profile: Sbagliato Rossa is an Americano variation of the Negroni. Substituting soda with champagne truly lifts the flavours of Campari and Vermouth. The result is a bittersweet drink with floral tones lingering in the mouth.
What You Need
Ingredients: Campari – 30 ml, Cocchi Rosa – 30 ml, St. Germain – 10 ml, Orange flower water – 2 dashes, Champagne –  for topping up
Garnish: Large cube of ice, frozen lemon peel and flower    Glassware: Montrachet glass
Directions:
1.     Build all ingredients
2.     Top up with champagne to desired amount
3.     Place a large cube of ice
4.     Place frozen lemon peel and flower on top of the ice cube