Before I became a mother, trying and discovering new restaurants was a great passion of mine and that hasn't changed even after the birth of my daughter. But let's face it: it isn't that easy to find nice restaurants that accommodate kids, much less a little baby girl (no matter how cute). So finding nice dining spots that are surprisingly family friendly has become my new pet project.
I had heard that Ash & Elm, The Intercontinental Hotel Singapore's newest European dining concept (launched as part of their recent multi-million dollar revamp) could possibly do the trick. They could accommodate big family groups and the ambience is nice to to boot. But the clincher for me was the minute I found out that the kids menu was designed by celebrity chef Theo Randall in collaboration with children's food guru Annabel Karmel, I knew then that I had to check it out for myself.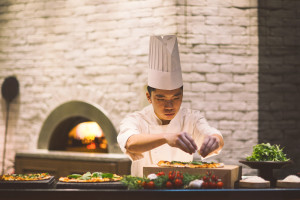 Sitting within the ground level of the hotel, Ash & Elm replaces its all-day dining predecessor Olive Tree, offering hearty and comforting European food with a wide selection of sharing platters that are great for large groups of families (or friends). The Ash & Elm Platter for example consists of a mix of house-made charcuteries such as beef pastrami and hot smoked pork loin and is really quite lovely. Also good for sharing is the restaurant's signature pumpkin and bacon flat bread made fresh in the wood-fired oven and for mains, the beef tasting sharing plates. It is the sort of menu that isn't too complicated but that is based on quality ingredients and executed well, allowing it to appeal to a wide audience.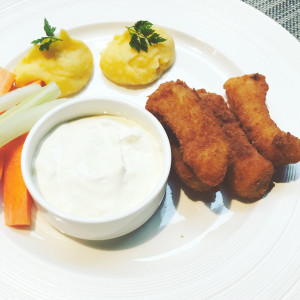 I have to admit that during my visit there, I was perhaps a bit more excited to try the kids menu. What would be the result of chef Randall's culinary skills with Annabel Karmel's nutritional knowledge, I thought? Well, I have to say, the kids menu was pretty impressive. I ordered some krispie fish fingers for my daughter with some scrummy potato & pumpkin mash on the side and when I snuck a taste for myself, I was very pleased to find out that the food was fresh and delicious. As an added bonus, my daughter's food was plated beautifully as well which to me was a sign that they took their kid customers just as seriously as the adults.
Ambience-wise, Ash & Elm is a lovely place to dine with plenty of natural materials and cozy enclaves. During the day, there is plenty of natural light while at night the use of pendant lights of hand-cut polished crystal set the scene of a chic, inviting evening. There is a buzzy, convivial sort of atmosphere that lends itself to big groups and families and indeed the staff seem perfectly comfortable with children and even young kids. In fact, the waitress that served out table went so far as to bring an extra pillow for my daughter when she realised the baby chair was a bit too big for the wee one which was a nice touch.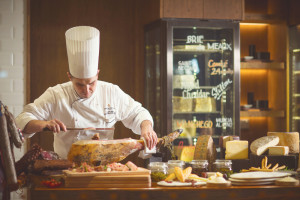 Update: I recently had the chance to revisit Ash & Elm but this time it was for Sunday brunch and boy was I glad I did. Where this brunch differs from others is that apart from a spread that has been put out — including a walk-in charcuterie and cheese room, fresh seafoods corner, egg and carving stations and a lovely array of dessert — diners also get access to unlimited servings of hot food, served tapas style such as chargrilled Iberico pork loin and Boston lobster risotto (served a la  minute). The food was fresh, good and plentiful. And it helped that there was a DIY Bloody Mary station for us parents as well.
The piece de resistance however, is an on site play room for the kids where the little ones get to play till their heart's content — think soft play toy area, tv screen playing cartoons and colouring area. When we were there, there was even a pastry chef on hand teaching the little ones how to decorate cupcakes! Suffice to say we were suitably impressed.
All in, Ash & Elm would be a pretty solid pick for a nice family meal out. I for one, am just happy to add another destination to my luxe yet family friendly restaurant list.
Insider tips:
The minis are given their own paper menus that also have a series of activities printed on them to keep them entertained.
For dessert, Ash & Elm's chocolate-hazelnut pizza is a winner and a must try.
Annabel Karmel was awarded an MBE for our work in the field of child nutrition so you can rest assured that your children are eating good stuff.
Sunday brunch is a must-try for families. Well priced at S$98++ for free flow juices and DIY Bloody Mary cocktails or S$138++ including champagne. This should definitely be right up there on your list of choices if you have young kids.
For more information and reservations please visit intercontinental.com/singapore or call (65) 6285 1008.