Mumpreneur Jaime Teo, also known as the Cupcake Queen (she's the co-founder of Twelve Cupcakes), embarked on her fitness journey three years ago and has not looked back since. She shares with Mummyfique how she got started, her daily fitness regime and how she pushed herself to run a marathon for the very first time.
Mummyfique: Can you share how your fitness journey began?
It began three years ago, when I bought a Zumba DVD for my mum. She found the workout a tad difficult, so I tried it myself and really enjoyed the routines! After a while, I realised that working out daily made me feel younger and look more toned. I was also better able to keep up with my daughter when we played outdoors!
In the past, working out to me was something you only did when you needed to lose weight. Now, it is a means for me to have a stronger body to do things, especially physical activities with Renee!
What is your fitness regime like now and have you changed any of your eating habits?
I try to get in a 12 to 30mins workout every day and run three times a week. Though I have not changed my diet much, I have learnt to eat in moderation — that took me a long time though!
Have you made it a point to introduce your daughter Renee to the importance of keeping fit?
I think children are naturally active, so I have not purposefully made it a point to do so. She does watch me workout quite often, and will sometimes try to follow my dance workouts! We also go to the parks together when I need to go running, and she sometimes scoots alongside me.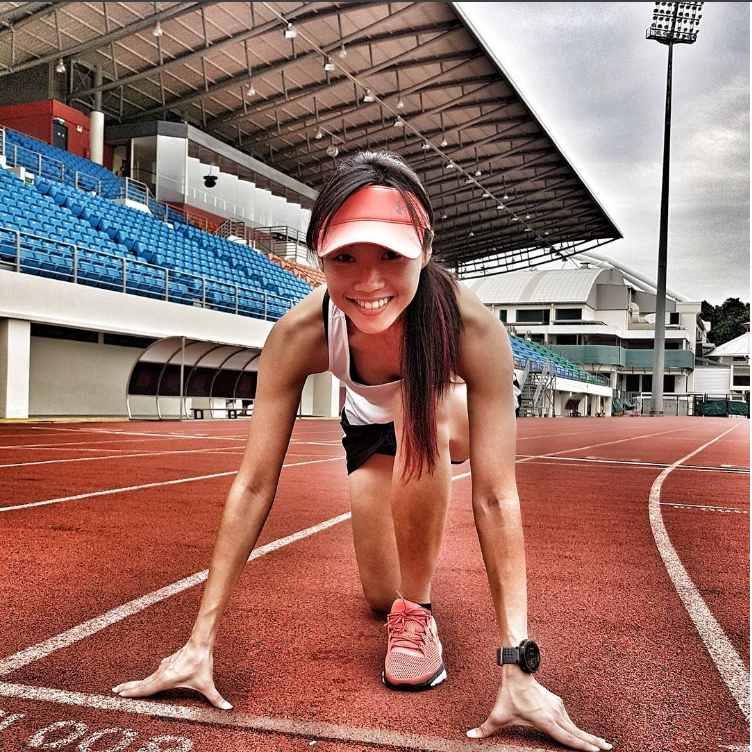 You'll be running at this year's Standard Chartered marathon for the very first time. Why did you decide to participate?
Running to me has always been the biggest hurdle overcome in terms of exercise. To motivate myself to start moving and get running, I decided to sign up for this year's Standard Chartered Marathon Singapore.
How did you prepare for the marathon?
I normally do short circuits at home, but in preparation for the big run, I have included 30min and 60min runs to my exercise routine because for longer runs like this, training my endurance levels is critical!
Though the initial start was tough, focusing on the positive aspects helped. And let me tell you that experiencing a post-run high is a real thing and there's nothing better than the feeling you get when you accomplish something that you never thought you could before.
Sounds like you are very prepared for the run.
The Standard Chartered Marathon is actually the very first 10km marathon I have every participated in, and I'm really excited – I hope to meet the target I have set for myself and complete it in an hour. As a person who previously found it hard to even complete a 2.4km run, it means a lot to me that I am now able to complete a 10km run without feeling like I am going to pass out! Renee will also be running in the 600m Kids Dash at Orchard Road in the evening and I am really looking forward to that too!
The Standard Chartered marathon takes place from 3 – 4 December, with the Kids' Dash happening on 3 December at Orchard Road. There will be a carnival held in conjunction with the Kids' Dash at the Ngee Ann City outdoor atrium. Entry is free for all and there will be games booths and bouncy walls.     
Inspired by Jamie to run a marathon? Read more about what it takes to to be a marathon mum here.