Mummyfique talks to two busy fathers about working flexible hours and the consequent benefits this has in relation to bonding with their children and being involved in their day-to-lives.
Shawn Chua, dad of Scarlett, aged 18 months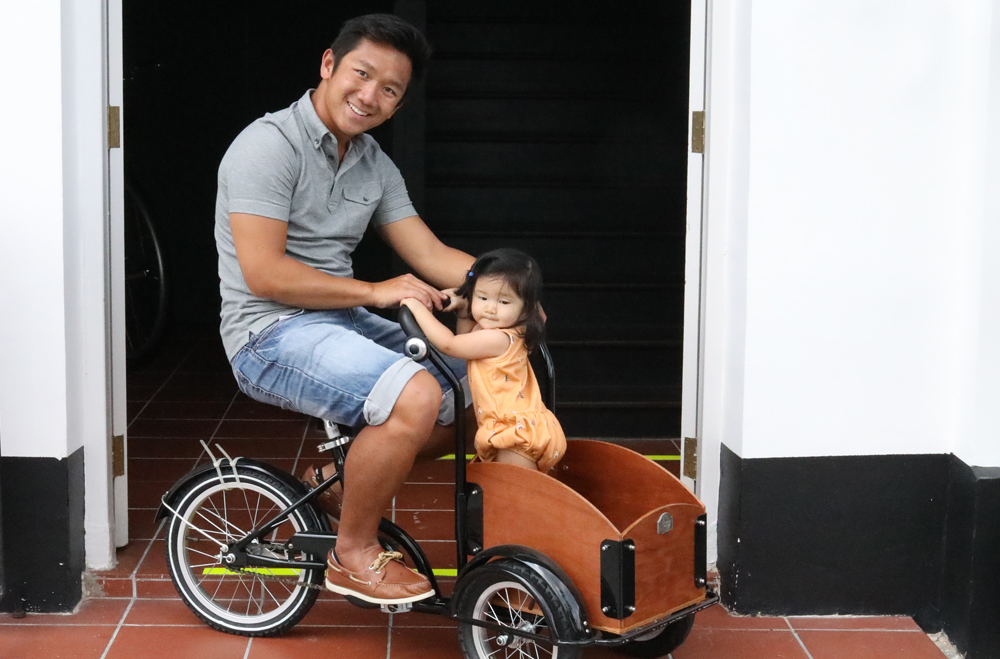 How does your job allow you to be a more involved dad?
I run a swim school, ABLE Aquatics School, with my dad, and being self-employed means that I can plan my schedule around family needs. I was the head swim coach in an international school previously but left when Scarlett was born, as I wanted to have more flexibility with my time.
My wife has to do shift work; hence, being able to be around for my daughter when my wife was not able to care for her was a big motivation for me to become self-employed. Although my class schedule is technically fixed, I can cancel or postpone classes if the need arises.
What is a typical day like?
As my classes are mostly held in the afternoon, I am at home in the morning. A typical morning will be spent either cycling out for breakfast with Scarlett, swimming together, reading to her or playing at the playground. I can thus spend quality time with Scarlett if my wife happens to be working in the morning. Otherwise we will do these activities together as a family of three.
I make it a point to be involved in her daily routine wherever possible, even though we have a domestic helper. I personally feed, bathe and change her. I also try to schedule time for daily outdoor play.
What's the best part about having a job that allows you to spend more time with your child?
Being a more involved dad right from the start has helped me to build a strong relationship and bond with Scarlett, and nothing beats being able to witness the milestones that she reaches or the funny antics that she gets up to throughout the day; these are definitely moments that I would have missed if I were in a job that required me to spend long hours away from my child. As Scarlett spends a lot of time with both of us, she isn't especially clingy to either of us and this makes swapping our parenting duties much easier.
If you have the choice of flexible working hours, I would definitely say go for it. The relationship you build with your child starts from when they are really young and it will set the tone of how they approach family relationships in the future.
Any tips for dads who want to build a closer relationship with their child?
Just interact with them mindfully. Even if you are just doing mundane tasks such as bathing and changing them, being mindfully present helps you to build a stronger bond with them. If you have more time, what I like to do is to take Scarlett to explore water playgrounds, children's art galleries, and farms that allow animal interactions, and make new memories with her.
Milton Goh, dad of Maeleth, aged 16 months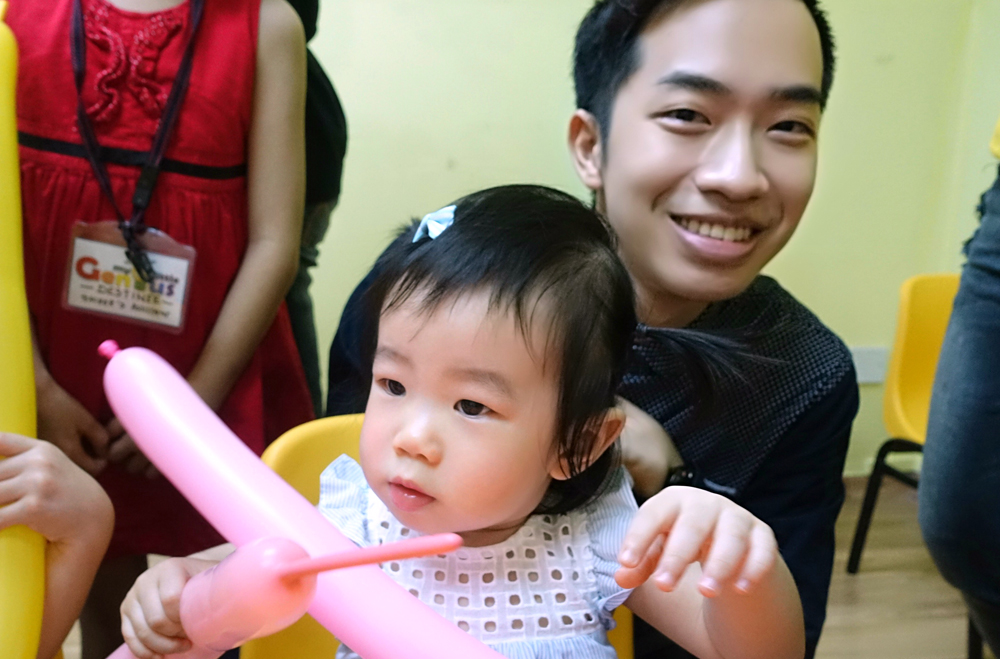 How does your job allow you to be a more involved dad?
I am an independent representative of an international lifestyle company and have built a team of representatives under me that market the company's products. Hence my income is a currently passive as I'm paid a monthly residual income from sales of products. This allows me to spend time with my family. My wife Amilee does the same job and she has the same flexibility; it is a blessing for both of us to be able to spend most of our time with our daughter, Maeleth (Mae).
What is a typical day like?
My day usually starts with feeding Mae – she's still reluctant to hold her own bottle. We'll then spend the next few hours reading, playing simple games or fixing puzzles together; while I'm doing that with Mae, Amilee will be doing household chores and cooking lunch.
We then spend some time as a couple over lunch, usually watching Netflix, while our daughter plays in the playpen next to us. After we feed Mae, she usually nods off for her afternoon nap.
When she wakes up, we play with her and then take her out for a walk in a stroller to buy our dinner. Maeleth really enjoys going out and seeing new things.
When we're back, we feed her before bathing. We then play with Maeleth before feeding her milk and patting her to sleep. After that we spend time as a couple.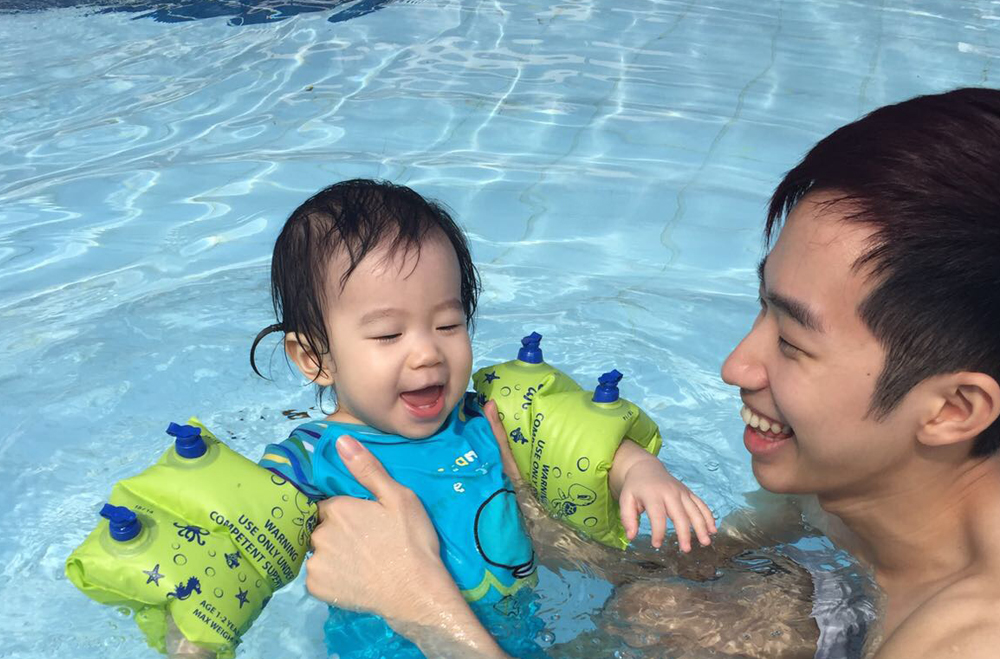 What do you do to grow closer to your daughter?
I make it a point to talk with her as if she completely understands what I'm saying, which she often does. When she performs an action that I want her to repeat, I will encourage her by saying: "Well done! That's very good!" I believe that positive reinforcement will teach a child that certain actions ought to be repeated.
I feel that speaking to Mae respectfully and treating her like a person who knows and understands what is being said helps bring us closer together. I don't believe in shouting or scolding, rather patiently guiding her to perform the correct actions that we as parents want to encourage.
What's the best part about having a job that allows you to spend more time with your child?
I am happy to say that I have never missed a single important developmental milestone in Mae's life. The first time she flipped, sat upright on her own, crawled, stood up and walked, I was there to witness it, and I wouldn't trade that experience for anything in the world.
Since I've been able to spend so much time with her, I am confident of managing her on my own, even though I'd rather have Amilee around to help. I feel a sense of accomplishment that I know what my daughter's needs and wants are.
It's really great to have a bond with Mae that others can see. Whenever we go out as a family, people will always remark to my wife that Mae and I look very close. They say this because my daughter usually clings tightly on to me and will bury her head in my chest when they first try to talk to her.
Being an involved father has great rewards. It isn't easy, but you'll be happy you chose to form that special bond with your child.