With a little one in the house, dinner date nights with the hubby are hard to come by so it's fair to say that good food is very high on my list of priorities for a dinner date night out.
So I was really excited when I came across a relatively new restaurant called Terra. Opened late last year, Terra is the brainchild of Tokyo chef Seita and offers an interesting take food — Tokyo-Italian cuisine. Not to be confused with 'Japanese Italian' cuisine which is a fusion of Japanese and Italian cuisines, Tokyo-Italian cuisine remains faithful to authentic Italian cuisine without using any Japanese cooking techniques but at the same time, celebrates fresh ingredients native to Japan.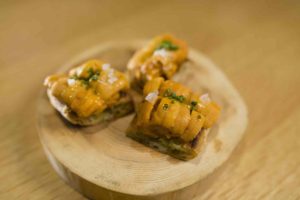 Uni Bruschetta
Terra, which is the Latin name for earth reflects chef Seita's connection with nature and the "energy that runs through the land, animals, food and man," he says. During a one-year sabbatical to carry out a culinary exploration of the different regions of Italy and Japan, he fell in love with beautiful ingredients and cultures and made connections with the farmers and fishermen who now provide the ingredients to his restaurant.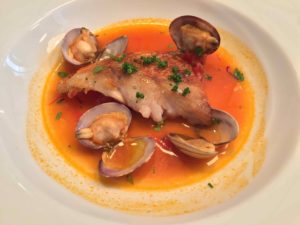 Kinmedai with vongole
Omakase diners at his restaurant get to enjoy a degustation menu of Seita's dishes that bring the best out of these amazing produce. Under his skilled hands, Kinmedai is served in a delightful broth with vongole clams while Wagyu beef is chargrilled to perfection and served with bamboo shoot and king mushroom. My favourite dish was the uni bruschetta which admittedly doesn't require much cooking but made for a delightfully indulgent treat. Dessert-wise the Terramisu features beautiful strawberries from Aomori in the chef's interpretation of the famous Italian dessert. Our top tip: Chef Seita's uni pasta is also a hot favourite and it can be ordered off the a la carte menu.
There is a lightness of touch in chef Seita's cooking that is reflected in the ambience. The restaurant is bright and breezy with warm lighting that makes it a great choice for a date night out. But the real standout is the food that is really very good which can only mean one thing in my option — that a return trip is in order sometime soon.