The older our little ones become, the more mobile and less likely they are to sit still. This can make changing diapers a challenge as they squirm about and try to find a way to escape your 'clutches'.
Mother-of-two Jayme Tan is familiar with these challenges as she has been through them with her one-year-old boy Coen. She shares with us the tricks that she uses to make diaper changing a stress-free process.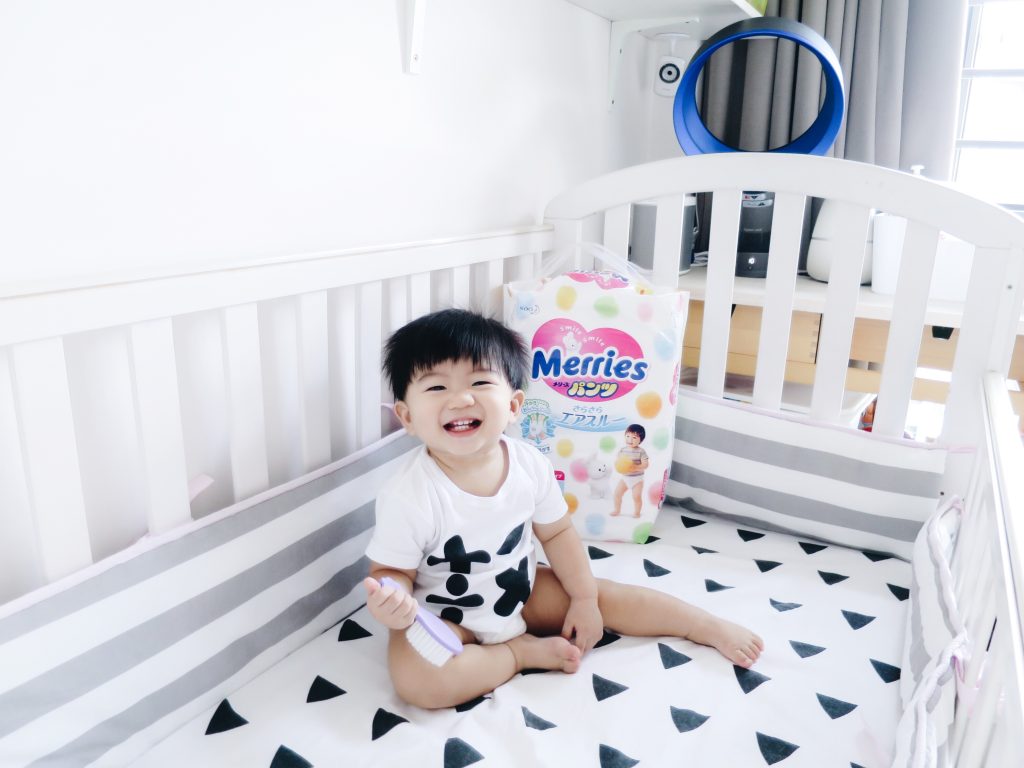 Firstly, congratulations on Coen recently turning one!
Thank you. The past 12 months have really been eventful and fulfilling for me as a mum. It has been incredibly amazing to see all the new milestones that Coen has reached. In the last two months, Coen has started crawling around the house and he has started to say a few words. I can't believe that my once tiny baby is now a little boy who can move around and express himself. 
Is Coen always moving around?
Pretty much so since he is in the exploratory stage of his development. He is curious about everything he sees, always wants to touch new things and often puts items into his mouth. He really is constantly on the move. One minute I'll see him crawling around the balcony area and the next he'll be meddling with shoes on the shoe rack. He also likes following my husband and I around the house, even into the toilet.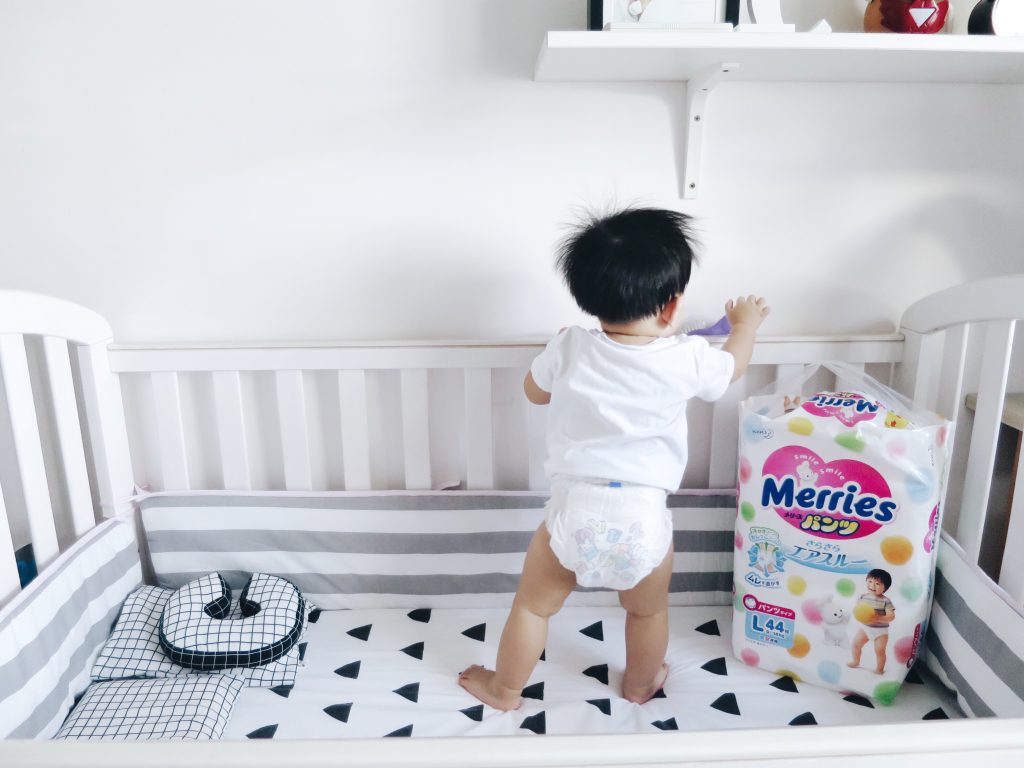 That's one active little boy that you have got. How do you decide on which diapers to use?
We have three criteria for diapers: they have to be comfortable, safe and leak-proof. The first two are because he is wearing them the whole day and we strongly believe in safety first. Now that Coen is so active, it is crucial for the diapers that we get to be easy to put on and leak-proof, even when he is moving about.
What is your usual diaper changing routine like?
First, I lay him down on his diaper mat and open up his soiled diaper. I then wipe him with a piece of wet wipe. If it is 'big business', it usually takes a couple more wipes. After I have applied diaper cream, I pop on a new diaper. The entire process takes three to four minutes each time. Ever since Coen starting flipping and crawling, it has become more challenging to change him as he can now escape. There are also times where even placing him on the mat is a challenge as he clings on to my neck, refusing to let go. To overcome the diaper-changing problems we encounter, we have a small toy that he gets to play with during this time, and it distracts him long enough to let us change his diapers without him struggling.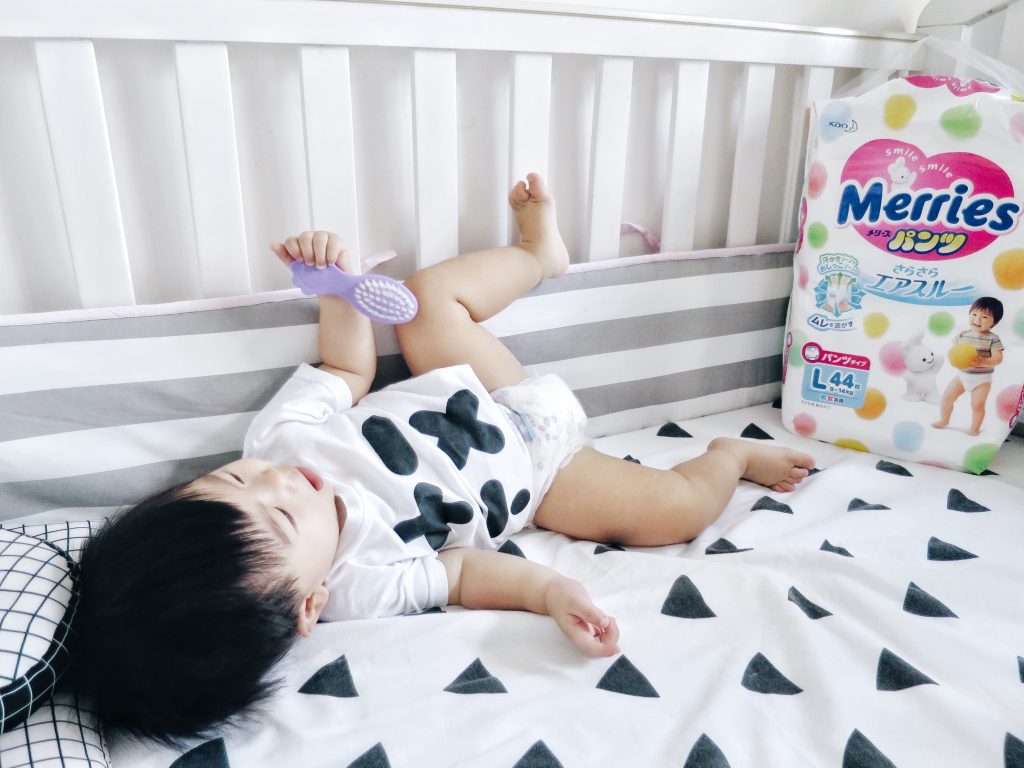 What are your thoughts on Merries Pants Diapers?
The diapers are soft and reliable and, as far as we can tell, leak-proof. Coen also seems really comfortable in them. Using pants diapers has made changing Coen much easier.
With tape diapers, the child needs to lie down for you to change their diaper, but with pants diapers Coen can remain standing and all I need to do is to get him to lift up his legs one by one to put them on. This has reduced the time I take to change his diapers by a full minute, and there are a lot less tears and less coaxing required.
When wearing tape diapers, Coen tends to tamper with them quite frequently. He likes to play with the tape on the diapers, which results in the diapers getting loose and sometimes coming off. But he can't do the same with the pants diapers. The Merries Pants Diapers fit him snugly and I feel assured that, despite his constant crawling, his diapers will remain leak-proof.
Do you have other diaper tricks you would like to share?
I've been using the time I change Coen's pants diapers as an opportunity to teach him the difference between left and right, and helping him to raise the correct leg that I call out. It will also make future diaper changes easier as he would already know what to do without too much instruction.
Jayme Tan is a full-time working mother. When she's not busy chasing after her two children, she also shares about her life on her blog and Instagram (@jaymeshing)
This article was brought to you by Merries.