Easter is just around the corner, and the Mummyfique team is super egg-cited! We've scoured the web for pretty, Fique Easter egg designs, and these are the top 5. If you feel inspired after reading, we have provided the links for each — with step-by-step directions for some fun with your little ones! The best part is, you can make these with items found around your house, or at the art supply store. Don't forget lots of eggs! What're you waiting for? Let's get cracking:
(Tie)-Dyed Eggs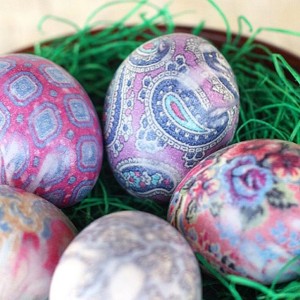 Credit: @sara_ourbestbites / Instagram
A design that literally uses ties, it allows you to transfer the pretty pattern from unused ties lying around the house onto the egg shells. Just look at the ones done by the women at Our Best Bites, isn't the paisley design gorgeous? One thing to note, however, is that you need ties made of 100% silk (talk about luxurious!) for this to work. Instructions available here.
2. Marbled Eggs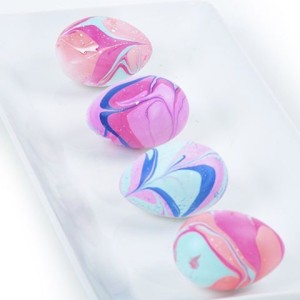 Credit: @acmoorecrafts / Instagram
Using the same concept as marbled nails, this design requires just a cup filled with water and a few drops of nail polish in colours of your choice. Like when you do your nails, this design requires you to be quick, and dip the egg before the polish dries up. When the egg dries, you will have a beautiful marbled pattern. More specific instructions can be found here, under marbled eggs.
3. Tattooed Eggs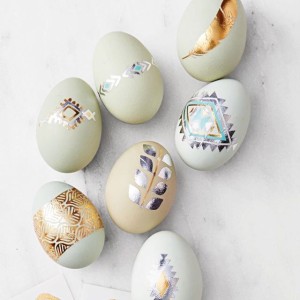 Credit: @flashtattoo / Instagram
If you find yourself pressed for time, this is the design to go for. It helps that flash tattoos are all the rage now, and provide a cool, edgy feel if your child feels that brightly coloured eggs are too childish. All you need are some pre-purchased flash tattoos, eggs, some water to make the tattoos stick, and voila, intricately designed eggs. These may appeal more to the older ones, so if you have younger children, we would recommend getting temporary tattoos in their favourite cartoon characters instead.
4. Gold Foil Eggs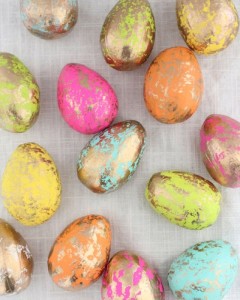 Credit: @tonalitydesigns / Instagram
Now these require a bit more time and effort compared to the ones above. But still easy nonetheless. You will need acrylic paint (we recommend pastel Easter colours), and liquid gold leaf. With that, off you go! Detailed step-by-step instructions can be found here.
5. Easter Egg Tree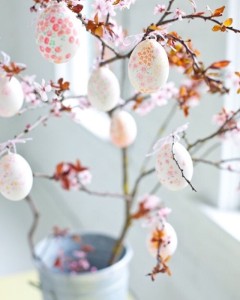 Credit: @houseandhomemag / Instagram
This is by far the prettiest display of Easter eggs we've seen, bringing us to Japan's sakura blossoms. However, it also requires the most work, an excellent artistic eye, and a stable hand to get the designs just so on your eggs. It helps if you have a small plant or tree too, to fully show off your designs. Remember to empty your eggs first though, lest the branches break. Instructions can be found here.
6. Easter Egg Workshop
If you're looking for a more guided experience, Shangri La Hotel's Enchanted Mushroom Workshop is just the thing. Create your very own edible masterpiece conducted by their area executive pastry chef Hervé Potus, parents and children are invited to created their own enchanted chocolate mushroom filled with sweet treats and edible frosting and decorations. Children get to bring home their completed masterpiece (with a mini chef's toque and apron). Available from 3pm to 5pm on 19, 20 and 26, 27 March 2016, the workshop is priced at $88nett per child accompanied by two parents, and includes a high-tea buffet. For enquiries or to register, please email [email protected] or call 6213 4398.