Discovering you have breast cancer and undergoing treatment for it is never easy, but for 31-year-old Raj Neeta Kumari, she found the strength to fight on from her loved ones. She shares about her breast cancer journey and her experiences thus far with Mummyfique.
Mummmyfique: When did you first discover you had breast cancer?
I discovered a lump in my breast while taking a shower earlier this year. I didn't think too much of it as I was still breastfeeding my three-year-old son and assumed that it was a blocked milk duct. However, upon going for a routine check up, I was given devastating news – I was diagnosed with breast cancer.
It was particularly difficult as my husband and I wanted to have more children and were already trying for a second child. With this news, my dreams of expanding my family had to be put on hold.
I was diagnosed with a 2cm lump on my right breast, with one lymph node being affected, and almost immediately, I was put through chemotherapy and had lumpectomy surgery to remove the lump and surrounding lymph nodes. Thereafter I underwent radiation therapy.
What was the journey like as a mum?
It wasn't easy. Until my diagnosis, I was the sole caretaker for my son. I had to learn how to let go and accept help from others as I was weakened from the chemotherapy and could not do as much as before.
What I found even more difficult was having to abruptly stop breastfeeding my son — this caused him to suffer from withdrawal symptoms and fall sick. Coping with the cancer and managing the symptoms from the treatment I was receiving, while at the same time trying keep my son happy and healthy at the same time, was the most trying period of my life thus far. If I could erase this part of my life from my memory, I would.
That said, my son was a big reason why I managed to find the strength to push through this difficult period. I stuck to my usual routine with him as much as I could, such as sending and fetching him from school, and doing activities with him, even on days that I felt weakened from the treatment.
Though I wasn't able to spend as much time with him as I wanted (I could only be active for certain periods in the day due to the side effects of the chemotherapy), I persevered with giving him a sense that nothing had changed as I did not want him to be affected by my illness.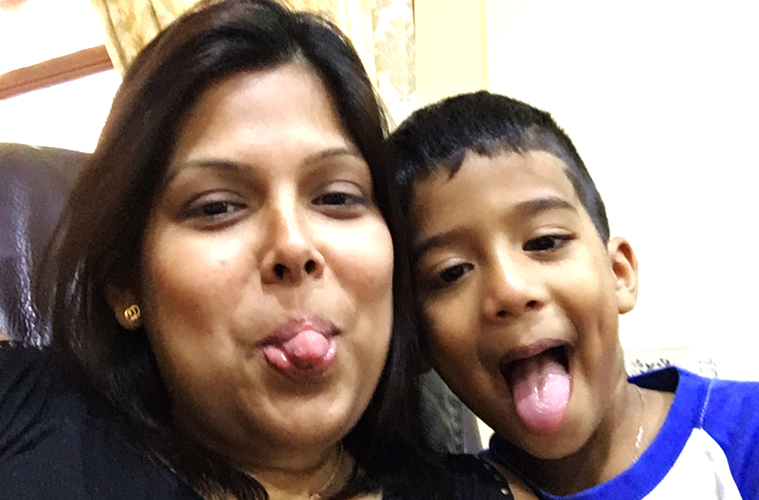 How did you stay positive throughout this time?
It was really difficult as chemotherapy made me feel like I was going through living hell for four months both physically and psychologically. I was constantly being pricked by needles, and suffered from terrible side effects such as hair loss and weight gain.
Thankfully, I had supportive family and friends who helped me through this difficult period, and they are the reason why I managed to find the strength within me to persevere. I remember seeing my husband and mum breaking down when I first told them about my breast cancer, and at that moment I told myself I will not succumb to the cancer and will keep fighting. I also want to have the opportunity to see my son grow up.
Though I could dwell upon how 'sucky' it was being ill and undergoing chemotherapy, and how unfair it all is, I chose to focus on doing what I can to fight it.
What are some lessons you have learnt from this experience?
I now know that I should never take the gift of life or anyone for granted as life is fragile. This experience has also made me a stronger and a more confident woman — if you are strong and stand by what you believe in, miracles will happen!
Having a strong will is also very important: you need to have the will to live, the will to love, and the will to believe. You can choose to either have faith in yourself and push through the tough times or be fearful and let fear control your situation. I'm so glad that I chose to have faith! Today, I have never felt so alive. I'm far from being defeated — I am ready to take on whatever challenges await me and build my future.
What advice do you have for other mums who find themselves in your situation?
We, as women, have to be responsible for our own health. Get regular mammograms and be aware of any changes in your breasts. If you find anything suspicious, don't procrastinate and get them checked.
Women should also openly talk about breast cancer and share knowledge on this topic with one another. Through sharing, journeying through breast cancer becomes easier and less stressful. Let's not shy away from the topic and instead encourage greater awareness.
To read another mother's journey with breast cancer, click here.