Make your home bright and festive with your own CNY arrangements. It's easier than you think and Floral Magic gives some handy tips to making a centrepiece that will have everyone talking.
Popular Chinese New Year cut flowers 
These blooms are popular especially amongst the older set because of their bright colours, long lasting blooms, auspicious names or symbolic meaning for the festive season. They are:
– Chrysanthemums 菊花
– Forsythia 迎春花
– Pussy willow 银柳
– Gladiolus 剑兰
– Orchids 兰花
Things to think about before putting your flower arrangement together:
– Consider the space/ interiors that the arrangement is going to be in, and the colours that will look best in that setting.
– Keep cut flowers away from direct sunlight and heat. 
– To make your arrangement last, mist blooms lightly, and add water to the floral foam daily.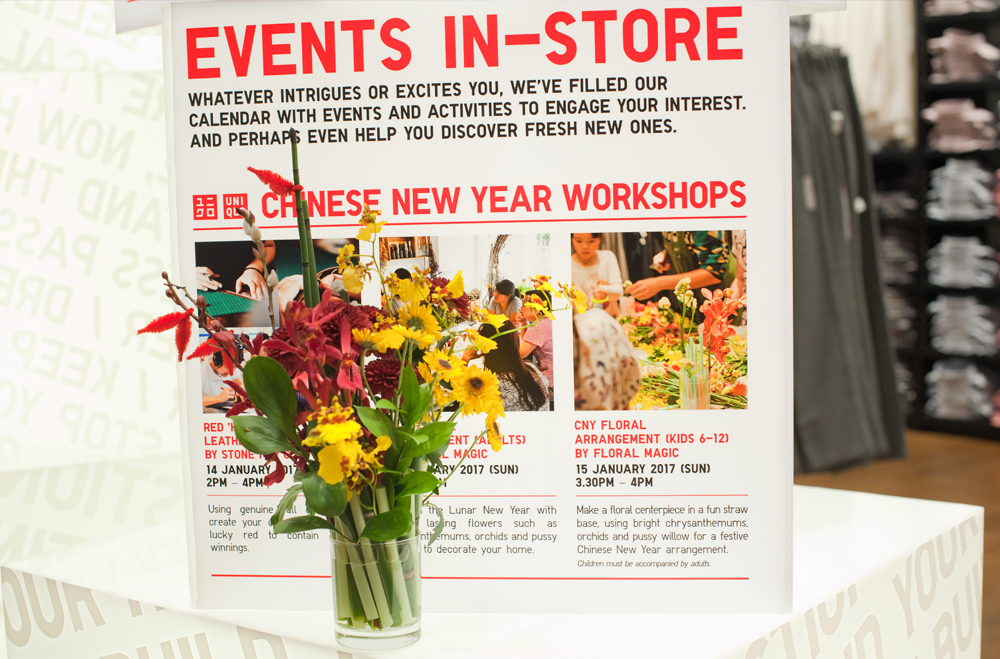 Recipe for putting your arrangement together
What you need:
– 10cm x 10cm clear glass vase
– 10 stems snake grass or drinking straws
– 2-3 stems Chrysanthemum spray red/ yellow
– 2 stems Orchid Singapura red
– 2 stems Orchid Oncidium golden showers
– 2 stems Pussy willow
– 2-3 red twist ties
Steps:
1. Use drinking straws or a hollow stem like snake grass to form a base for inserting flowers and foliage into your vase.
2. Cut the stems to the same height as the vase, then add water to fill no more than 1/3 of the vase
3. Start by inserting stronger stems like chrysanthemums and pussy willow
4. Be sure to vary the lengths of the flowers to create an arrangement with depth and texture
5. Try bending and manipulating the snake grass/ drinking straws to get more structural shapes
6. Add softer stems like oncidium orchids
7. Accent your arrangement with more twist ties or tassels for a brighter shot of red