Chinese in Singapore
Chinese Singaporeans form roughly three-quarters of Singapore's population and it is the largest ethnic group in the country. Generally speaking, most Chinese Singaporeans are descendants of immigrants from southern China  who travelled South during the 19th Century and early 20th Century to seek their fortunes. The main dialect groups include Hokkien, Teochew, Cantonese, Hakka and Hainanese. It is from the Hainanese that one of the city's most iconic dishes has emerged — Hainanese Chicken Rice.
About Chicken Rice
Hainanese chicken rice is one of Singapore's most well-known dishes and is adapted from a traditional Hainanese dish called Wenchang chicken. It can be found almost everywhere in Singapore from hawker stalls to schools to restaurants. Most places will offer two variations of chicken white (steamed) or roasted with fragrant rice (often cooked with chicken stock). It can be paired with other side dishes including vegetables, braised hard boiled egg and chicken liver.
Chicken Rice Ball (Chef Version)
From: Liew Tian Heong, executive sous chef Chatter Box, Mandarin Orchard
This may not be the recipe of their legendary Mandarin Chicken Rice at Chatterbox (a tightly-guarded secret) but it is a very traditional recipe using old hens.
Ingredients:
Rice:
450g Thai fragrant rice
50g glutinous rice
35ml vegetable oil
7g butter
13g ginger
15 g chicken fat
13g shallot, chopped
13g garlic, chopped
25g pandan leaves
530ml chicken stock
Seasoning:
10g chicken powder
5g salt
½ tsp sugar
Boiled Chicken:
2kg old hen, whole
Water as required
25g ginger
Chicken rice soya sauce:
125ml water
15g rock sugar
200ml light soya sauce
10g sesame oil
Chilli:
225g big red chillies, de-stemmed
140g drinking water
1tbsp tropical lime juice
40g garlic, finely chopped
15g ginger, finely chopped
Seasoning 10g salt, 15g sugar, 1tsp sesame oil
Directions:
Rice:
1. Pre-wash and strain both the rice and glutinous rice.
2. Heat up the oil and butter. Slow fry ginger and chicken fat. Followed by shallot and garlic until fragrant.
3. Add in all the rice, cook for 5 minutes, stirring frequently.
4. When the rice has been parched, put in all the seasonings and pandan leaves. Mix well.
5. Pour in ½ of the chicken stock. Scrap the bottom of the pot to prevent from sticking.
6. Transfer the mixture to a rice cooker. Add the remaining stock in the rice cooker and steam until cooked.
7. When the rice is cooked, allow the rice to rest for 5 to 10 minutes before removing the cover
8. While the rice is hot, press it to form into rice balls. Serve hot.
Chicken:
1. Clean the hen thoroughly.
2. Boil a pot of water
3. After boiling add the ginger and hen, slow cook for about 2 huors. Ensure the meat is tender and remove from the pot.
4. Reserve stock for cooking chicken rice.
Soya Sauce:
1. Bring the water to a boil. Add in rock sugar, simmer until dissolved.
2. Mix in the light soya sauce. Remove from heat.
3. Stir in the sesame oil. Mix well.
Traditional Chicken Rice Chilli:
1. Pound the red chilli till fine.
2. Dissolve salt and sugar in the drinking water. Set aside.
3. Mix in the garlic and ginger into the pounded chilli.
4. Finish by adding lime juice and sesame oil.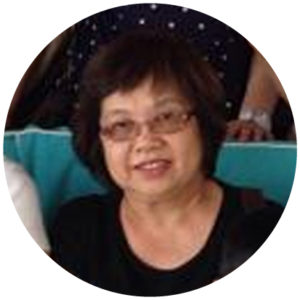 Chicken Rice Recipe (Family Version, pictured)
From: Foo Heng Fong
This second generation Hainanese immigrant shares this recipe that she served at her own hawker store.
Ingredients:
Rice:
2 cups rice
2 cups chicken broth
3 table spoons oil
5 cloves of garlic
1 small ginger
½ tablespoon salt
1 teaspoon chicken essence powder
Chicken:
1 whole fresh chicken
1 tablespoon salt
12 to 14 cups water
4 to 5 slices ginger
2 whole scallions
Ice
Dressing:
1 tbsp sesame oil
2 tbsp light soy sauce
Directions:
Rice:
1. Wash and dry rice grains, finely dice garlic and ginger.
2. Heat oil in pan and fry garlic and ginger to golden brown. Briefly fry rice grains in oil with garlic and ginger to well coated.
3.Place rice mix in rice cooker and cook with chicken broth.
Chicken:
1. Wash the chicken clean and pat dry with a paper towel.
2. Lightly rub the chicken with the salt. This will give the chicken skin a nice sheen. Set it aside.
3. Boil water with ginger and scallions in a large stockpot.
4. Before adding the chicken to the pot, rinse the chicken under running water to wash away the salt.
5. Place chicken in boiling water, add more water to ensure the chicken is entirely submerged.
6. Allow chicken to boil on low heat for 20 minutes.
7. Turn off the heat, and leave the pot, covered, on the stove for 45 to 50 minutes (set a timer).
8. To check if the chicken is done, stick a toothpick into the thickest part of the drumstick; if the juices run clear, it's cooked through.
9. When the 45-minute timer (for the chicken) is almost up, prepare a large ice bath.
10. Once the chicken is cooked, carefully lift the chicken out of the pot, drain the water from the cavity and lower it into the ice bath. Take care not to break the skin.
11. After 15 minutes in the ice bath, the chicken should be cooled, drain completely and cover with clear plastic until ready to cut and serve.
12. The ice bath stops the cooking process, locks in the juices, and gives the chicken skin better texture.