Planning a party is hard enough as it is but when children are thrown into the mix, now that requires some seriously consideration. Here at Mummyfique, we're all about giving you tips and tools from experts to help make motherhood that little bit easier which is why we've enlisted the help of events planning extraordinaire Olga Iserlis who shares her secrets on how to successfully throw a kick ass party that both adults and their minis would enjoy.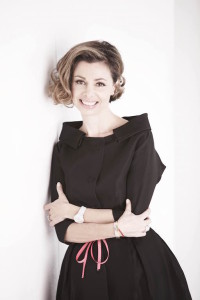 Melissa Lwee-Ramsay : It is one thing to throw a festive dinner party but to throw one that is entertaining to kids as well, now that's another story altogether. What tips do you have for throwing a party that is fun for both young and old?
Olga Iserlis: I've always strongly believed that kids need to be given the opportunity to explore and that their fun activities should be enhanced with a bit of novelty and education. With this in mind, I often create and introduce themes and elements that will be enjoyed by the kids, yet appreciated by their parents. It could be a theme based on a book or a story and activities could be something engaging like a drawing session.
What are some of the most common mistakes mothers make when planning a party that includes family, friends and children?
At times, mothers forget to prioritise what is the main purpose of the party. Is this a children's birthday? Family celebration?  Or informal get together? Mindfulness and comfort for everyone who is invited need to be present. Don't make the party stiff, if kids are around. Manners are good to teach, but a formal dinner with little kids at the same table might not be the best idea. It is alway best to plan the party by first thinking of yourself as the 'guest'. You will never go wrong if you treat you own self well, whether the kids are around or not.
How different is it throwing a dinner party (with kids included) and planning specifically for a children's party? Which is more difficult?
I feel that throwing a dinner party with kids included might be a bit more challenging as the different age categories require different attention, activities, set up, conversation subjects etc.
However, if the occasion is a festivity to be celebrated with everyone present, then it is important to treat the children as complete and equal participants of the dinner party. It is all part of the education and upbringing for the kids to learn table manners, observe tradition and enjoy the unity between different generations. When planning a kids-only party, mothers focus primarily on entertaining children and thus the concept would be totally different.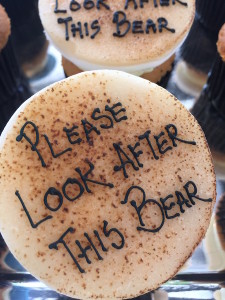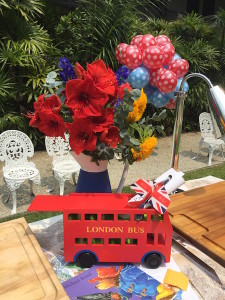 What are some of the most memorable children's parties you've thrown? How do you keep it entertaining for the adults as well?
I have helped a number of times to create birthday parties for the children of my close friends and these parties and they took the adults by surprise because everyone was entertained. I usually try to incorporate decor and food elements that will be enjoyed by everyone.
For example, I feel that children deserve to eat and learn how to appreciate healthy grown up food rather than be fed with typical kiddy items only, as is fairly common at some of the kids parties. Same goes for music, activities, and entertainment. Remember, kids are future adults, while adults are grown up kids on many occasions.
I once staged a party where the theme was Paddington bear. It was important for me not only to have many Paddingtons all around, but I also made sure to educate the children about the origins of the story; and I incorporated food based on Paddington's journey from from Peru to England. Children and adults alike enjoyed themselves and even learned a thing or two along the way.
You're a mother of two. How did you balance motherhood with the work that you do as your children Danielle and Marc were growing up? What were some of the values that you made sure to instil in them?
I must admit I am a fairly strict mother. I was brought up in a family where education and health were 'non negotiable'. I try to convey the same to my kids. Having a busy schedule is not an excuse to leave the children to the TV and video games. Creating an environment where children learn how to enjoy different activities, to stimulate them and develop interest for diversity in the world and how to teach them values is very important. I believe that in the quality of time that parents choose to give to their children rather than quantity. I always prioritise cultural activities, reading, developing curiosity over materialistic indulgences. I believe children will grow up evaluating their priorities on their own, but giving them a solid foundation is the most important.