Books are a great way to introduce little ones to the world around them and to stimulate their imagination.
Nicole Martins of Flying Books, a children's book subscription service that is curated for children ages five and under, picks out some favourites for the month of September
Here are her recommendations and Mummyfique's reviews of them:
1. Baby Step Big Box of Books
By Katie Saunders
Suitable for 1-3 years old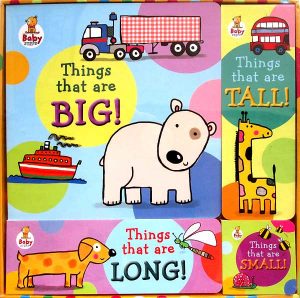 Teaching your little ones about the concept of size – big and small? You'll want this set of board books that comes in sizes that are true to their title. Within each book, objects and animals that are of the 'size' that is conveyed in the title are colourfully illustrated on each page.
2. The Whale in My Swimming Pool
By Joyce Wan
Suitable for 2-4 years old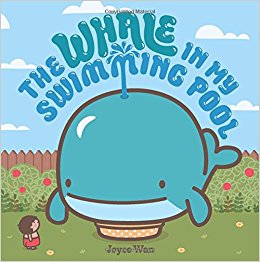 It's a fun story about a little boy who finds a whale in his swimming pool. He tries all sorts of ways to move the whale but is unsuccessful in all his attempts. Finally, he realises that perhaps, it's better to go with the flow of things. It's a good introduction to little ones on trying out different solutions and because the book is written in first person dialogue, our little reviewer was especially taken by the many different expressions we threw in while reading it to him.
3. Ten Terrible Dinosaurs
By Paul Strickland
Suitable for 2-4 years old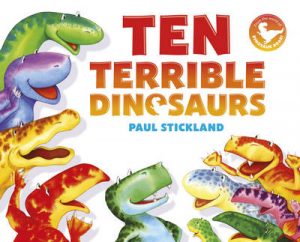 Few boys don't like dinosaurs, so we're sure your little men (and ladies) will love this book about a fun group of dinosaurs. Children learn counting skills as they count off one dinosaur from the group each time they turn the page. However what we love it the attention paid to the description of the dinosaurs with alliteration and the way the text is written, which gives the reading experience a good rhythm and pace. The reason why each dinosaur stops being a part of the group will also have your little one in stitches.
4. Pass it On
By Sophy Henn
Suitable for 3-6 years old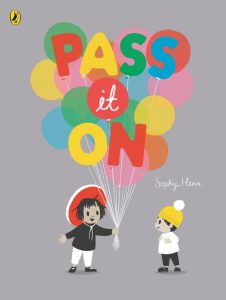 This book is all about finding joy in the little things around you and spreading it to those around you. A great message that little ones should receive and it is done in a relatable manner in this book. We love that it doesn't just talk about the happy moments, but also touches on the times when it may be a little more challenging to find joy, and shares how to make lemons out of lemonade.
Looking for a monthly service that will help you to curate books that are suitable for your little readers? Flying Books delivers great, carefully curated children's books to your doorstep every month. They handpick the right books for your child's age group and let your child experience the joy of receiving books as gifts, while making it convenient for parents as the package comes to their doorstep every month. One-time gift sets are also available. Click here for more information. 
Reading with your child for the first time? Click here for tips.
---
GIVEAWAY | We're giving away this set of books to a lucky winner, enter below!