Are you ready to dive into the enchanting world of mooncakes in Singapore? Families across the city are gearing up to celebrate the Mid-Autumn Festival in style, and there's no better way to do it than with the most delectable mooncakes from the finest purveyors. In this guide, we'll take you on a journey through the best places to buy mooncakes in Singapore, ensuring your celebration is filled with flavor, tradition, and innovation.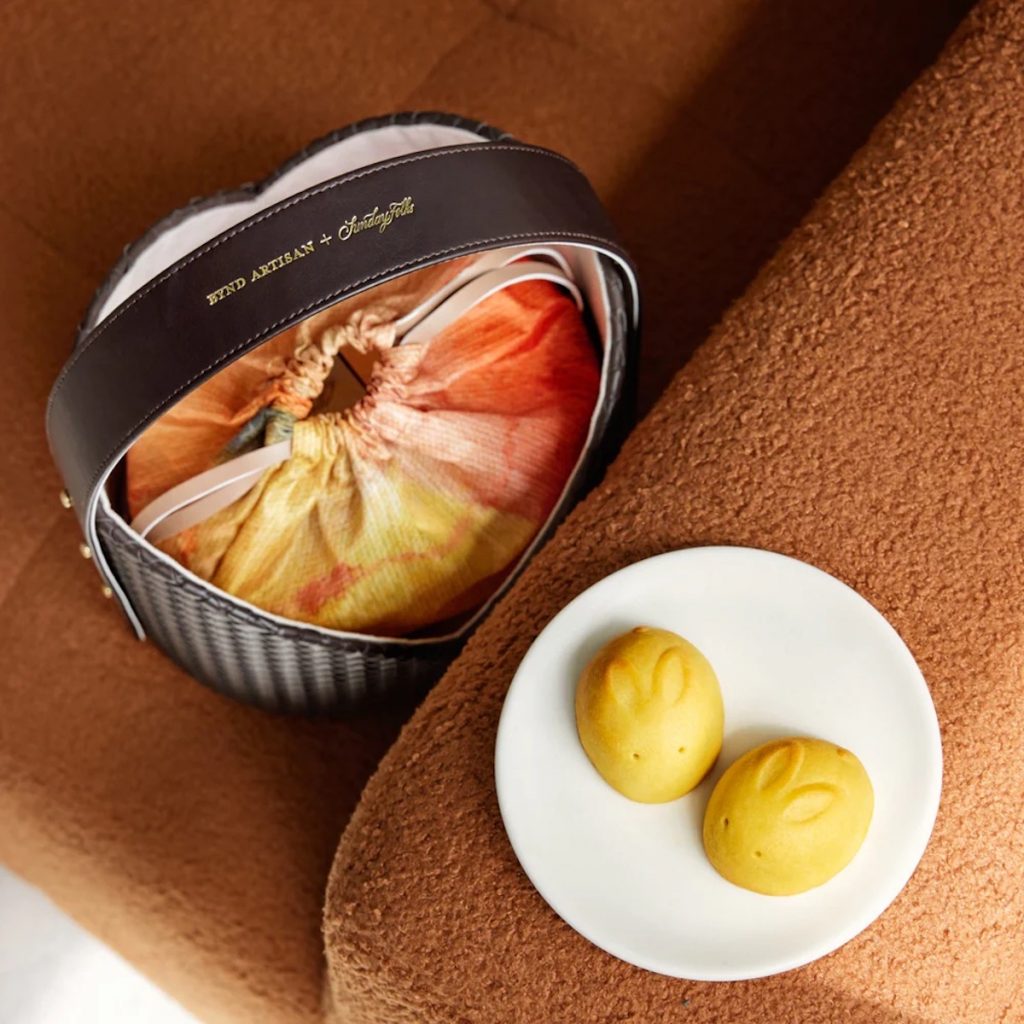 On September 29, the moon returns for the ninth time this year, having completed another journey to her fullness. This year, the collaboration between Bynd Artisan and Sunday Folks presents the "Tùgether In Harmony Mooncake Basket" featuring bunny-shaped Mid-Autumn confections in Yuzu Custard and Lava Custard flavors, stylishly presented in a weaved basket with an adjustable duo-tone strap. Each set contains three individually-boxed Yuzu Custard mooncakes and three individually-boxed Lava Custard mooncakes. The mooncakes are adorned with art prints from The Letter J Supply and come with nylon dustbags. With this offering, your Mid-Autumn celebrations are destined to be full of joy, laughter, love, and moonlit magic. Delivery and self-collection options are available from August 25 to September 29, 2023, including local delivery at S$15 per location and an additional S$5 for Sentosa addresses.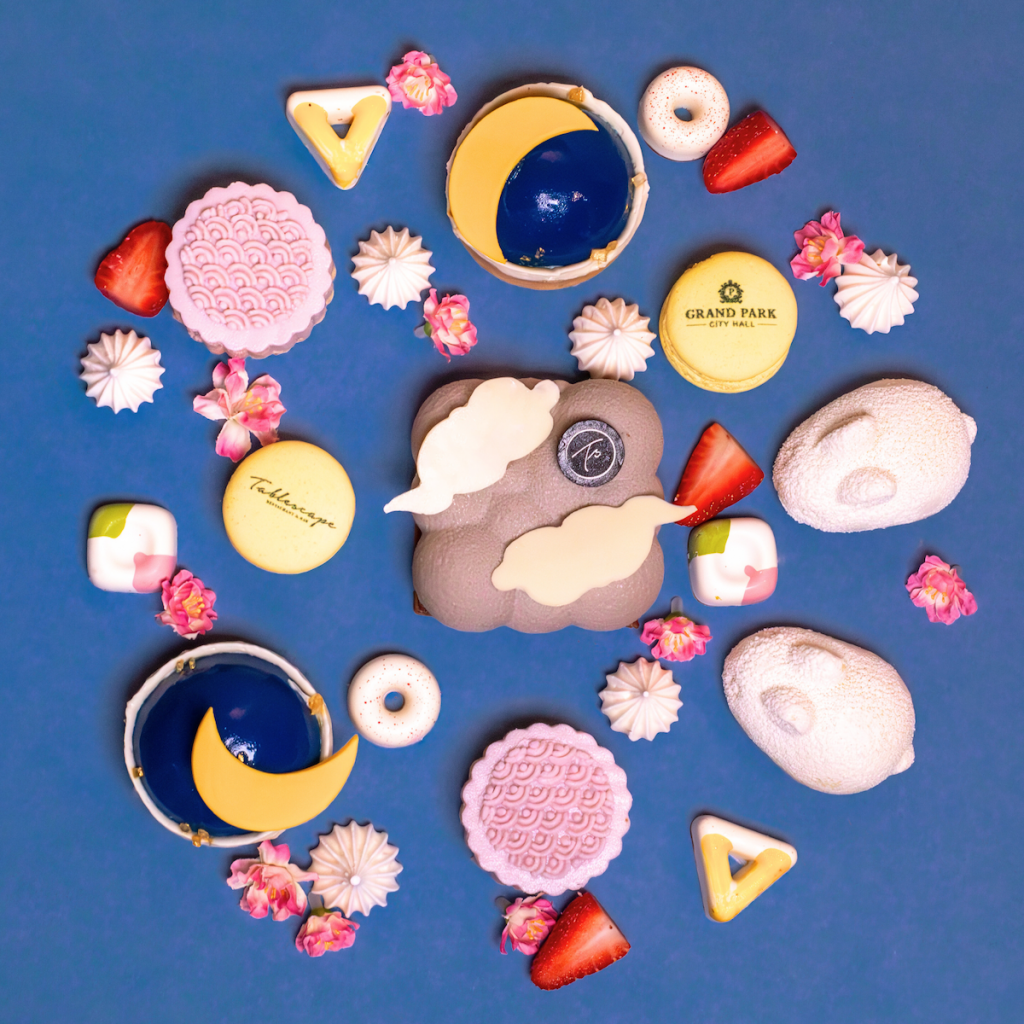 Tablescape Restaurant & Bar has unveiled a captivating offering, "My Moonlit Garden," to celebrate the Mid-Autumn Festival. This delightful experience will be available for takeaway and delivery exclusively through their online e-shop from August 21st to September 29th, 2023, at an attractive price of $58nett. "My Moonlit Garden" is a thoughtfully curated dessert garden that brings the magic of the Mid-Autumn Festival to your doorstep. Indulge in delectable treats, including Grape Mousse Mooncakes with grape yogurt-flavored mousse on a vanilla chiffon cake base, Durian Mousse Bunny Bliss featuring Mao Shan Wang durian custard on an almond cake sponge, Oolong Peach Cloud Delight blending peach confiture, oolong mousse, and a chocolate sablé base, and Black Forest Tart Duo with dark chocolate mousse and Amarena cherry compote.
Ordering is convenient through Tablescape's e-shop, telephone (+65 6432 5566), or email ([email protected]), with payment details provided upon order confirmation. Pickup instructions will be shared upon confirmation.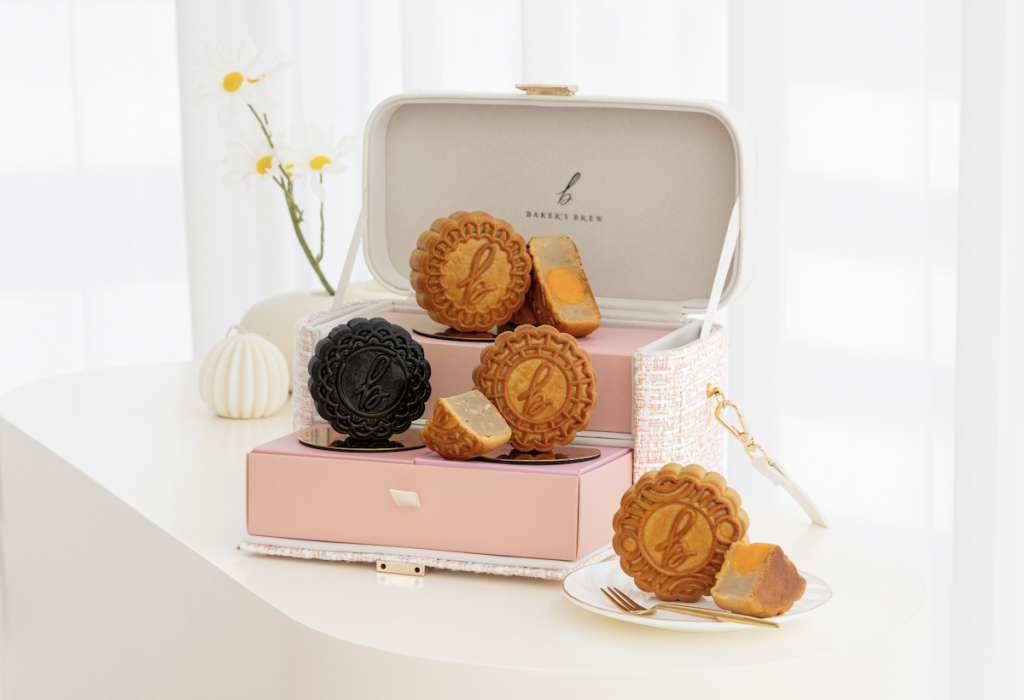 Baker's Brew reimagines the Mid-Autumn Festival with a diverse selection of mooncakes catering to traditional and modern tastes. Their traditional baked mooncakes prioritise health with no preservatives and low sugar, promising guilt-free enjoyment. The Rosé Chloe Collection mooncakes are presented in a chic tweed bag. These mooncakes feature four unique flavours – Yam Single Yolk, Gula Melaka with Desiccated Coconut, Charcoal Black Sesame, and Traditional Single Yolk. These are available in Assorted and Traditional Sets, with Super Early Bird, Early Bird, and Last Call promotions. Baker's Brew offers convenience through online orders via their website or in-store purchases.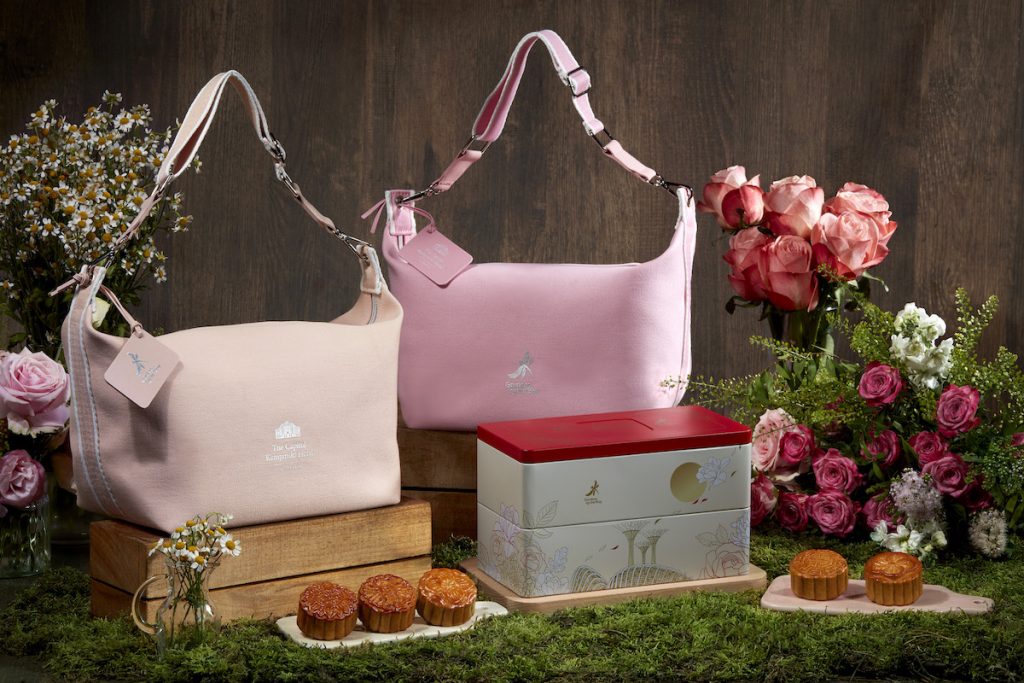 Celebrate the Mid-Autumn Festival with Garden by the Bay's debut mooncakes! They are inspired by its enchanting landscapes and offered in cityscape-adorned gift boxes. Crafted in collaboration with The Capitol Kempinski Hotel Singapore, these mooncakes infuse tradition with floral elegance. They feature Rose and Chrysanthemum flavours reminiscent of the garden's displays. Three sets are available, each including eight baked mooncakes and a special reusable bag. The best part? Ticket holders enjoy a 25% discount until October 1, while non-ticket holders can benefit from a 25% early bird discount until August 31 or 15% off from September 1 to October 1, 2023. It's the perfect way to embrace the season and immerse yourself in the beauty of nature.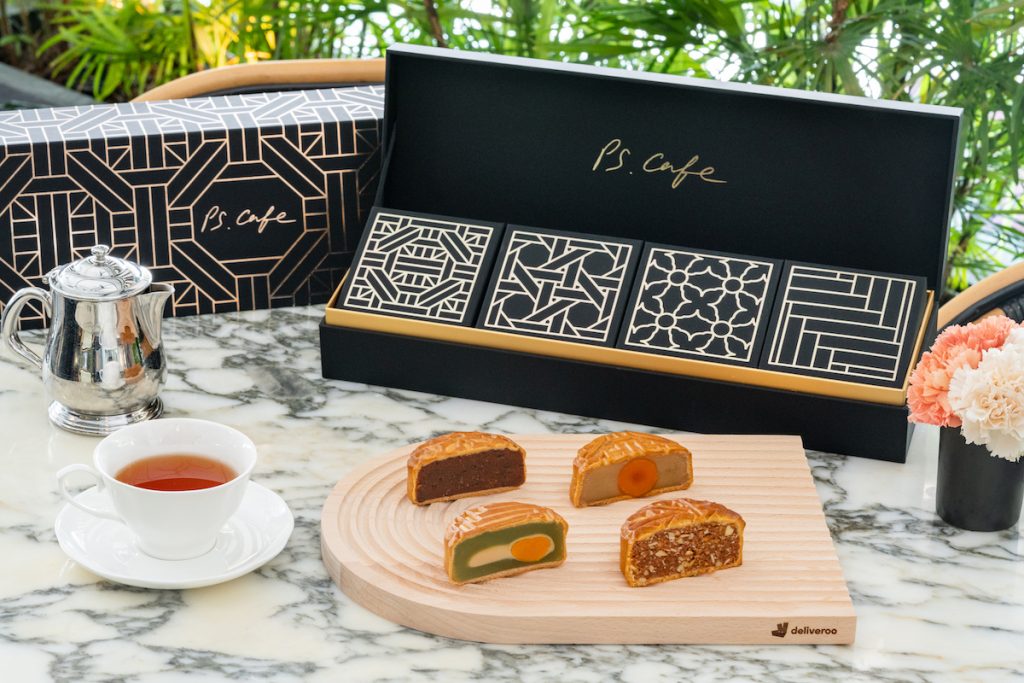 PS.Cafe proudly presents its inaugural mooncake collection for this Mid-Autumn season, offering customers a variety of convenient ordering options. Not only can you place your standard orders at S$98 through pscafe.com but also through PS.Cafe At Home on LazMall. What's more, the ordering period is extended until September 26th. Not only that, you also have the flexibility to choose between delivery or pick-up at selected PS.Cafe outlets. As well, you can specify your preferred date during purchase. Additionally, PS.Cafe's Mooncakes will be available for purchase at selected outlets until September 26th. As an enticing bonus, an exclusive bundle is available on Deliveroo where you can receive a plating board as part of the Mid-Autumn Festival Set, valued at S$98.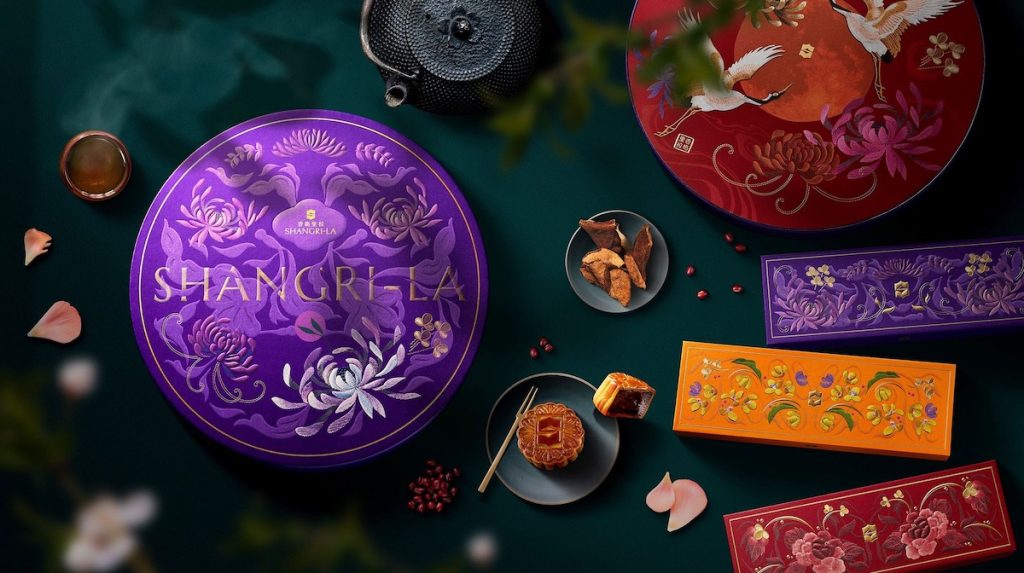 Enjoy a huge variety of classic favorites and unique mooncakes with Shangri-La this Mooncake Festival! You can savour reduced sugar versions of the classic white lotus seed paste with single or double yolk and plant-based shanghai mooncake. Further more, the hotel also boasts a Mooncake Brick Set which is specially curated for the little ones. It includes mini chocolate mooncakes with chocolate chips. Not forgetting the older "kids," their Cocktail Snowskin Mooncakes include alcohol-infused varieties, including a Negroni Cocktail from Origin Bar.
Address: 22 Orange Grove Rd, Singapore 258350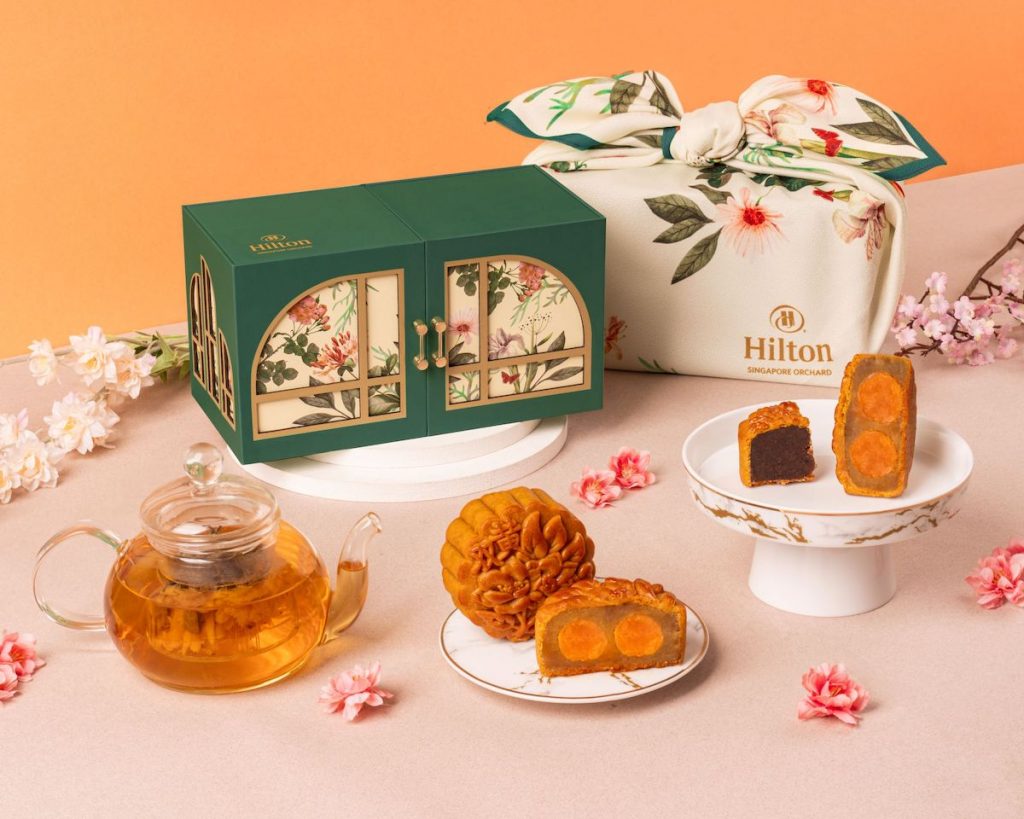 Embark on an immersive garden journey at Hilton Singapore Orchard, where you'll have the chance to indulge in a delightful array of both traditional and contemporary mooncake flavors. As you delve into their botanical-inspired packaging, adorned with a sophisticated two-tiered emerald drawer beautifully ensconced in a furoshiki cloth, you'll unlock an enchanting unboxing experience. This remarkable reveal treats your senses to a mesmerizing display of animated flowers, effortlessly activated by hovering your mobile device over the box. Amidst the timeless classics like the cherished white lotus with yolks, the culinary team introduces an enticing selection of Asian-inspired flavors, including the rich matcha black sesame and the delectable gula melaka with azuki. Therefore, get ready for a sensory journey that will tantalize both your taste buds and visual senses!
Address: 333 Orchard Rd, Singapore 238867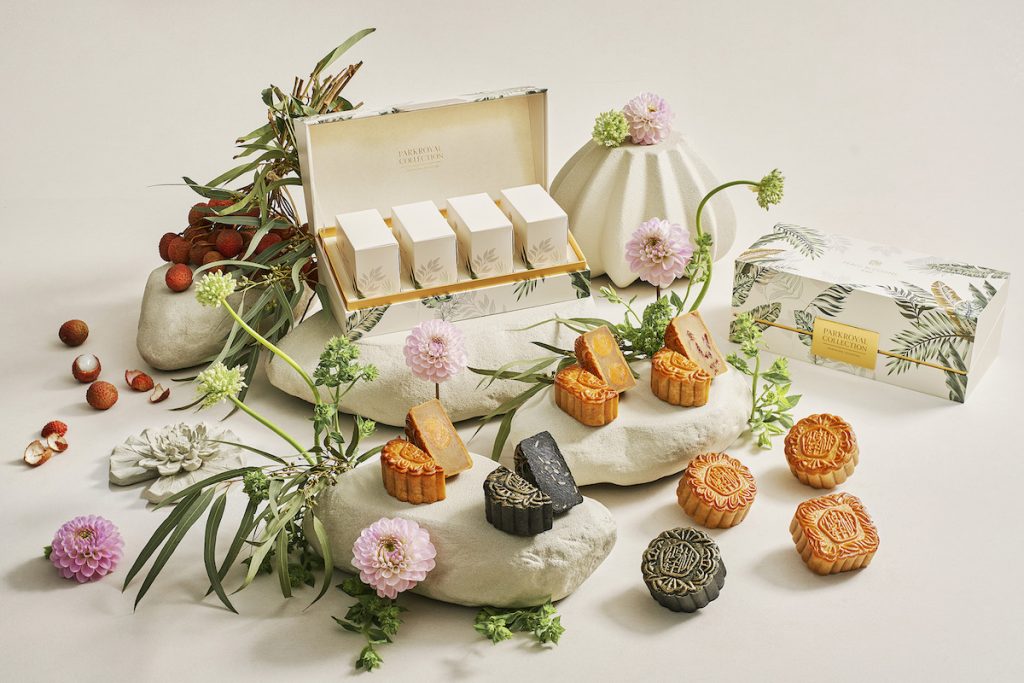 Popular for their elegant and multi-purpose mooncake boxes, this year, Peach Blossoms presents two unique boxes, Celestial Chest and Moonlit Pavilion. They can be transformed into a storage box for watches and a bedside lamp respectively. Their mooncake collection features various traditional flavours like double yolk with lotus paste and single yolk with white lotus. Don't forget their popular charcoal black sesame paste with melon seed and gold dust. Order here.
Address: 6 Raffles Boulevard, Singapore 039594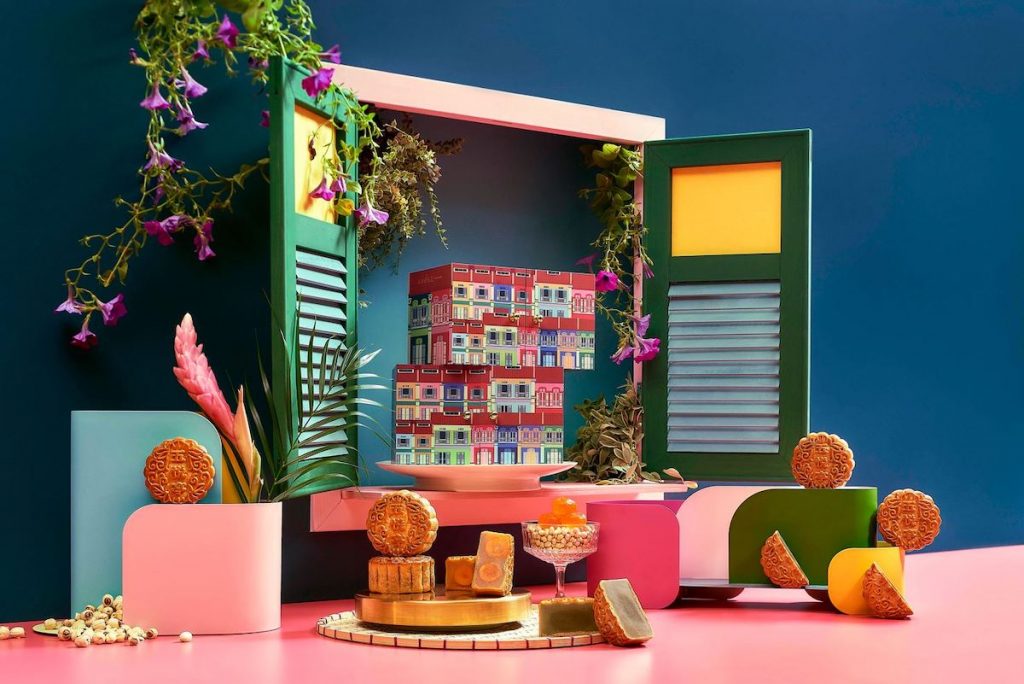 Indulge in four handcrafted baked mooncakes at Andaz Singapore's 5 ON 25, curated by the upscale Cantonese restaurant Head Chef. These mooncakes are inspired by the hotel's Kampong Glam neighborhood, offering unique flavors like Citrus Surprise, a blend of caramel, miso, and yuzu, and Gula Galore, which combines lotus paste, gula melaka, and pecan nuts for added crunch. The mooncakes are elegantly packed in a two-tiered box resembling a shophouse from the 1840s to 1900s.
Address: 5 Fraser St, Level 25 Andaz, Singapore 189354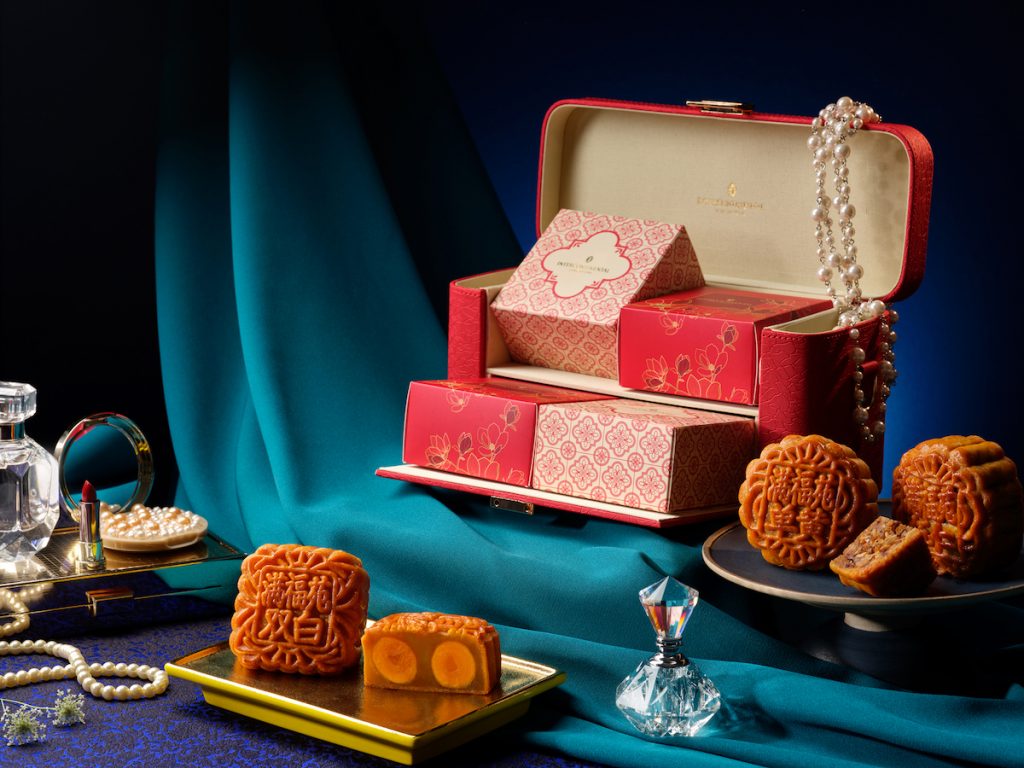 Infusing delicate floral notes and tea profiles into every bite, InterContinental Singapore's snowskin mooncakes are thoughtfully crafted into Man Fu Yuan's iconic rose shape to complement the flavours. Look forward to refreshing flavours like Honeysuckle Flower with Chrysanthemum, Magnolia Flower with Osmanthus Honey, and Rose Flower with Chamomile Tea. The mooncakes come with a striking red leatherette box that can be repurposed into a cosmetics or multipurpose box.
Address: 80 Middle Rd, Singapore 188966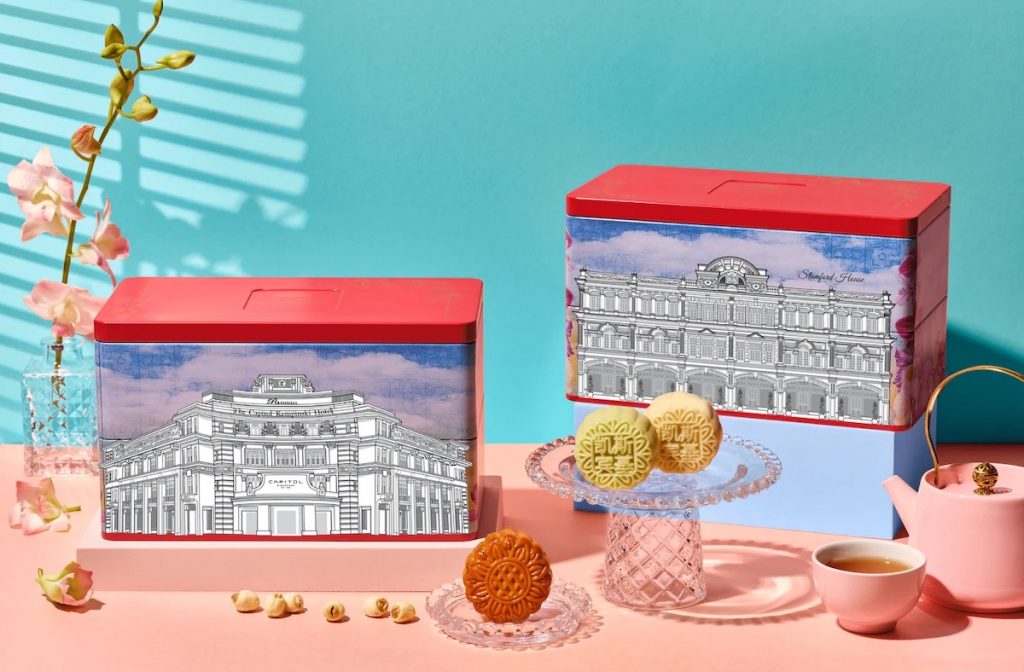 Embrace the Mid-Autumn festival in style with Capitol Kempinski's new Celestial collection. It showcases a limited edition canvas bag in soft blush pink and neutral dusty rose. Within this elegant bag, you'll discover classic favourites like Egg Yolk with White Lotus Paste and Mao Shan Wang Durian. Additionally, there are unique premium flavours like Champagne Truffle and Pistachio in snowskin. These exquisite Mooncakes come beautifully packaged in a two-tiered tin box adorned with the glorious design of the Capitol Building and Stamford House.
Address: 15 Stamford Rd, Singapore 178906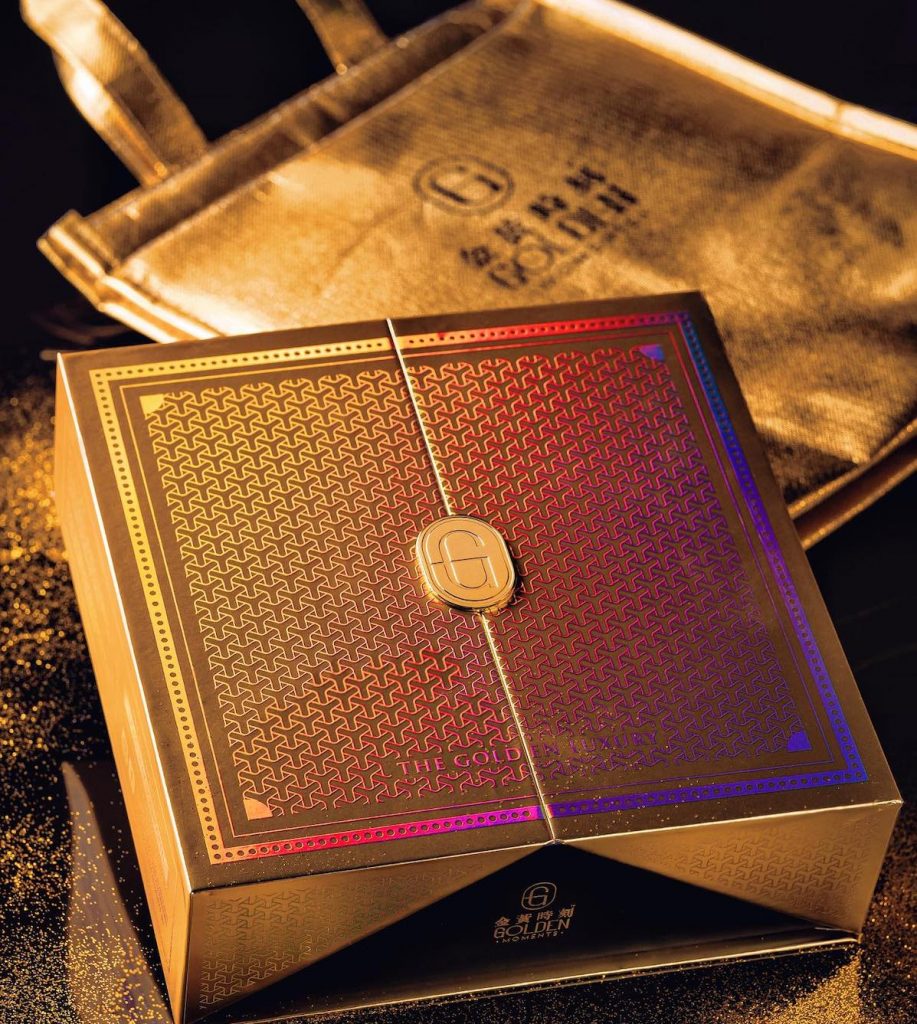 Elevate your Mid-Autumn Festival experience with Golden Moments' delectable durian mooncakes, truly the monarch of fruits. Delight in their Signature Mao Shan Wang (MSW) Durian Snowskin Mooncake, a masterpiece crafted with velvety durian puree, encased in silky charcoal Snowskin, and elegantly adorned with a touch of premium gold dust. However, that's not all, as their collection also features an array of tantalizing flavours. For instance, Docello Hazelnut Mao Shan Wang, Premium Lychee Martini, and Classic Pandan. As an extra treat, relish in a 1-for-1 bundle deal when you choose to purchase a box of 4 mooncakes. Don't miss out on this opportunity to savor the finest durian mooncakes that will elevate your festival celebrations to new heights.
Address: 110 Lor 23 Geylang, Victory Centre, Singapore 388410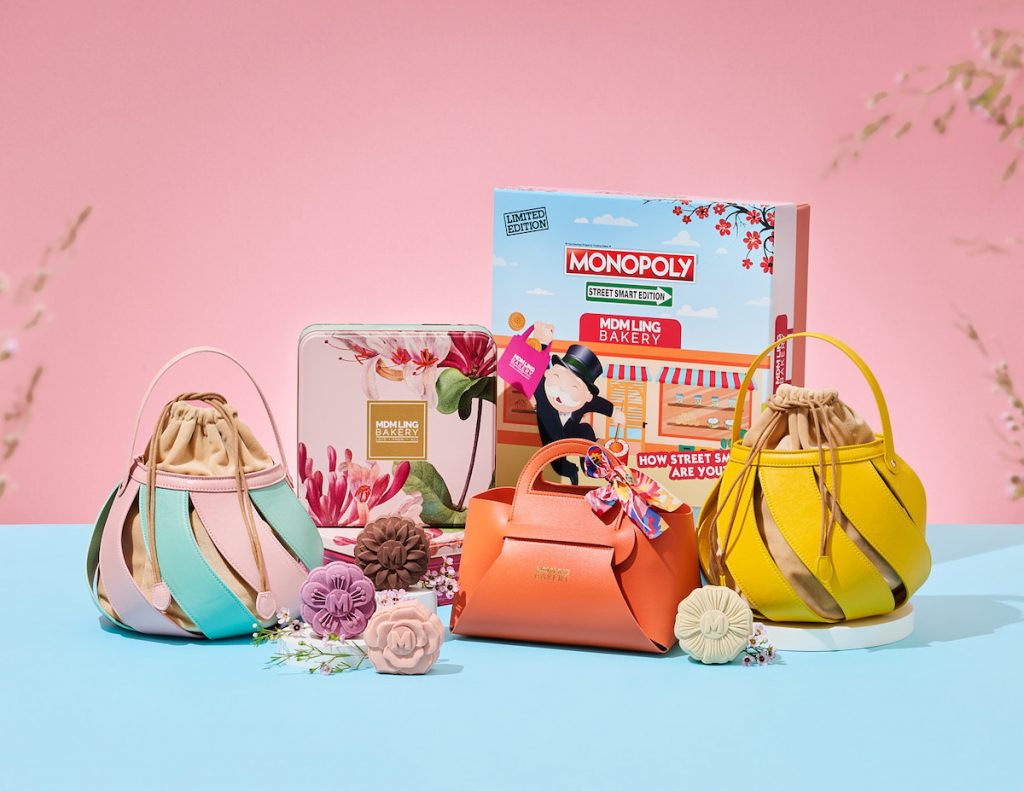 Mdm Ling Bakery offers trendy, pocket-friendly self-baked goodies. This Mooncake Festival, they present 5 gift sets with 6 flavors, including Halal and vegetarian options. Explore fun twists like Mooncake tin boxes, mooncake bags, and their Monopoly mooncake game box, all with classic and assorted flavours. These include black sesame peanut butter and Belgian double chocolate.
Address: 38 Ang Mo Kio Industrial Park 2 #01-05 Singapore 569511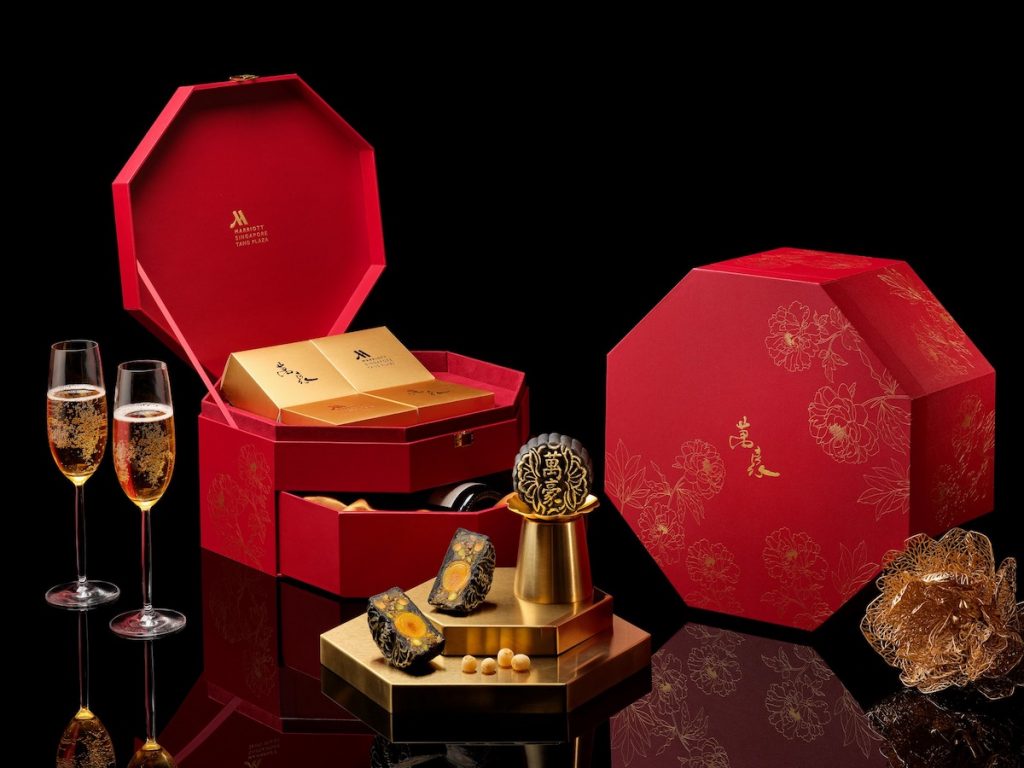 Indulge in Wan Hao Chinese Restaurant's award-winning handcrafted mooncakes this Mid-Autumn Festival. Not only does collection feature timeless classic baked favourites but it also introduces a touch of luxury. From Imperial Long Jing Tea with Walnuts to the premium Golden Black Truffle Baked Mooncake, which includes Dry-Aged Parma Ham, Pistachio, and Single Yolk, there's a wide range of exquisite flavors to choose from. If you prefer snowskin mooncakes, Wan Hao offers unique variations like Yuzu Honey Peach Passionfruit Praline and Irish Cream Latte with Baileys Praline, ensuring a delightful array of choices to satisfy your cravings.
Address: 320 Orchard Rd, Singapore 238865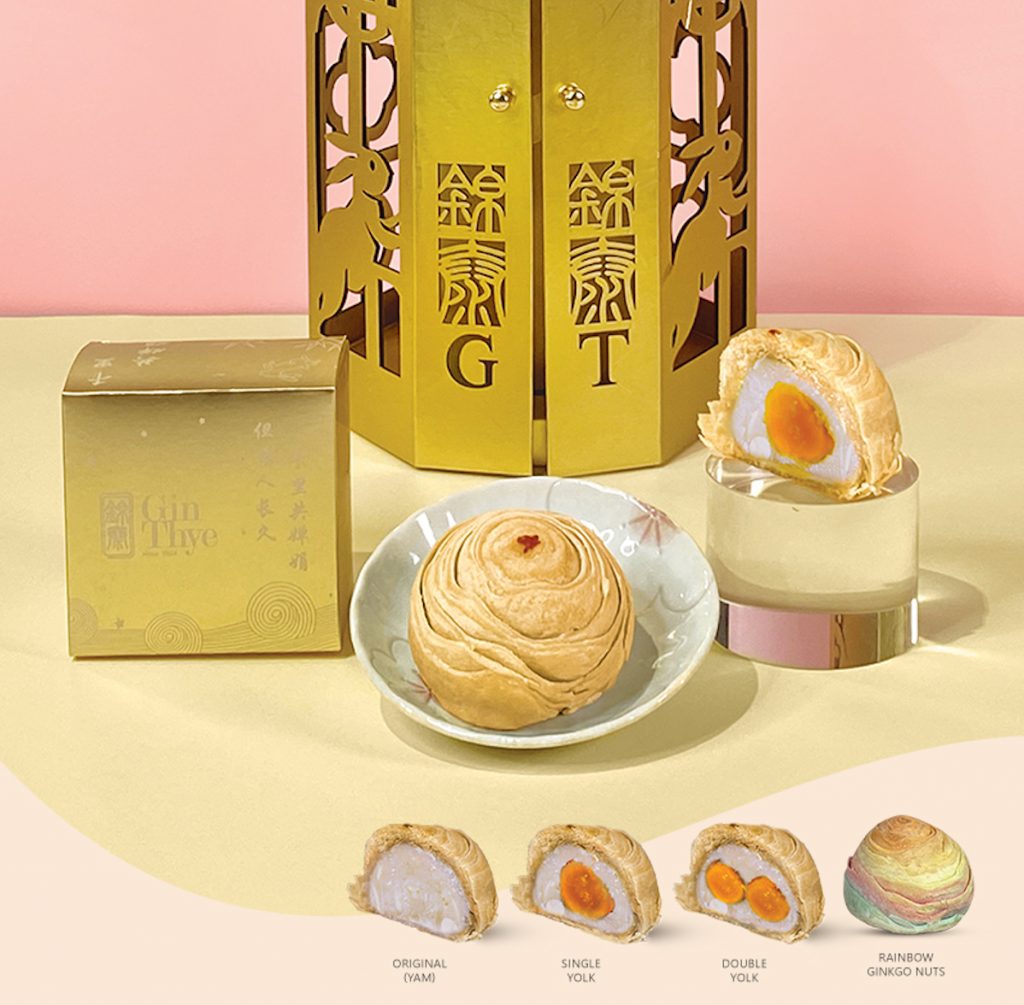 Well known for their traditional Asian bakes, get swept off your feet with Gin Thye's exclusive range of mooncake varieties this Mid-Autumn season. Their collection includes traditional baked mooncakes like Salted Egg Yolk, Teochew Flaky mooncake, and Shuang Ping Pastry mooncake. For something unique, check out their Lava Treasures series. It features sweet and savoury gooey centers in each mooncake, or their Nut Fusion Snowskin mooncakes which showcase Macadamia Yuzu and Pistachio Mint flavours.
Address: 427 Sembawang Road, Singapore 758394
Get ready to savor the rich flavors of the season and celebrate the Mid-Autumn Festival with these exquisite mooncakes in Singapore. Don't miss out on the early bird discounts, unique packaging, and innovative flavors offered by these top mooncake providers. It's time to make this festival season memorable for your family with these delectable treats.