I had first come across Bacchanalia when the restaurant was located at its previous venue located at Masonic Club on Coleman Street. Dark, plush and lush, it paired Chef Ivan Brehm's progressive cuisine with a sultry atmosphere — perfect for a dinner date night out.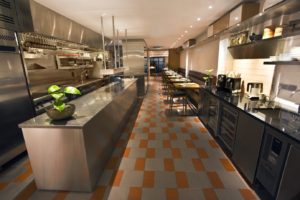 So when I walked into its new premises — now called The Kitchen at Bacchanalia — at Hong Kong Street, I was suitably intrigued. Light, bright with a breezy ambience, it is the complete opposite from its predecessor.
Eschewing a big signboard, the restaurant instead makes use of floor-to-ceiling glass windows that allow walkers-by to look into the highly energetic kitchen that aims to redefine the notion of 'eating out' by offering an interactive environment by allowing the diner to eat within the action.
Design-wise, expect minimalist clean lines, earthy shades and South East Asian hand-crafted woven fabrics adorning the wall. The restaurant only sits an intimate 36 guests so there is a sense of coziness that is akin to dining in someone's very own home.
The food though, is a far cry from what one would eat at home. Chef Brehm has worked in some of the best kitchens around the world including Thomas Keller's Per Se and Heston Blumenthal's The Fat Duck and it shows in his cooking. Chef Brehm manages to infuse his experiences by bringing the best out of ingredients and products that he has sourced sustainably around the region.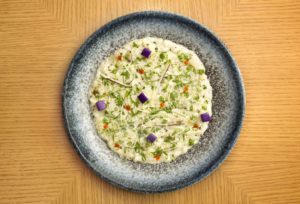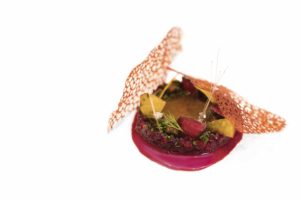 At The Kitchen, Chef Brehm masterfully creates global yet familiar flavours in unexpected ways from the finest ingredients and products sustainably sourced from around the region (including produce from Cameron Highlands and premium products from Australia). Dishes such as the uni and chocolate pasta and coconut risotto showcase just how inventive of a chef Brehm is. A personal favourite of mine is the beetroot tartare (pictured right). Even though I'm not a big fan of beetroot, this dish really stood out. By playing on the different textures of beetroot, Chef Brehm created a dish that puts many real beef tartares to shame.
I have to admit that there is a part of me that misses the decadent setting of the old Bacchanalia and prior to my visit, I was of the opinion that it would make a better place for a romantic night out but The Kitchen does have its charms. With its convivial atmosphere it offers a slightly less formal environment that will put its customers at ease, particularly after a long day at work. Throw into the mix some truly delicious food and the result is a restaurant that is a refreshing change from some of the more austere fine dining establishments. I for one was suitably impressed and cannot wait for a return visit with the husband very soon.
The Kitchen at Bacchanalia
39 Hong Kong Street
Reservations and event enquiries: +65 9179 4552